Recognizing the blessings we have through service
Carolyn Trymbiski, Doylestown PA
To make a donation to the Travis Mansion Foundation, please visit: http://www.travismanion.org
Doylestown Pennsylvania regularly gathers around good causes, where they can help and support community members.  For Carolyn Trymbiski it has become something that inspires her and motivates her.  Her family has a legacy of military service dating back to WWI, but it wasn't her family's military connection that drew her support, it the friendships in her community.
Carolyn married her college sweetheart, a Doylestown native.  After school they both settled back in the community, began their careers, and started their own family.  As life started to settle in, friends were finding their careers, Carolyn and her husband Brian did their best to stay in contact with their friends.  It was in April of 2007 when the small service projects and community events took another turn.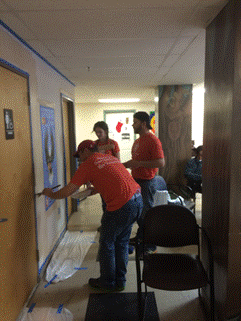 Carolyn Trymbiski, learned the story of Brian's high school friend, Travis Manion.  Travis was a local young man who went to LaSalle College High School.  He went off to the Naval Academy and decided to follow in his father's footsteps and become a Marine. He finished at the top of his class at The Basic School, and was awarded a commission into the Marine Corps.  He was then assigned to the 1st Reconnaissance Battalion, I Marine Expeditionary Force, Camp Pendleton, Calif.
Travis was selected, as an experienced Iraq War veteran from 1st Recon Battalion, to become a part of a military transition team (MiTT) with 10 other Marines that would train and partner with an Iraqi Army Battalion in Fallujah, Iraq.  In April 2007, 1st Lt. Travis Manion made the ultimate sacrifice in the Al Anbar province of Iraq.  He, his fellow Marines, and Iraqi Army counterparts were ambushed while searching a suspected insurgent house. 1st Lt. Manion led the counterattack against the enemy forces. He was fatally wounded by an enemy sniper while aiding and drawing fire away from his wounded comrades. His selfless actions allowed every member of his patrol to survive. For his actions, he was awarded the Silver Star and Bronze Star with Valor. supportive transitions when our bravest return home from service in conflict overseas.
Travis's story resinated with the young mother.  She wanted to contribute and she did, in little ways donating and supporting along the way.  Raising three young boys and working full time, Carolyn and her husband Brian found other ways to not only contribute financially, but in their hearts, a bigger way.  The began volunteering with veterans charities, in the name of the Travis Manion Foundation (as well as others). 
One of their most rewarding experiences was a volunteer project in Philadelphia.  A veterans center, located under the Ben Franklin bridge was the site of a simple service project that was supposed to take a day out of their busy schedule; instead, it left them with wonderful memories and a swollen heart. 
The day started early for the Trymbiski's, they had their parents get the children to school and started the commute to Philadelphia.  When they arrived, they were taken up stairs through several work stations that were veterans support services.  All throughout the building people were carrying stacks of documents and hurrying about.  You could see the difference in the disposition between the working staff and the the humbled veterans.  It was a sad feeling.
When the reach the top floor, they noticed break rooms for the veterans, a place that was supposed to be there living room, a place of refuge.  The room was dirty from floor to ceiling, the walls were bare and weathered.  There was a card game going on and some talk show on the tv.  It didn't seem at all a place of love and support of the veterans, but they learned that these halls are what they are at the number of people they support. 
Carolyn and Brian Trymbiski said they took a deep breath and gave all their all that day.  There was a painting project scheduled to cheer up a wall of the area, but that wasn't going to be enough.  They moved chairs and gave the floor a good cleaning; now it wasn't the ball room at the Ritz Carlton, but it had been a while and the glow of the washed floor and the fresh pine smell, took the stale odor out of the room for the first time in a long time.
At first, the veterans weren't so keen on having visitors intrude on their area, it wasn't comfortable for anyone.  But they kept working and respectfully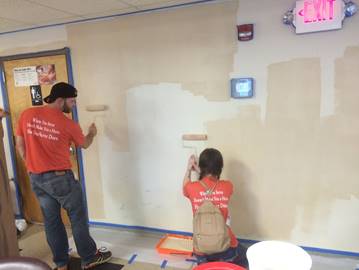 around the veterans to honor their space.  The wall was coming along well, but they recognized that there was extra paint for the project, spackle, and edging knives, so they quickly organized teams to clean up the rest of the walls.  They filled the holes in the wall, wiped down the trim work, sanded, and repainted the room.  It was really coming along. 
There was a break for lunch and the veterans seemed excited for what seemed like an upgraded lunch to go with the improvement project.  Brian and Carolyn sat with the veterans and began making friendly small talk.  It turned out that many of these men did not have homes, or regular meals, or any family.  It was then that Carolyn decided she would stay involved.  She would continue to share whatever funds she had after the children were cared for, to remember these mean and women. 
It is amazing what different lives we all live, we are all blessed.  For Carolyn Trymbiski she realizes now, more than ever, that her blessing are real and many of them were afforded by great men and women who were courageous enough to wear our colors and fight for our freedom.
The Travis Manion Foundation is always looking for strong financial support and volunteers.  They have a strong mission and team members.  You can gain the rewards of charitable support and volunteerism at travismanion.org