B2C Marketing Services for Amazon to Drive Up Your Revenue
Amazon is such a successful ecommerce platform partly because it doesn't just sell its own products — it allows other businesses to sell theirs as well. You can harness Amazon's enormous audience to sell your products, and WebFX can help you do that with our B2C marketing services for Amazon!
We've generated over
$3,021,182,299
IN CLIENT REVENUE
We've generated
7,839,684
LEADS FOR OUR CLIENTS
We have more than
500+
MARKETING EXPERTS FOR AMAZON
B2C marketing services for Amazon from WebFX
You've probably bought products from Amazon before, and many of them may have been sold directly by Amazon. But if you do a product search on Amazon, you'll see that most of the results are from third-party sellers. That's because Amazon allows other businesses to sell their products there on the platform.
By listing your B2C products on Amazon, you can begin selling to users there, allowing you to reach a whole new audience of people who might not visit your site. That's what makes Amazon such an incredible resource for B2C marketing.
Still, for Amazon to be an effective tool, you need to optimize your marketing. Fortunately, WebFX is here to help with that. Our B2C marketing services for Amazon are perfectly equipped to help you drive revenue through Amazon.
Here are five features of our B2C services for Amazon that you'll get when you partner with us!
The first step to increasing your SMB's Amazon sales is getting a FREE proposal.
One of our experts will be in touch within 24 hours!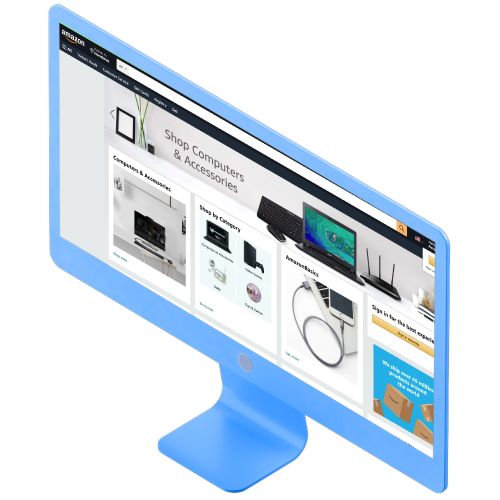 1. Store and marketplace launch services for Amazon
The first step toward selling on Amazon is to set up your Store and begin listing your products, so that's the first thing WebFX will do for you.
All the sales you make on Amazon will happen through Amazon Marketplace, and the key to selling there is to set up an Amazon Store. We'll get your Store up and running, listing your products, and helping you write descriptions for each of them.
We'll also help you brand your Store to reflect the image you want for your brand. You can customize the display elements of your Store to some degree, and we'll help you make those elements uniquely yours.
2. SEO services for Amazon
Once your Store is set up, it's time to start marketing your B2C products on Amazon. Just like you need to get your website to show up in Google search results so people can find you, you'll want to take steps to help your products appear in Amazon results — and WebFX will help you do that.
With our search engine optimization (SEO) services for Amazon, you'll get help optimizing your product listings to satisfy search algorithms. We'll insert relevant, high-traffic keywords into your descriptions and categorize your products to maximize their ranking power.
We'll also analyze your competitors' Amazon SEO to see how you can one-up them. Whatever they're doing well, we'll help you do better. And whatever they're doing poorly, we'll help you take advantage of.
3. PPC services for Amazon
Not everyone will discover your Amazon Store organically. If you want to reach the largest possible audience, you should run paid ads on Amazon, and we can help you do that.
Amazon offers three types of pay-per-click (PPC) ads:
Sponsored Products ads: Sponsored Products ads appear in Amazon search results to advertise specific products. They look like regular results, but they have a "sponsored" label on them.

Sponsored Brands: Sponsored Brands appear at the top of search results, but instead of advertising specific products, they advertise your entire brand.

Sponsored Display ads: Sponsored Display ads appear in the margins of third-party websites based on users' Amazon history.
WebFX will help you set up all of the above types of ads so you can reach a wider audience.
4. Consulting services for Amazon
Not every business needs a full-blown set of B2C services for Amazon. You may already have your Store up and running. But even if you don't need us to build your Store, it's unlikely that everything is as optimized as it can be.
With WebFX's consulting services for Amazon, you can get help figuring out the best ways to improve your Amazon campaigns. We'll perform a full audit of all your marketing on Amazon — as well as your competitors — to see what's working and what could be better.
Ultimately, you'll come away with a much better knowledge of what you can do to boost your B2C marketing for Amazon.
5. Review management services for Amazon
As you probably know if you've ever bought things on Amazon before, reviews are a critical part of any Amazon campaign. People typically scroll through the reviews to tell them if a product is worth buying, and negative reviews — or a lack of any reviews at all — will discourage purchases.
To counteract that, WebFX can help you accumulate and manage reviews. We'll send out emails to your customers encouraging them to leave reviews, and we'll resolve any negative reviews as quickly as possible by trying to make it up to the reviewer.
We'll also answer any questions people leave in the FAQ section of each product page.
Why partner with WebFX for B2C services for Amazon?
The above services give you plenty of reason to partner with WebFX, but we're not the only agency out there. You might feel that you should look at other options for your marketing on Amazon, or perhaps handle it on your own. After all, what makes WebFX so special?
As it happens, there are several things that cause WebFX to stand out from the crowd. Here are just five of the benefits that come with partnering with us!
1. We have decades of experience
When you partner with an agency to handle your B2C marketing on Amazon, you want someone with experience. When a company's been around a long time, it shows they've had plenty of time to hone their marketing expertise.
Many digital marketing agencies have sprung up only within the past decade, responding to the world's growing reliance on ecommerce. But WebFX was already vastly experienced by the time most of those companies came along.
We've been working in digital marketing for over 25 years, starting in 1996. With over two decades of experience to our name, you can rest assured that we know what we're doing when it comes to strategies like SEO and PPC.
2. We're a full-service agency
If Amazon is the only facet of your marketing that you need help with, that's great! But there's a good chance you could also use a hand with your website, your emails, your Google rankings, or something else altogether — so it's a good thing WebFX is a full-service agency.
Being a full-service agency means we offer optimization services for many marketing strategies, including:
Should you ever need help with more than one strategy, it's ideal to be partnered with an agency that can handle all of them. Going to different agencies for different services is a pain, and we understand that. That's why we offer a one-stop shop for all your digital marketing needs!
3. We drive world-class results
Despite our vast experience, you may still doubt our ability to drive superior results for your marketing. If that's the case, all you have to do is take a look at the results we've driven for our past clients.
In the past five years alone, we've generated over 7.8 million leads and $3 billion in revenue for our clients. Those numbers make it abundantly clear that when you partner with us, you won't regret it. We'll ensure that your marketing investments come back with plenty of profit.
4. We make our clients happy
At the end of the day, the decision to partner with us isn't about experience. Nor is it about leads or revenue. It's about whether you'll be satisfied with what we do for you. And if you look at what our past clients have to say, it quickly becomes clear that you will.
We've earned over 1020 client testimonials from a variety of small businesses over the years that speak to how happy we left them. On top of driving results, we'll communicate openly with you about everything, even assigning you a dedicated account representative to serve as your primary point of contact.
In the end, everything we do will be committed to providing an excellent experience for you.
5. We're an Amazon Advertising Partner
As a bonus benefit, WebFX is an Amazon Ads partner! What that means is that we have access to a variety of Amazon resources that help us hone our expertise with the platform. By passing tests to prove our knowledge of the platform, we've earned various learning certifications from Amazon.
Having an Amazon Ads partner on your side is the ideal way to tackle your Amazon marketing, as it ensures that you're working with an expert. Our partnership status verifies that we aren't just claiming to be proficient — Amazon itself has certified that we know what we're doing.
Drive superior B2C marketing campaigns on Amazon with WebFX
Ready to start driving superior results for your marketing campaigns on Amazon? WebFX is here to help! Our team of over 500+ experts has everything it takes to propel your Amazon Store to new heights and drive up your revenue.
With our B2C services for Amazon, you'll be able to attract a wide audience of people who are interested in your products and turn them into customers. We can't wait to show you the results we're capable of driving!
To get started with us, just call 888-601-5359 or contact us online today!