What Is Ecommerce Amazon Marketing?
Are you looking to drive sales for your business through Amazon? If so, it's critical that you market your Amazon products, both on Amazon and around the Internet. But what is ecommerce Amazon marketing? Read on to learn more!
Amazon marketing for ecommerce can drive results for your business
In the past few years, ecommerce rose as the primary source of revenue for many businesses. While brick-and-mortar stores still drive sales, many users prefer to buy items via online stores — and it's hard to find an online store more frequently used than Amazon.
If your company uses Amazon to sell your products, you probably already know how valuable it is. But that value will only reach its full potential with the help of Amazon marketing for ecommerce.
What is ecommerce Amazon marketing, though, and what would it involve for your company? We'll explore the answers to those questions below, so read on to learn more.
Then subscribe to Revenue Weekly — our email newsletter — to receive more digital marketing tips from the agency with over 1020 client testimonials!
What is ecommerce Amazon marketing?
Ecommerce Amazon marketing refers to promoting your Amazon products and store online. You can market your products on Amazon's platform itself or use other marketing strategies to promote your Amazon products elsewhere on the Internet.
The purpose of Amazon marketing is to make people aware that you're selling on Amazon and to persuade them to buy your products there. Ultimately, you want people searching on Amazon — as well as those already visiting your website — to buy from your online store.
Why do you need an ecommerce Amazon marketing strategy?
The reason it's so critical to have an ecommerce Amazon marketing strategy is simple — without one, people can't discover your products on Amazon. By marketing your Amazon store, you make people aware that you offer products they need.
Ecommerce marketing on Amazon is critical to driving revenue, especially if Amazon is your primary outlet for selling online.
How can you perform ecommerce marketing on Amazon?
There are several ways you can market your brand and products as part of your Amazon ecommerce strategy.
Here are the three best tactics for ecommerce marketing on Amazon!
Ecommerce Amazon SEO
One of the best online marketing strategies is search engine optimization (SEO). Since Amazon allows users to search specific keywords to find products they want, you can use SEO tactics to help people find your product listings.
The idea behind SEO is to optimize your web content — in this case, your product pages — to rank in search results. When your product pages are optimized, you can rank higher in relevant search results and drive more qualified shoppers to purchase your products.
One of the best ways to improve your Amazon SEO is to write plenty of copy on your product pages. Having more copy gives the search algorithms more to work with, and it also provides users with the details they need to make an informed purchase. Your copy can focus on product materials, dimensions, and more.
You should also be sure to integrate relevant keywords into your copy. So, if you're selling an automatic blender, be sure to include "automatic blender" throughout your content on that page. That will help the page rank higher in results for that keyword.
Ecommerce Amazon PPC
Another way to reach users on Amazon is to use pay-per-click (PPC) advertising. Amazon provides several paid advertising options, each of which can help you persuade users to visit your product pages.
The three main types of ads on Amazon include:
Sponsored Product Ads:

Sponsored Product Ads show up at the top of Amazon search results. They promote specific product pages that are relevant to the shopper's search query.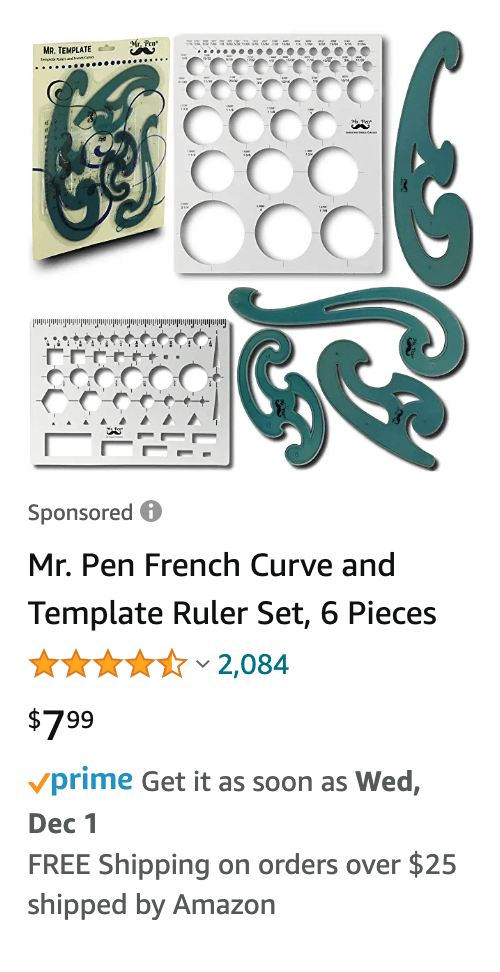 Sponsored Brands:

Just like Sponsored Product Ads, Sponsored Brands show up at the top of relevant search results. Sponsored Brand Ads advertise your entire Amazon store.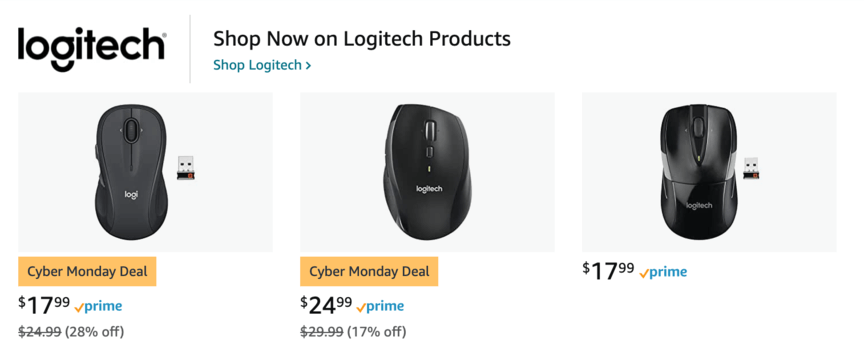 Product Display Ads:

Product Display Ads appear based on products that users viewed or purchased in the past. A common place to see product display ads is in the "Products related to this item" section of Amazon product pages.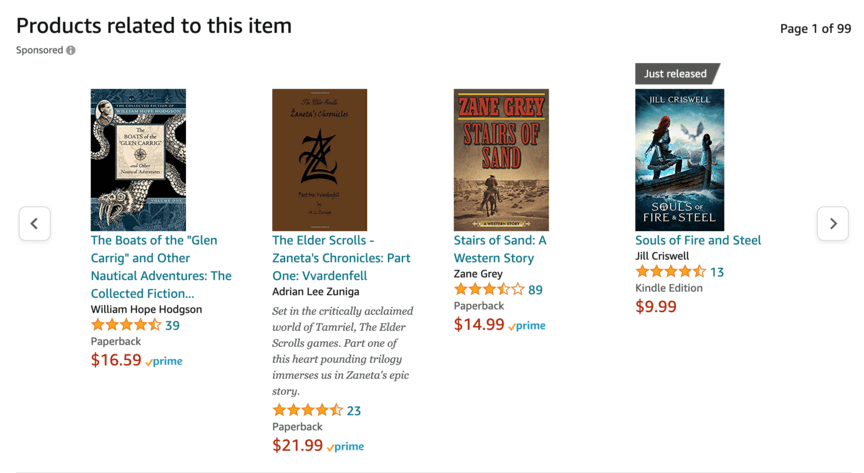 When you combine multiple types of ads in your ecommerce Amazon marketing strategy, you'll reach a wide range of users and significantly increase your revenue.
Ecommerce Amazon review management
The third major way to market yourself on Amazon is to manage reviews on your product pages. Reviews are an enormous factor in purchasing decisions on Amazon — if your products get bad reviews from people who bought them, new shoppers will hesitate to buy. Plus, reviews influence search rankings.
For that reason, be sure you take the time to earn reviews for your products. If you're struggling to gain reviews, try sending emails to your customers to encourage them to review your products.
Then, to ensure your products remain popular with your target audience, keep a close eye on your reviews. When you see negative reviews come along, do what you can to rectify the issue by contacting the reviewers to resolve the problems they experienced.
When you help bad reviewers with their issues, they may change their reviews to reflect the positive experience they had with you.
Off-site Amazon Store marketing for your business
Amazon isn't the only place you can market your products. You can also include other online channels in your Amazon ecommerce strategy. Here are a few of the best ways to market your Amazon ecommerce off-site!
We've already mentioned how beneficial it can be to market in search engines, and that applies to more than just Amazon's. When you optimize your Amazon product pages, it won't just help you rank in Amazon searches — it'll boost your Google rankings as well.
You can also practice SEO on your website if you have any content related to your Amazon store, further increasing people's chances of finding out about it through Google.
Additionally, you can run paid ads in Google search results and on third-party websites for your Amazon products. If someone searches for "buy coffee table" and you sell coffee tables on Amazon, you'll want to display an ad in search results that leads to your Amazon coffee table product page.
Between paid and organic Google rankings, you can direct more traffic to your Amazon pages than you'd get solely through Amazon's on-site search feature.
Email marketing
Another way you can promote your Amazon store is with email marketing. You can set up email forms on your website where users can sign up for your emails, and when they do, you can build out a list of addresses.
You can send emails about Amazon product listings to encourage people to buy.
Email is also great for remarketing, meaning you can send emails specifically to people who already bought from you. Just like Amazon's Product Display ads, you can encourage people to go back and buy products to accompany the ones they've already purchased.
Social media marketing
Did you know that 33% of the average user's Internet time is spent on social media? That means platforms like Facebook and Twitter are some of the most ideal spots for marketing your company's products, including those in your Amazon store.
You can start by marketing yourself organically by creating social media pages and posting content to engage prospects. Some of your posts can drive followers to your Amazon store to buy your products.
You can also run paid social media ads to advertise your Amazon products. Those ads can appear right in users' social media feeds, and you can target them to the exact audience you want to reach.
The first step to increasing your SMB's Amazon sales is getting a FREE proposal.
One of our experts will be in touch within 24 hours!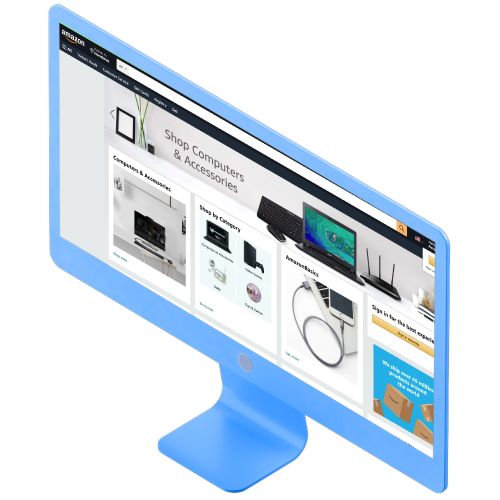 WebFX can help you craft a superior ecommerce Amazon marketing strategy
Amazon marketing for ecommerce can significantly benefit your company, but if you want to maximize its advantages, you should consider partnering with WebFX. We have over 25 years of experience that we will use to help your Amazon marketing succeed.
With our marketing services for Amazon, you'll get help driving results through each of the marketing strategies listed above and more. We'll put in all the required effort to drive superior results for your marketing, and we'll remain transparent with you about everything we do.
To get started with us, just give us a call at 888-601-5359 or contact us online today!