What Is Enterprise Amazon Marketing?
If your enterprise is looking for an additional place to sell its products online, Amazon is a fantastic place to go. It's one of the biggest ecommerce platforms out there — but to use it effectively, you'll need to market your Amazon store. Find out more below!
Enterprise marketing on Amazon can drive results for your business
In today's world, ecommerce is an essential source of many companies' revenue. People like shopping in online marketplaces, which is why you can benefit from selling on Amazon.
On Amazon, you can set up a store and create product pages for your business. If you want your pages to drive sales, you need to take the time to market your Amazon store.
So, what is enterprise Amazon marketing? We'll explore the ins and outs of enterprise marketing on Amazon below, so read on for more information.
Then subscribe to Revenue Weekly — our email newsletter — to receive more digital marketing tips from the agency with over 25 years of experience!
What is enterprise Amazon marketing?
Enterprise Amazon marketing involves using strategies aimed at promoting your store and products on Amazon. Amazon marketing includes strategies like optimizing product listings, running paid ads, and more.
Ultimately, the goal of enterprise Amazon marketing is to spread awareness of your products on Amazon and persuade people to buy them. A successful campaign will put your Amazon store on people's radar and drive up revenue for your enterprise.
Why do you need an enterprise Amazon marketing strategy?
The reason having an enterprise Amazon marketing strategy is so essential is because without it, you won't be able to attract as many customers, and your competitors will get ahead of you in rankings. But with marketing, you can be the one in the lead.
Marketing is the key to drawing people to your Amazon store to learn about what you offer and figure out if you offer what they need. Once people discover your products, you'll start generating more revenue and increase the overall success of your enterprise.
How can you perform Amazon marketing for enterprises?
Now that you know what enterprise Amazon marketing is and why it's so vital, you want to know how you can start marketing your products on Amazon. What strategies can you use to market your store on Amazon?
Here are three of the best methods for enterprise marketing on Amazon!
Amazon SEO
One of the most effective Amazon marketing strategies for your enterprise is search engine optimization (SEO). Amazon SEO involves optimizing your product pages to rank higher in Amazon searches.
Amazon's users find the products they want by typing keywords into the search bar and looking at the top few results. So, if you want people to buy your products, you need to rank high in relevant search results.
By using Amazon SEO strategies, you can write plenty of content on your product pages and integrate relevant keywords into that content, so your pages have a better chance of ranking. When you reach high rankings, you'll reach more users, and drive more sales.
Amazon PPC
Organic rankings aren't the only way to get found on Amazon. You can also use pay-per-click (PPC) advertising to reach users there. Amazon offers three main types of paid ads:
Sponsored product ads
Sponsored product ads show up in search results just like regular product pages. The difference is that, though they do advertise specific products, they appear at the very top of the page rather than among the rankings themselves.
For instance, maybe you want to sell a laundry basket that not many people are buying so far. You could place a sponsored ad for it at the top of search results for "laundry basket" so it would be the first result people would see.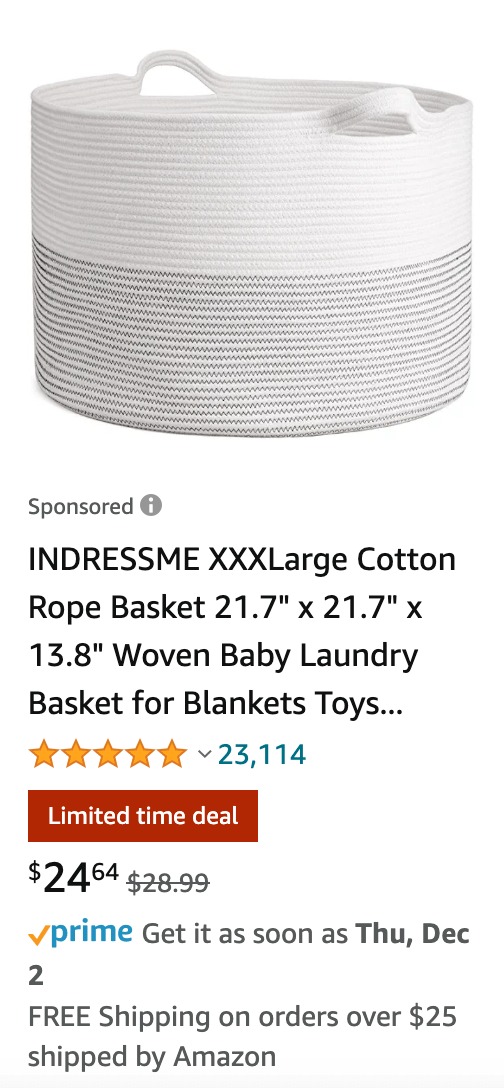 Sponsored brands
Sponsored brands also appear at the top of search results. Unlike sponsored product ads, however, these ads focus on your overall brand, advertising your full Amazon store rather than focusing on individual products.
Maybe you specialize in making a very particular niche of products, like drones and remote-control helicopters. If someone searches for one of those items, you may want to advertise your whole brand at the top of the page, so they can browse all your options.

Product display ads
Product display ads can appear in more than one location, but a common spot is in the "Products related to this item" section on product pages. They focus on advertising products similar to those that users have already viewed or bought.
If you sell a particular card game, and you notice that some of your competitors are having a lot of luck selling similar games of their own, you might want to target users who have bought those products, so they'll buy yours as well.

When you use each of these ads in your campaigns, you'll increase your revenue. Moreover, you'll spread more brand awareness and increase your product exposure.
Review management for Amazon
Reviews are very important on Amazon — shoppers turn to reviews when deciding whether to buy a product, plus reviews affect how high you rank in Amazon search results. So, you want to have plenty of reviews, and you want those reviews to be glowing.
Review monitoring is critical, so you can see what people say about your products and identify problems. If someone leaves a negative review, you can attempt to resolve the issue for them.
You can contact negative reviewers about the issues they experienced and attempt to resolve the issues for them. If you're successful, you may be able to turn those negative reviews into positive ones that rave about your quality customer service, encouraging further purchases.
Amazon storefront design
When you create your storefront on Amazon, you can choose from Amazon's templates to help you get started. Amazon enables you to design your storefront with a functional navigation and customer-focused design to help you earn conversions.
One of the most prominent branded areas is your cover photo. This feature is one of the first things your audience will see, so you want to ensure that you choose a branded image that helps shoppers get familiar with your company.
You can also select which products to display on your storefront's homepage, so you can immediately grab users' attention and get them interested in what you offer.
Amazon video marketing
If you weren't already aware, Amazon allows you to incorporate video into your store and your product listings. Those videos could be on the salesy side, or they could demonstrate how your products work.
In either case, it's a good idea to use videos, since they're an excellent way to attract users' attention. When you do, you'll want those videos to be optimized for maximum viewability. So, don't just throw something together — take the time to edit it so that it looks and sounds professional and compelling.
Marketing your enterprise Amazon store elsewhere online
Not all Amazon marketing for enterprises must happen right on Amazon's site. You can also advertise your store elsewhere online. Here are a few of the strategies you can use to do that!
We've already talked about the value of SEO and PPC on Amazon, but you can use both of those strategies in Google as well. To start with, the same SEO tactics you use to rank in Amazon searches can also help you rank in Google searches, further expanding your audience.
Additionally, though, you can run Google PPC ads to advertise your Amazon store. You can set them up in Google Ads, which will then display them at the top of relevant search results. When users click on the ads, you can send them straight to a specific product page from your Amazon store.
As a result, you'll be able to attract Amazon traffic even from people who weren't specifically searching for things on the site. They might just be searching on Google for "10 ft extension cord," only to find your Amazon extension cord product page in both paid and organic results.
Email marketing
Another way to advertise your Amazon store outside of Amazon itself is through email marketing. You can set up forms on your website where users can subscribe to your emails, and once you've built out a list of addresses, you can start sending them emails.
Among those emails can be the occasional Amazon store advertisement, which can encourage users to visit your store or buy a particular product.
You can use email marketing to help earn Amazon reviews. Target people who bought from you and encourage them to leave reviews for the products they purchased. As you earn more reviews, you'll improve your product rankings in search results.
Social media marketing
One of the most populous places on the Internet is undoubtedly social media — in fact, the average user spends 33% of their Internet time there! That makes it an amazing place to market your enterprise, including your Amazon store.
In addition to posting organic content about your Amazon store, you can run paid social media ads to advertise your Amazon presence. Those ads will display right in users' feeds, allowing you to reach vast audiences of relevant users.
Best of all, you can target your ads to specific groups of people based on demographics like age and location. That will allow you to reach just the right users!
The first step to increasing your SMB's Amazon sales is getting a FREE proposal.
One of our experts will be in touch within 24 hours!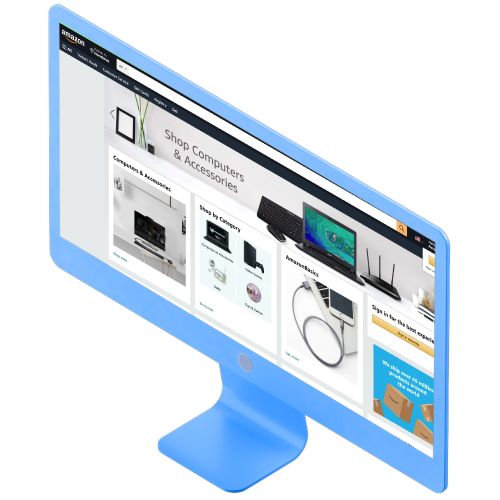 Get help optimizing your enterprise marketing strategy for Amazon
Want help getting the best results from your marketing for Amazon? WebFX would love to help! We've earned over 1020 client testimonials speaking to our marketing proficiency, and we have everything it takes to boost revenue for your enterprise through Amazon.
With our marketing services for Amazon, you'll get help optimizing for all the strategies listed above and more. As a result, your Amazon pages will drive significantly more traffic and earn you far more revenue than you'd otherwise have.
To get started with us, just call 888-601-5359 or contact us online today!