Google Analytics Definitions
Logging into Google Analytics (GA) for the first time can be a bit overwhelming. You're immediately shown a dashboard filled with information, and it can be hard to find exactly what you're looking for.
That's why we've compiled a list of Google Analytics terms and definitions to help with the information overload!
If you'd like to speak with an Internet marketing specialist about Google Analytics, you can reach us at 888-601-5359.
The structure of Google Analytics
After you log in and select the web property you want analytics for, the default reporting screen looks something like this: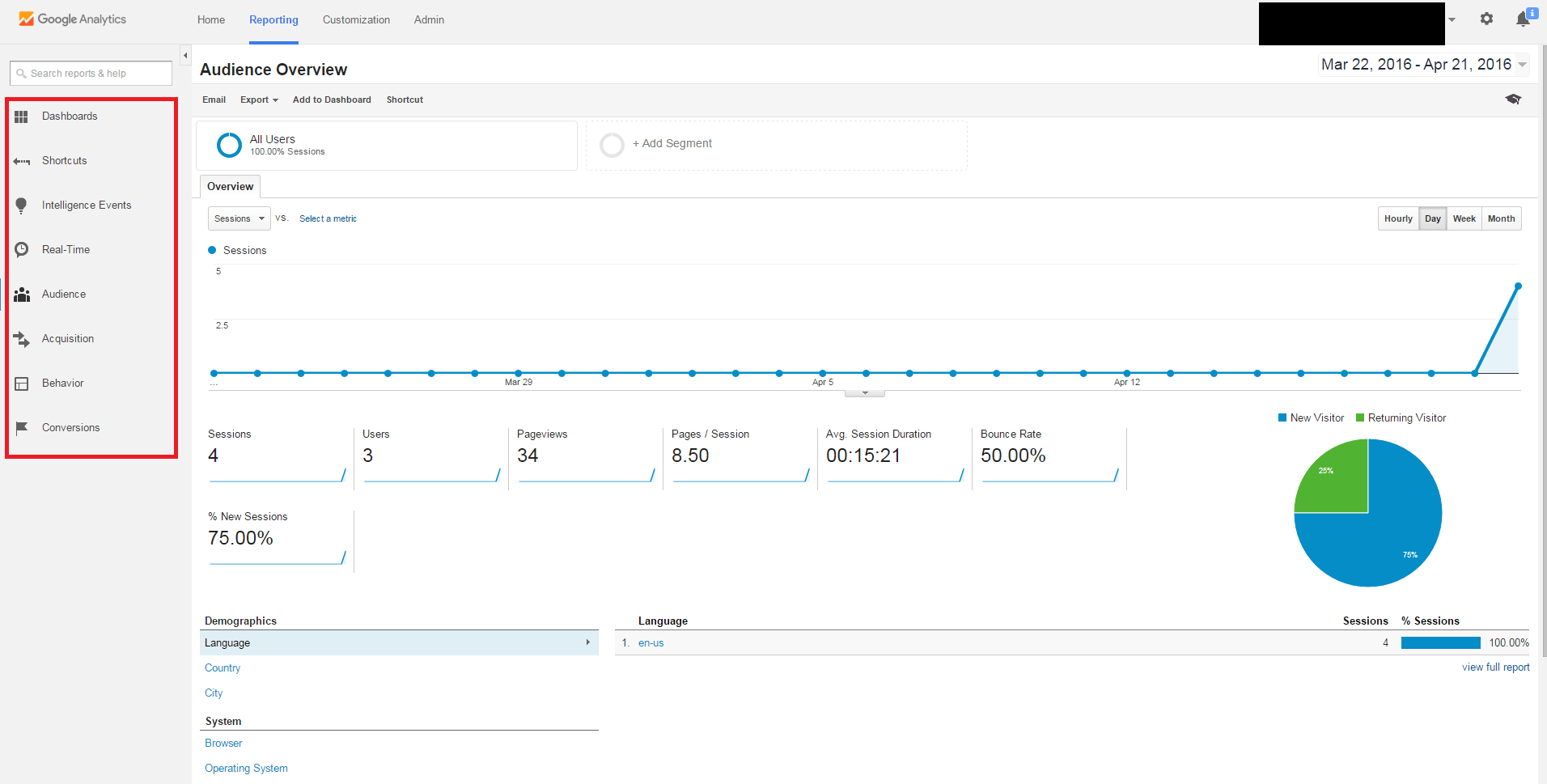 Most of the functionality is located in the menu on the left-hand side of the screen (in the red box). We'll go through each menu heading, and associated subheadings, to give you an idea of what each part of Google Analytics can do for you.
Dashboards
The ability to create customized dashboards is one of GA's most powerful features. You can distill the many metrics available through GA into a single (or multiple) dashboards so that you have all the information that matter to you in one, easily-accessible place.
For example, you could have a "blog only" dashboard, a comprehensive website performance dashboard, a PPC dashboard, and so on.
Custom dashboards let you strip away all the noise, and focus on the analytics you're specifically interested in.
Shortcuts
Shortcuts are similar to dashboards in that they save you time. If you click the "shortcut" button on the toolbar of whatever report you're looking at, it will save it to your "shortcuts" menu.
For example, if you frequently check the "New vs Returning" user report, you can save it to your shortcuts instead of having to navigate first to "Audience," then to "Behavior," and finally to "New vs Returning."
Intelligence Events
Intelligence events are a way of automating the monitoring of GA. Instead of manually checking metrics every day, you can set up alerts that trigger when certain things occur.
For example, you could set up an alert that triggers whenever there's a massive spike or drop in overall website traffic. You'll be able to quickly identify the cause and address any issues, because you'll know as soon as it happens thanks to the event alert.
These alerts can be set up in accordance with daily, weekly, or monthly events.
Real-Time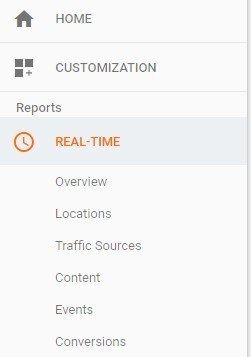 This is GA's real-time tracking feature. You can see active users, page views, and so on as they happen in real time. In the sub-menu of "Real-Time," you'll find:
Overview: This is the default dashboard for all Real-Time stats. You can see active users, page views per minute and per second, active pages, user locations, and more.
Locations: The current locations of all active users.
Traffic Sources: Page views per minute and per second, along with how active users are currently viewing your website (desktop, mobile, tablet, etc.).
Content: Breaks down all pages with active users.
Events: Lists any events that are currently being triggered.
Conversions: Keep track of conversion goals as they are met.
Audience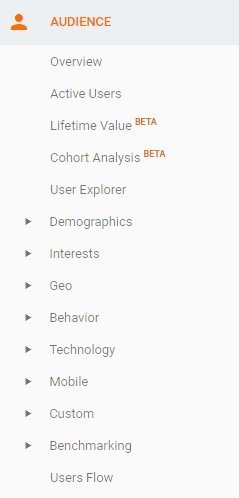 As the name suggests, this is where you'll find information about your visitors. In the sub-menu of the "Audience" section, you'll find:
Active users: A graph of all active users reaching back up to 30 days.
Cohort Analysis: A beta feature that breaks users down into related groups for analysis. The groups, known as cohorts, are created in accordance with shared characteristics or experiences.
Demographics: A breakdown of users' ages and genders. This needs to be manually enabled, and typically requires you to update your privacy policy.
Interests: A breakdown of user interests by category and in-market segments. Again, this needs to be enabled manually.
Geo: A breakdown of users by language and/or geographic location.
Behavior: This category breaks down users into "new" and "returning" groups, shows you the recency and frequency of user sessions, and details how long users spent on your website per session.
Technology: A breakdown of users based on what browser and operating system they use to access your site.
Mobile: This category shows you exactly what type of mobile device each mobile user is using to browse your website.
Custom: Any custom tracking you've built into your URLs is displayed under this category.
Acquisition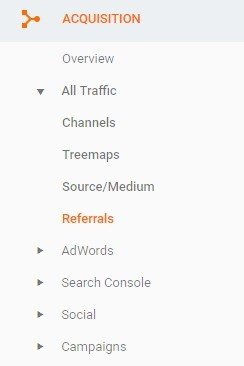 Acquisition refers to how users land on your website. This includes things like through a search query, through a referral URL, through social media, and so on. Here's a brief overview of the sub-menu categories and what each entails:
All Traffic: An overview of all traffic to your website. You can look into what channels users found your website through, where they were referred from, their point of origin, and so on.
Google Ads: If you run Google Ads campaigns, you can link up your Google Ads and GA accounts for data sharing between the two. You can then check Google Ads stats relating to your keywords, user search queries, landing pages, and so on in GA.
Search Engine Optimization: Here you can link your GA account with your Search Console account. Doing so enables you to view specific user search queries, landing pages, and user geography from GA.
Social: This category lets you track all traffic acquired through social media networks. You can compare social stats to overall traffic, check landing pages, and follow track backs and conversions.
Behavior
The Behavior section lets you track user behavior within your website, from time spent on a specific page to their progression path through multiple pages. In the sub-menu, you'll find:
Behavior Flow: A graphical representation of the path ("flow") each user followed when progressing through different pages on your website.

Site Content: Here you can see a list of all pages on your website with associated user statistics, which pages users entered your website on, and which pages users exited your website from.
Site Speed: This category shows a breakdown of individual page-load times, suggestions for improvements, and certain user timings.
Events: Navigate here to check the path individual users took to complete whatever events you have set up.
Experiments: Another extremely powerful GA feature. The Experiments' framework allows you to "test almost any change or variation to a website or app to see how it performs in optimizing for a specific goal," as Google puts it. Tracking A/B tests and similar activities occur here.
In-Page Analytics: You can use the In-Page Analytics category to track user interaction with a specific page.
Conversions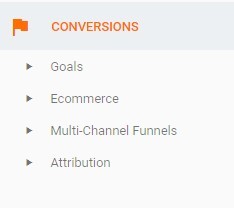 The Conversions feature allows you to define "goals," and track their completion. You can even set monetary values to each conversion for a rough overview of potential revenue, among other functionalities. Some of the options you have within the Conversion category are:
Goals: You can set a "goal" of any complete action on your website. A good example is setting a goal of sessions to a "download completed" screen, so you'll know exactly how many users have actually downloaded your content. This functionality is extremely flexible and open-ended.
Ecommerce: The Ecommerce section allows you to track the performance of specific products, general sale information, transaction information, and much more.
Multi-Channel Funnels: As Google puts it, "Multi-Channel Funnels shows you how your marketing channels work together to create sales and conversions." In other words, this tool allows you to get a top-down picture of your entire sales funnel.
Ready to get started with Google Analytics?
GA is definitely a many-headed beast. You can do almost anything with the interface, as long as you know where to look. As the leading analytics platform available, it's also absolutely necessary in order to ensure your online assets are performing at maximum capacity.
If you're unsure where to start with Google Analytics SEO, we'd love to help! WebFX is a full-service digital marketing industry that's being using GA since its inception. Our expert team of Internet marketers have years of experience optimizing clients' websites with the help of Google Analytics, and we'd love to do the same for you.
Contact us today for more information or a free quote!
Earn a 20% greater ROI with WebFX