The Best Analytics Platforms
Analytics are critical to the success of any online marketing campaign – there's no getting around it. The question then becomes: What's the best way to track your analytics? Just like most areas of Internet marketing, there are a host of tools – paid and unpaid – at your disposal.
We've compiled a list of our favorite analytic platforms so you can get tracking and measuring as soon as possible! You can also check out our marketing guide on how to scale your website traffic!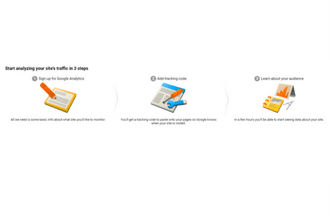 We'll start with the most obvious candidate. Google Analytics is simply incredible. It's free, expansive, and powerful. For many businesses, this is all you'll ever need. It's always a good idea to have GA set up, even if your primary analytics are coming through a different platform.
If you're looking for an all-in-one solution, this is it. While other platforms may perform one or two individual functions better than GA does, GA still has some level of functionality included for just about every aspect of analytics.
Downsides
There is a learning curve to GA, and its sheer potential can be overwhelming at first. Luckily, there are thousands upon thousands of tutorials out there that show you how to enable and configure just about any functionality you could ever want.
Piwik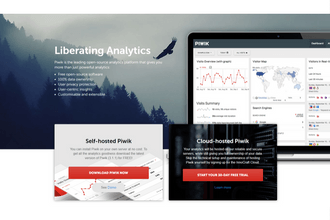 Piwki is a German-based, open source analytics platform. It's free, and approaches GA in terms of pure functionality.
Piwik's main selling point is that you retain ownership of your data. The free version is hosted on your own servers, making it a leading choice for privacy-minded webmasters. Piwik also has a strong European user base, as it adheres to certain European laws regarding cookies.
Downsides
Storing data on your own servers is an added level of technicality, and may suit tech-minded webmasters better than others.
Piwik's interface is considered cluttered by some, and leaves something to be desired.
Clicky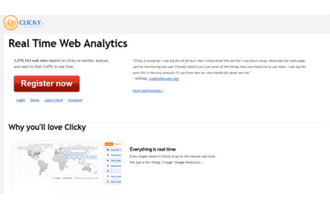 Clicky is marketed as a "simple" approach to analytics. It's intuitive, easy to use, and stripped-down in certain regards. It also includes some impressive features like heat maps, uptime monitoring, and other functionality that you'd typically need to incorporate through a third party.
If you're looking for a straightforward, no-frills analytics platform that's easy to learn and use, Clicky is your best bet.
Downsides
Some consider Clicky to be too basic, and certain features come across as being half-baked. It's often difficult to see what happens after a user lands on your website, and some of Clicky's tracking features are far-outpaced by those of other platforms.
KISSMetrics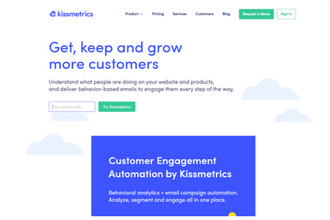 KISSMetrics is the sultan of user-tracking and conversion optimization. It forgoes the all-encompassing feature set present in GA, and instead focuses intensely on painting a detailed conversion-path picture.
KISSMetrics is ideal for ecommerce businesses, and is essentially a fully-built-out version of GA's "Conversions" category. You can even set up extremely nuanced revenue-tracking that takes things like refunds into account.
Independent research from Clutch has named WebFX the
top SEO company

in the United States.

Clutch has personally interviewed more than 250 WebFX clients to discuss their experience partnering with us.

Read More Clutch Reviews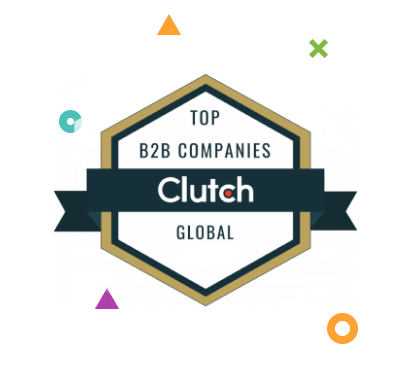 Downsides
KISSMetrics may not be the best choice for webmasters looking for general, well-balanced analytics. If you're not in the business of ecommerce, you'll likely be better off skipping KISSMetrics in favor of a broader set of analytic tools.
Woopra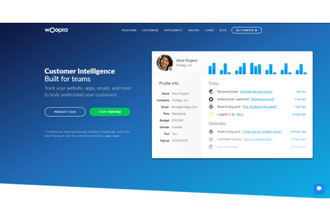 Woopra takes individual user analytics to a new level. They market themselves as providing "real-time customer analytics" and in this case they're spot on.
Woopra saves the complete history of every visitor to your website, so you can go in and look at pages visited, entrance pages, exit pages, and another other metric you want. You can also integrate Woopra with an online store, and see in real-time what your customers are doing.
In many ways, Woopra offers more extensive data than GA, in a more manageable, viewable format.
Downsides
Woopra depends on complete integration to function properly, so setup can be a bit more time intensive than with other analytics platforms. It has a similar learning curve to GA as well.
Parse.ly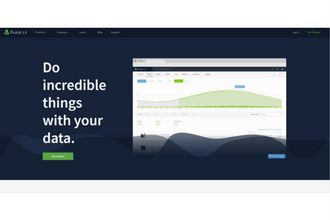 Parse.ly is a fantastic analytics platform for publishers. It tracks individual posts and authors, so you're able to compare articles, authors, social shares, and so on. Parse.ly makes it easy to spot trends in popular topics, and even offers predictions on future traffic levels.
Parse.ly's real-time functionality is very well-rounded, and setup is simple, too.
Downsides
Parse.ly focuses largely on traffic generation and intra-site performance. If you want a complete picture that includes users' point of origin, what individual users are doing on your website, and ecommerce analytics, then Parse.ly might not be for you.
Are you ready to pick an analytics platform?
It's hard to make the call between one analytics solution and another, especially if you're not familiar with the various options out there. But, this is one of the most important decisions you'll make as a webmaster. Analytics are at the core of online performance, and must be approached logically and effectively.
At WebFX, our team of expert Internet marketers has years of experience working with analytics of all kinds. We understand that different businesses and industries require different analytics solutions, and we've helped hundreds of clients improve their bottom line by practicing what we preach.
If you're looking for the touch of a professional when it comes to your analytics, we'd love to help!
Contact us today for more information or a free quote.
Earn a 20% greater ROI with WebFX