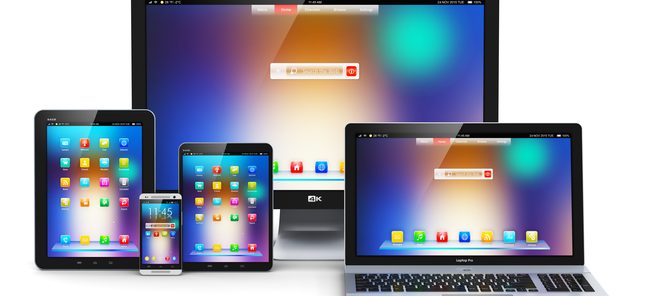 8 Head-Turning Electronic Gadgets and Their Cheaper Alternatives
You can still be on the cutting edge of technology without breaking the bank. You just need to know where to go!
Here's a list of 8 status-symbol electronic gadgets and their counterparts that turn as many heads, but cost a ton less.

Macbook Air => eeePC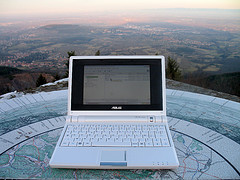 I used to sit in the basement of the Union building at college writing on my eeePC, then I had to move because people asked me about it so much I didnt get any work done.
The eeePC can't compete when it comes to storage, but that's less and less important as companies like Dropbox and even Gmail give away gigabytes of storage for free.
Plus it costs $1400 less than a Macbook Air, and you won't accidentally throw it out.
Amazon Kindle => Ipod Notes + Project Gutenberg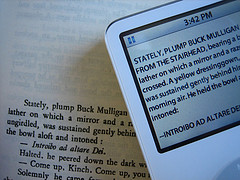 Instead of shelling out $400 for the device then another $10 or $15 per book, you can read all the books worth reading on your Ipod.
Project Gutenberg has thousands of the greatest works of literature all in digital form, and this site has a program that splits the text files into pages then shows you how to upload them to your iPod.
Manybooks.net has a huge library of works too.
Ipod Touch => Ipod Video GUI Hack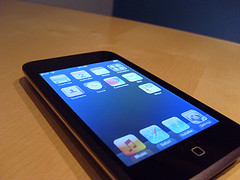 The guys over at ipodhacking.com have written a couple firmware updates for a bunch of versions of the iPod, but the most impressive by far is their Video to Touch converter.
If you have a iPod video 5.0 or 5.5, you can update your firmware to reflect the UI of the iPod Touch.
It looks just like the iPod Touch interface, it's free, and you won't have to worry about the touchscreen breaking.
Mobile apps are also becoming quite popular and many companies are taking advantage of creating tools and features to empower the ever-growing market of mobile device users.
Huge Powerful Desktop PC=> Docking Station with Used Equipment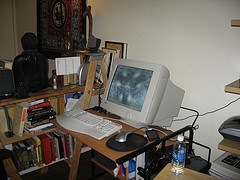 Used computer parts are dirt cheap and most still work great. If you don't already know someone fixing old computers, ask around and you'll find someone quickly. They'll have great deals.
For my docking station I went to the State Surplus store in Harrisburg and bought the following:
17-inch monitor
Keyboard
Optical mouse
Surge protector
Harmon/Kardon speakers
for a grand total of…

SIXTEEN DOLLARS.

It was a horrible misappropriation of tax funds, but I now have a fully-functional docking station for less than my monthly dry cleaning.

Noise-Cancelling Headphones => Over-the-Ear Headphones


Truth be told, unless you work as an air traffic controller or on a factory floor, you don't really need complete silence to listen to music at work.
You can effectively block out the light din of chit-chat and tap-tap-tap of keyboards with noise-cancelling lookalike headphones, like these.
Plus you'll save $150.

Car Compatible Head Unit => cnet's Car Ipod Tutorial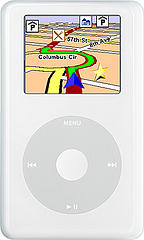 Turn your stereo into a fully-functional iPod for about the same price as you'd pay for a better-looking yet lower-quality FM transmitter.

Any Ipod => Anywhere.fm



If you're not working out or traveling, the fact that you don't have access to your local hard drive won't matter thanks to anywhere.fm.
You can upload your entire music library for free and listen to it wherever you have internet access.
Bulky Video Camera => Flip Video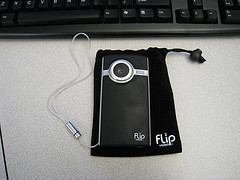 The Flip video camera burst onto the scene when Google gave them out as Christmas gifts last year.
They're about the size of a digital camera, hold an hour of video, and render an extremely sharp picture. I use mine all the time.
And for only $100 you can use the money you save to do something worth videotaping.
Any other suggestions? Leave a comment!