9 minute read

Trevin serves as the VP of Marketing at WebFX. He has worked on over 450 marketing campaigns and has been building websites for over 25 years. His work has been featured by Search Engine Land, USA Today, Fast Company and Inc.
If you're responsible for your writing and maintaining your company's blog, you probably realized pretty quickly after starting that it isn't quite as easy as it sounds. Putting together a single post can require hours of researching, writing, and finding images, and after all of that effort, you may be left wondering if your website actually needs a blog. If you're like many bloggers, you likely started because you heard that it would help your marketing efforts.
Creating a blog would keep your site "fresh," establish your business as a thought leader in your industry, and provide you with material to share to your social channels. But even if it's accomplishing all of those things, does your blog really have an impact on revenue or sales?
Bonus reading: blog structure for seo
If the answer is no, it's time to rethink the way you structure and use it. Although its primary function should still be to provide useful information to readers, it is entirely possible to use your company's blog to generate leads at the same time.
Here's how:
Link to other posts and pages
If your posts don't all include multiple links to previous posts and pages on your site, you could be missing out on a large amount of site traffic. After all, think about what readers to when they finish scrolling through your post. Even if they read the entire thing (and loved it), if there is nowhere else to go, they'll just go back to where they came from – not becoming a lead, and driving up your bounce rate.
Lucky for you, this is an easy fix. The next time you write a blog post, think about where you want readers to go after (and while) they read it. Is there a certain paragraph that might be confusing without prior knowledge?
Link to an article on your site. Do you have another blog post on the same topic that would make for logical additional reading? Suggest it at the end.
Links can serve as mini calls to action, and you can create them in the form of text, images, and buttons. Regardless of what you want your readers to do (make a purchase or download, or simply keep reading), you'll likely need a link to help them do it. On our blog, we often link to other posts we think our readers might find interesting:

Without these links, your post is an island.
Readers may find it in search engines, but with no further direction, will simply leave your site. The addition of a few links could be all it takes to encourage them to stay a little longer, learn about your business, and possibly become a customer. In addition to adding links to other posts and articles, links to dedicated landing pages may also work in some blog posts.
While you shouldn't always do this (and risk coming off as too pushy), posts that discuss specific products or services may serve as an opportunity to convert readers into leads. If you've been blogging for a while, you may even want to go back and update your top-performing posts with links. Using Google Analytics, it's easy to see which of your posts attract the most traffic.
Take a few minutes to update at least the top 10, and you could potentially start generating leads with posts that already exist.
Email opt-in forms
One of the easiest ways to generate leads with your blog is by including email opt-in forms in the header. This requires minimal effort to set up, but can dramatically increase the size of your subscriber list. If this doesn't sound like a big deal to you, then you probably aren't aware that email has an average ROI of 4000% – meaning that it can generate up to $40 for every dollar you spend.
Maximizing your email ROI means having large number of subscribers, which is why you'll see this at the top of every post: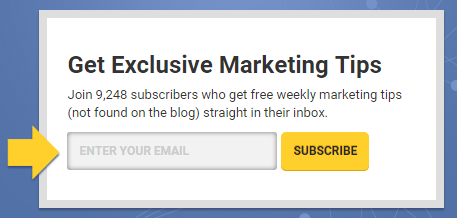 This form automatically signs readers who enter their email addresses up for our weekly newsletter, meaning that even if they don't remember to come back to our blog, we'll still be able to communicate with them. Although it's easy to just write something like "Subscribe now," you're more likely to gain subscribers if you explain how your blog can benefit readers. For example, take a look at the opt-in form on popular advice blog, The Daily Positive: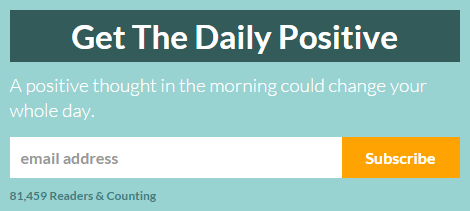 Pretty compelling, right?
Not only does the bright orange button get readers' attention, but the idea that subscribing to one blog could change your entire day is promising.
Calls to action in your sidebar
As your readers scroll down your posts, your blog content will obviously be their main focus. That being said, your sidebar can also serve as an opportunity to give them direction as to where they should go once they finish reading. This can mean many things depending on your business and industry, but in our case, we want our blog readers to know about the other content we offer on our site.
Considering that many of our readers are interested in marketing their own businesses, it's logical that they might find our marketing guides useful: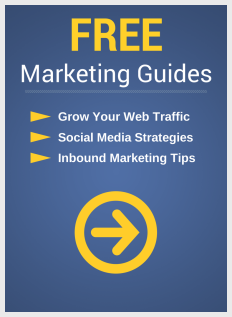 Directing visitors to even more helpful content furthers our relationship with them and encourages them to come back. If they choose to actually download one of the guides, that's even better. Keep in mind that the sidebar content should be targeted to your readers, or at least somewhat relevant to the subjects you blog about.
Target, for example, has a few blogs, but this is the sidebar on their "Target Pulse" employee blog: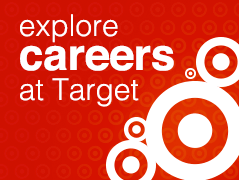 Although this may not be extremely relevant to readers of their style blog, it's probably a useful link for someone who is reading about the company's culture. Also in our sidebar, you'll notice that we have another email opt-in form: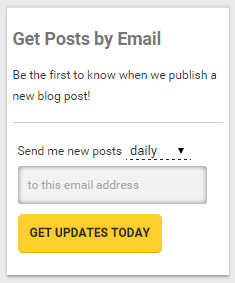 Unlike the one in our header, this form doesn't subscribe readers who enter their email addresses to our weekly newsletter. Instead, it simply lets them know when we've published a new blog post.
This type of form is great for ensuring that the readers who enjoy your blog have an easy way to stay up to date with it.
Calls to action at the end of the post
Many bloggers don't know how to write effective conclusions, and just let their posts sort of… end. While it can be hard to get right sometimes, the end of your posts is arguably the most important part. What are readers supposed to do next?
Where are they supposed to go? Providing the answer to these questions can be the difference between a one-time site visitor and a lifetime customer. And while there's no set formula for ending every post, one of the best ways is by providing an additional resource:

Of course, your resource needs to be somehow related to the content of the post.
In this case, the post was about increasing email conversion rates, so an email marketing checklist made perfect sense. Another option is to simply provide a link to your contact page:

You probably don't want to end every post with a direct call to action like that. But every once in a while (especially if you think a post is particularly likely to generate leads), you might have success with it.
If you offer a specific product or service, you might also want to include a call to action at the end of your post encouraging readers to learn more about it like Evernote:
Considering that the post it is included with is all about the benefits of the premium plan, this call to action makes perfect sense.
Create content that is actually useful
If you're already using some or all of the above methods, but still not seeing results, it's time to look to your content. Although your ultimate goal may be to generate leads and business, your blog's primary function should be to provide value to readers. After all, what other reason do they have to come back?
Take some time to look over your past posts, and determine whether or not they really offer anything of value to your target audience. If not, you've found your problem. Now that you know how to start generating leads with your blog, it's time to start writing (or revising).
If you have any questions about how to implement any of these strategies, or know of any I've missed, feel free to let me know in the comments below! I'd love to hear your suggestions.
Trevin serves as the VP of Marketing at WebFX. He has worked on over 450 marketing campaigns and has been building websites for over 25 years. His work has been featured by Search Engine Land, USA Today, Fast Company and Inc.

WebFX is a full-service marketing agency with 1000+ client reviews and a 4.9-star rating on Clutch! Find out how our expert team and revenue-accelerating tech can drive results for you! Learn more
Try our free Marketing Calculator
Craft a tailored online marketing strategy! Utilize our free Internet marketing calculator for a custom plan based on your location, reach, timeframe, and budget.
Plan Your Marketing Budget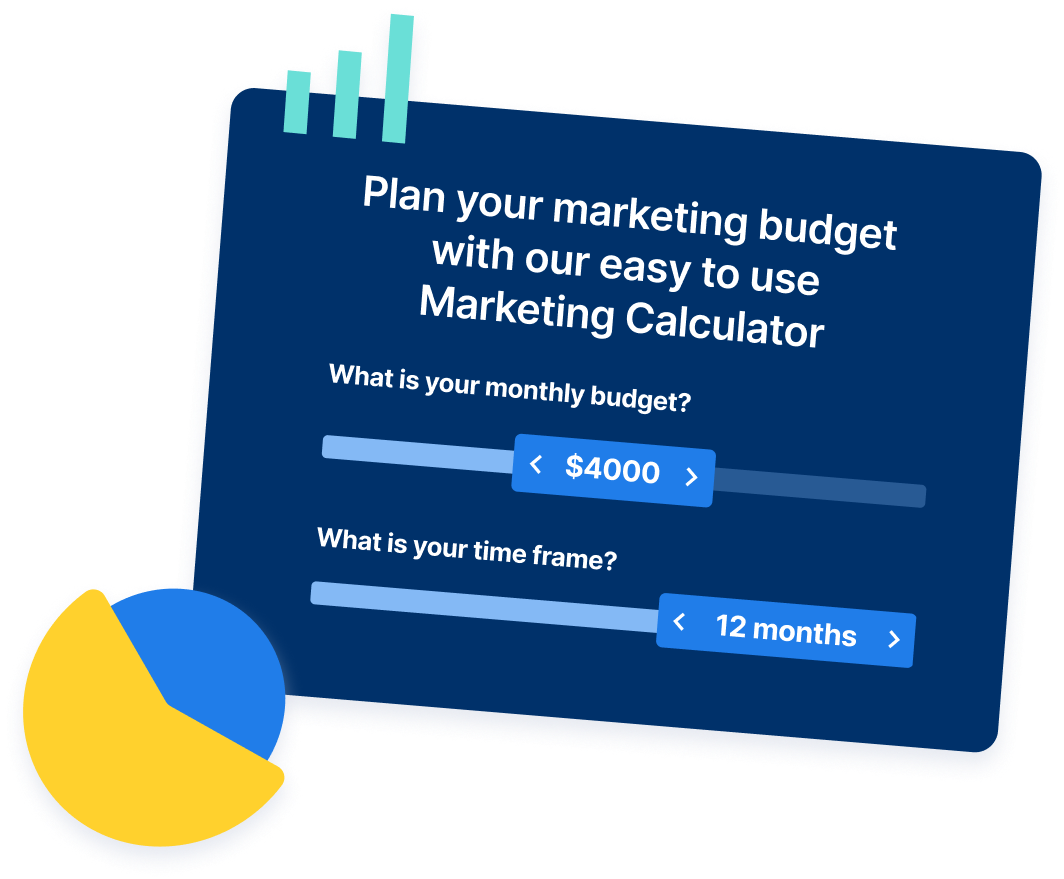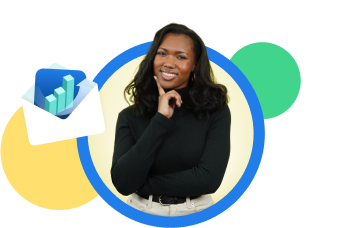 Looking for More?
Get expert ideas, industry updates, case studies, and more straight to your inbox to help you level up and get ahead.
"*" indicates required fields
Try our free Marketing Calculator
Craft a tailored online marketing strategy! Utilize our free Internet marketing calculator for a custom plan based on your location, reach, timeframe, and budget.
Plan Your Marketing Budget