Of all of the social media platforms today, one of the least-understood is Google+. Many business users find it confusing thanks to the many changes it's undergone in the past few years. As a result, lots of businesses let their profiles go inactive or simply never set them up in the first place.
But if you want to reach potential customers – and show up on Google Maps – your page needs to be active and up-to-date. Fortunately, managing a Google+ page isn't complicated once you get used to the platform. But first, you need to be able to access it.
So if someone else currently has ownership of your page, keep reading to learn how to get access and take control of your business's Google+ presence.
1. Make sure you understand Google+ and Google My Business
Like I mentioned above, the main reason for the confusion surrounding Google+ is how frequently it's changed. In the past five years, we've had Google Places, Google+ Local, and now Google My Business. Today, Google My Business is the only option, and all previous accounts on Google Places and Google+ Local shifted over.
However, it's still commonly referred to as Google+, which is the name of the social network for individual users. And considering that Google My Business pages must be owned and managed by logged-in Google+ users, it's easy to understand the mix-up. It's also important to note that each Google My Business page can only be "owned" by one user, but it can have up to 50 "managers." Managers can edit the page, post photos and updates, and respond to reviews.
The owner is the only one with the ability to add and remove managers or delete the account. You can also add "communications managers" who can publish posts, but not edit the account information.

So before you read any further, visit plus.google.com to make sure you have an individual Google+ account set up.
If you use Gmail, you probably already do. But if not, follow the on-screen instructions to create your profile.
2. Determine who owns your Google My Business page (if anyone)
Once you're logged into Google+, you need to determine who owns your business's Google My Business page. Start by selecting "Pages" on the drop-down menu in the upper left of your dashboard. If you're taken to another dashboard with the details of your business, you're already a manager or owner.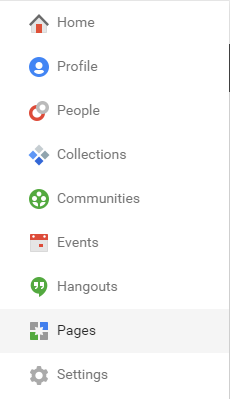 You can determine which by navigating to Settings > Mangers. This will show a list of all users with access to the page and who owns it. If you're a manager but want to be the owner, skip to step 3.
If you don't have access, however, you'll be taken to this page:

Click "Get on Google," and type your business's name into the search bar. If it doesn't show up, this means that it doesn't have a Google My Business page. If that's the case, go to this page and start from step 2. If it does show up, someone has already claimed your business. Select "Request admin rights," and you'll be able to fill out a request for access:
This request will be sent directly to the current owner of the page, and you can choose whether you want them to transfer ownership or make you a manager. Unless you know the person, I recommend asking for an ownership transfer, as this is the only way to have full control of the page.
Once you've submitted the request, the current owner will ideally respond and grant you ownership. If not, Google recommends that you wait two weeks and then file a dispute.
3. Transfer ownership from the owner's account
If you're already the manager of a page you would like to own, it's much easier to get ownership. You can see the current owner from the Managers page, and considering that it's most likely a current or previous coworker, you can contact them directly. If they agree to transfer ownership, they'll need to take the same steps as you and log into Google+, navigate to Pages, and select the Managers tab in the page's settings.
Since you're already a manager, they can simply click the arrow next your name and select "Transfer ownership to [your name]":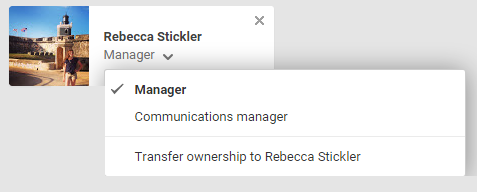 Once they do, you're officially the owner! They will then become a manager, and you can add up to 49 other managers you'd like to have access to the page.
Do you use Google My Business?
If you're a local business owner, Google My Business can be a great way to achieve visibility in search engine results and attract customers to your physical location.
Have you used to platform successfully? Do you have any tips for other business owners? Let me know in the comments below!
WebFX Careers
Join our mission to provide industry-leading digital marketing services to businesses around the globe - all while building your personal knowledge and growing as an individual.