Inbounders is a series profiling people and companies who are accomplishing great things through inbound marketing. We'll chat about strategies, vision, tools, tips and more.
Started by a family in Massachusetts, Cards & Pockets is a world leader in DIY pocket invitation supplies based in South Easton, MA. They specialize in providing a friendly and easy to use online experience for all of your paper invitation needs especially for wedding invitations, save the dates, and custom place cards.
We fortunately had the opportunity to interview Dan Piscitelli: sales manager, inbounder, and the founder's husband.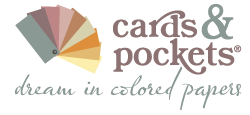 Give us some background on how this amazing company got started.
Did you expect to become this popular? At what point did you and your wife realize this was going to be a major operation?
When my wife, Becky, and I got married, she made our wedding invitations from scratch. Which turned out great!
After that, her goal was to figure out a way to make an income from working at home, so she could be with our kids. She started marketing her invitation skills on etsy.com. She quickly realized that these pocket invitations brides had a demand for were not readily available at a realistic price.
We invested the little money we had in to having her own pocket invitation designs manufactured.
A quick ecommerce site was the beginning of online sales. Before long the operation was too big for our apartment. Her mom, Lisa, joined as her partner and moved to a small office space.
The goal of her working at home evolved beyond what we expected even after the first office move.
I never expected to see our investment money for a bunch of paper again. When we got that back, I knew this had potential.
At first, did you do any initial online marketing beyond Etsy? What spurred such rapid growth?
The amazing fact is that we didn't do any advertising for the first several years.
Customers loved our quality, customer service, and prices so much that they spread the word through online wedding forums. We took that as a blessing and passed on the advertising savings to the customer. We were simply meeting the demand.
Business continued to grow each year.
Now, in 2013, what does your online presence look like? How has that affected your business as a whole?
Our online presence is more spread out today. We have a healthy balance of ad words, page ads, social marketing, and organic SEO that drive traffic to our website.
This is all pretty worthless though without a good website. We put a lot of energy into educating the visitor the moment they reach our site. We want to give them the clearest understanding of what we offer and how we can help them.
What online marketing channels have produced the most return for Cards and Pockets?
I couldn't say that any one online marketing channel provides more return.
They are all unique to their own investments and returns. Some require more investment, but offer a high conversion rate, like ad words. Those that require less investment usually take a longer time to build up, like organic SEO.
If we could only use one marketing method I would revert back to customer referrals like we had in the beginning. Our company believes that satisfied customer referrals drive the continuing growth of our business.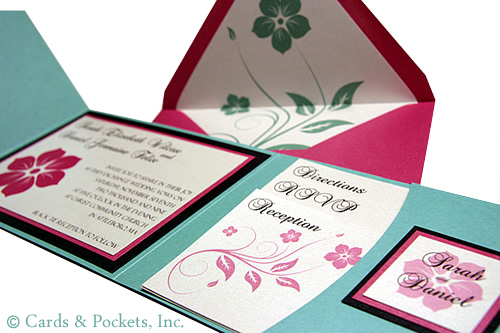 How have you taken advantage of the different areas of your website to generate leads or conversions for your company?
We've tried a lot of creative ways to keep visitors hanging around our website.
One of the firsts was an Invitation Design Contest hosted through facebook. The goal was to increase our facebook page likes. It was absolutely successful.
Before we even had time to think about it the following year, people were asking to submit their invitations for the next contest. Since our fourth year with this annual contest, its turned into something fun for both our employees and customers look forward to.
The contest submissions have evolved into a larger customer gallery where visitors find design inspirations. Our blog is something we created to host some of our favorite designs and provide some helpful tutorials for questions we often get.
Most of it is in response to demand. When you give the customer what they want, they keep coming back and will even bring their friends!
Cards and Pockets is very involved on Facebook and Twitter as well as other social networks. How does social media play a role in your overall marketing efforts?
Facebook and Twitter are certainly the most obscure online marketing avenues.
There doesn't seem to be one right way to market through these. So, we just keep trying different ideas. At the very least, its something fun for us and our customers.
Its a great connection to customers and can be quite helpful too.
A few months ago we were looking at a handful of new paper colors we wanted to add. To get a final approval, we asked our customers through a poll on facebook. Within a couple hours we knew what products we would add to our offerings next!
Where do you see Cards and Pockets in the next 5 years?
Our company plans on continuing innovation through our website and products.
We'll increase our marketing efforts but will always have the most focus on our website and treating customers fairly. In 5 years we plan on making it easier and faster for the customer to find everything they need for their DIY invitation project.
What advice would you give to other home businesses that are looking to grow like yours once was?
My advice to other home businesses looking to grow would be to take some risk. I see and hear a lot of good ideas that dont go anywhere because they're never put out there.
Every company starts out small at some point. If you're successful as a home business, take the next leap to grow to a small company.