The 4 People You Meet in a Web Design Company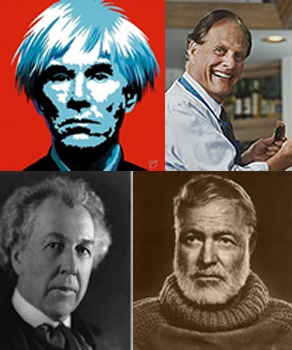 If you think it's tough getting people in your company to agree, you should see the design process at a web design company.
Everyone is an expert in their field and wants to set up the design a different way.
All those personalities clash (and mesh) spectacularly.
Imagine this meeting…
____________________
Frank Lloyd Wright:
That was Donald Trump and he wants a website. He says that we can make it however we want but if it sucks, he'll buy our company and fire everyone.
Andy Warhol:
I see a bright, shiny homepage with light pinks, yellows, and greens, offset by a dark red border, symbolizing Trump-like responsibility…
Ernest Hemingway:
(Drinks swig from flask and slams on table) The copy should be solid. That's most important. Small words. Big meaning. Whitespace everywhere: no colors. Maybe some gray. But no frills. Sites need words, not pictures.
Andy:
Donald loves colors! Everyone does!
Mr. Wright:
The site must be usable. I recommend a streamlined architecture, enabling the user to flow effortlessly from each page to the next, while incorporating code that can be read by any device: mobile phone, laptop, desktop, Blackberry, etc.
Andy:
Nobody cares about the code. People will see the site, real people! They need colors: red for hunger, purple for sex…
RON POPEIL:
I DON'T CARE ABOUT THAT WE NEED TO SELL SELL SELL!!! DONALD LOVES SALES!!! KEYWORDS EVERYWHERE!! CALLS TO ACTION! SNAPPY HEADLINES! 5 WAYS TO MAKE YOUR LIFE NOT SUCK! HOW TO BE LIKE THE DONALD!!
Hemingway:
Ron. Solid copy, written succinctly, sells itself.
RON POPEIL:
BUT WE NEED TESTIMONIALS!!!
Andy:
Ugly testimonials wreck the site's ambiance.
Hemingway:
Colors wreck meaning.
Mr. Wright:
Each user needs to find the information they seek easily and quickly. That is paramount.
Andy:
But if it's ugly they'll leave!
Hemingway:
Too many frills distract the eye. Words matter most.
RON POPEIL:
NOTHING MATTERS IF WE LOSE MONEY!!!
Mr. Wright:
No one spends money if they can't figure out how.  Usability is paramount.
Andy:
Pretty colors!
Hemingway:
Words! No more.
RON POPEIL:
REVENUE!!!! ITS DONALD TRUMP!!!
____________________
And so on. Eventually, if all goes according to plan, a gorgeous, usable, well-written and profitable website evolves.
But sometimes it takes some negotiating 🙂
(P.S. 100 points to the first person who can tell who each character represents)