My Sojourn into the Depths of IRS.GOV
I was cursed at the worst possible time with the scourge of the unusable website.
For anyone who doesn't know, Jakob Nielsen's useit.com is waging war on unusable websites.
He's the expert on web usability. He's been writing "Alertboxes" on the subject since before the word weblog was invented.
But beware: his stuff is a blessing and a curse.  It's a blessing because your websites will be usable.  It's a curse because you will become INFURIATED at websites that aren't.

The Task
Around 10pm on Wednesday night I go to irs.gov to file an extension (a certain employer never sent me a W-2, huge mess).  Obviously I'm on a deadline and all I need is to fill out the form and submit it electronically.
After a little web searching I find that I need Form 4868.  There's a link to the most popular forms at the top of the IRS homepage: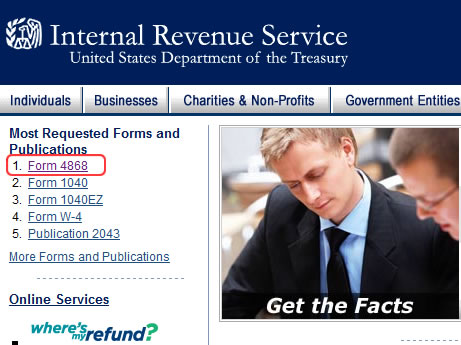 "Great!" I think.  "I'm not the only one who needs to file an extension."  That makes me feel better.
Then I click on the link.
The Failure
Form 4868 opens up in a writable PDF, which lets you fill in your info right in the document.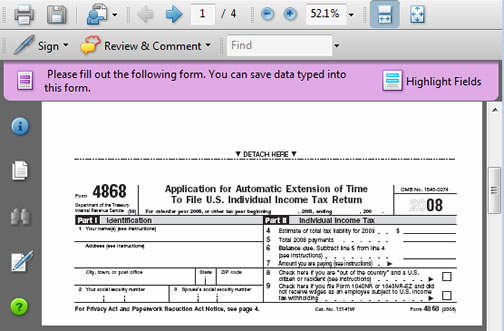 This is convenient.
If you're printing it out and filing by mail.
But if you're trying to file online? Completely pointless.  You would need to fill out the form, save it, find out where to submit it, then re-upload your new file.
So I think, "this can't be right" and I click around the site looking for a better way.
I click on the e-file logo on the homepage and I'm taken to the e-file landing page, with a bunch of options, one of which is a text link that says "Free Federal Extension is available."
Perfect! Just what I need.
I'll just click on this link and be whisked away to a nice form where I can enter the 7 bits of information they need…
NOPE!
I go to this page that tells me that I can free file an extension, which I already know, with no links to where I can do that.  The only link is back to where I just came from: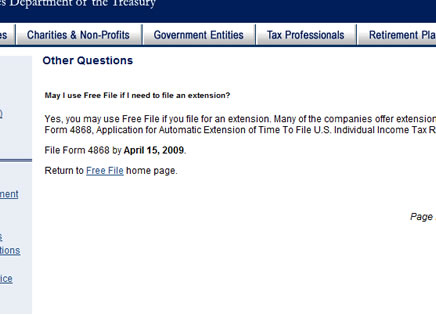 Odd. I keep searching.
After another 20 minutes of clicking around I finally give up trying to submit the info online.
Disgusted, I rant to my fiancée for 20 minutes, print out the form, drive to the post office and mail it, defeated.
The Takeaway
Every website needs to make it as easy as possible for the majority of its users to complete a desired action.
Form 4868 was the most popular form on the site so it should have been extremely easy to submit that info to the IRS.  Instead, the site was so poorly designed that I had to print it out and mail it.
Now the IRS probably doesn't care about this because the burden is on us to get them their money.
But if you're trying to drive new online customers and the architecture is horrible, they'll leave and never come back.
And some might even blog about how awful their experience was.
Tags: conversion design, conversion optimization, design, usability