11 minute read

Trevin serves as the VP of Marketing at WebFX. He has worked on over 450 marketing campaigns and has been building websites for over 25 years. His work has been featured by Search Engine Land, USA Today, Fast Company and Inc.
There's an old adage among creatives that what you create never belongs to you — it belongs to your fans. The thinking is that you may produce something, but your fans are the ones who interact with it, and because there are so many more of them than there are of you, they "own" it, in a sense. They decide if it's good or bad, successful or fruitless, smart or dumb.
Even if it's the best idea you've ever had, the opinion of an audience can make it seem like the worst. Surprisingly, you can say pretty much the same exact thing about hashtags.
Why hashtags are hard for marketing
Hashtags give you the chance to spread a lot of brand awareness and engage your users on social media. You also empower an entire social network to do what they want with your hashtag.
Basically, once you throw it out there, the public can take what you've made and go crazy with it. Sometimes, that works out to a company's advantage. Over the past few years, there have been some pretty clever, innocuous ideas that have worked great on social media.
On the other hand, sometimes a hashtag blows up in a company's face and becomes a disaster. By looking at them as individual cases, you can learn a couple things about marketing, the Internet, and human behavior in general (though we won't go that deep).
Case #1: #DiGiornoYOUDIDNT (@DiGiornoPizza)
In 2014, DiGiorno decided to introduce a fantastically clever and simple pun that took Twitter by storm. They used it a lot — mostly during football games — and it created a huge uproar during the Super Bowl.

Pretty good, right? Just look at those numbers — 16,000 retweets and 12,000 favorites. The hashtag works for a number of reasons.
First of all, it's clever. DiGiorNOYOUDIDNT just rolls off the tongue, and it's a play on one of the most popular phrases in the United States. Second, the tweet's content is highly relevant to something that almost everybody enjoys at the same time — the Super Bowl.
That means they already have a way to get traffic from an audience and make their own. Critics might say that's a little derivative, but really, it's just smart. Third, DiGiorno's tweeter (whoever he or she may be) wrote in the best possible way for that hashtag.
The all-caps approach is exaggerated and over-the-top, and it makes the reader think of someone who's yelling. In this case, that works to their advantage by making pretty much everything funny. It's like your best friend on the couch is crackin' wise about the Super Bowl.
Who wouldn't like that? But they didn't stop with the Super Bowl. DiGiorno decided to ride out the fad they'd created, which turned out to be a treasure chest of participation that just kept giving.
It's interesting to note that before the Super Bowl, DiGiorno's hashtag wasn't getting nearly as much love from its fans.

That's only a couple days before the big game, and they weren't even pulling triple digits for retweets. Fast forward seven months, and they're still using the hashtag with some good results.

The combination of the hashtag's pun, the tweets' excessive enthusiasm, and the general absurdity of the whole situation makes #DiGiorNOYOUDIDNT one of the most successful hashtag campaigns ever. It was so good that DiGiorno's audience actually wants the hashtag to come back.

That is success on social media.
The takeaways
DiGiorno's absolutely nailed their hashtag marketing idea in a number of ways that can teach us some good lessons about hashtags.
Punny hashtags can work with the right personality
Stay family-friendly, but go for a joke
Utilize popular appeal ( like the Super Bowl, football, or sports in general)
Appeal to your demographic
Line up your usage with popular events
In this case, information disseminated entirely under DiGiorno's control. A lot of people joined in with the hashtag, but DiGiorno stayed on top. They pumped out new puns and jokes with rapid precision, and they always timed it perfectly.
Case #2: #WhyIStayed (@DiGiornoPizza)
DiGiorno makes this list twice because you don't learn how to be awesome at something without messing up a lot first.
And in this case, DiGiorno messed up big time. They didn't create this hashtag — writer Beverly Gooden spearheaded #WhyIStayed to express the sentiments of those who had stayed in physically abusive romantic relationships. It drew attention to the complexities of domestic violence, and it gained a ton of attention on Twitter.
Twitter users participated immediately. In a rare showing of solidarity on the Internet, thousands of people shared short synopses of their stories and why they stayed with people who hurt them. The results were some of the most touching, moving, and insightful content you can find online.
The campaign has been so successful that it's still going on today. But at one point, soon after the hashtag became popular, DiGiorno chimed in.

In this situation, DiGiorno didn't control the hashtag they used, but they also didn't research it.
The backlash was huge — and it threatened to take DiGiorno's whole social media presence offline. It could've, too, if DiGiorno hadn't done something smart. Like admit they were wrong.
DiGiorno spent a huge amount of time and energy apologizing. Normally, a simple apology wouldn't cut it when something this huge happens. So they had to do something different, like apologize to everyone individually.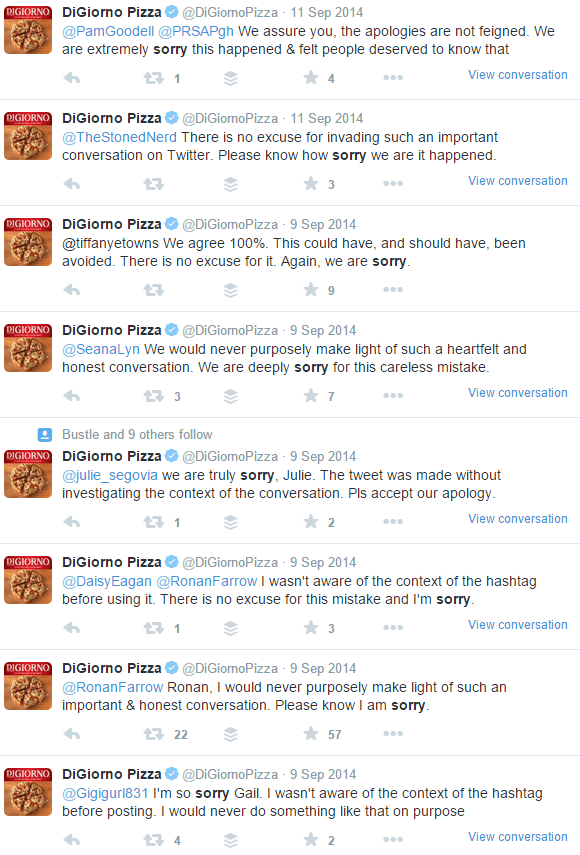 Yes, they did something wrong. And when something goes that badly so quickly, they had no other choice but to apologize. The difference is that DiGiorno decided to make it personal and appeal to everyone who tweeted at them.
That takes a lot of time and dedication, but it's the best way they could've salvaged their image after such a bad move.
The takeaways
The takeaways from this point are more important than the last for one big reason: It's really, really bad to make people mad at your brand.
Sometimes, the general public owns a hashtag
If a hashtag belongs to the public, the public will protect it
Research hashtags before you participate
If you use a hashtag incorrectly, go to great lengths to apologize
It's not pretty when social media use goes wrong for brands. Sometimes, all you can do is pick up the pieces, move on, and hope for the best.
Case #3: #EsuranceSave30 (@Esurance)
In 2014, Esurance ran an ad immediately following the Super Bowl that pointed out how they had saved roughly 30% (or $1.5 million) by choosing to air their ad after the big game instead of during it. And instead of hanging onto the $1.5 million that they saved, Esurance wanted to do something fun.
So they gave it away in a contest. On a pallet. Hosted by Office star John Krasinski.
All told, the single commercial resulted in 200,000 uses of #EsuranceSave30 in the first minute, 1.4 million in the first hour, 4.5 million in the first day, and 5.4 million before the sweepstake's end.
The hashtag was so popular that it beat out the Seattle Seahawks — who won the Super Bowl that year — by more than half a million mentions. It also increased the size of Esurance's following by 3000%. Despite the fact that the guy who won the sweepstakes didn't even know what was going on, #EsuranceSave30 is still an active hashtag on Twitter.
It's not nearly as widespread as it was, but the fact that it still exists after the contest is over speaks to the campaign's strength — not to mention the insane amount of followers it got them after the fact. But it wasn't all sunshine and roses. Part of the drawback of using a hashtag is that people can (and will) hijack it at some point to tie it to something offensive.
And that's exactly what happened to Esurance. However, Esurance accounted for that, and that's why their terms and conditions included a clause that forbade people from winning if they were annoying, obnoxious, inappropriate, threatening, illegal, or abusive. In other words, nobody who hijacked the contest could actually win the contest.
With thousands of new followers, millions of impressions, a pre-planned defense, and one of the most engaging social media contests ever, Esurance absolutely nailed this hashtag.
The takeaways
Most businesses don't have $1.5 million to just give away to someone, much less to give it away to someone who doesn't know that they're participating in a contest. Still, we can still learn a few things from Esurance.
Offer users an incentive to participate
Go big
Plan your defense
Even if your participants own the contest, you make the rules
Esurance struck a huge chord with this campaign — everyone can learn something from it.
Case #4: #McDStories (@McDonalds)
At the beginning of 2012, McDonald's was riding pretty high in the world of fast food. But, like most companies, they still wanted to engage their social media followers and get more. So they made a hashtag — #McDStories.

It started off with a sincere comment that spoke to the image that McDonald's wanted to cultivate. It also had the best intentions of promoting the brand with stories from customer experiences at McDonald's. But, unfortunately, the image they wanted didn't line up with their image in the public.


There are more, too. By pretty much every marketing standard, #McDStories was a huge disaster, and it's one of the most frequently-mentioned PR flops in the history of Twitter. This single campaign encompasses everything that can go wrong with a hashtag in one fell swoop.
The campaign was so disastrous that the hashtag is actually still used on Twitter — though it isn't trending. For a while, hijackers even registered and developed mcdstories.com. And by the way, at the time of publication, that domain is available again — in case anyone wants it.
The takeaways
It can be fun to laugh at some of the comments the #McDStories participants made, but it's not all that funny when your company is the butt of a whole social network's joke.
So what can you keep in mind to avoid this at all costs?
It's possible for you to lose complete control of your hashtag
Hijacking can start with a few jokes and avalanche quickly
Your hashtag can become so infamous that it'll live for years after you start it
Your hashtag should fit your public image
When you and your team are laying out your social media strategy, remember to consider how it can fail as well as how it can succeed.
Using hashtags for your brand
Creating a hashtag for your brand is a risk, and unless you have a huge presence on Twitter, it probably won't go anywhere. You have to plan it out and look at it from every possible angle. These questions can help:
Is this something that someone can re-contextualize and turn against the brand?
Is there any negative PR out there that could turn this into public backlash?
If I saw this hashtag on Twitter, would I want to participate?
Are there any easy jokes that hijackers could use at our expense?
Are there any similar hashtags out there now?
What's the popular content on Twitter right now, and is it generally funny, happy, solemn, motivational, encouraging, etc.?
If we lose control, what's our backup plan?
Have you used a brand hashtag before? What were the results? Let me know in the comments!
Trevin serves as the VP of Marketing at WebFX. He has worked on over 450 marketing campaigns and has been building websites for over 25 years. His work has been featured by Search Engine Land, USA Today, Fast Company and Inc.

WebFX is a full-service marketing agency with 1000+ client reviews and a 4.9-star rating on Clutch! Find out how our expert team and revenue-accelerating tech can drive results for you! Learn more
The Internet in Real Time
Ever wonder how much is going on at once on the Internet? It can be tough to wrap your mind around it, but we've put together a nice visual that'll help! The numbers show no sign of slowing down either.
Find out More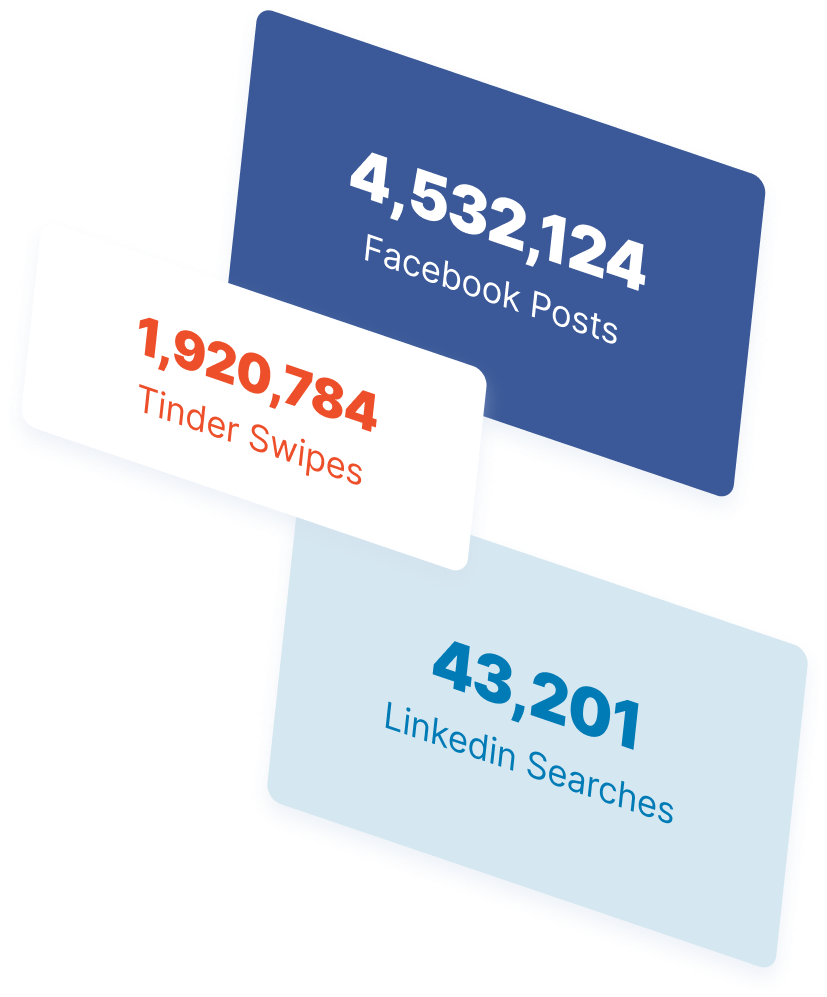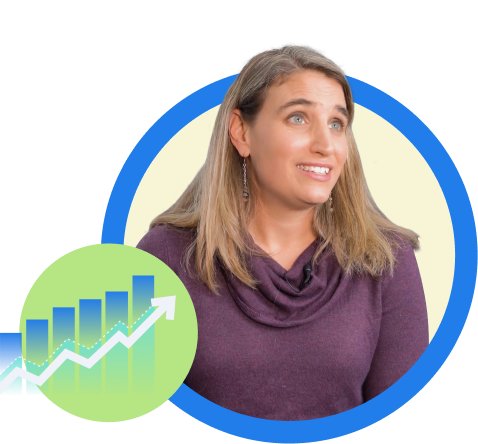 Ready to Drive Results for Your Business?
See how WebFX uses SEO, PPC, Social Media, and Web Design to Drive Revenue for Businesses.
Get Inspired
The Internet in Real Time
Ever wonder how much is going on at once on the Internet? It can be tough to wrap your mind around it, but we've put together a nice visual that'll help! The numbers show no sign of slowing down either.
Find out More