In a sign that online video is becoming increasingly popular, Hitwise is reporting that US YouTube visits have increased 26% from last year's numbers.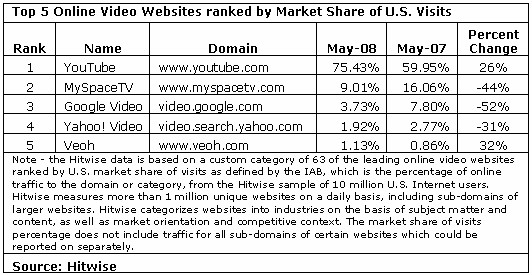 For many, YouTube has become the preferred destination for everything from movie trailers to how-to videos.  Many video podcasts are also uploaded to YouTube, and the vast amount of random, hilarious videos cannot be understated. The content marketing industry as a whole is exploding.
Myspace TV holds the second place spot, though lost 44% of its traffic from last year.  My theory is that this has a lot to do with Fox shows being streamed from Hulu instead of Myspace.
Google Video is still impressively in third place, even though Google now owns YouTube and has thrown most of its video love behind that.  As a result, Google Video's traffic is down 52%.
Yahoo! Video is clinging to fourth place, trying to ride out all the Yahoo! drama going down in Sunnyvale.  From last year, traffic has dropped 31%.
In last place we have Veoh, the company with the smallest market share but the biggest percentage gain in traffic.  Since last year, Veoh's visits have increased 32%.  What exactly this means remains to be seen.  Will Veoh come on even stronger before this year ends and perhaps steal third or fourth place?  Only time will tell.
Tags: google video, myspace tv, veoh, yahoo video, youtube