Each year of digital marketing brings with it evolving marketing channels, different challenges, ever-changing best practices, and many other variables that greatly influence the work we do. The marketing equivalent of "publish or perish" is essentially "read or retire." There's nothing more useless than a marketer using techniques that are no longer relevant. To save you some time, I've compiled a list of three 2016 marketing trends that you need to be aware of.
1. Mobile
Mobile search has obviously been exploding over the past few years, and in 2016 it absolutely must be factored into your company's overall strategy.
Mobile search volume
In 2015, mobile search volume effectively eclipsed desktop search for the first time in Internet history. This was huge news, and signaled a major shift towards smartphone and tablet usage. However, it's also important to recognize that this is distinctly different than mobile search volume affecting desktop search volume.
Take a look at comScore's 2010 vs 2014 comparison of digital media time spent by platform: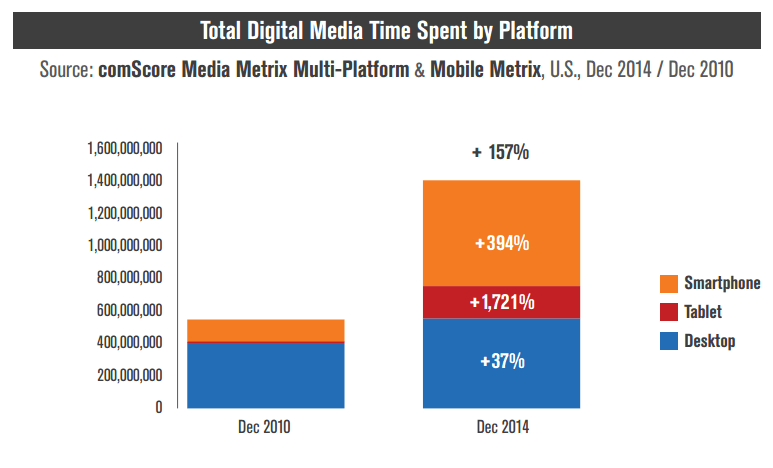 While it's obvious how much mobile usage has grown, it's also clearly not detracting from desktop usage – it's simply adding to it. The reality is that most people in 2016 will be multi-device users. So, while it's definitely necessary to have your mobile ducks in a row, it's just as important as it always has been to keep up with your non-mobile marketing efforts, too.
Google's "mobile-friendly" algorithm update
Deployed during April 2015, Google's "mobile-friendly" algorithm update began to penalize sites that weren't properly optimized for mobile devices. At the time, this caused what can only be described as industry-wide panic. The dust has settled since then, and the changes often weren't as drastic as many had expected.
But don't relax quite yet: on March 16, 2016, Google announced that they will be further increasing the effect of 2015's mobile-friendly update. They go on to say that websites already in compliance with mobile-friendly standards needn't worry, while websites that didn't get the mobile memo last year should probably heed this information and adjust appropriately.
Accelerated Mobile Pages (AMP)
The Accelerated Mobile Pages (AMP) enterprise is a Google-backed project that was formally announced in October 2015. An AMP is essentially a page with stripped-down, minimized HTML and JS. They can be stored in Google's AMP cache for near-instant rendering to mobile devices. Google integrated AMP into its mobile search results in February of 2016, and we can only expect them to become more important as time goes on.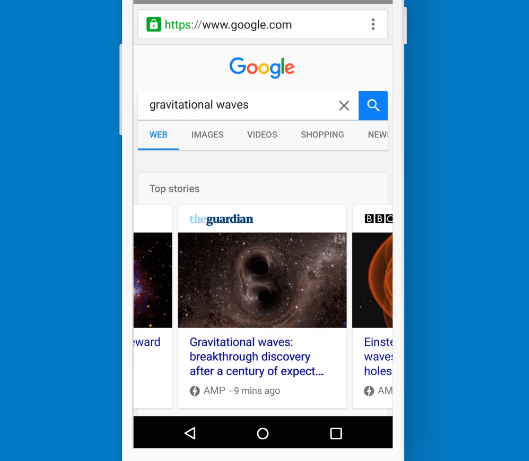 You do have some room to breathe here, as Google's Webmaster Trends Analyst John Mueller has also been quoted as saying "Is AMP a ranking signal? At the moment, it is not a ranking signal." So, even if you were late to the mobile party, the AMP project is an excellent opportunity to get your website out ahead of the pack moving forward. While AMP currently display only in the mobile search news, we can only assume they'll become more and more important to the big G in the sky.
It's always better to be over-prepared than caught out in the rain, so read up on the AMP project and associated protocols here and here.
Mobile wrap-up
The writing is (and has been) on the wall: jump on the mobile-friendly train, or take a hit in the SERPs. Mobile optimization is no longer an "optional" tier 2 priority. 2016 is the final push towards mobile ubiquity, and you need go with the flow if you want to remain competitive in the SEO game.
2. Social media indexing
Google began indexing social media content in 2015, and it's been indexing an increasing amount since then.
Twitter indexing
Simply put, you'll start seeing more and more public social media content pop up in the SERPS. Comparing the first seven days of February 2015 to the first seven days of June 2015, there was a 466% increase in indexed Tweets. Now, it's important to remember that even with that 466% increase, only 3.4% of all tweets were indexed in June. And of that 3.4%, the vast majority were tweets from heavy hitter "influencers" in the twittersphere:

But, with that being said, we can only assume that these numbers will continue to increase, leading to a much broader range of indexed tweets.
There's much to learn in the coming year: How can companies get their tweets indexed? How can indexed tweets be leveraged to benefit a company? What if indexed tweets begin seriously encroaching on that oh-so-valuable SERP real estate in certain search cases?
Unfortunately it's hard to ask the right questions, and even harder to answer those questions. We don't really know how far Google will take this type of indexing.
Facebook indexing
Similar to the tweet indexing, we've begun seeing more and more Facebook content in the SERPs. While some public user content is definitely being indexed, I think it's more important to keep your eyes out for pages like this one: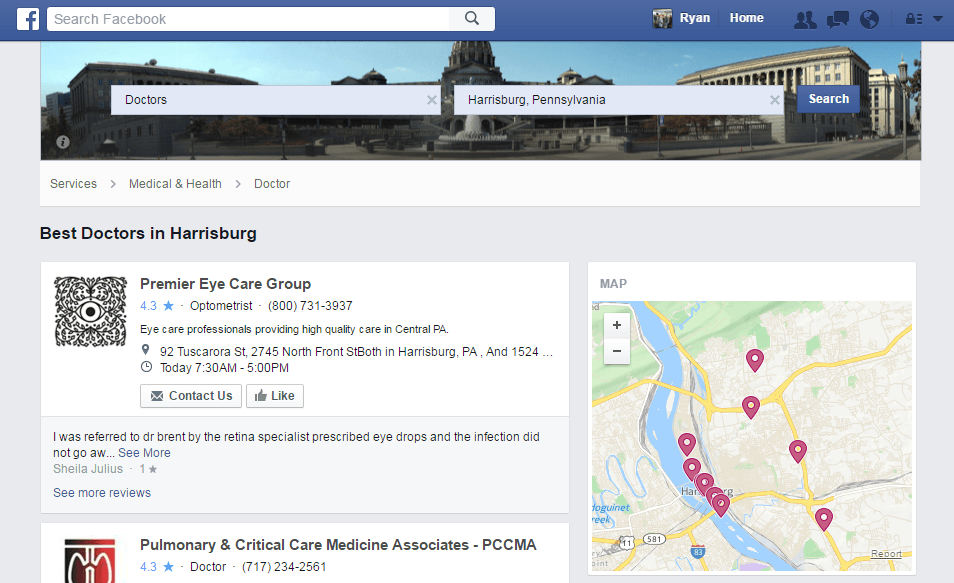 These are Facebook's "Professional Service" pages, and they could have serious SEO implications moving forward. They were quietly deployed in 2015, and have slowly but steadily been picking up steam ever since.
Many such pages are beginning to rank better and better for queries such as "best X service in X place." These pages definitely make it look like Facebook is preparing to do battle with sites like Yelp, and this alone is a good enough reason to ramp up your company's Facebook presence in the coming months.
Social indexing wrap-up
It's still hard to tell exactly how far Google will take social media content indexing, and what long-term implications it may have for SEO. In the meantime, you can't go wrong by ensuring that your own social media content is ready for potential indexing.
3. App indexing and app deep links
We saw the beginnings of app indexing back in 2013, but 2016 is taking it to a whole new level with deep links to in-app content. A deep link is a link that points to a specific page on a website, rather than just linking to the home page. In the context of apps, this refers to links that point to a specific page/area within the mobile app.
Let's say you have an app for browsing Reddit installed on your phone. You perform a search for something, and a Reddit thread appears in the SERPS. If you click on the Reddit link, you'll be directed not to Reddit's desktop site but instead to view the content through the Reddit app you have installed.
In the example below, my Android phone is asking me if I'd like to use my Reddit app, or continue browsing the content with Chrome. If I set the Reddit app as a default, my phone will automatically open all Reddit content through the Reddit app, even if I navigated to it through Chrome or another browser: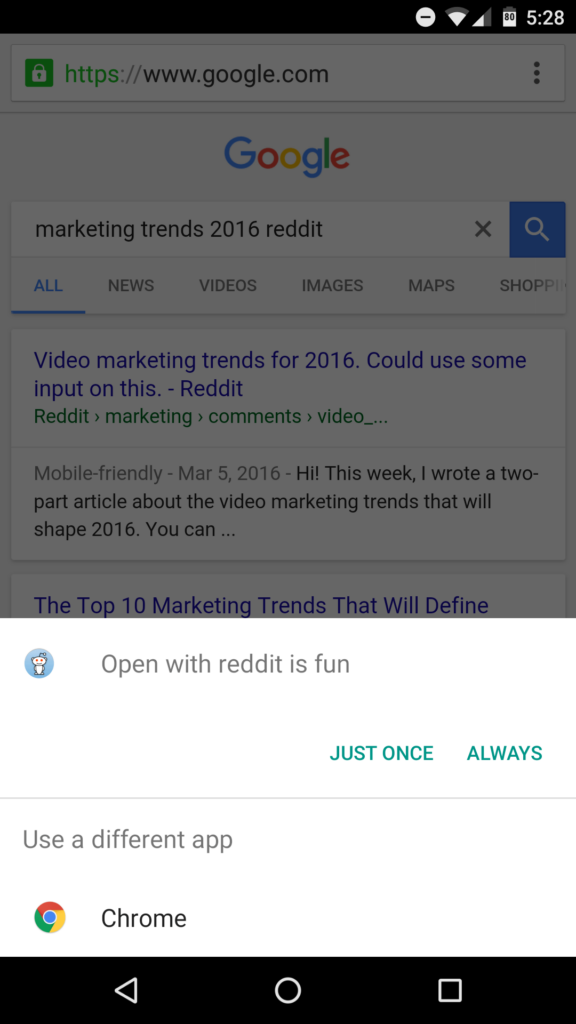 Why is deep linking to apps important?
This type of deep linking is important because it represents a potential shift in how SEO works. Instead of focusing on website visitors, it may become just as important to focus on app downloads and app content indexing.
Deep linking to in-app content holds much potential as the "fastest" way of directing users to company-specific, mobile-ready content.
App deep links wrap-up
Much like social media indexing, deep-linking to apps still seems to be in its infancy. However, if your company doesn't currently have an app, it may be a good time to look into launching one.
In conclusion…
Just like every year, 2016 is full of new trends for digital marketing. There's a lot of exciting technology and methodology becoming more prevalent throughout the industry, and it's more important than ever to stay in the loop. If you're looking to improve certain areas of your current marketing strategy, think mobile search, social media, and mobile apps.
These are three big areas likely to see consistent changes throughout the coming year and beyond, and it never hurts to be prepared.
What marketing trends do you see for 2016?
If you think any specific areas of digital marketing will become increasingly important as we go through 2016, let me know in the comments!