Do you want to sell more products from your ecommerce store? Do you want to drive more revenue and expand your business? Amazon's newly released Buy with Prime feature is here to help.
On this page, we'll dive into everything you need to know about Amazon's Buy with Prime. Here's a quick overview of some of the topics we'll cover below:
Keep reading to learn more!
Bonus: Do you want a quick overview of how much you're really earning from your Amazon sales? Use our free Amazon sales calculator to get an instant breakdown of your sales margin!
What is Amazon Buy with Prime?
Amazon Buy with Prime is a new benefit for Prime members that will extend the convenience of online Prime shopping beyond Amazon's website.
Buy with Prime enables millions of Prime members to shop and purchase products directly from merchants' online stores. In addition, Buy with Prime shoppers can still experience many Prime benefits like fast and free delivery.
How does Amazon Buy with Prime work?
So, how exactly does Buy with Prime work? To start, Amazon will invite sellers who already use Fulfillment by Amazon (FBA) to take advantage of Buy with Prime. Eventually, Amazon plans to roll out the feature to more merchants throughout 2022 and beyond.
When you use the Amazon Buy with Prime feature on your website, consumers will see a Prime logo when they checkout. Amazon Prime members can then choose to checkout and complete their purchase with Buy with Prime.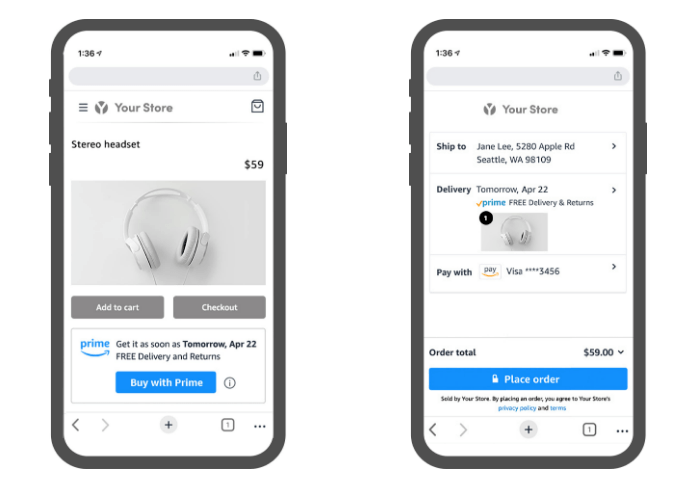 Consumers can use the payment and delivery details stored in their Amazon account to quickly and easily check out. They'll also receive free and fast delivery, just like they would if they paid for your product on Amazon's website.
How can Amazon Buy with Prime help you sell more products and grow your business?
What are the benefits of Amazon Buy with Prime for your business? If this question is currently on your mind, we've got you covered.
Here are a few ways Amazon Buy with Prime can help you sell more products and grow your company:
1. Buy with Prime boosts your brand awareness
When consumers purchase your products directly from the Amazon website, they might not take the time to learn about your company or visit your website to learn about the products you offer. In some instances, customers might not even take notice of your company's name when they make a purchase.
Amazon Buy with Prime fixes these issues by enabling consumers to purchase products directly from your website while still enjoying Prime member benefits like next-day delivery. As a result, more consumers will learn about your company and the other products you offer.
As more consumers recognize your brand as a leader in your field, you can significantly boost your awareness and online visibility, enabling you to gain new customers.
2. Buy with Prime builds customer relationships
Without the Buy with Prime feature, consumers directly interact with Amazon and its website. As a result, your company misses out on those crucial interactions that can help you build long-lasting relationships with your customers.
With Amazon Buy with Prime, your customers will interact with your company directly on your website. They can browse your product pages and custom content to learn more about your business and how your products can provide them with the solution they need.
When you use Buy with Prime, you'll also receive your customers' order information, like their email address. You can use these details to build long-lasting relationships with your customers. For example, you can send personalized emails to promote more of your products that your customers would enjoy.
These relationships are crucial because they encourage your current customers to keep coming back to purchase more of your products in the future. As a result, you can build your brand loyalty and boost your sales.
3. Buy with Prime drives conversions and sales
When you add the Amazon Buy with Prime feature to your website, consumers can experience a seamless checkout process. It enables Prime members to use their stored card numbers and delivery addresses when purchasing products instead of manually entering the information.
In addition, Buy with Prime comes equipped with all the Prime features members have come to love, like free and next-day delivery.
By adding this feature to your website, you can give consumers a familiar shopping experience with speedy delivery benefits to encourage more users to convert into paying customers. As a result, you can drive more sales and revenue for your business.
How to set up Amazon Buy with Prime
So, now that you've learned what Amazon Buy with Prime is and how it can help you grow and expand your company, you might be wondering how to get started.
Here's how to set up Amazon Buy with Prime in five easy steps:
Sign up for Buy with Prime or respond to an invitation
Link an Amazon Seller Central account to Buy with Prime
Enable Multi-Channel Fulfillment to offer your pool of inventory on multiple channels (like Amazon's website and your website)
Link an Amazon Pay account to offer a seamless checkout experience for Amazon Prime members
Install a JavaScript widget to your online store to easily add the "Buy with Prime" button to specific products
And if your business already uses FBA, setting up Buy with Prime only takes a few clicks because your inventory is already stored in Amazon's fulfillment centers.
And that's it! Now the Buy with Prime feature is up and running on your website so you can start building customer loyalty and driving more conversions for your company.
The first step to increasing your SMB's Amazon sales is getting a FREE proposal.
One of our experts will be in touch within 24 hours!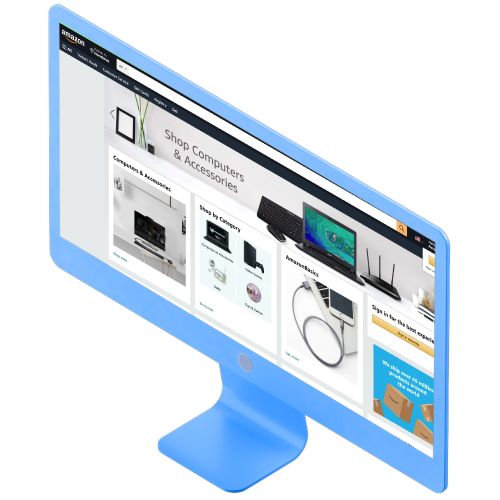 Grow your online store today with a top marketing agency for Amazon
Are you ready to sell more products on Amazon? WebFX has you covered.
WebFX is a top marketing agency for Amazon. Our team of over 500 marketing experts can help you craft an Amazon marketing strategy that helps you reach your ideal customers and boost sales.
In just the past few years, our team has helped clients drive over $3 billion in revenue. And we can help your ecommerce business achieve incredible results too.
Learn more about our marketing services for Amazon by calling 888-601-5359 or contacting us online. We can't wait to help your company grow!
WebFX Careers
Join our mission to provide industry-leading digital marketing services to businesses around the globe - all while building your personal knowledge and growing as an individual.