If you want to bring your business into the 21st century, you need to move your data storage online. Moving your sensitive and critical files to cloud storage is crucial for protecting your files and creating easy access for your team.
With so many cloud storage plans on the market, how do you find the best cloud-based storage for your business?
Luckily, we've compiled this list of the top six best cloud storage services your business can use to host your data. Our list includes:
P.S. Want to get tips and tricks for marketing your business online? Join 200,000+ savvy marketers by subscribing to Revenue Weekly!
Our digital marketing campaigns impact the metrics that improve your bottom line.
See More Results

WebFX has driven the following results for clients:

$3 billion
In client revenue

7.8 million
Leads for our clients

5.2 million
Client phone calls
6 of the best cloud storage services on the market
Ready to find the right best secure cloud storage for your business? Here are the six top cloud storage services available:
1. pCloud
Price: $175 to $350 one-time payment, $7.99 per user per month for Business storage plan
First on our list of the best secure cloud storage options is pCloud. People from companies like Coca-Cola and Nike use this cloud service to manage data files.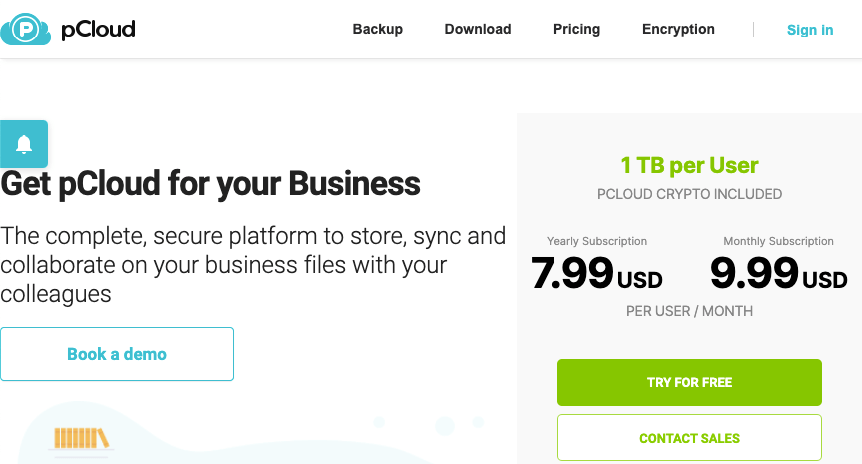 With pCloud, you can easily share and collaborate with other members of your team. pCloud allows you to send and receive files through their service to make teamwork a breeze.
pCloud offers three different types of plans for your business.
You can get the Premium plan, which offers 500GB of storage and a 30-day trash history. You'll also get 500 GB of shared link traffic for $175.
With the Premium Plus plan, you get 1TB of storage and a 30-day trash history. This package also comes with 2TB of shared link traffic.
If you need something more advanced, pCloud offers a Business cloud package.
For $7.99 per user per month, you get unlimited users, 1TB of storage per user, and 180-day trash history. This option is excellent if your team is large and has a lot of files.
In the Business plan, you can add unlimited users and create team and access levels for each member to ensure everyone on your team has the permissions they need. Here are some tremendous overall benefits of using pCloud:
Access to your files from the pCloud drive, your phone, or the web
File encryption for private and confidential files
Premium support
2. Google One
Price: $2 to $300 per month
Another great option on this list of the best cloud-based storage options is Google One. Google One, formerly known as Google Drive's paid option, is an excellent solution if you're looking to get more storage than the free 15GB Google offers.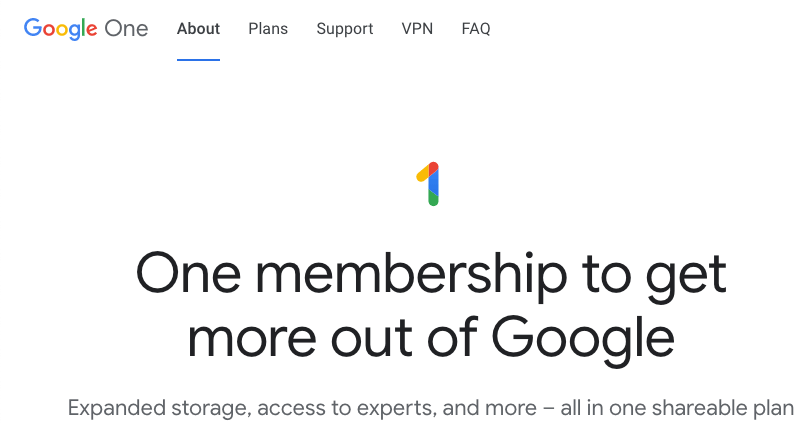 Google offers multiple plans you can choose from:
100GB: $2 per month
200GB: $3 per month
2TB: $10 per month
10TB: $100 per month
20TB: $200 per month
30TB: $300 per month
Google Drive is an excellent solution if you need a lot of storage space for your business.
With a Google One subscription, you'll get storage that spans across Google Drive, Gmail, and Google Photos. Some other features of Google One include:
24/7 access to Google experts
Cashback on purchases through the Google Store (for 200GB and above)
Access to the cloud on desktop, mobile, and web
Data loss prevention services
3. Icedrive
Price: $1.67 – $15.00 per month
Next on our list of the best cloud storage plans is Icedrive. Icedrive is an excellent option for businesses used to their hardware storage setup that want something similar.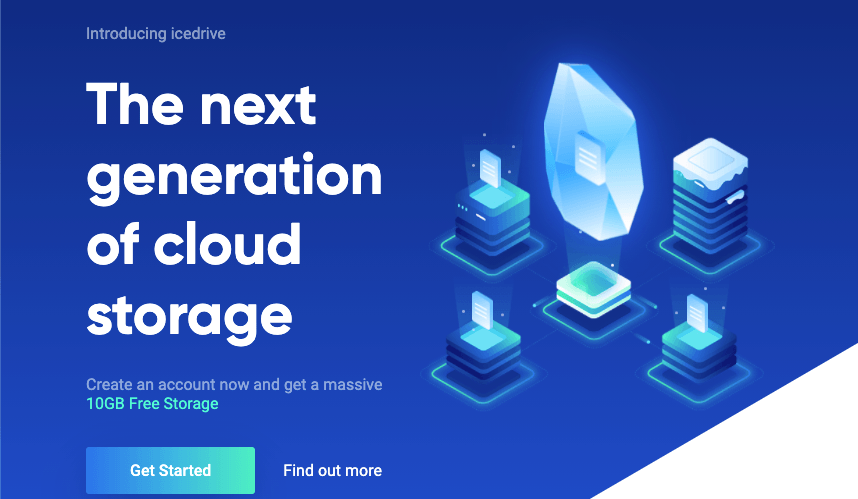 Icedrive's interface is set up like physical hard drives but doesn't take up any space on your device. You can access and manage your cloud storage right from your computer.
With Icedrive, you can share and collaborate on files.
This cloud storage service enables your team to leave comments and suggestions on files through a showcase page.
It makes feedback easy, so your team can keep moving forward on projects. When you store your files through Icedrive, you can feel confident your files are protected –– you'll get encryption for your files to protect them. You can also add password protection to secure your files.
Some other benefits of Icedrive include:
Access to cloud storage at work, home, and on mobile
Extensive bandwidth to ensure your access is never interrupted
Share timeout to share files for a limited time
4. Zoolz
Price: $2.99 – $15.00+ per month
If you're looking at different cloud storage plans, consider checking out Zoolz. This cloud backup company is an excellent option for people looking for an all-in-one solution.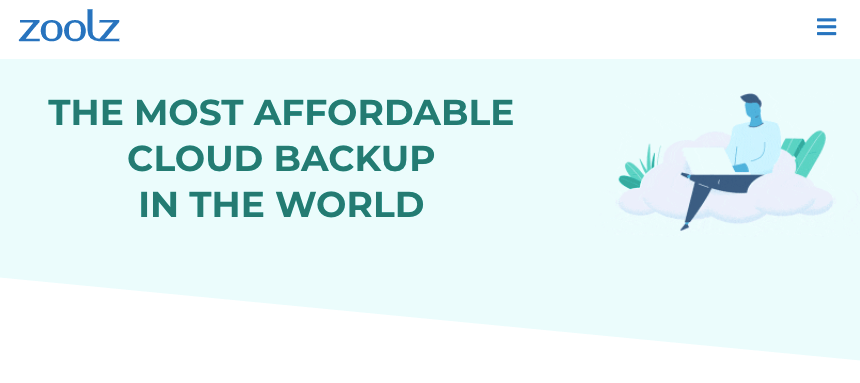 As one of the top cloud storage services, Zoolz is built with a trusted provider: Amazon Web Services (AWS). Since AWS powers Zoolz, it offers features like large data file transport that makes it easy to transfer data.
In addition, Zoolz provides you with automatic backup, so you can feel confident you won't lose any files.
If you're looking for cloud storage plans that provide user management, Zoolz is one of them. Zoolz enables you to activate, suspend, and delete users from your account.
You can also control their permissions and determine what files people can access. Some other great features you'll get with Zoolz include:
Multiple compliances (HIPAA, FERPA, etc.)
Realtime Search to find files easily
Access to files from mobile devices
5. OneDrive
Price: $5 – $10 per user per month
Next on our list of the best cloud storage services available to your business is OneDrive. OneDrive from Microsoft is an excellent solution if you're looking for a storage solution that offers individuals more storage.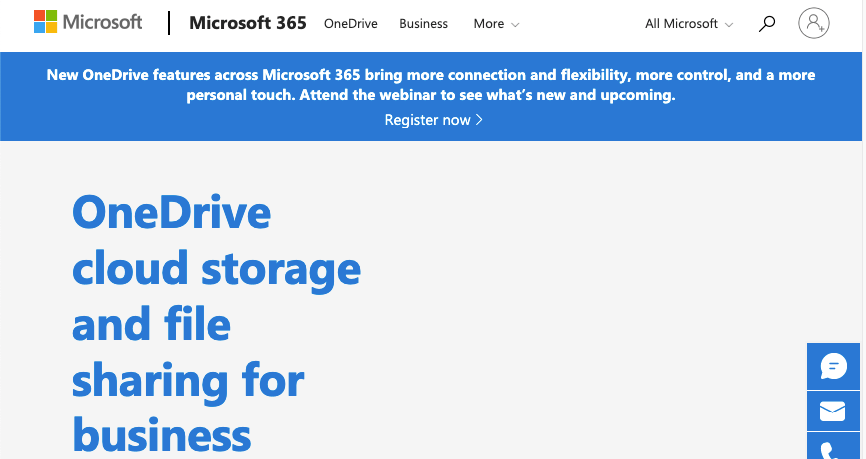 Microsoft offers two plans for businesses. Plan 1, for $5 per user per month, offers 1TB per user for storage.
This plan provides basic security encryption, around-the-clock support, and productivity tools.
For Plan 2, at $10 per user per month, you get unlimited cloud storage for each user on your plan. Plan 2 offers what Plan 1 offers but includes more advanced security settings.
Some other features you can expect from Microsoft OneDrive include:
File sharing among users
Upload file sizes
Control over who can access specific files
6. Sync
Price: $5 – $15+ per user per month
The last storage option we'll look at on this list of the best cloud-based storage solutions is Sync.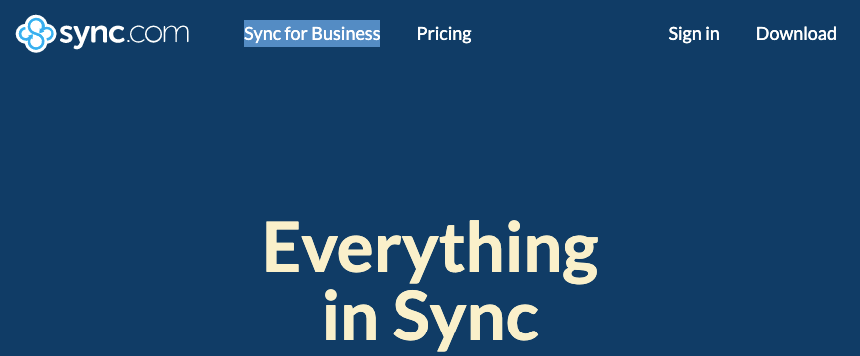 Sync is an excellent solution if you're looking for a secure way to share files. Sync enables unlimited data transfers among your team, making it easy for your department to share information quickly.
Like many of the best cloud storage services, Sync gives you control over file access. You can set passwords and permissions to determine who can access your files.
Sync also allows you to set permissions like "read-only" and "read-write."
If you need to access your files from anywhere, Sync enables you to do that.
Sync allows you to access your files from mobile devices and web browsers, so you can access your files wherever and whenever you need them. Another key feature with Sync is the backup and file recovery.
This software offers protection against ransomware and hardware failures. It also backs up your files so you can recover and restore any deleted files.
Some additional features you'll get with any of Sync's cloud storage plans include:
Multi-user administration
End-to-end encryption on all files
HIPAA and global data privacy compliance
Why use cloud storage services?
If you're hearing buzz about investing in cloud-based storage for your business, you may be wondering about the benefits of investing in cloud storage services. Here are three significant benefits:
1. You save money
One of the biggest benefits of using cloud storage services is that you save money.
Cloud storage is generally more affordable because you don't need physical components to host your information. You don't need to invest in hardware that requires constant maintenance and upkeep. With cloud storage, you can go hardware-free.
Everything is stored online and managed by another company, so you don't have to worry about hardware maintenance.
It's a great way to cut down on your storage costs.
Additionally, you don't need to have employees monitor your storage hardware and troubleshoot issues. Since another company manages your storage, you can free up your employees to work on other critical tasks.
2. You can access your data easily
One of the most significant benefits you'll find when looking into cloud storage plans is that you can access your data easily. Since your information is online, you can access it with a computer and Internet access.
This ease of access makes it convenient for you to keep tabs on your data and make sure everything looks good.
3. You have increased protection for your data
When you have important and sensitive data, you want it protected.
With cloud-based storage services, you have increased protection for your data. With this storage, your data gets backed up on multiple servers.
So, if one server crashes, you don't lose your data since it gets stored in other places, unlike single-source hardware storage. It's an extra layer of protection that ensures you keep your data.
Measuring the metrics that affect your bottom line.
Are you interested in custom reporting that is specific to your unique business needs? Powered by MarketingCloudFX, WebFX creates custom reports based on the metrics that matter most to your company.
Leads

Transactions

Calls

Revenue
Learn More

Move your business forward by choosing the best cloud-based storage provider
If you want to move your data into the 21st century, it's time to find the best cloud storage services for your business.
By moving your data online, you can have more storage space and better protection for your files.
At WebFX, we offer Google Cloud consulting services that help you make the most of Google Cloud.
With a team of over 500+ marketing experts, you can feel confident we'll help you get the most from Google Cloud. Give us a call at 888-601-5359 or contact us online to speak with a strategist!
How is your website's SEO?
Use our free tool to get your score calculated in under 60 seconds.
Get posts by email
Join 200,000 marketing managers and subscribe to Revenue Weekly!
"*" indicates required fields
WebFX Careers
Join our mission to provide industry-leading digital marketing services to businesses around the globe - all while building your personal knowledge and growing as an individual.