If you find yourself asking, "Do I need Salesforce?" you've come to the right place.
Salesforce is a popular software option for many companies that want access to data collection and customer relationship management (CRM) tools. But is Salesforce right for your business?
We're answering that question in this blog post, so just keep reading!
There are more sales and marketing tips where these came from. Sign up for our free newsletter, Revenue Weekly, to join a community of over 200,000 marketers who get the latest sales and marketing advice sent straight to their inboxes!
Don't miss our Marketing Manager Insider emails!
Join 200,000 smart marketers and get the month's hottest marketing news and insights delivered straight to your inbox!
Enter your email below:
Inline Subscription Form – CTA 72
"*" indicates required fields
(Don't worry, we'll never share your information!)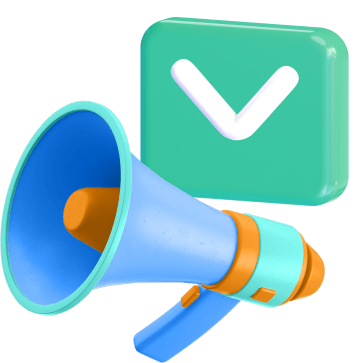 What is Salesforce?
Before we dive into your question, "should I use Salesforce?" let's talk about what Salesforce is.
Salesforce is a cloud-based software solution that provides CRM capabilities, sales and marketing automation tools, and more.

It helps companies collect valuable data from website visitors, leads, and current customers to gather in-depth insights into their target audience. The platform can also help you automate time-consuming tasks and optimize your strategies, so you can earn more conversions and revenue.
What does Salesforce do?
Salesforce has several features and capabilities to help you manage customer data, streamline sales and marketing operations, and more.
As you can see, Salesforce can help you accomplish various tasks. Here are a few examples of what Salesforce can help you do:
Track, manage, and score your leads
Manage your customer and lead contact information
Automatically collect website visitor and lead data
Manage your sales pipeline
Analyze audience behavior and interactions
Personalize audience experiences
Collaborate with your team
View marketing and sales performance
And more
Salesforce advantages and disadvantages
Before we answer your question, "Do I need Salesforce?" let's dive into the Salesforce advantages and disadvantages to help you decide whether it's the perfect platform for your business.
Here are some pros and cons of Salesforce:
The advantages of Salesforce
First, let's look at Salesforce's pros:
1. It comes with customizable options
One of the biggest pros of using Salesforce is that many features come with customizable options, so you can personalize them to best fit your team, needs, and work style.
For example, you can create custom sales pipelines to track and manage your leads in a way that works best for your sales team.
With this amount of flexibility, you can mold many of Salesforce's features to best match your team's current processes and workflows.
2. It's an all-in-one CRM, sales, and marketing solution
Another advantage of using Salesforce is that it offers a complete all-in-one business growth solution.
With a range of products and features, including Customer 360, CRM functions, sales and marketing suites, and more, Salesforce can meet several business needs in one platform.
Whether you want to gather insights from customer data, help your team collaborate on deals, or track the success of your marketing campaigns, Salesforce has you covered.
3. It integrates well with other tools and platforms
Another pro of using Salesforce is the variety of third-party integrations that enable you to sync data and other insights from your platforms with Salesforce.
For example, you can integrate Salesforce with Slack, G Suite, MailChimp, DropBox, and more.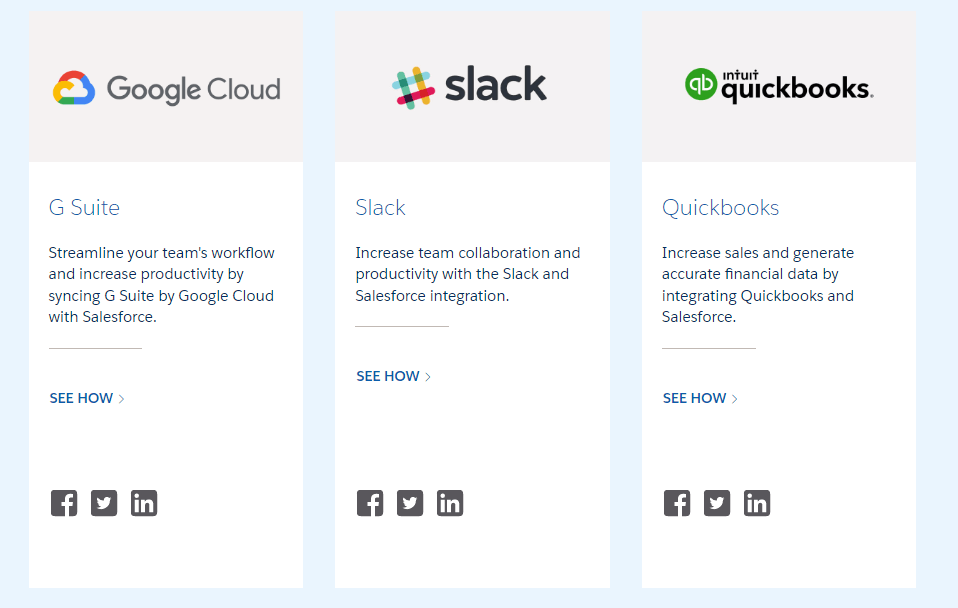 With Salesforce's integration capabilities, you can easily manage data in a single dashboard and share insights across multiple platforms and teams.
The disadvantages of Salesforce
Now let's dive into the cons of Salesforce:
1. The pricing plans can get expensive
One of the biggest downsides to using Salesforce is that it can get pretty pricey, especially if you are a small to medium-sized business (SMB).
For example, if you want to use Salesforce to automate workflows and gather sales performance insights, you'll need to opt for Salesforce's Unlimited CRM plan, which is $300 per user per month.
If you want access to other Salesforce solutions, you'll need to add these to your total cost. Let's say you also want to use Salesforce's Marketing Cloud solution. In that case, you'll need to shell out up to $65,000 per month for the corporate plan.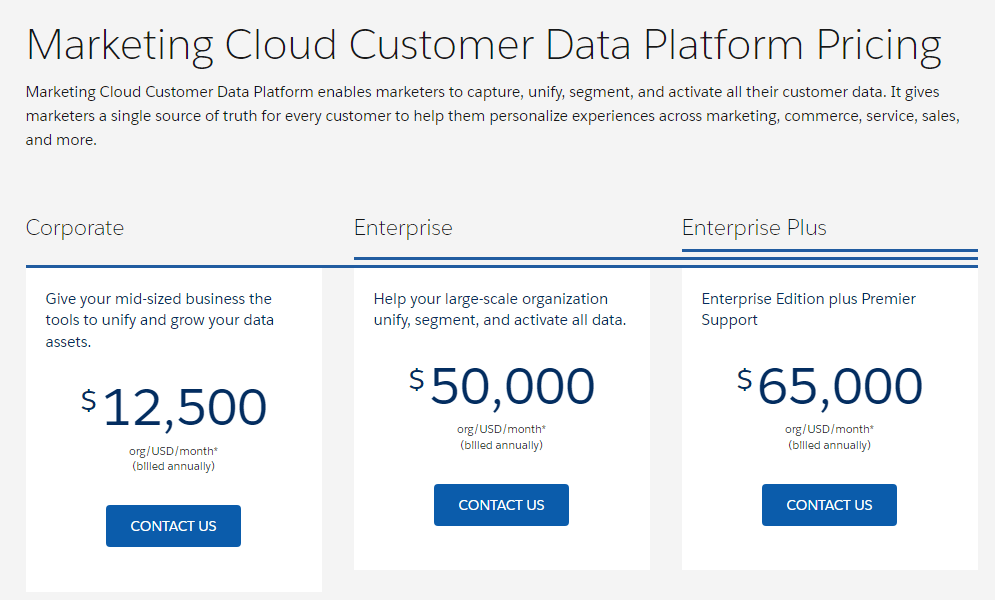 This cost will only increase if you want to take advantage of all of Salesforce's capabilities. That can be a hefty bill for many SMBs.
2. The costs to implement it can stack up
Not only do you need to pay for Salesforce's pricing plans, but you'll also incur costs to get the platform set up and running, since it can be a tricky process.
Salesforce implementation can cost anywhere from $5000 to $50,000, depending on how complex the setup and which products you want to use.
3. It can take a while to see results
Salesforce can be pricey, and it can take a while for you to see results from your investment.
That means it might take longer than you think to achieve the goals you want Salesforce to help you accomplish. For example, it can take anywhere from 12 to 18 months to start seeing the results you want from using Salesforce, while other platforms can take as short as one or two days.
4. There are cheaper alternatives for similar features
Another downside to Salesforce is that many cheaper alternatives offer many of the same features for a much lower monthly cost.
Take Nutshell, for instance. Starting at just $16 per user per month, Nutshell enables you to:
Track and manage your leads
Customize your sales pipeline and workflow
Access in-depth sales performance reports and marketing insights
Automatically collect audience data and lead information
Implement forms to automatically leads from your website
Send personalized, automatic emails
And much more
That's a much lower monthly cost for many powerful features that can help you drive sales and revenue for your business.
Do I need Salesforce?
Now that we discussed the advantages and disadvantages of Salesforce, let's answer your main question, "Do I need Salesforce?"
Well, the answer to this question depends on your unique company's needs and budget.
If your company is an SMB, the odds are Salesforce might not be a great fit for your business due to its higher monthly costs and implementation fees. Your SMB can access many of the same features at a much lower price with an alternative like Nutshell.
On the other hand, if your company is an enterprise with a larger budget that needs more powerful software to handle large amounts of contacts and leads, then Salesforce could be a great fit for you.
So, what's the bottom line? Salesforce is powerful software that helps companies better manage their sales and marketing operations. But that doesn't mean it's the right fit for everyone.
When it comes to using CRM and marketing software, you need a platform that suits your company's needs and goals to drive the best results and a high ROI. If you're an SMB with a smaller sales team and fewer leads, odds are there's a cheaper alternative out there that can help you easily accomplish your business goals.
We foster and form long-term partnerships so that your business has long-term results.
Over 90% of WebFX clients continue partnering with us into year 2 of their campaign.
Hear from Our Happy Customers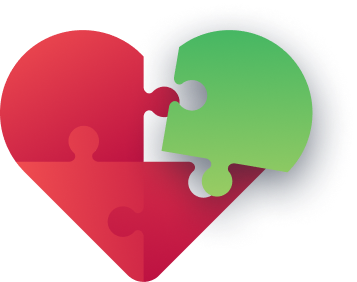 Access the best Salesforce alternative for small businesses with Nutshell
So, now you know the answer to the question, "Is Salesforce right for me?" If you're on the lookout for a CRM platform that fits the needs of your company, look no further than Nutshell.
Designed with a user-friendly interface, Nutshell makes generating leads and closing deals hassle-free. Plus, Nutshell's easy-to-use features enable every member of your team to maximize your company's revenue without any previous experience needed.
Want to see how Nutshell gives data-fueled insights that power up your strategies for more revenue for yourself? Contact us online or call us at 888-601-5359 to learn more about our powerful software!
How is your website's SEO?
Use our free tool to get your score calculated in under 60 seconds.
Get posts by email
Join 200,000 marketing managers and subscribe to Revenue Weekly!
"*" indicates required fields
WebFX Careers
Join our mission to provide industry-leading digital marketing services to businesses around the globe - all while building your personal knowledge and growing as an individual.