Are you looking for fresh ways to promote your ecommerce business? If so, you've come to the right place! We've compiled a list of eight ecommerce promotion ideas you can use to promote your products online, including:
Keep reading to learn more about these excellent ways to promote your ecommerce business online! And if you want to get more tips and helpful hints for marketing your ecommerce business, subscribe to Revenue Weekly!
Partner with a team of ecommerce masters!
WebFX campaigns have delivered more than 12,936,451 ecommerce transactions in the last 5 years

Read the Case Studies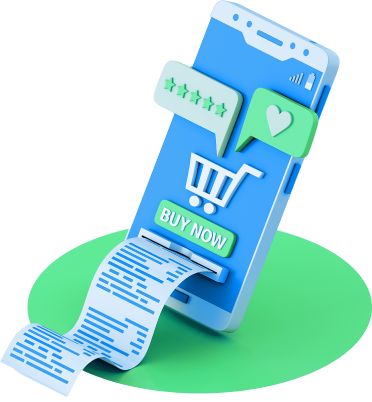 1. Focus on the customer experience
First on our list of ecommerce promotion tactics is to focus on the customer experience. One of the best ways to promote your business is to show your audience how customer-focused you are by providing great service. Customer service can be a great way to promote your business –– people often contact your business with questions about your products, which can serve as a great way to promote what you offer.
So, how can you create a great customer experience?
Add a live chat to your website
A great way to provide a better customer experience is to add a chat function to your website. Adding a chat function enables people to get in direct contact with your customer service team to ask questions about your products.
Many people prefer to use live chat to communicate with companies.
Here are some stats that show the power of live chat:
79% of consumers prefer live chats because they offer instant responses
63% of consumers who use live chat are likely to return to that website
41% of people prefer live chat for contacting customer service
As you can see, live chat has immense value for delivering a positive customer experience. To add a live chat to your website, you'll need to invest in live chat software. Check out our article on the best live chat software to find the program that's right for you!
Use chatbots
Another way to provide top-notch customer service is to use chatbots.
Chatbots enable you to provide automated responses to your audience so you can answer their queries fast. When you provide customer service through chatbots, you'll find many people contact your business asking the same questions. It eats up a lot of your customer service team's time that they could spend answering more complex queries.
You can use Facebook Messenger chatbots and chatbots on your website to help manage the flow of queries to your business.
Respond to reviews
Another great way to provide top-notch customer service is to respond to reviews. Reviews provide people with insight into your business and how people like your products. In fact, 92% of users trust recommendations from other people over a brand.
Reviews can be a great place to help you promote your ecommerce business online because they allow others to see the positive experience they had with your company. Likewise, they can also see the negative aspects of your business.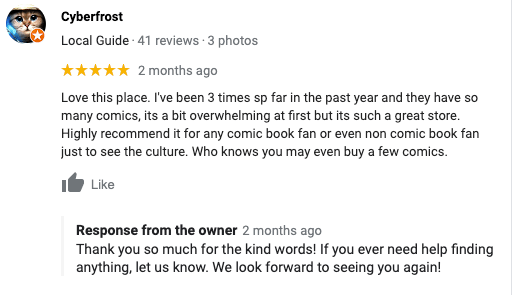 That's where the customer service aspect comes in to help.
When people leave negative reviews, you want to take the time to read them and provide a helpful response. Reach out to these unhappy customers and offer to make the situation right. Responding to negative reviews can actually help you promote your business by showing how attentive you are to your customers.
It can build a positive impression for your audience and ultimately make them feel confident that you'll provide excellent customer service for them too.
2. Optimize your search engine presence
Next on our list of ideas for promoting an ecommerce business is to optimize your presence on search engines. When people search for products they need, they often turn to Google to help them find those items. If you're not doing search engine optimization (SEO), you're missing a prime opportunity to promote your products to your audience.
There are multiple ways you can optimize your product pages to perform better in search results, including:
Keyword integration: Keywords trigger your ecommerce pages to appear in search results. To help you rank in the right results, focus on long-tail keywords which contain three or more words. These keywords will help you drive qualified traffic to your site.
Optimizing for mobile: With Google's mobile-first index, having a mobile-friendly site is a must if you want to rank. By integrating responsive design, you can help people positively experience your site, no matter what device they use.
Improving site load time: Did you know that slow-loading sites cause $2.6 billion in revenue loss annually? Having a slow-loading site impacts sales and your presence in search engines. To help improve site load time, use Google PageSpeed Insights to find helpful suggestions for improvement.
When you optimize your presence on search engines, you can help your pages rank better in search results and promote your products to interested leads.
3. Create industry-relevant content
Next on our list of ecommerce promotion ideas is to create industry-relevant content. When people search on the web, they're looking for helpful information about your industry ­­­­­­–– you have the opportunity to provide it. Content marketing is an excellent strategy for helping your business share helpful information with your audience.
You can create content in numerous formats, including:
The important part is that your content is relevant to your industry no matter what format you use. If you sell vacuum cleaners, you wouldn't want to create content about fall fashion –– it won't drive the right traffic to your site. When you create your industry-related content, you'll also want to ensure you create content often.
Creating content often keeps your strategy fresh and continually develops new ways for people to discover your business. You can use a content calendar to help you plan when to create, edit, and publish content. Overall, content marketing is a great strategy to help promote your ecommerce business online and reach people looking for information related to your industry.
4. Send personalized promotional emails
One of the best ecommerce promotion tactics is to send personalized promotional emails to your subscribers. When people join your email list, you know they're interested enough in your products that they want to get emails and learn more. As a result, you have an excellent opportunity to promote your ecommerce business.
But you don't want to send just any old promotional email. If you want to know how to promote your online store effectively, start using personalized promotional emails. Personalized emails are tailored to your audience's specific interests, so they only receive what matters most to them.
It's an effective strategy for promoting your business because people pay attention to emails that are specific to their interests. In fact, personalization increases the average clickthrough rate (CTR) by 14% and conversions by 10%. As you can see, personalization can go a long way in impacting your email strategy's performance.
You can personalize emails by:
Using the recipient's name in the subject line
Including promotions for items based on the subscribers' interests
Offering a unique discount code that's only for the subscriber
Send product recommendations based on previous browsing or buying behavior
5. Create a contest or giveaway
If you want to know how to promote your online store, consider hosting a contest or giveaway. Contests and giveaways are an excellent way for you to get the word out about your company and help new people discover your business. Contests and giveaways can help you reach a larger audience, as many people will tell others about it.
A great place to host contests or giveaways is on social media. That way, people can opt to share your post or tag their friends to let them know about your contest. It can help you get greater exposure for your company.
You can take numerous approaches with your contest or giveaway. You can:
Have people post a picture with one of your products and use your branded hashtag
Have people submit their name and email to a form
Have people caption a branded photo and choose the best submission
6. Offer limited-time coupons or discounts
One of the best ideas for promoting an ecommerce business is to offer limited-time coupons or discounts. You can promote your ecommerce business by providing a coupon code that piques your audience's interest and gets them to check out your products. You can promote your limited-time coupons or discounts through:
These limited-time offers can encourage people to buy products from your business since they know there's a time limit to buy. If you want to take things a step further, consider having a flash sale on social media. You can share your flash sale on your Stories feature since the promotion will disappear after 24 hours.
You can create a fear of missing out (FOMO) by sharing this limited-time sale and encourage more people to buy as a result.
7. Use remarketing to recover abandoned shopping carts
One of the most effective ecommerce promotion tactics is using remarketing ads. Many people will visit your site and check out your products –– some may even add the products to their carts. But often, as you'll find, many people leave your site before completing a purchase.
That's where remarketing can help you promote your ecommerce business. When you do retargeting, you have two main options:
Run retargeted ads: Retargeted ads can come in the form of PPC or display ads. You can use these ads to remind people of your brand or remind them of a specific product they viewed or added to their cart prior.
Send emails: Whether you send an abandoned cart email or a reminder that someone viewed a product, you can use this strategy to help promote your products and get shoppers to reconsider.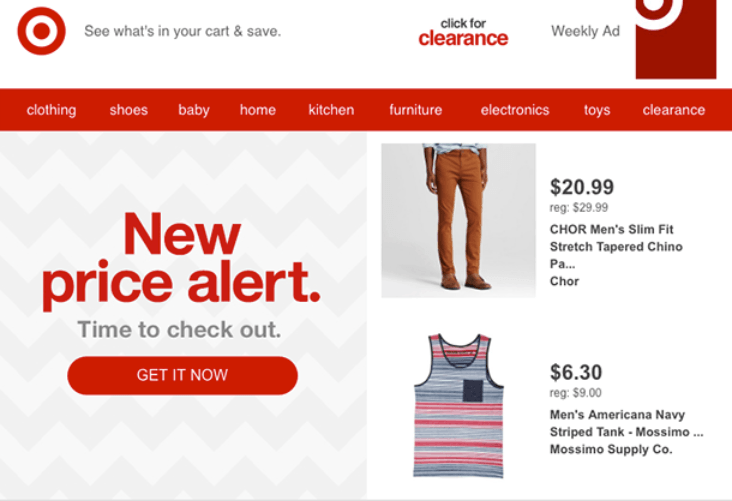 Regardless of what remarketing method you use, you can reengage prospects who engaged with your business prior. Not only is it an excellent opportunity to promote your brand, but it's also a great strategy for you to help recover sales for your business.
8. Leverage user-generated content (UGC)
Next on our list of ecommerce promotion ideas is to create user-generated content (UGC). UGC is content that your brand lovers post online about your business that you can then post on your social media profiles. Many companies like to use UGC because it's an excellent method to promote your brand through authentic experiences.
Since this content comes from your followers, it serves as a review or endorsement. To gather UGC, try creating a custom hashtag and encourage your followers to use it when they post. Then you can look through posts with the hashtag and find ones you like the best.
Always make sure you reach out to the original poster and ask permission to use it ­­–– it's a good common practice to follow! It's also good to give credit to the original poster, whether you show their account name in the photo of the post or tag them in the caption. By compiling UGC, you give people an inside look into how others view your brand and can help promote what people love about your products.
Put these ecommerce promotion ideas into action with WebFX
These ecommerce promotion tactics are a great starting point for helping you promote your business to interested prospects.
But if you're looking for help with implementing these ideas for promoting an ecommerce business, WebFX can help. Our team of over 500 marketing experts knows how to help ecommerce businesses promote better and sell more. In the past five years, we've driven over $3 billion in revenue and managed over 12.9 million transactions.
Ready to promote your online store better? Contact us online or call us today at 888-601-5359 to speak with a strategist about our ecommerce marketing services!
WebFX Careers
Join our mission to provide industry-leading digital marketing services to businesses around the globe - all while building your personal knowledge and growing as an individual.