14 minute read

Heather is Director of Account Management at WebFX. Certified in Google Analytics, Google Ads and Bing Ads Heather also specializes in SEO content strategy, as well as mobile UX/CRO and email marketing. When she's not working with her team to drive stellar client results you can typically find her petting her dog or enjoying a peppermint mocha from Starbucks.
We've all heard through the grapevine that email marketing yields impressive ROI metrics (up to 4400%)! If you're wondering how to maximize email spend, you came to the right place. In this post, we'll do a deep dive into email marketing best practices in 2024 — and how you can implement these result-driving email strategies.
Just keep reading or browse our email marketing services to learn more!
1. Automate your email marketing strategy
If you have experience with email marketing, you've likely implemented a traditional email marketing strategy that involves manually sending email newsletters to subscribers during peak season. While manually sending email newsletters is valuable, there's a much better (and easier) way to drive email marketing results. Here comes our first email marketing best practice — automated emails! Automated email marketing allows you to trigger personalized drip campaigns when people submit an email sign-up form or take certain actions on your site.
Give subscribers a taste of what your brand is all about! Here's some info you may add when creating a welcome email series:
Information about your products and services
Answers to frequently asked questions
Links to blog posts and other helpful site content
Special offers or incentives
In this example the best practices for email marketing, Furbo welcomes new subscribers with a discount code for $15 off a purchase. The automated email also includes a well-placed call-to-action (CTA) button to encourage recipients to "Fetch Your Furbo."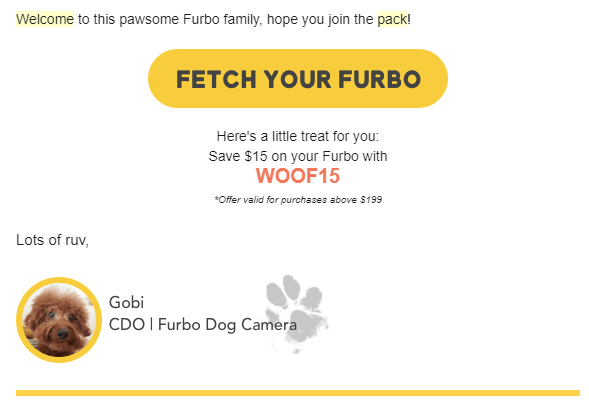 Automated emails allow you to deliver custom-tailored messages with information people need to move further down the buying funnel and ultimately purchase. Used in tandem, automated emails and traditional email blasts will boost conversion rates and improve customer retention and lifetime value.
2. Line up automated emails with your buying cycle
Every industry, marketplace, and organization has different buying cycles contingent on a multitude of factors. As a result, it's mission-critical to develop a core understanding and approximate timeline of a typical consumer's buying cycle with your company. This is where the email marketing magic kicks into high gear!
When setting up automated email workflows, one of the best email marketing practices you can employ is to add strategic delays between each email, based on key touchpoints in your buying cycle. Let's look at an example of this best email marketing practice in action.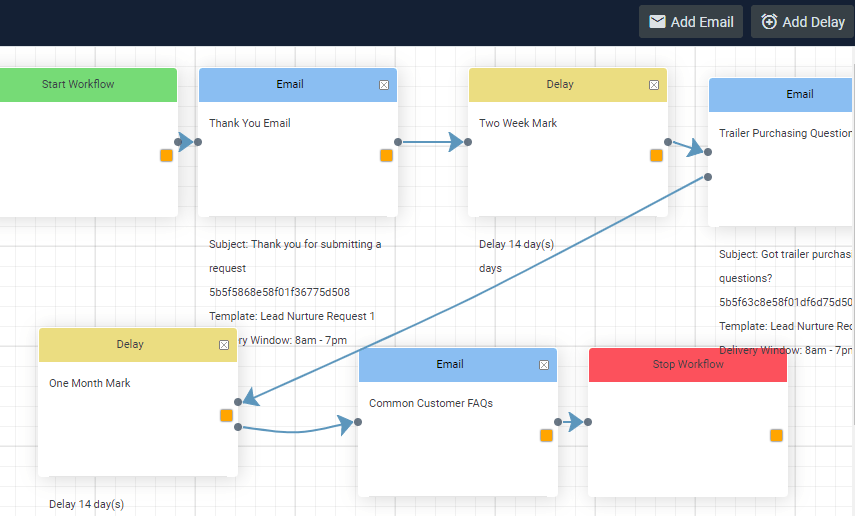 In this sample workflow, we identified that our buying cycle generally lasts up to two months max from initial contact to purchase.
When someone submits a form, we immediately send an automated "Thank You and Welcome" email. From there, we customized our email delays and messages using historical data about purchasing questions, as well as when people start price shopping across competitors. With this approach, we've achieved a 319% higher click-through rate and a 147% higher open rate than industry benchmark averages!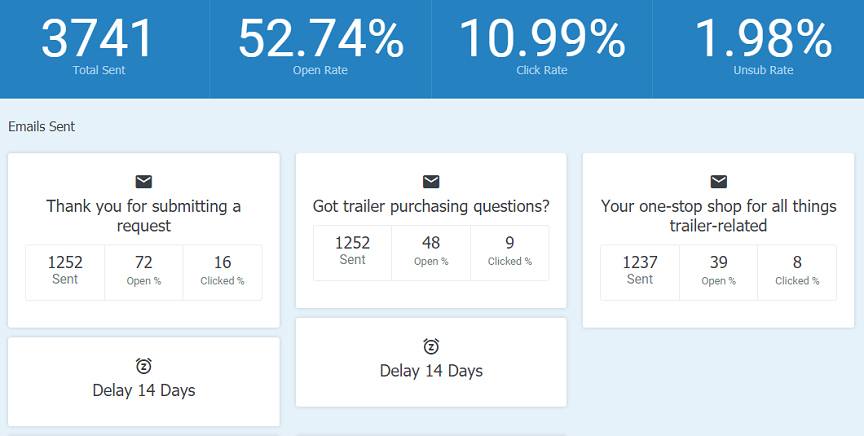 3. Build out "smart" triggers to beef up automated email workflows
With automated email marketing, you identify "triggers" — specific actions people take on your site — that prompt pre-designed emails to send. The creme de la creme strategy not only identifies existing triggers but also seeks opportunities to create new triggers and emails that align with users' behavior on your site. Doing so beefs up the quality and quantity of your email list — and that's why it's next on our list of 2024 email marketing best practices.
4. Send welcome emails
When people visit your site for the first time and sign up for your emails, you can trigger automated "welcome" emails. Go above and beyond the standard "thanks for joining" email and create a lasting impression of your brand by showing subscribers why you're the bee's knees. This welcome email from Tarte Cosmetics makes new subscribers feel like "insiders" and kicks off their buyer's journey with a 15% off offer.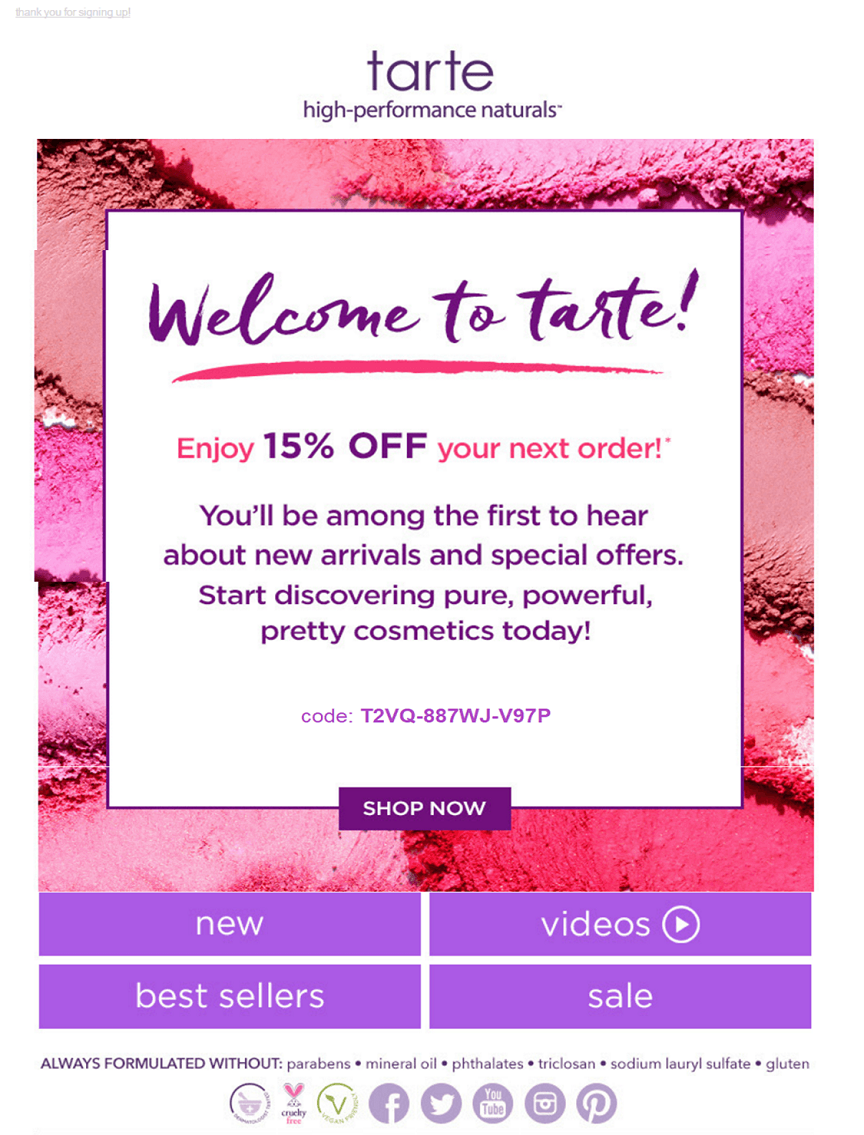 5. Set inactivity reminders
You can also set emails to trigger when users are inactive. Inactivity reminders are a bit different from abandonment emails (more on abandoned cart emails below) because they include something extra like a discount or a coupon to nudge customers to come back after a prolonged period of time.
6. Send date/time triggered emails to celebrate milestones, birthdays, and anniversaries
What better way to show subscribers extra love than offering a discount to help them celebrate a big day?! This date-triggered email from Rent the Runway appeared in my inbox just in time to enjoy $25 off a dress for my birthday.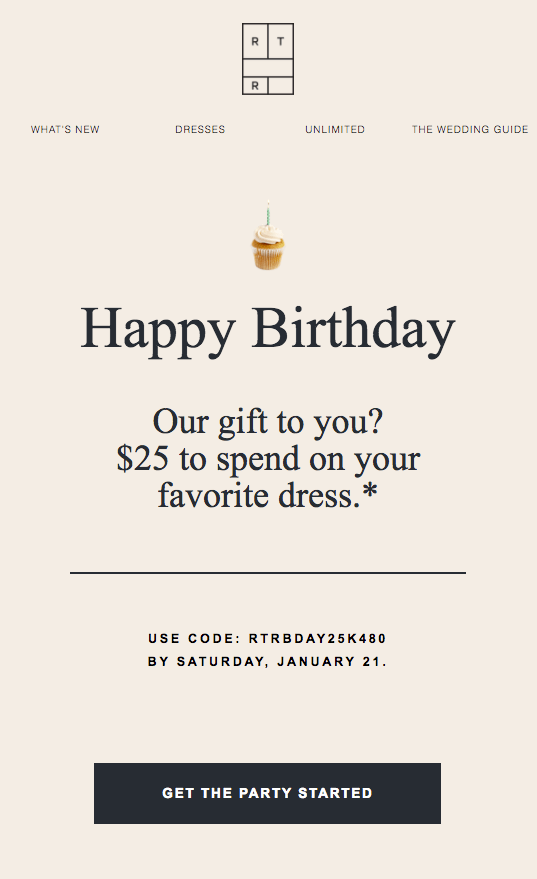 7. The ever-underestimated transactional email
The next addition to our list of best email marketing practices is to set up trigger emails when people make a transaction on your site. It's easy to underestimate the value of a simple "thanks for your order" email. But if you want to generate repeat sales, it's a no brainer to send transactional emails — especially for subscription-based businesses. Birchbox does a great job of using emails to thank consumers for their loyalty and ensure they get the red-carpet treatment with every purchase.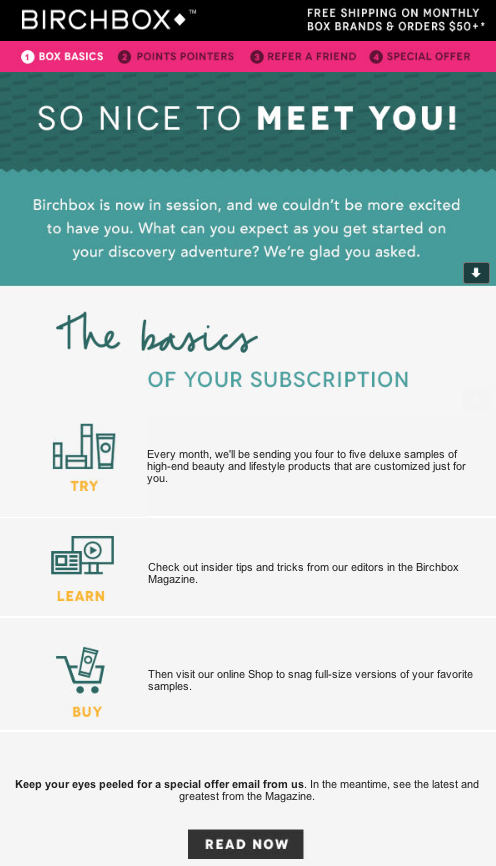 8. Redefine how you collect email subscribers
We most commonly think of the newsletter sign-up form as the go-to and only way to generate email subscribers. In reality, there's a treasure trove of other opportunities to get your future subscribers' attention! If you want more guidance on going through your email list, an email marketing audit can help you get started.
9. A/B test sign-up forms and placement
While we're on the subject of the classic newsletter sign-up form, first and foremost —consider placement. You can add email sign-up forms and bars to numerous locations like:
Website header or footer
Sidebar
And more
Make sure to A/B test different form placements and copy to encourage people to subscribe.
10. Consider visitor intent and user behavior
When creating email sign-up forms, always put yourself in the shoes of site visitors. Think about their mindset, what stage they're at in the buying funnel, and how a sign-up form meshes with your value proposition and site hierarchy. For example, you can tailor sign-up forms and text based on specific pages people visit.
A top-of-the-funnel (TOFU) blog post could feature a CTA that says, "Did you enjoy this post? Sign up for our emails to get posts delivered straight to your inbox!" Blog readers may not be ready to buy, but adding them to your subscriber list allows you to follow up with custom lead nurture campaigns.
On the other hand, a bottom-of-the-funnel (BOFU) ecommerce product page could include a pop-up that says, "Sign up for our emails to get coupons, special discounts, and the latest product news delivered straight to your inbox!" An incentive may be the push someone needs to buy, and even if they don't, you'll get a qualified email subscriber.
11. Offer a "freebie" or special incentive for new subscribers
As mentioned, incentives entice people to sign up for your emails — and ultimately buy. Make a killer first impression by offering new subscribers a unique incentive, whether that's a "freebie" or discount on their first order. Furbo gave me $15 for signing up for their newsletter, and I "fetched" it from my inbox right after subscribing!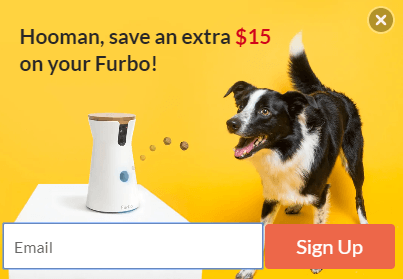 12. Inform visitors of subscriber-only benefits
In addition to offering incentives, don't forget to tout subscriber-only benefits to encourage email sign ups. Check out BJ's Brewhouse. They have a pop-up right when you enter their site that hypes up their rewards program where you can start earning points on every dollar you spend.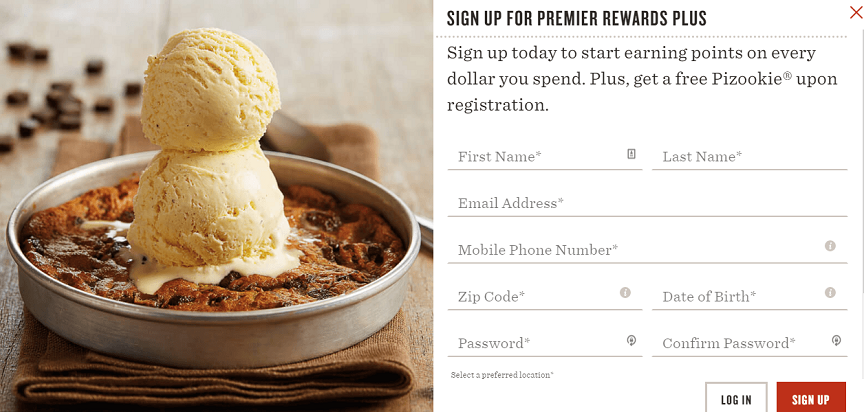 Plus, you get a free Pizookie®.
YUM!
13. "Gate" helpful content and resources
"Gating" content requires site visitors to enter their emails to receive access. People want access to helpful content like ebooks and guides, and gating your most valuable content assets can grow your email list with subscribers who are interested in your products or services. Instapage offers some awesome gated ebooks.
All you have to do is subscribe to get the ebooks delivered to your inbox in seconds.

14. Run a contest, giveaway, or sweepstakes and capture email sign ups
If done tactfully, contests, giveaways, and sweepstakes can quickly build your subscriber list. However, you need to be careful since this strategy often attracts low-quality leads. I recommend giving away a product trial that captures the attention of your audience and encourages them to take the next step.
This will help you attract quality subscribers who are interested in your offerings instead of just winning a random contest. In the example below, Buffer does a great job of clearly illustrating the dollar value of their giveaway and why it's a huge value add for their audience.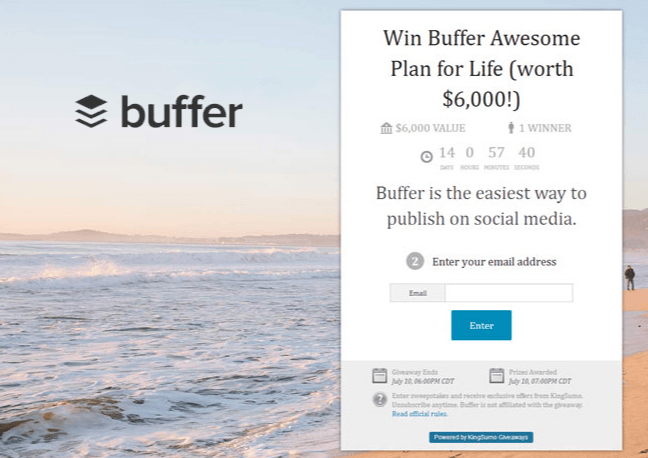 15. Host webinars
Use your webinar sign-up forms to collect email addresses before viewers attend! You can promote upcoming webinars on your website and social media — like Adweek does in the tweet below — and encourage people to sign up with their emails.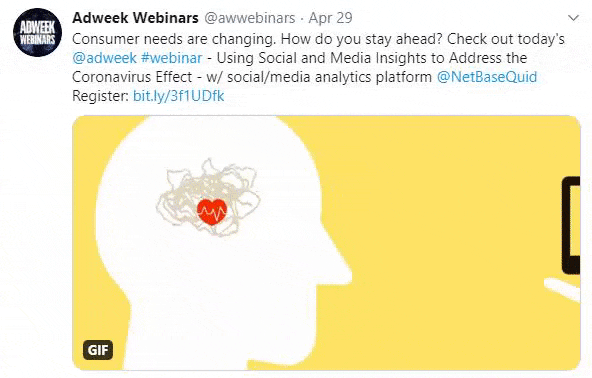 We also recommend sending registrants a link to the webinar recording after the event.
Hosting webinars offers many benefits in addition to helping you capture email subscribers. It positions you as an industry leader, and you can repurpose webinar content for YouTube videos, social media posts, and other email campaigns, so it's a win-win-win across the board.
16. Get crafty with exit-intent pop ups before visitors hit the road
As a final resort to get visitors' attention, try enabling an exit-intent pop up — triggered when they head for the exit button — that encourages them to sign up for your emails. You can also set pop ups to trigger based on how long people spend on your site, how far they scroll, and more. Check out this example from BigCommerce.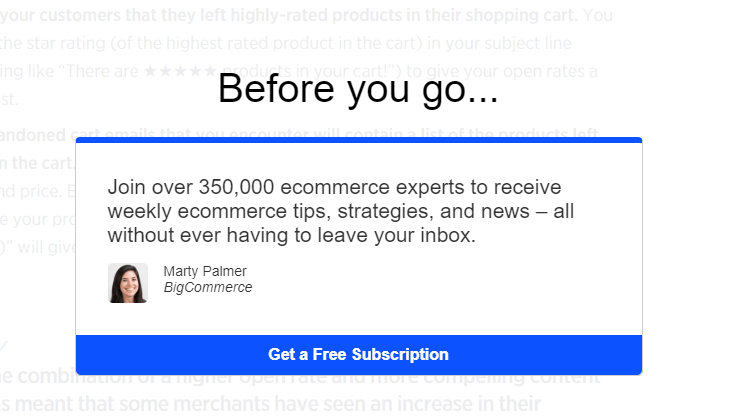 17. Segment emails based on buyer personas
Email segmentation has exploded in the last calendar with email platforms, including EmailMarketingFX, making it easier than ever to segment subscriber lists. Segments create target audiences based on shared data. When you create an email segment, you can set parameters and conditions to filter subscribers based on specific information.
This gives you the driver's seat to curate your messaging to the right subscribers at the right time. As a result of personalizing emails to subscribers' needs and interests, engagement will skyrocket. Below, you can see a few parameters you can use to build email segments.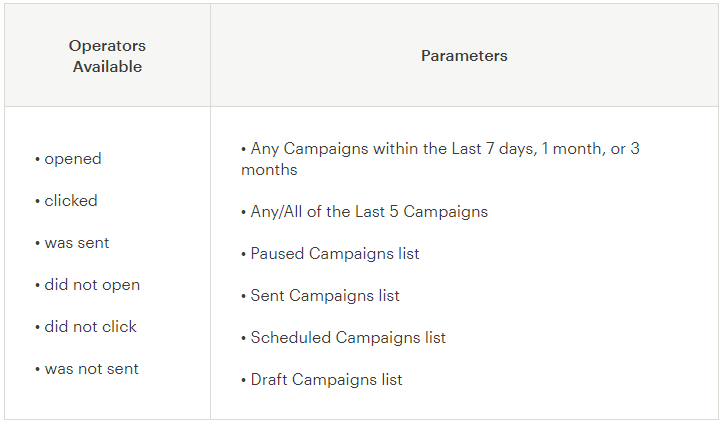 For example, you may create a segment of subscribers who did not open a specific campaign and follow up with personalized reminders. It's easy to get in the weeds with all the different segmentation optimization opportunities available. To get started, you can build some basic segments based on subscribers':
Demographics
Engagement with past email campaigns
Purchase activity
With this email marketing best practice, start simple and compound from there based on performance and A/B testing.
18. Leverage abandoned shopping cart emails
As many ecommerce marketers know, there's no better way to recover abandoned carts than sending timely, relevant emails to shoppers. There's been some speculation that abandoned cart emails have lost their power as every online store has caught on to their efficacy. If you're sending cookie-cutter, Joe-Schmo emails that don't tickle a shopper's fancy, then that is likely a fair statement.
Don't be a Joe-Schmo! When used effectively, abandoned shopping car emails can pay big dividends in 2024 and beyond.
19. Create an abandoned cart "series" to stay top of mind with your most qualified leads
One follow-up email to shoppers isn't gonna cut it today. Research shows that sending up to three emails in an abandoned cart campaign results in higher conversions and revenue. In the example below, you can see that adding a second abandoned cart email resulted in an extra $8.5 thousand in revenue.

With that said, start small and create an abandoned cart series that mimics this structure:
Email 1 – Cart abandonment reminder: Send this email an hour after a customer abandons their cart. Show exactly what they left in their cart — and make it easy to recover their cart on the spot.
Email 2 – Follow-up reminder: Send this email 24 hours after abandonment or after sending the first email. This is a great time to add a sense of urgency — especially during a sale — to indicate that time is running out.
Email 3 – Promotional incentive: Send this final email up to seven days after a visitor abandons their cart. Experiment with the delays here — for example, it may be better to send a final reminder three days vs. seven after abandonment. If your customer still hasn't recovered their cart, you can offer an incentive or discount to encourage them to take that next step.
Make sure to A/B test unique incentives, subject lines, messaging, and delays to ensure your abandoned shopping cart strategy fully aligns with a visitor's purchase intent. Software like EmailMarketingFX makes it easy to test and evaluate campaigns to drive the best results. Feel free to browse our email services, and reach out if you'd like a custom quote.
20. Write copy and subject lines that evoke emotion and encourage action
Shoppers should feel like you genuinely care that they've left items in their cart, so write abandoned cart emails with an engaging, conversational tone. We love this fun, actionable example from Bearsville Soap Company.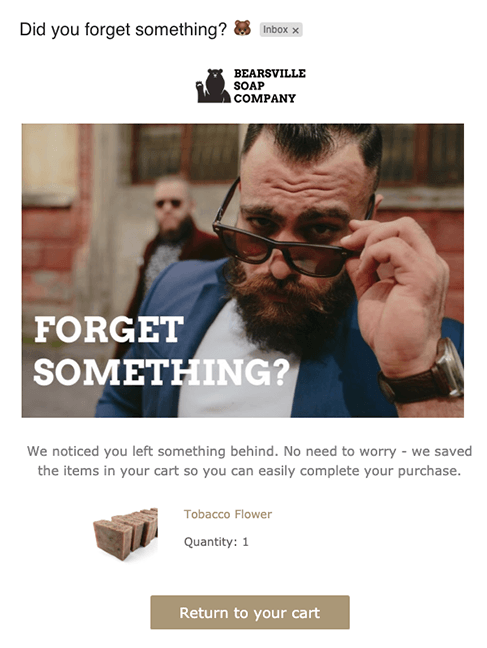 Hand-tailor abandoned cart emails to your buyer personas.
Again, segmenting and A/B testing are key ingredients here! Personalizing email copy will strike a chord with recipients and encourage them to take action. When writing abandoned cart emails, don't forget to:
Remind shoppers about items they've left behind
Create urgency to compel them to complete purchases. Feel free to get creative with features like countdown timers and special incentives.
Make shoppers feel good about the products they're looking at, and tug at their heartstrings. Sharing user-generated content and testimonials like the one below from Furbo will establish trust and compel people to buy.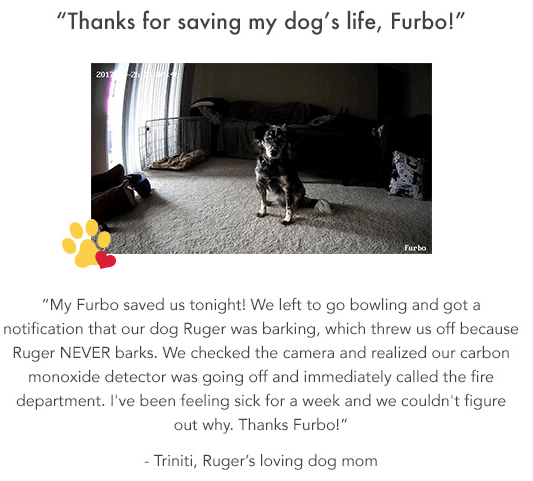 Like our email marketing best practices? Subscribe to Revenue Weekly!
If you liked our list of email marketing best practices for 2024 , there's more where this came from! Subscribe to our Revenue Weekly newsletter for exclusive marketing tips and advice, not found on the blog.
See ya in your inbox!
Heather is Director of Account Management at WebFX. Certified in Google Analytics, Google Ads and Bing Ads Heather also specializes in SEO content strategy, as well as mobile UX/CRO and email marketing. When she's not working with her team to drive stellar client results you can typically find her petting her dog or enjoying a peppermint mocha from Starbucks.

WebFX is a full-service marketing agency with 1000+ client reviews and a 4.9-star rating on Clutch! Find out how our expert team and revenue-accelerating tech can drive results for you! Learn more
Try our free Marketing Calculator
Craft a tailored online marketing strategy! Utilize our free Internet marketing calculator for a custom plan based on your location, reach, timeframe, and budget.
Plan Your Marketing Budget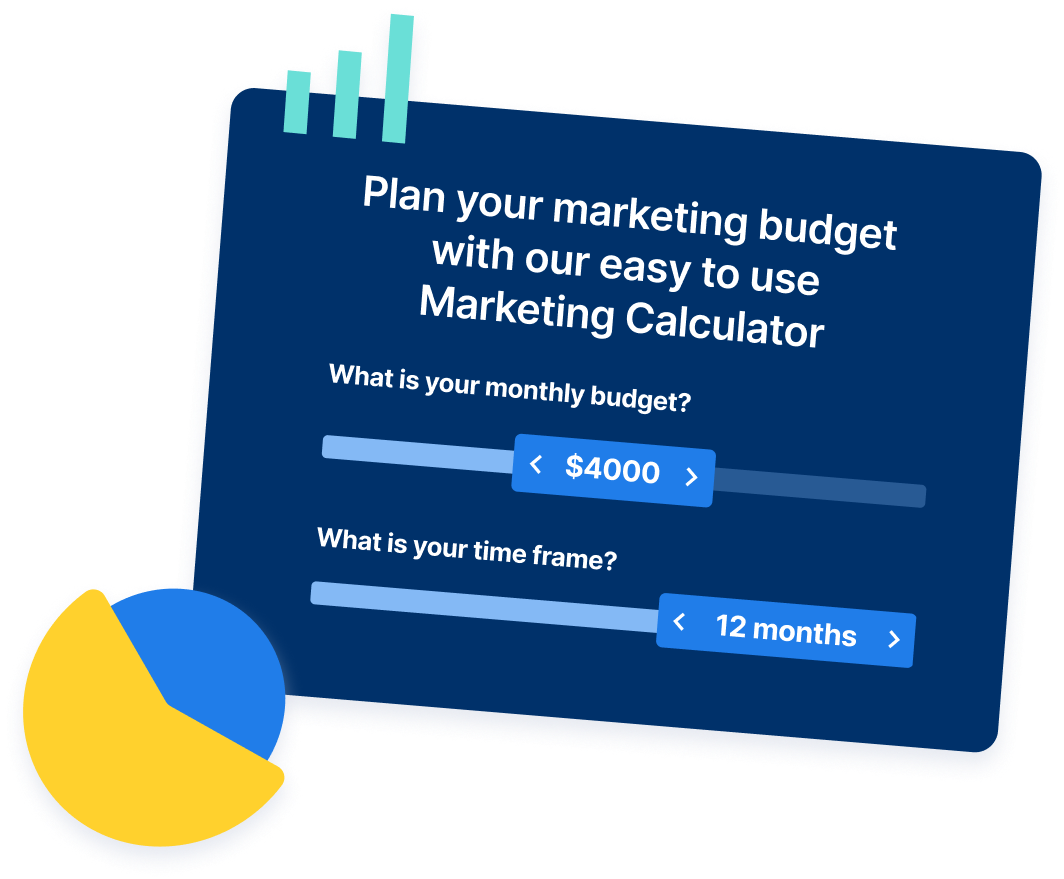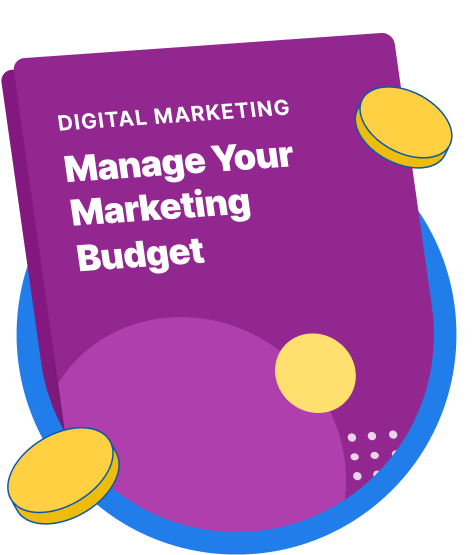 Maximize Your Marketing ROI
Claim your free eBook packed with proven strategies to boost your marketing efforts.
Get the Guide
Try our free Marketing Calculator
Craft a tailored online marketing strategy! Utilize our free Internet marketing calculator for a custom plan based on your location, reach, timeframe, and budget.
Plan Your Marketing Budget