No marketing plan is complete without the ability to measure and analyze performance. This ability enables you to improve your campaigns and ensure your efforts are driving the results you need. To effectively track your digital marketing campaigns, you need an analytics platform.
By far, the most popular option is Google Analytics. What is Google Analytics, how does it work, and how do you use it? In this post, you'll get a detailed Google Analytics explanation for beginners!
Want to get more value from Google Analytics? Consider our Google Analytics consulting services. Request a free quote online or call us at 888-601-5359 to learn more.
Google Analytics explained: What is Google Analytics?
Google Analytics is a web analytics platform that Google offers users for free. It tracks and provides reports on website traffic and website visitor behavior. The tool contains various built-in reports, and you can also create custom reports.
Google first launched Google Analytics in 2005, and the platform has since gone through many iterations. The current version, Google Analytics 4 (GA4), enables users to track data for both websites and applications more easily. You can, however, still use the previous version, Universal Analytics, which focuses on websites.
What is Google Analytics used for?
Google Analytics tracks a wide range of website and visitor data, including data about:
How many users are on your site at any given time
How users get to your website
How users engage with your pages
How many of your website visitors convert
The demographics of your users
And more
The platform provides user-friendly data visualization tools, including dashboards and charts. When you log into Google Analytics, you'll see certain built-in visualizations, but you can adjust the data used to get the information you're looking for. You can also explore your data more in-depth and create custom reports as needed.
You can use Google Analytics for a variety of purposes.
Determine how well your marketing campaigns are working
Learn more about and segment your audience
Uncover insights that can help you optimize your pages
Evaluate how your content is performing
How do you set up Google Analytics?
To set up Google Analytics and start collecting data for your website or app, you'll need to either create a Google Analytics account or log into your existing account. You can then create a 'property,' in your account for your website or app and create a data stream. Next, you'll need to add the Analytics tag to your website.
This tag is a snippet of code that tells Google Analytics to collect data about your website's pages. You can add this code snippet to your site's HTML or use Google Tag Manager, another free Google tool, to set up the tag.
How does Google Analytics work?
No Google Analytics explanation is complete without going over the key reports available within the platform. In this section, we'll go over the fundamental Google Analytics features and provide an overview of the reports you can access through the platform.
GA4
We'll start with an explanation of the reports within GA4.
Realtime
With the realtime report, you can see what's happening on your website or app as it happens.
The dashboard includes a screen that shows you where your current visitors are located. The cards on the screen provide information such as the number of users on the site, the pages they're viewing, and how they're interacting with your site.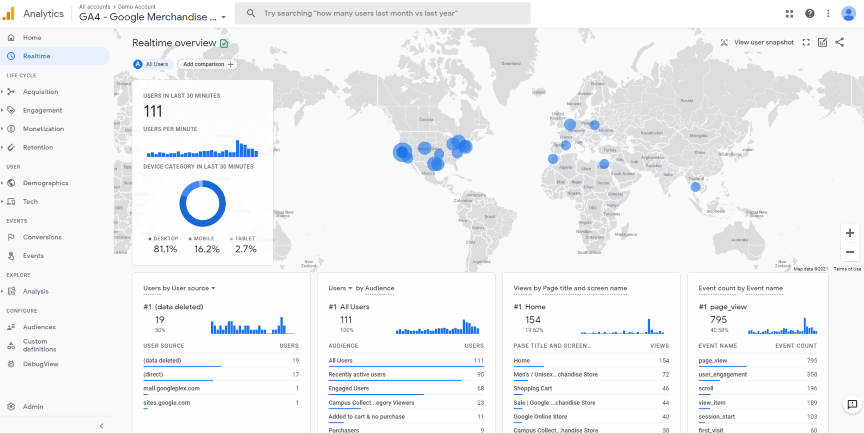 Life Cycle reports
GA4 organizes the next series of reports according to the customer journey — the stages of converting a prospect into a loyal customer.
This section is called Life Cycle and includes four types of reports.
Acquisition
The 'acquisition' reports give you data on the channels through which users arrived at your website. These channels include organic search, ads, email, and more.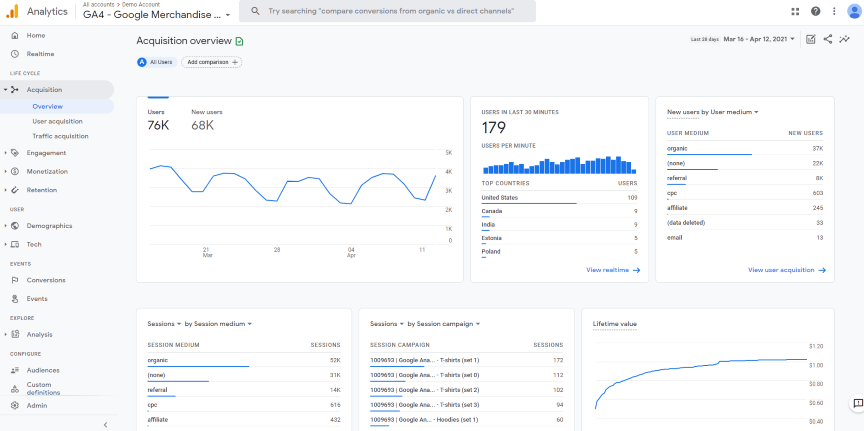 Engagement
'Engagement' describes how users interacted with your site, including the pages they viewed and the actions they took, called events.
The ability to track these interactions is one of the key Google Analytics features. These events include things like:
Viewing pages
Clicking links
Playing embedded videos
Scrolling to the bottom of a page
And much more
Google Analytics collects certain events automatically, and you can also enable 'enhanced measurement' to track even more events. Additionally, you can implement tracking for certain events yourself. You can track custom events, and Google has recommended events for certain types of websites that you must implement yourself.
For retail and ecommerce sites, for example, you can set up tracking for recommended events such as:
Adding items to a cart
Removing items from a cart
Selecting promotions
Completing purchases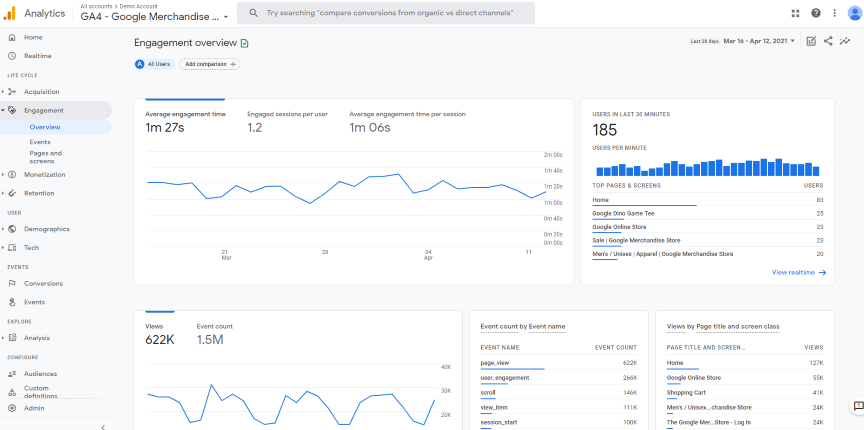 Monetization
The 'monetization' reports give you information on the purchases made on your website or app. They include data on your revenue amounts, the number of buyers on your site, how many units of each item you sold, and more. To collect monetization data, you need to enable the recommended events for retail and ecommerce businesses.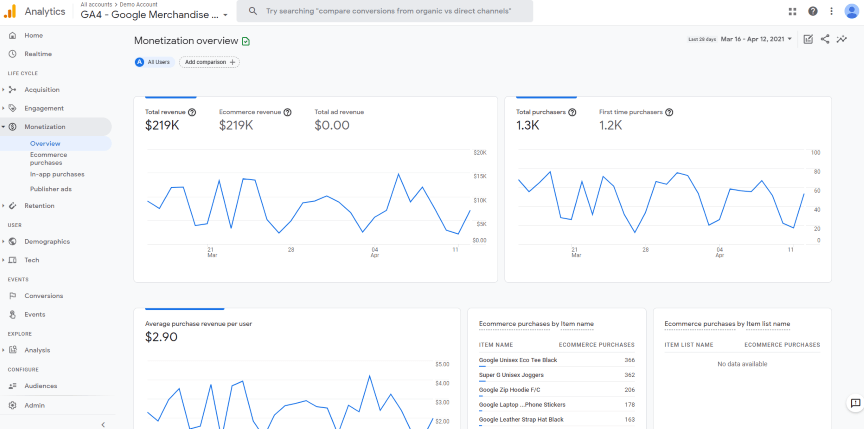 Retention
Google Analytics' retention reports help you gain insight into how many of your users come back to your website and how returning visitors behave on your site. You can compare the number of new users to returning users and analyze retention data by cohort — a group of users with common characteristics.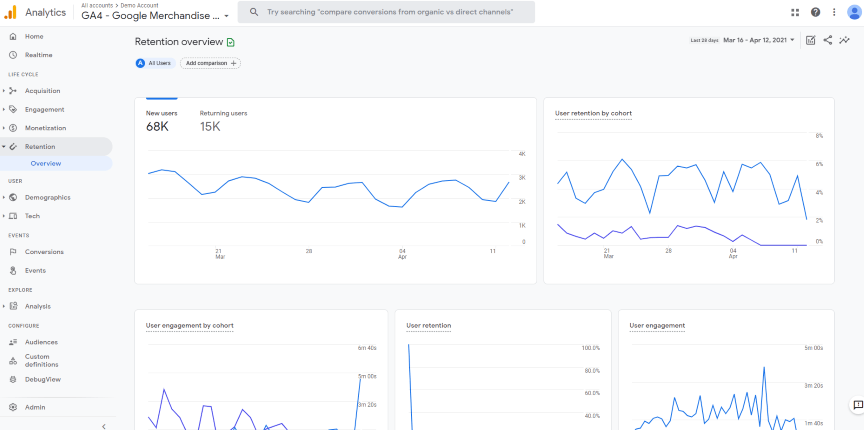 User
GA4 also contains a section of reports that help you learn more about your website's users.
These user reports fall into two categories.
Demographics
With the demographics reports, you can explore user volume data by various demographic dimensions, such as:
Location
Language
Gender
Interests
Age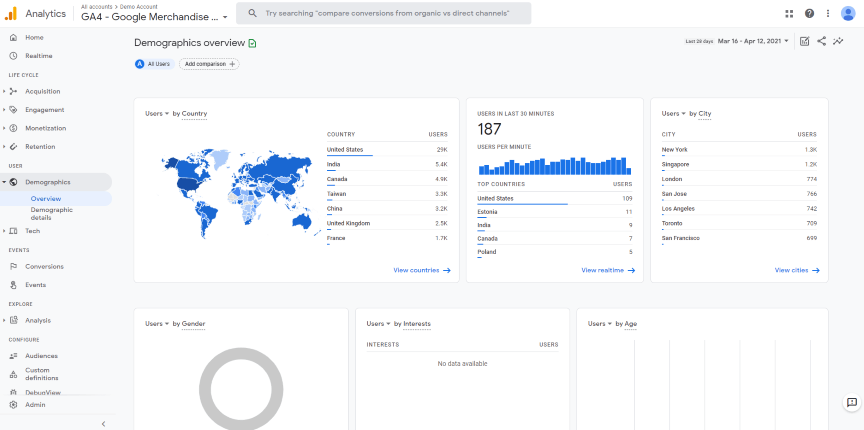 Tech
The tech reports give you details about the technologies visitors used to access your website or app. You can get data on the volume of users by:
Platform
Operating system
Device type
Browser
Screen resolution
You can also explore app-specific data, such as how many people use each version of your app.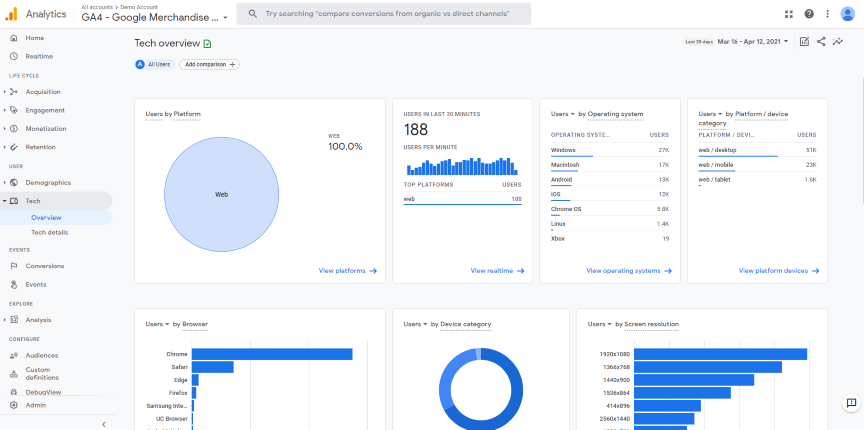 Events
GA4 also contains two 'events' reports. These reports keep track of the events you set up similarly to the 'engagement' reports. The reports keep track of the number of events, the number of users, and the percent change of each.
The 'events' section contains two reports. 'Events,' which tracks all events, and 'conversions,' which tracks events that directly contribute to your business's success, such as purchases.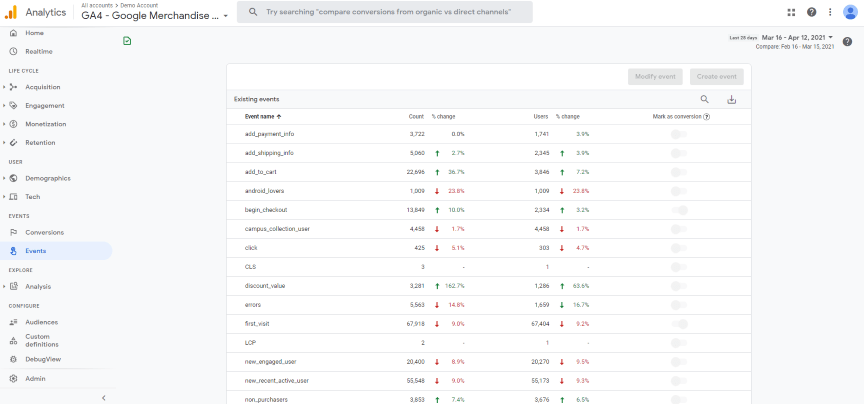 Universal Analytics
As part of our Google Analytics explanation, we'll talk a bit about how to use Universal Analytics since many websites are still using this slightly older version of the platform.
Let's go over the types of reports available in Universal Analytics.
Realtime
Like GA4, Universal Analytics also provides reports that tell you how users interact with your site in real time. You can see how many active users are on your site, the pages they're viewing, and how they got to your site.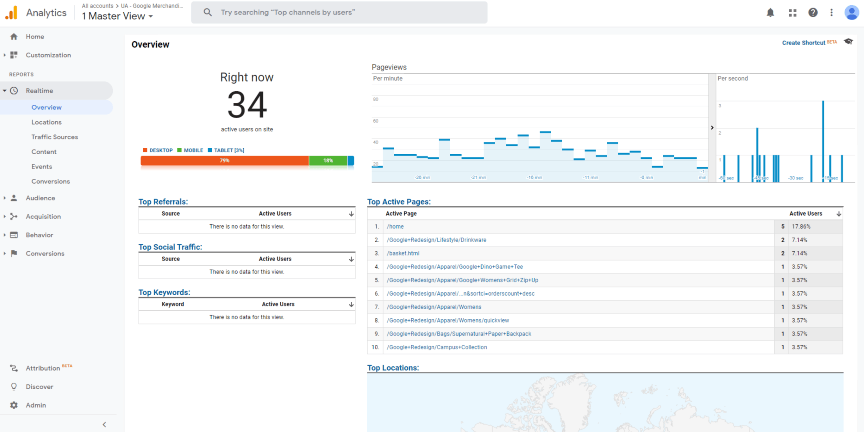 Audience
The 'audience' reports provide you with details about your website's visitors, such as their demographics, the technology they use to access your site, how frequently they access your site, and more.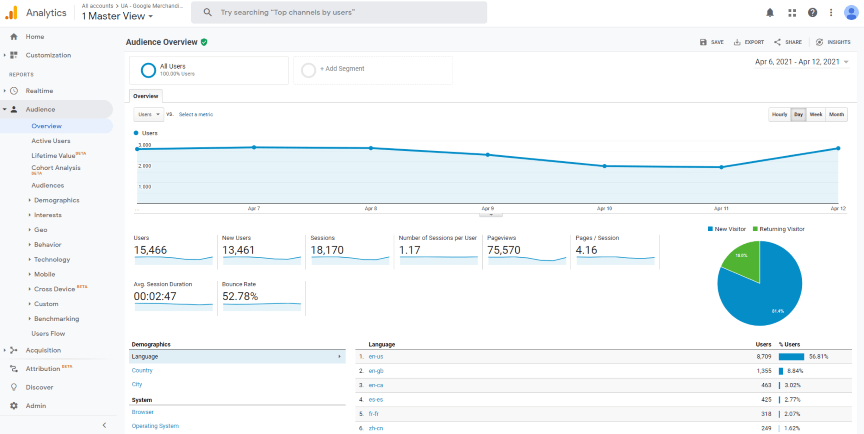 Acquisition
Using the 'acquisition' reports, you can dive deep into data about how users are getting to your site. You can see which channels your visitors come from, explore how users from different sources interact with your site, and explore details about how your site is performing on various channels.

Behavior
The 'behavior' reports tell you how users interact with and move around your site. You can view information on:
The paths users take when navigating your site
How people interact with various pages
How people use features such as site search
And more
Some metrics you can view in 'behavior' reports include:
Page views
Time on page
Page value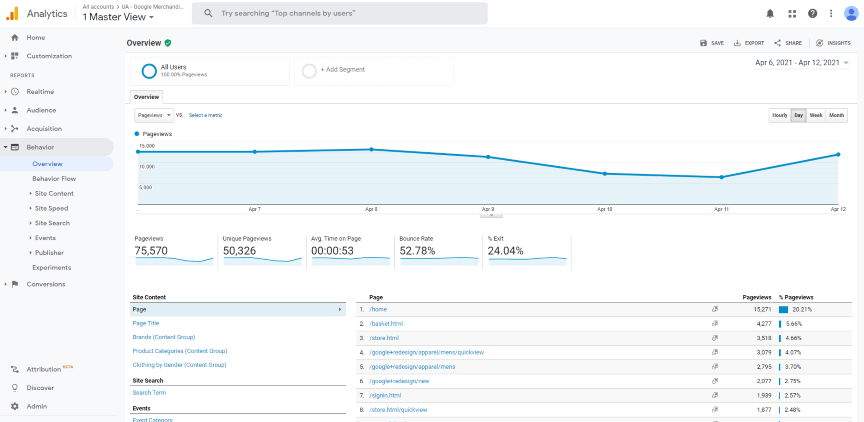 Conversions
The 'conversions' reports let you track important interactions on your site, similar to the 'events' reports in GA4. In Universal Analytics, these interactions are called goals. You'll need to define your goals before Google Analytics can track them. There are three groups of reports within the 'conversions' section.
Goals: These reports give you data about all your goals, including the number of completions, your conversion rate, and more
Ecommerce: These reports give you detailed information about purchases completed on your website or app.
Multi-channel reports: These reports provide insight into how your various marketing channels work together to earn conversions for your business.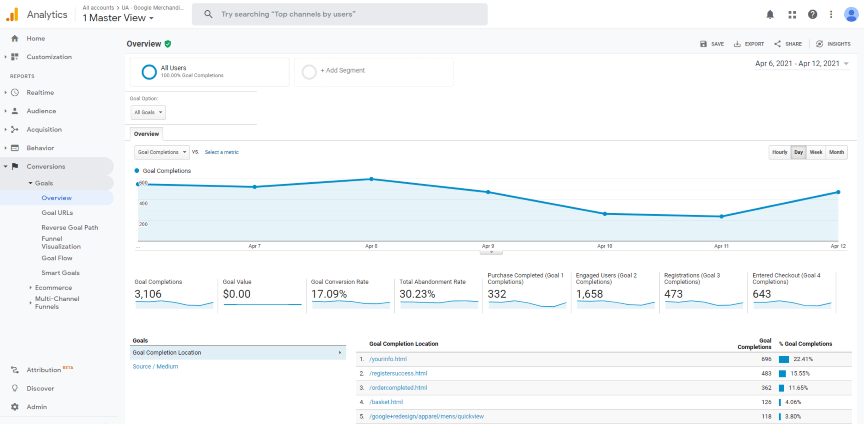 Getting the maximum value from Google Analytics
Now that you've read through this Google Analytics explanation, you hopefully have a better idea of how you can use the platform to track and improve your business's performance online. For help getting the maximum value from Google Analytics, work with WebFX. Our team of Google Analytics-certified professionals can set up Google Analytics, analyze your data, and use insights from your data to help you meet your goals.
To learn more about our Google Analytics consulting and web analytics services, request a free quote online or give us a call at 888-601-5359.
WebFX Careers
Join our mission to provide industry-leading digital marketing services to businesses around the globe - all while building your personal knowledge and growing as an individual.