Google is vital to the success of your company's online marketing. In today's world, there's really no getting around that fact — Google is one of the main places people find and visit your website, and it pays to optimize all your marketing to rank high in search results.
Since Google is so important to your marketing, it's fitting that it's put out a few different tools over the years that can help you manage that marketing. Two of those tools are Google Search Console and Google Analytics, which you might have heard of before.
But if you know a little about both of those platforms, you may be wondering what the similarities and differences are. In a decision between Google Search Console vs. Google Analytics, which one should you use? Furthermore, what distinguishes the two tools from one another to begin with?
The short answer is that Analytics focuses on web design while Search Console focuses on search visibility. But to get a more in-depth picture of how the two compare, keep reading to learn more. Then subscribe to Revenue Weekly — our email newsletter — for more digital marketing tips!
Google Search Console vs. Google Analytics: What are they?
To kick off our examination of Google Search Console vs. Google Analytics, let's briefly define what each platform is.
What is Google Search Console?
Google Search Console (GSC) is a tool offered by Google that allows you to view metrics and conduct analytics related to website visibility. Essentially, that means it allows you to see information about how your site appears in search results, and it also helps you fix any issues you find.
GSC is a free service, so there's no subscription and you don't need to pay anything. You will, however, need to verify your ownership of your site to begin using GSC.
What is Google Analytics?
Google Analytics, like Google Search Console, is a free web analytics tool offered by Google. It lets you view metrics about user activity on your website so you can see how people interact with different pages. In particular, Analytics is great for keeping up with traffic.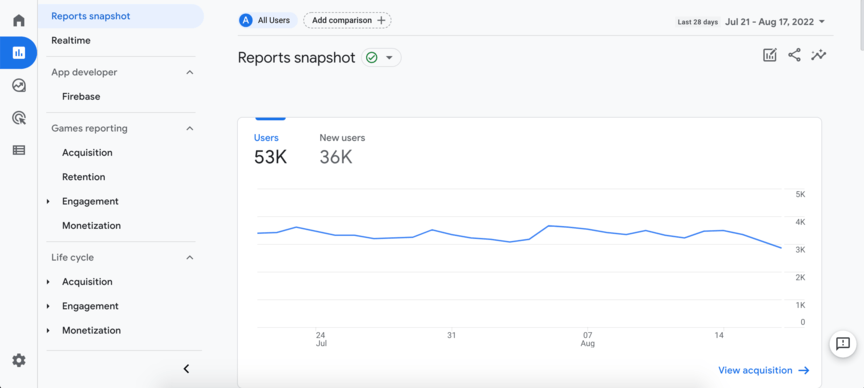 As the name suggests, Analytics helps you analyze the data it tracks. It presents its findings in different charts and graphs to help you easily visualize everything and gain useful insights.
What marketing strategies do Analytics and GSC help with?
Search Console and Analytics each help you conduct analytics related to your website, but they don't focus on exactly the same marketing strategy. Let's briefly cover what strategy each tool specializes in.
Google Search Console
Google Search Console focuses on search engine optimization (SEO). It's concerned specifically with how your site performs in Google search results: How high it's ranking, how many clicks it's earning, and so on.
GSC doesn't really spend much time looking at what happens on your website itself. All of its metrics revolve around visibility in search engine results pages (SERPs) and how users interact with it there.
Google Analytics
Google Analytics is useful for looking at SEO too. However, it's arguably more concerned with web design.
Ultimately, Analytics is all about what's happening on your website itself. On the one hand, that means assessing how much traffic you earn, including from Google — which connects to SEO.
But it also means examining how people respond to the layout of your pages and interact with internal links. That sort of information relates more strongly to web design, taking Analytics in a different direction from Search Console.
What metrics do Search Console and Analytics track?
Search Console and Analytics both track their share of metrics related to your website. But which metrics does each platform focus on?
Each tool looks at many different metrics, but we'll summarize some of the most important ones below.
Google Search Console
As stated above, GSC focuses primarily on SEO metrics. That includes:
Impressions:

How many people see your site in search results

Clicks:

How many people click on your site in search results

Mobile-friendliness:

How optimized your site is for

mobile devices

Keywords: Which keywords your site is ranking for
Rankings:

How high your website pages are ranking in search results
Those are just a few of the metrics you can track in GSC, but they're also among the most important. All of them relate specifically to SEO, giving you a sense of where Search Console's priorities are.
Google Analytics
Google Analytics allows you to track a blend of metrics. Some of them relate to SEO like GSC does, but others are more about web design. Some examples include:
Number of visitors:

How many people visit your website

Time spent on site:

How long people stay on your site

Bounce rate:

How many people leave your site soon after arriving

Demographics:

A breakdown of what demographics most commonly visit your site

Conversion rate:

How many site visitors end up converting
Again, those are just some of the metrics you can track in Google Analytics. However, the other metrics you can track are similarly focused on visitor activity on your site.
Search Console vs. Analytics: Which tool should you use?
To wrap up our discussion of Search Console vs. Analytics, let's return to one of our earlier questions: Which of the two platforms should you use?
The answer is easy: Both. This isn't an either/or situation — Analytics and GSC focus on altogether different areas, and since they're both free, it's not even as though you have to make room for both of them in your budget. There's honestly no reason not to make use of both tools.
Even better, you can actually link the two tools together via your Google account. That helps them sync with each other and share valuable information to make them both more useful to you.
The bottom line is that you should use Google Search Console to fuel your SEO efforts, and Google Analytics to boost your web design.
Our digital marketing campaigns impact the metrics that improve your bottom line.
See More Results

WebFX has driven the following results for clients:

$3 billion
In client revenue

7.8 million
Leads for our clients

5.2 million
Client phone calls
WebFX can help you master Search Console and Analytics
Want help putting your Google insights to good use by improving your SEO and web design? You don't have to do it alone. WebFX has over 1020 client testimonials speaking to the quality of our SEO services and web design services, and we'd love to show you firsthand what we can do for you.
When you partner with us, you'll receive help using what you learn from Analytics and Search Console to improve your marketing. You'll even receive a dedicated account representative to keep you in the loop about all that we do for you.
To get started with us, just call 888-601-5359 or contact us online today!
WebFX Careers
Join our mission to provide industry-leading digital marketing services to businesses around the globe - all while building your personal knowledge and growing as an individual.