With more than five million other sellers on Amazon, it's critical for your company's products to stand out in search results — which is why it's essential to learn how to optimize your Amazon listing. By investing in Amazon optimization, your company can increase sales, brand awareness, and more. Ready to see those results?
Keep reading to learn how to optimize your Amazon listing!
1. Audit your product listing
Before you optimize your products, you need to develop a game plan. That's why it's helpful to start your listing optimization by auditing your Amazon product listings — you can use a tool like Jungle Scout's Product Listing Grader or score and track your products manually with a Google Sheet.

Whether you're relying on Jungle Scout or your team to audit your Amazon listings, assess these factors:
Product title: Your product title should follow Amazon's recommended format for product titles (Brand + Model Number + Model Name + Product Type). It should also include your targeted keywords, as well as make full use of the 200-character limit.
Product images: Your product images should adhere to Amazon's image standards, like using a pure white background for your primary product image. For the best results, you should also have between 7-9 photos that demonstrate your product's full features.
Product features: Your product features, which consist of five bullet points to the right of your product images, should emphasize your product's unique selling points (USPs). A few examples include a rust-resistant design, an extended warranty, or premium ingredients.
Product reviews: Your product reviews, while outside your direct control, have an influence on your ranking in search results. They also impact the purchase decisions of shoppers. That's why you want a high number of satisfied reviews, which is why review management is essential.
Product rating: Your product ratings, which range from 1-5 stars, are a direct result of your product reviews. For the best results, you want a rating of more than four stars, which can improve your product's sales and search ranking.
Following your product audit, you can start taking steps to optimize your Amazon listing.
2. Research your competitors
While you can improve your product listings without a competitor analysis, it's a step that offers tremendous value when it comes to optimizing your product listings. Not only can a competitor analysis inform your optimization strategies, but it can also improve them. As you research your competition and their product listings, compare these product features to yours:
Product title
Product images
Product features
Product reviews
Product rating
These areas can provide your team with inspiration and ideas for optimizing your Amazon listings. For example, if you notice that a lot of reviews complain about the short warranty of your competitor's product, you can highlight that weakness in your product features and product description by demonstrating your product's extended warranty. If you'd like to assess your competitor's products from a technical standpoint, you can also use the Jungle Scout Product Listing Grader tool.
Keep in mind, however, that you can only check one product at a time with it.
3. Make your product titles compelling
Now that you've researched your competition and audited your product listings, you can start optimizing your Amazon listings. Like most guides for how to optimize Amazon listings, we recommend beginning with your product title. Improve your product title with the following steps:
Follow the product naming format: Amazon doesn't require companies to follow its preferred form for product titles, but it's best practice to follow Amazon recommendations.
Use your targeted keyword at least once: As you revise your product titles, include keywords relevant to your products and shoppers. For example, if you're selling ceramic pots, you may add the phrase "ceramic pot planter" to your product title.
Make your title informative and compelling: It's a balancing act to create a product title — you want to follow Amazon's recommendations, include your targeted keyword, plus provide users with valuable information and the motivation to click on your results.
For the best results when optimizing your product title, create a few different versions. Your team can then review the various options and pick its favorites as well as offer suggestions for improvement.
4. Upgrade your product features with USPs
Next, enhance your five-bulleted list of product features with your USPs. Your product features are a critical part of your product listing, as they're one of the first things shoppers see and read. That's why you need to use your product features to your advantage.

Improve your product features with the following tips:
Appeal to your target audience: By understanding your audience, from their needs to their pain points, your team can write a series of compelling product features that persuade shoppers to buy your product. Ask what matters to your audience, and then use it in your features.
Highlight your competitive advantages: It's also critical for your product features to demonstrate the perks of your product over the competition. In most cases, your competitive advantages overlap with the wants of your target audience.
Keep your product features brief: For the best results optimizing your Amazon listing, you want to make your product features a brief, skimmable section of your listing. You can go into more detail about your product in your product description.
Like your product title, try to create a few versions of your product features to optimize your results.
5. Optimize your products with backend keywords
If you want to improve your visibility across shopper searches, then you need to optimize your product listings with backend keywords, also known as hidden keywords. As their name suggests, backend keywords operate on the backend of Amazon. You don't use them in your product listing.
What's an example of a backend keyword? If you sold a product related to The Lord of the Rings, you may use "LOTR" as a hidden keyword. It's an abbreviation of the series and something that shoppers likely use while searching for The Lord of the Rings products.
Discover hidden keywords for your products with keyword research tools, like keywordtool.io. You can also search on Amazon and use the platform's search suggestions. It's also worth looking at your product from an audience perspective, like what related terms they would use to search for it.
BONUS READING: Your Go-To Amazon Keyword Research Tool: KeywordsFX
6. Leverage your product description
Next, you want to revamp your product description to provide shoppers with plenty of helpful information about your product. Like your product features and your product title, your product description can feature your targeted keywords. A few ways you can improve your product description include:
Make your paragraphs reader-friendly: If you want your product description to work for you, then you need to make short, reader-friendly paragraphs, especially for mobile users. Limit your paragraphs to three lines or one to three sentences.
Format your description with bold and italics: Another way to make your product description readable and skimmable for shoppers is with bold and italics. Emphasize your product's one-year warranty or premium organic ingredients with bold or italic text, but don't overdo it.
Start with your product benefits: When you write your product description, lead-in with your product's advantages. Emphasize how your product helps shoppers and makes their lives better, versus why your company or product is the best.
While drafting your product description, keep in mind that Amazon limits product descriptions to 2000 characters, which is around 300 words. If you use Enhanced Brand Content or A+ Enhanced Marketing Content, you can still use these tips to improve your custom content.
7. Maximize your product image quality
For Amazon, as well as shoppers, it's critical that your product features high-quality images. You want to have a primary image, which displays in search results, as well as several other view images, which appear in your product listings. Improve the impact of your product images by investing in the services of a photography studio.
They can create high-quality photographs of your product, as well as demonstrate your product in action. With those images, your business can convince users that your product is what they want and need. As you revise your product images, it's critical that your team adheres to Amazon's product image requirements, which are in-depth.
They can also vary by product types, such as books or movies, so spend some time reviewing these standards before updating your product images.
8. Categorize and subcategorize your product
If you're not only a seller but also a shopper on Amazon, then you know how helpful filters, like for product categories, are while shopping. The downside, however, is that a filter can remove your product from search results, which translates to a lost sale. That's why product categorization and subcategorization is critical.
For example, say your company sells a line of Halloween costumes for dogs. According to Amazon, you'd want to categorize your product under the main category of "Pet Supplies," followed by the subcategories of "Pets Halloween" and "Dogs."
In this example, you can categorize your product further, with the subcategories of Apparel and Accessories and Collars, Harnesses, and Leashes. Use the Product Classifier tool from Amazon to streamline this process.
9. Increase your product reviews
Reviews. They're one of the most challenging parts of optimizing an Amazon listing. Per Amazon, businesses cannot solicit product reviews — shoppers must leave a review because they want to, not because you're offering them something, like a discount, gift card, or another perk.
There are a few ways to encourage customers to leave reviews, including:
Email: Via email, your team alerts shoppers to the confirmation and shipment of their order. You can also use email to follow-up with customers, though. After their order arrives, for example, ask them how they like the product and invite them to share their experience.
Print: In your product packaging, your team can also include print materials, like instructions, that encourage customers to leave a review. For example, instructions for your dog Halloween costumes may invite shoppers to share pictures of their pet on Amazon alongside a review.
Early Reviewer Program: If you have a product with less than five reviews and a price tag of more than $15, you can also use Amazon's Early Reviewer Program. As a part of this service, Amazon solicits up to five product reviews for a one-year period.
Amazon Vine™: If you're a wholesale provider, you can also use Amazon Vine™ to earn product reviews. With Amazon Vine™, the leading reviewers on Amazon receive your product and submit their reviews.
As your product earns more verified and satisfied reviews, your visibility in search results will likely increase.
10. Switch your order fulfillment to FBA
Amazon relies on several factors when ranking product listings in search results, and one is your order fulfillment method. Fulfillment by Amazon (FBA) maintains perfect performance metrics when it comes to fulfilling orders and processing returns, which is why it's a go-to choice for sellers today. That's why, if you want to maximize your product optimization, it's worth considering FBA.
While FBA does include fulfillment and monthly storage fees, it can help your company increase its sales and decrease its workload. In response to that shift, your business can dedicate more time to developing new products, managing the day-to-day operations, and planning your next move. It's up to your company, however, to decide what's best.
The first step to increasing your SMB's Amazon sales is getting a FREE proposal.
One of our experts will be in touch within 24 hours!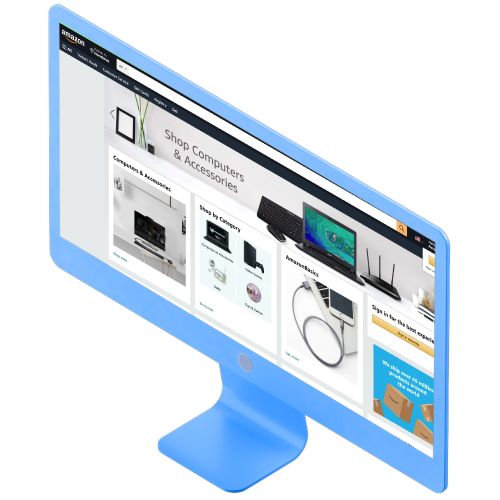 Want to learn more about Amazon listing optimization?
If you're ready to stay up-to-date on the latest strategies for improving your product listings and decreasing your Advertising Cost of Sale (ACoS), then join our newsletter at the top of this page.
Curious about other topics like Amazon sales rank charts? Keep following our blog for more Amazon info! Or, explore our complete guide for how to optimize Amazon product listings!
WebFX Careers
Join our mission to provide industry-leading digital marketing services to businesses around the globe - all while building your personal knowledge and growing as an individual.