Amazon isn't just for business-to-consumer (B2C) companies. Business-to-business (B2B) companies can also use the ecommerce marketplace to sell their products online. With Amazon Business, an exclusive B2B marketplace from Amazon, your organization can make buying your products in bulk easy for clients — and profitable for your business.
Is Amazon Business worth it, though, in the long-term? Get answers to that question, and more, like:
Keep reading now to learn if Amazon Business is worth your company's investment!
Is Amazon Business worth it?
Whether Amazon Business is worth your company's investment depends on your products, price point, and target audience.
Typically, though, companies that excel on Amazon Business sell products that their audience buys in bulk on a regular (versus one-time) basis. Does that sound like your organization? Then, keep reading to learn more about Amazon Business!
What is Amazon Business?

Amazon Business is the B2B version of Amazon.com.
With Amazon Business, companies ensure they never run out of the supplies they need since they can streamline purchase requests and buy products in bulk from vetted Amazon Business Sellers.
What is the Amazon Business Sellers Program?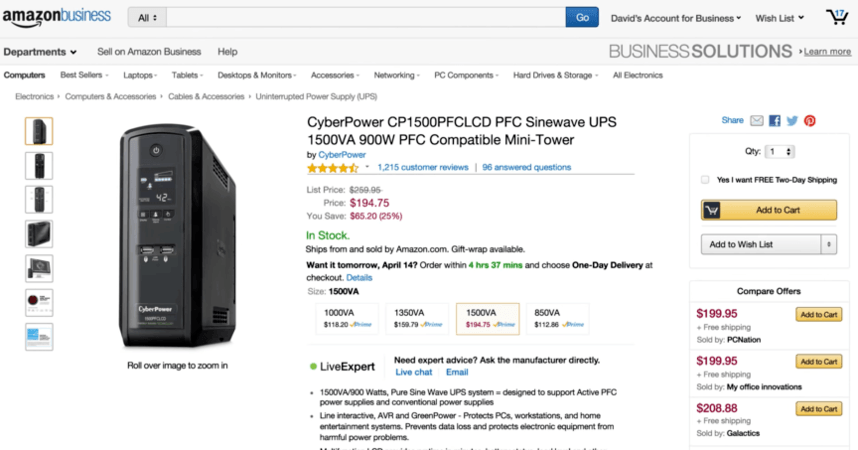 The Amazon Business Sellers Program, also called Amazon Business (B2B) or Amazon B2B, is a service companies enroll in to sell on Amazon Business. This program works similar to the Amazon Professional Seller program since it allows you to manage product listings, track purchases, and more.
What companies can join the Amazon Business Sellers Program?
Since companies that sell in bulk get the most value (and typically, a higher return on investment) from Amazon Business, Amazon recommends manufacturers and distributors sign up for the Amazon Business Sellers Program. Companies that serve the following industries tend to thrive on Amazon Business:
Agriculture
Automotive
Business products and services
Construction
Consumer products and services
Energy
Financial services
Healthcare
Industrial
Information technology
Transportation and logistics
Once you do join the Amazon Business Sellers Program, however, Amazon requires you to maintain a:
Order defect rate (ODR) of 0.5% or less
Pre-shipment cancellation rate of less than 1%
Late shipment rate of less than 2%
You'll also need to provide the following with your order fulfillment:
Tracking numbers
Packing slip
Purchase order number
Amazon will also monitor your number of chargebacks, negative reviews, and A-Z Guarantee Claims.
Companies can protect some of these metrics, like late shipment rate and order defect rate, by using Fulfillment by Amazon (FBA). This service will give Amazon the responsibility of packaging, shipping, and delivering your products. Keep in mind, though, that Amazon FBA does come with a price tag.
Learn How to Market Your B2B on Amazon
How much does Amazon B2B cost?
Joining the Amazon B2B program and selling on the Amazon Business marketplace includes two fees:
Amazon B2B subscription: The Amazon Business Sellers Program includes a monthly subscription fee of $39.99. Initially, when launching Amazon Business, Amazon waived this monthly fee.
Referral fees: How much your business pays in referral fees depends on the products and number of product sales. For the latest rates, check out Amazon's breakdown, which highlights the product categories, referral fee percentages, and applicable minimum referral fee.
Before enrolling in the Amazon Business Sellers Program, review the referral fees and estimate how much your business will pay each month. That way, you can have accurate goals for your Amazon revenues.
7 unique features of the Amazon Business Sellers Program
Besides offering your company access to a B2B marketplace, Amazon Business also provides you with tools that make managing your products, measuring your performance, and increasing your sales convenient.
Seven of the most notable features include:
1. Business pricing
Companies that sell on Amazon, as well as Amazon Business, will appreciate business pricing.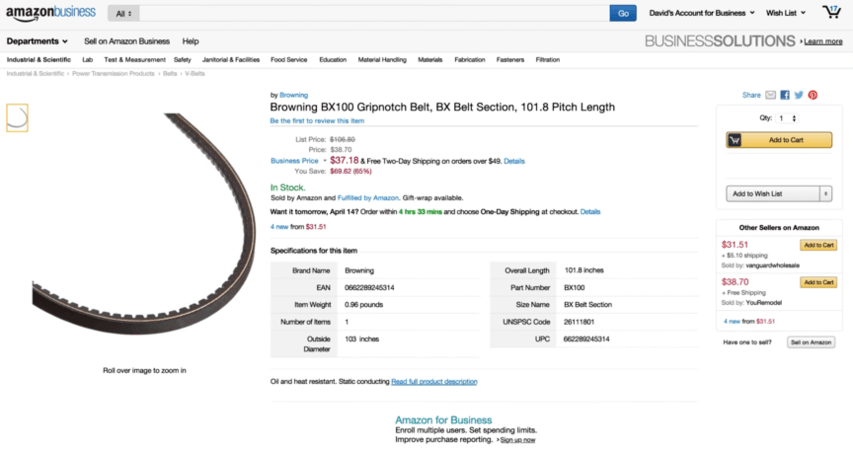 This tool allows your business to show two prices, based on the user:
Business price: How much your products cost for Amazon Business members
Consumer price: How much your products cost for non-Amazon Business members
Keep in mind that your consumer price cannot exceed your business price.
2. Quantity discounts
With quantity discounts, you can create up to five tiers of readily available discounts for customers. This feature makes selling in bulk easy and convenient. You don't have to provide custom quotes for every business that wants to purchase in bulk.
Instead, you can leave that customization for higher-value orders that exceed your company's average.
3. Reporting dashboards
From the Amazon Business Sellers Program, you can access B2B Central, which includes these reports:
Sales Snapshot: Sell on both Amazon and Amazon Business? Use the Sales Snapshot to track your sales from B2B and B2C customers. You can even use this report to measure and compare your year-over-year (YoY) growth from B2B and B2C clients.
B2B Performance by Industry: Learn which industries and sub-industries drive your business revenue with the B2B Performance by Industry report in Amazon Business.

Amazon categorizes its clients' industries using internal and external data sources.

Top Products: Uncover your top-selling products on Amazon Business with the Top Products report. This report highlights your top five products, which can help you make informed decisions about ad campaigns, inventory management, and more.
Business Action Center: Get recommendations from Amazon with the Business Action Center. This report compiles a list of relevant tasks that your business can take action on or dismiss from your dashboard.
With these reports, your company can understand, manage, and expand your brand on Amazon.
4. Business profile
Use the business profile feature to create awareness and trust with B2B buyers. Share information like:
Year established
Business type
Logo
And more
Buyers can view this information from several locations, including:
Product detail pages
More Buying Choices pages
Offer Listings pages
5. Enhanced product content
Enhanced product content makes shopping even easier for B2B buyers because you can share:
CAD files
User guides
Safety information
Installation manuals
Spec sheets
Comparison charts
And more
Uploading this information also demonstrates your authoritativeness to buyers.
6. Quote requests
Via your B2B Central dashboard, you can also review and respond to custom quote requests. Potential customers share how many units they'd like to purchase, and then your team responds with a price, which can include a bulk discount.
7. Certifications
Your business can also add quality and diversity certifications to your profile, including:
ISO
AS
Minority-, Woman-, or Veteran-Owned Small Business
Since buyers can filter sellers by credentials, it's essential to add any relevant certifications.
How to enroll in Amazon Business for B2Bs
Is Amazon Business worth it? If your company thinks so and is ready to join, follow these steps:
Register your company to sell on Amazon
First, you'll want to create a Professional Seller account on Amazon. Remember, this plan includes a $39.99 monthly fee.
Once you create your account — or log into your existing Professional Seller account — search for "Amazon Business" from the search bar. You'll want to select the first result labeled "Amazon Business Seller Program." Then, scroll down and select "Check your eligibility" or "Click to join." What you choose will depend on your selling history with Amazon. If you've just joined, you'll likely see "Check your eligibility." In comparison, if you're an established Amazon seller with a fantastic track record, you'll likely see "Click to join." The first option will typically involve a waiting period, while the second will provide instant access.
Create your Amazon Business profile
Once you've received access to Amazon Business, complete these steps:
Create your business profile, with information like year established and business type
Add your relevant certifications
Upload your logo
Finish these tasks, and you can move on to the next step!
Upload your product catalog
Finally, you'll want to upload your product catalog.
Whether you have a small or large catalog, Amazon makes the upload process easy with its listing tools. During this step, you can also use the enhanced product content feature to add helpful documents and references for business buyers. Complete this step, and you're ready to start selling on Amazon!
Bonus video: How to drive revenue with B2B ecommerce
Generate more revenue in the Amazon B2B marketplace
While Amazon B2B isn't ideal for every business, it's an excellent marketplace for lots of companies, ranging from office supply distributors to lighting manufacturers.
With the Amazon Business marketplace, you can reach more of your target audience, resulting in more revenue for your brand. Looking to get started with Amazon Business, but don't know where to begin? WebFX can help.
With an experienced team of more than 500 professionals, our B2B marketing services for Amazon can help your business get started with Amazon Business and maximize its return on investment (ROI) from the platform. Contact us online or call us at 888-601-5359 today to learn more!