Growing your business online in 2023 involves juggling many digital tools and changing tactics. Fortunately, you have access to countless marketing certifications you can earn to elevate your expertise.
But which are the best certifications for marketing? With so many to choose from, how do you determine which will benefit you the most?
This post rounds up 11 digital marketing certifications from industry experts, covering everything from digital marketing basics and content marketing to social media marketing and Amazon advertising.
While some of the courses carry a price tag, many are free, making them excellent choices for marketing pros on any budget.
Jump to the certifications you're most interested in or keep reading for the complete list!
And while you're here, would you like to receive marketing advice straight to your inbox? If so, subscribe to Revenue Weekly for actionable digital marketing tips to elevate your strategy!
1. Digital Marketing Institute + American Marketing Association's digital marketing certifications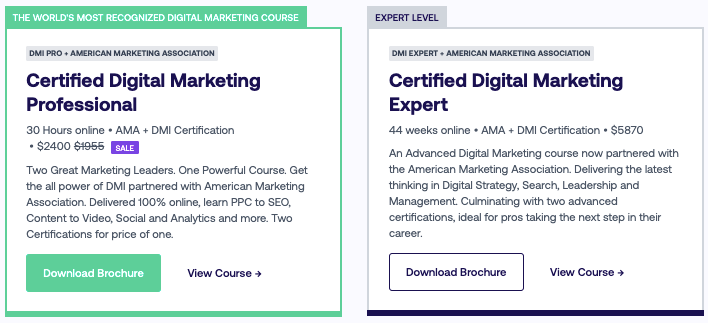 Price: $1955 for the Professional Digital Marketing Course, $5870 for the Certified Digital Marketing Expert Course
If you want a thorough overview of digital marketing with certifications from two industry-leading names, check out Digital Marketing Institute's certification programs in partnership with the American Marketing Association.
You have two courses to choose from:
Professional Digital Marketing Course, which provides an overview of digital marketing, social media marketing, Google Ads and Google Analytics, email marketing, content marketing, search engine optimization (SEO), and more.
Certified Digital Marketing Expert, which includes lessons on social media marketing, conversion rate optimization, digital selling, leadership, and more.
These courses are two of the more expensive choices on the list, but they're some of the best certifications for marketing overall. They provide a holistic overview of key digital marketing topics to elevate your business's strategy. Plus, you'll end up with dual certifications from two top names in the industry.
2. Content Marketing Institute University
Price: $995 per learner
A leading expert on content marketing, the Content Marketing Institute has created a series of courses — complete with a certification — to share their knowledge with other digital marketers.
Content marketing is an effective lead generation strategy for any business, but you need a robust approach to generate results. If you're not seeing the results you'd like from your content, consider learning from the Content Marketing Institute pros!
Course topics include subjects like:
Creating strategic content
Audience personas
Building customer loyalty through content
Multicultural marketing
And more
When you enroll at The Content Marketing University, you'll receive access for 12 months to complete the required courses for the certification and any electives you'd like to take.
3. HubSpot Content Marketing Certification Course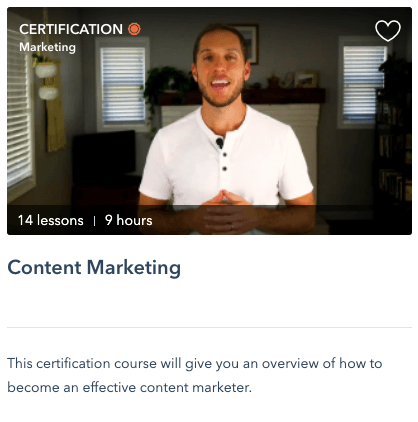 Price: Free
HubSpot provides many marketing certifications on various topics. If you're looking for a quicker, free way to learn more about content marketing, check out HubSpot's Content Marketing Certification!
In this free digital marketing certification course, you'll learn how to produce consistent content and repurpose it to continue driving results. The course includes just over six hours of content, making this certification a great option if you have less time to spare but still want to brush up on your skills.
4. HubSpot Inbound Marketing Certification Course
Price: Free
Another free digital marketing certification course from HubSpot is the Inbound Marketing course. This certification program teaches you more about content creation, with lessons explicitly geared toward creating content to nurture leads through each stage of the purchase funnel.
With about three hours of content, you can grow your professional skills in a single afternoon.
Bonus Read: Marketing Manager Skills
5. Yoast all-around SEO training

Price: $99 per year
If you want to grow your business online, SEO is one of the most critical skills to master. However, learning SEO can be a complex process. With Yoast's all-around SEO training, you'll receive an overview of foundational SEO topics from one of the industry-leading SEO experts.
Topics covered across three hours of video content include:
Keyword research
SEO writing
Technical SEO
Link-building
And more
6. Moz SEO certification courses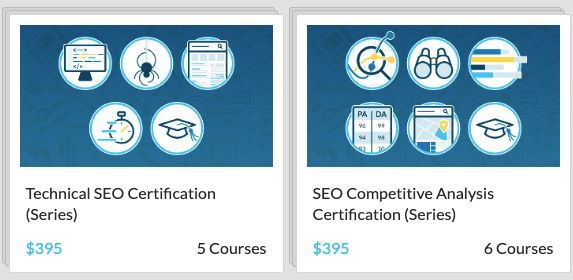 Price: $395 for each course
Want a deeper dive into trickier SEO topics? Check out Moz's technical SEO and SEO competitive analysis certifications! Each course includes three hours of instructor-led content, covering the following topics:
Technical SEO: The technical SEO course includes lessons on crawlability, indexing your site, site accessibility, site architecture, site security, using robots.txt files, and more.
SEO competitive analysis: The SEO competitive analysis course teaches you how to find your competitors and analyze their on-page and off-page SEO performance.
Ensure your content stands a fair chance by brushing up on your technical SEO skills, and help your site stand out from the competition by learning how to conduct an SEO competitive analysis!
7. Google Analytics Individual Qualification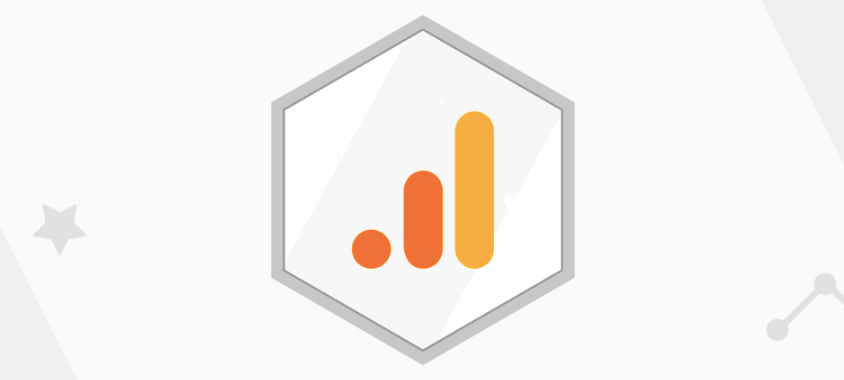 Price: Free
Data forms the backbone of any strong marketing strategy, and Google Analytics provides comprehensive insight for digital marketers.
To prepare you for the Google Analytics individual qualification, Google offers two free one-hour long courses:
Google Analytics for Beginners, which covers how to set up Google Analytics, how to view and share reports, what types of information the basic reports cover, and more.
Advanced Google Analytics, which explains more advanced account configurations, Event Tracking, data segmentation, remarketing with Google Analytics, and more.
Once you have a solid understanding of Google Analytics, take the certification exam and leverage your newfound skills!
8. Google Ads marketing certifications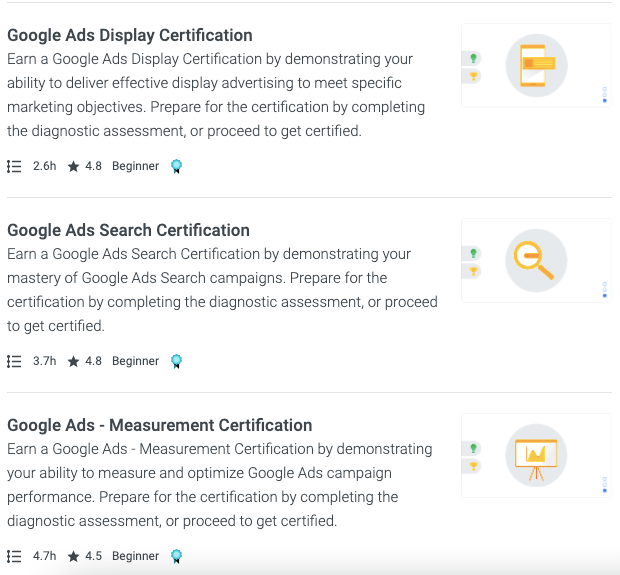 Price: Free
With over 1 billion monthly searchers using Google, Google Ads is vital for digital marketers to understand.
Google provides certification courses in tactics like:
Google display ads
Google search ads
Measuring Google Ads
YouTube and Google video ads
Google shopping ads
And more
Determine which types of Google Ads are most lucrative for your business and brush up on your skills!
9. Hootsuite Academy Social Marketing Certification Course

Price: $199
Social media can drive incredible results for your business, but learning to navigate the algorithms and create content that lands with your audience can be tricky. Learn about organic and paid social media marketing from one of the most well-known names in the social media space!
Hootsuite's six-hour social marketing course covers topics like:
Profile optimization
Setting social media goals and measuring results
Growing an audience on social media
Creating effective content
Advertising on social media
Learn how to make your social media accounts work for you, and use them to complement the rest of your digital marketing strategies.
10. Facebook Meta Digital Marketing Associate Certification
Price: $99, but the cost may vary
Want to learn how to leverage paid ads on Facebook, Instagram, and Messenger? Take Facebook Meta Blueprint courses to understand how to:
Build your presence on each platform
Set campaign objectives for Facebook ads
Create Facebook ads
Analyze ad performance
Combined, the courses cover nearly four hours of video content. Once you've learned all you need, take the Facebook Meta Certified Digital Marketing Associate exam to demonstrate your skills.
If you want to dive deeper into Facebook marketing, check out Meta Blueprint's other courses and certifications, which cover everything from data measurement to online community management.
11. Amazon Ads marketing certifications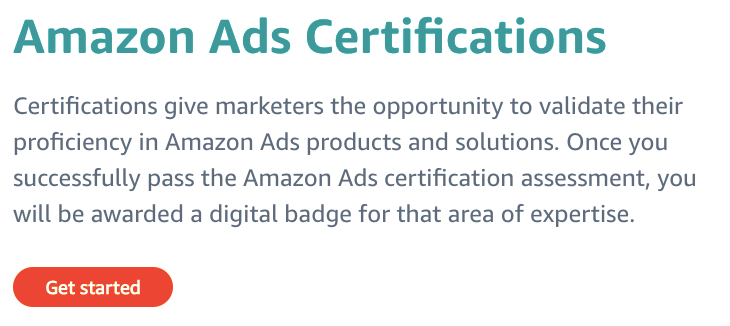 Price: Free
With over 2 million small-to-midsized businesses (SMBs) using Amazon to sell their products, the platform bears enormous potential for your company. But getting your products seen by customers on Amazon can prove challenging.
Alongside organic optimization, Amazon Ads help you get your product in front of more people. If you want to learn how to leverage Amazon Ads for your business, consider getting certified by Amazon!
Check out these two notable areas Amazon provides certifications in:
Amazon demand-side platform (DSP), which covers topics relating to programmatic Amazon ads, such as audience solutions, campaign setup and compliance, performance tracking, and more. The courses include just over four hours of video, followed by a two-hour exam.
Sponsored ads, which covers information about running Sponsored Products and Sponsored Brands ads. Topics include ad types, keyword targeting, bidding, ad guidelines, optimization, and more. The courses include about 4.5 hours of video, followed by a two-hour exam.
Learn more about digital marketing with our free guides
These marketing certifications will hone your skills to drive more results for your business, but what if you could learn more for free? Good news: With our library of free digital marketing guides, you can!
We cover everything from SEO and web design to social media and business-to-business marketing. Choose your favorite marketing certifications, then supplement them with our actionable expert advice.
WebFX Careers
Join our mission to provide industry-leading digital marketing services to businesses around the globe - all while building your personal knowledge and growing as an individual.