For many online retailers, November and December account for more than 20% of total annual revenue. And this year, online holiday spending is expected to surpass $100 billion for the first time.
If you're looking to adjust your holiday marketing to reach more customers and earn more revenue, you've come to the right place.
In this post, we'll take a look at some tips to adapt your marketing strategy for the holidays. Pour yourself some eggnog and turn up the festive tunes.
'Tis the season to spruce up your holiday marketing strategy!
Update your search engine optimization (SEO) strategy
This holiday season, don't leave your search engine optimization (SEO) strategy out in the cold.
Holiday shoppers search online for information, and revamping your SEO strategy during the holidays can help you earn higher rankings in search results, boost conversions, and set your site apart from competitors. You can start by building a list of keywords you want your site to rank for in search results.
When selecting holiday keywords, it's helpful to think about different age groups, products, and stages of the online shopper's buying process.
You can take a look at past SEO campaigns and Google Trend search patterns to help you select the keywords you want to target. And as you prepare for the holidays, you can also check Google Analytics to determine which days have been the busiest in the past.
It's also important to remember that SEO takes time to produce results, so you need to plan in advance for holiday campaigns.

Improve site speed
When preparing your website for increased holiday traffic, it's also important to pay attention to site speed.
If your website isn't running at peak speed during the holiday season, you could be providing a poor site experience to potential customers.
And considering that a whopping 57% of customers abandon a web page after 3 seconds if they can't interact with content, this could have a serious impact on your holiday sales. According to Catchpoint, Walgreens was the fastest ecommerce website last year with an average load time of 1.41 seconds – and as a result, they reported a 48.5% increase in sales.
If you want to convert more customers and boost your online revenue, it's time to improve your website's speed.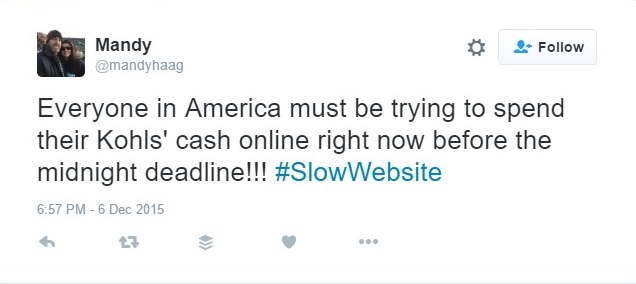 Create holiday-themed content
After you select the holiday-related keywords you want to rank for in search results, you can create holiday-themed content that incorporates them.
Holiday landing pages and blog posts can help you build authority and make it easier for people to find what they want on your site.
Just take a look at top retail sites, and you'll likely see custom landing pages filled with holiday offers.
Holiday shopping guides are also a great way to inspire shoppers, promote specific products, and boost sales.
Every year, Anthropologie does a great job of creating a gift guide filled with whimsical ideas that perfectly match the brand's personality. Anthropologie also promotes the gift guide via email. After you've optimized your site content, don't forget to take advantage of link building opportunities.
Promotions, contests, and outreach are all great ways to earn links over the holidays.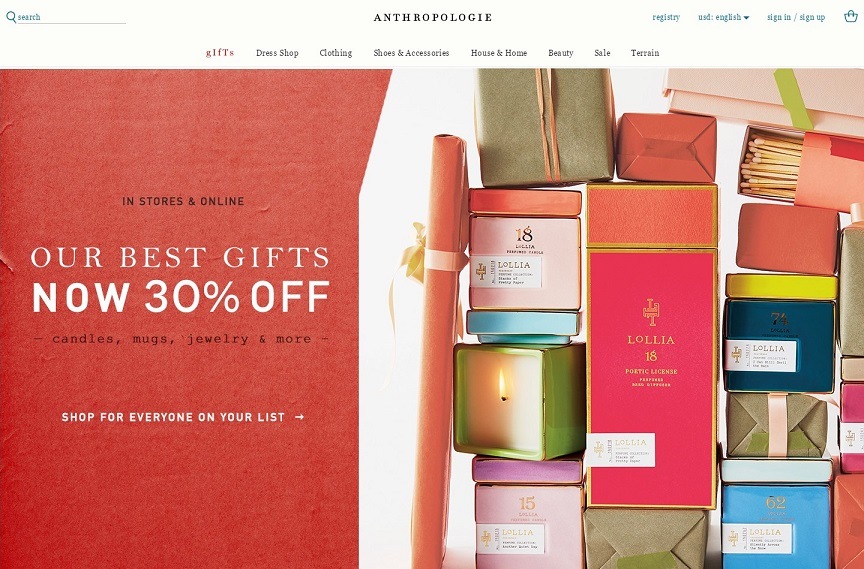 Launch pay-per-click (PPC) campaigns
Once you create your holiday keyword list and update your copy, you can launch paid campaigns to help you earn more qualified traffic during the holiday season.
Be sure to incorporate seasonal promotions and special offers in your text ads.
If you want to get the most out of your holiday PPC campaigns, ad extensions allow you to show additional business information in your ads.
You can also run local inventory ads to showcase your products and store information.
In addition, you can use remarketing and abandoned cart emails to remind people to come back to your site to complete their purchases. Need some inspiration? Check out these creative abandoned cart emails!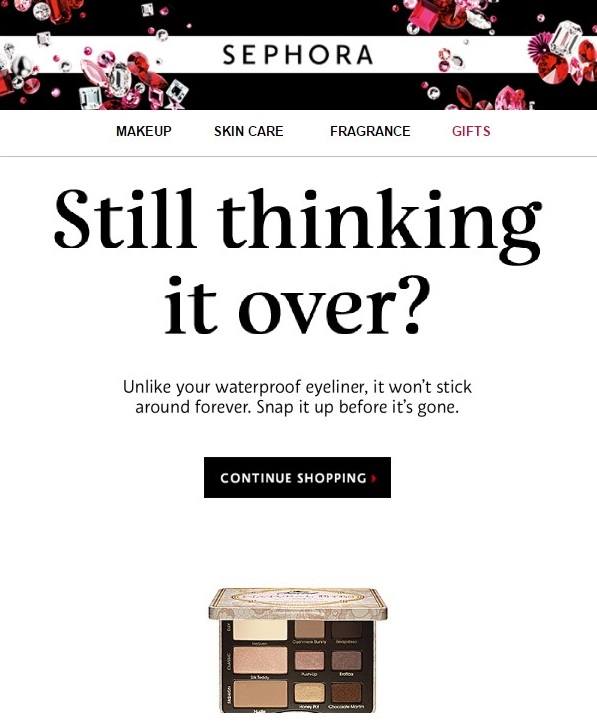 Send email campaigns
Last year, 44% of email recipients made at least one purchase based on a promotional email.
Stepping up your email marketing game during the peak holiday months is a great way to drive sales and let customers know about special promotions and discounts.
You can even use email to promote and share your holiday content and gift guides.
For example, a few days ago, I received a creative holiday email from clothing and accessories company Fine Life Co.
Not only did it remind me to place an order in time for holiday delivery, it also contained some of the brand's favorite holiday gifts.
It also contained an exclusive offer for email subscribers to encourage them to shop holiday items online.
Sending thank you emails after purchases is a great way to let shoppers know about other relevant products and encourage them to share your site with friends and family.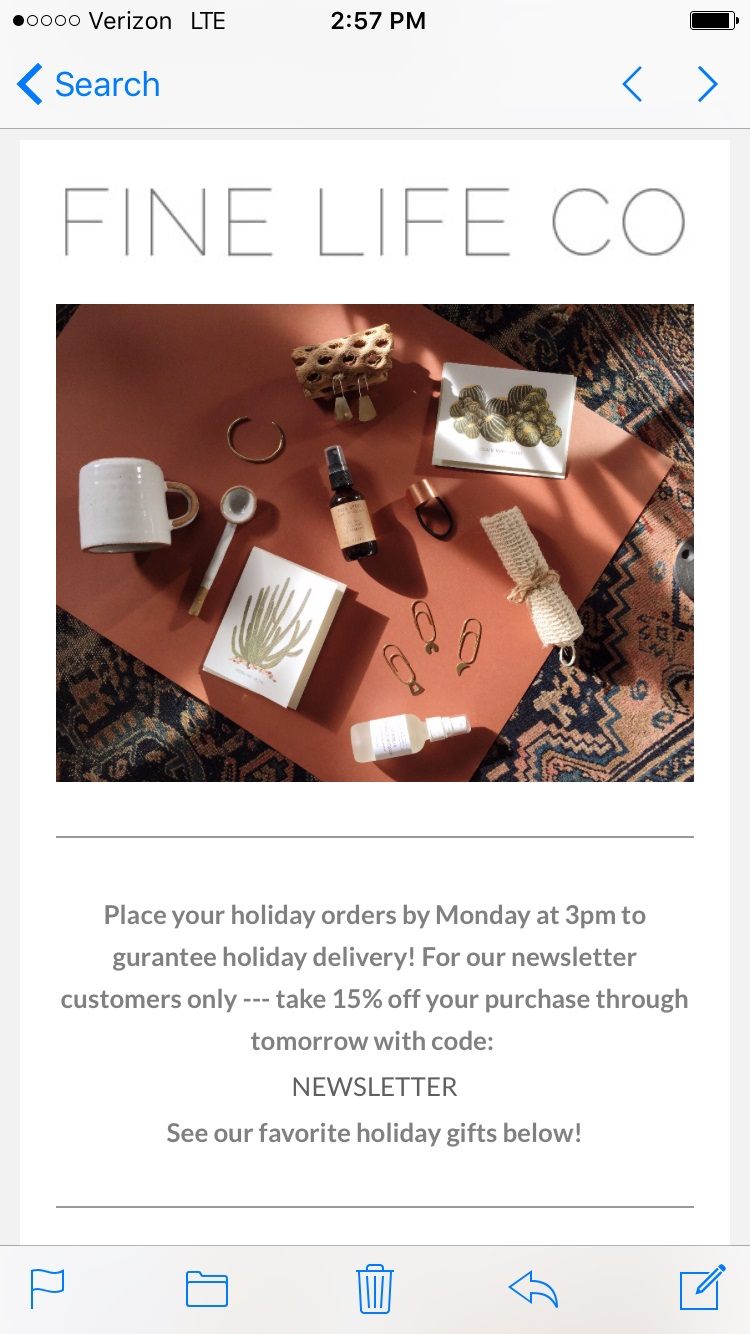 Optimize for mobile shoppers
In the U.S., mobile shoppers account for one-third of ecommerce sales. If you want to make the most of your holiday marketing efforts, you need to make sure that your website is optimized for smartphones and other mobile devices.
Cleaning up difficult checkout pages and adding secure checkout options like Apple Pay and PayPal makes shopping much easier on mobile users.
You can also add product zoom features to help customers better view your products and make purchases. Etsy's mobile website allows visitors to search for specific items or browse items in categories.
It also showcases thumbnail images of the most popular items on Etsy and allows mobile users to easily view them in a collage format.
The images are also large enough that mobile users can easily tap to view them.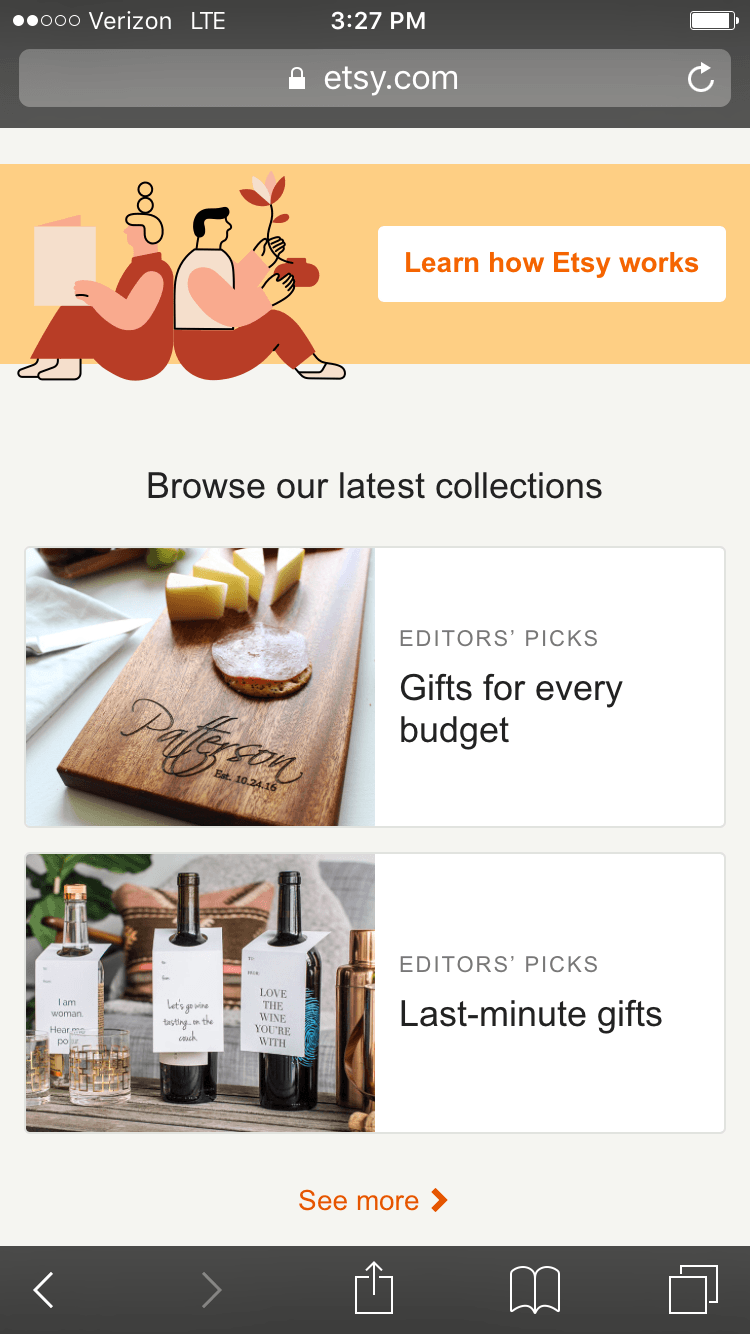 Personalize the shopping experience
Did you know that people are 4x more likely to respond to personalized offers?
Distinguishing between new and returning customers is a great way to personalize the shopping experience and boost sales. If your ecommerce store displays personalized information to returning customers, there is a greater chance that they will make a purchase.
You can also target new customers with an opportunity to enter their email and receive a discount. Another way to personalize the shopping experience is by adding a "Customers Also Viewed" section to your product pages.
Make it easy for your visitors to find the perfect gifts, and they'll be much more likely to make a purchase.
Amazon does a great job of personalizing the online shopping experience based on account details and shopping history. They show related items you might want to purchase, and send personalized marketing emails based on social data, website activity, past purchase history, and more.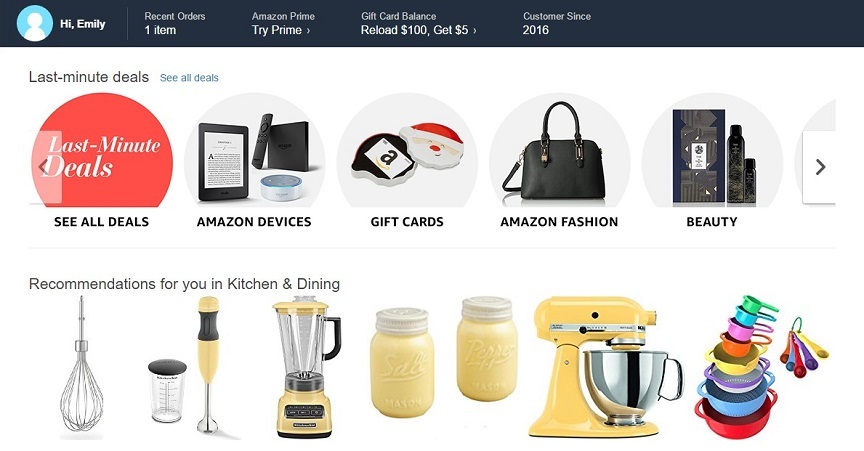 Revamp your social media
Social media is a great way to connect with customers and potential customers over the holidays and provide them with important information about your company and products.
Just this year, Instagram announced its new shopping feature that allows users to tap to view product features and shop directly from their Instagram feeds. Pinterest buyable pins are also a great way to enhance the shopping experience and encourage purchases via social media.
You can also create custom ads on social media sites like Facebook, Twitter, and Instagram to reach more holiday shoppers.
Dollar Shave Club recently took to Instagram to post a creative video promoting the Holiday Shave set.
The ad incorporates cheesy holiday traditions (who doesn't love ugly holiday sweaters?) while demonstrating how Dollar Shave Club products make perfect gifts.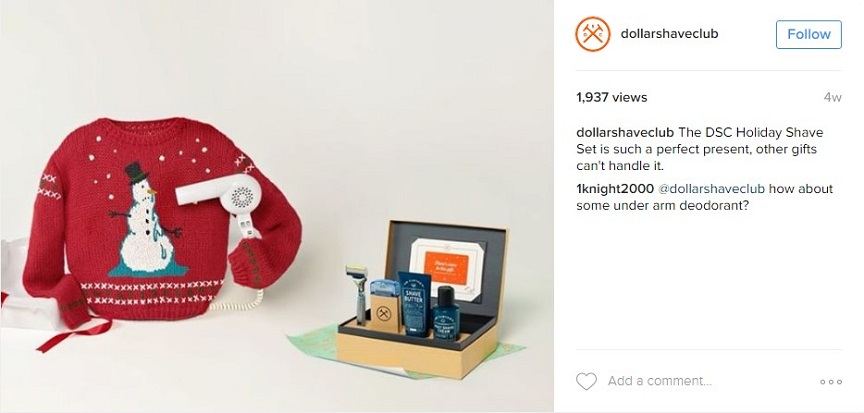 Do you need help marketing for the holiday season?
If you're looking for a holiday marketing strategy, look no further than WebFX! Contact us online or give us a call today at 888-601-5359!
WebFX Careers
Join our mission to provide industry-leading digital marketing services to businesses around the globe - all while building your personal knowledge and growing as an individual.