Leads are a vital component of any online marketing or sales campaign. Without generating and nurturing leads, you won't ever earn any customers, and your business won't make any revenue. That's why you need to carefully track and manage your leads, which you can do with a customer relationship management (CRM) platform.
One of the best-known CRMs out there is Pipedrive. But if you're reading this blog post, it means you're looking for some Pipedrive alternatives. Maybe you read something negative about Pipedrive, or maybe you tried it yourself but didn't like it. Whatever the reason, you're now looking for other options.
Well, you've come to the right place. Here we've compiled a list of seven Pipedrive CRM alternatives you can try, including:
Nutshell

HubSpot

Salesforce

Insightly

Oracle

Zoho

Keap
Keep reading for a brief overview of each tool. Then, to learn more about lead management, subscribe to our email newsletter, Revenue Weekly!
1. Nutshell
Price: Custom pricing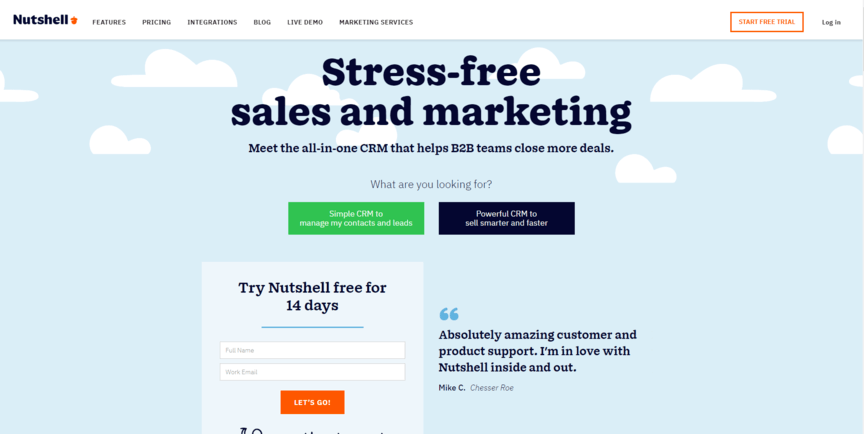 Our first alternative to Pipedrive is Nutshell. Nutshell is a CRM built for small- to medium-sized businesses that want help categorizing and analyzing leads. Nutshell is fantastic for automatically sorting your leads into different groups based on anything from location to lead score. Plus, you can easily jump between people, leads, and companies.
Nutshell also has plenty of sales automation features — in addition to automatically importing and categorizing leads, it can automatically send out marketing emails in response to particular lead actions. And you can get custom reports on just about any metric of your choosing.
Best of all, though, Nutshell excels at customer service. Their team is consistently available to talk with you, and they'll respond quickly and helpfully rather than leaving you on hold or blowing off your concerns. That's just one reason why Nutshell is our absolute top pick on this list — it's got everything that the other tools on this list have, and more.
Best for: Sales analysis and customer service
2. HubSpot
Price: Free, or $22.50+ per month for additional features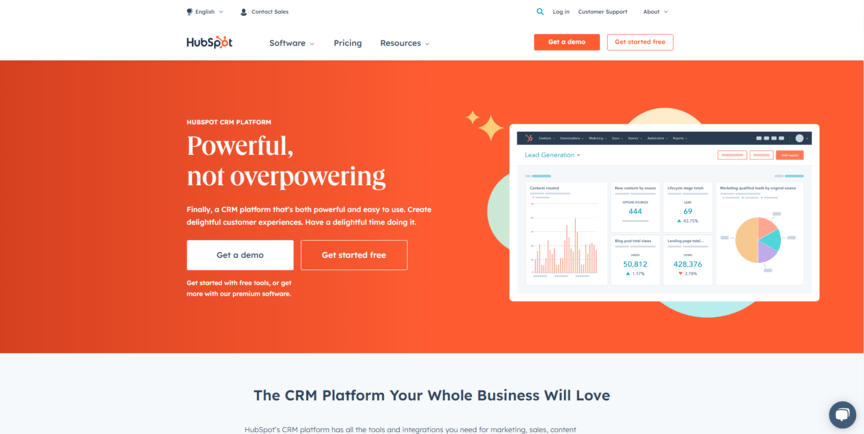 One of the best alternative CRMs on the market is HubSpot. HubSpot holds a reputation for being well-rounded — that is, it includes a fairly broad range of features without specializing in any particular arena. It's just a good all-around CRM for first-time users.
Part of that comes down to HubSpot's user-friendliness. The platform uses a highly intuitive dashboard and keeps things simple and easily navigable. Additionally, HubSpot puts an emphasis on marketing, allowing you to easily use the results of your customer data analysis to improve your campaigns.
HubSpot's features include everything you'd expect from a good CRM, including:
Integration with other data platforms

Marketing and sales automation

Customer data categorization and analysis

And more!
Best for: Simplicity and well-roundedness
3. Salesforce
Price: $25+ per user per month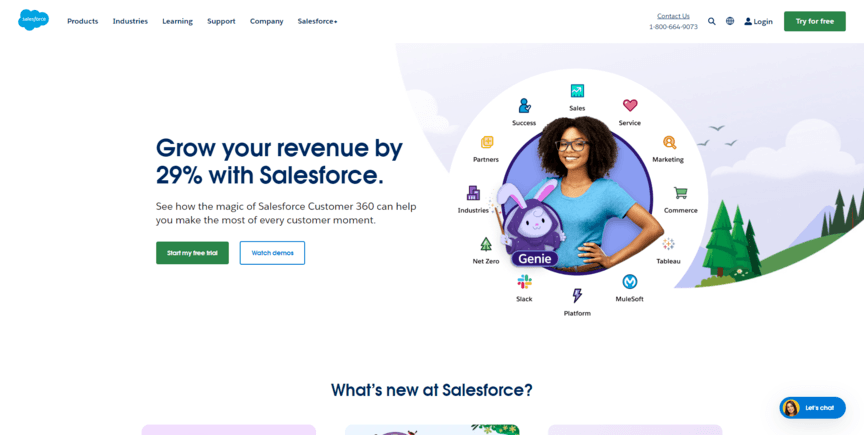 Aside from HubSpot, possibly the most widely recognized alternative to Pipedrive is Salesforce. Salesforce stands out most for the fact that it offers a vast array of plans. Depending on your budget and preferences, there are many different versions of the tool you could get.
As you might expect, those plans vary wildly in price. The cheapest ones are only $25 per month, but the most expensive one is $15,000 per month. That leaves a huge amount of room for you to find exactly the right option for your company's budget.
Each plan comes with different features, but like HubSpot, they all come with options for helping you categorize and analyze your customer data.
Best for: Many different plan options
4. Insightly
Price: Free, or $29+ per user per month for more features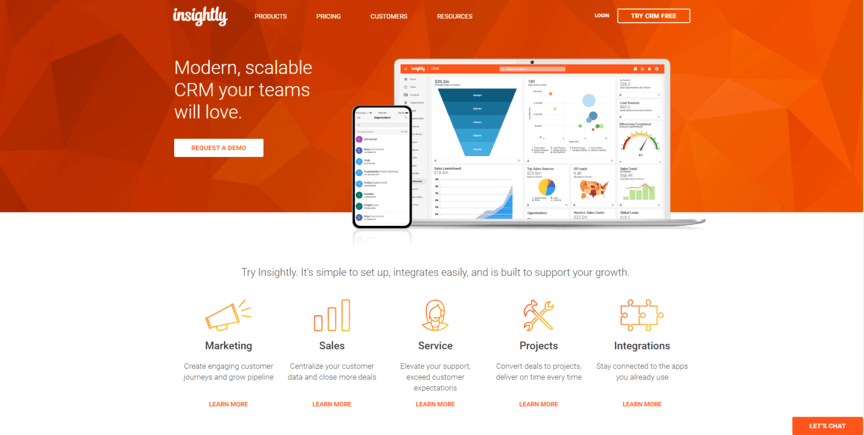 Our next Pipedrive CRM alternative is Insightly, which places a heavy focus on integrations. Integrations are one of the most important parts of a CRM — the whole point of the tool is to import and categorize customer data, but to do that, it has to integrate with the tools that generate that data.
Insightly offers more than 250 data tool integrations, a highly impressive amount. If you use a wide variety of data-generating platforms, or use some that not every CRM integrates with, Insightly could be a good choice.
Not only can Insightly easily integrate with many different tools to import lead data, it can also notify you automatically when those leads pass certain milestones in the sales pipeline. That helps you stay informed at all times about what's happening with your lead nurturing.
Best for: Lots of integration options
5. Oracle
Price: $6+ per GB per month (price varies greatly depending on specific tool choice)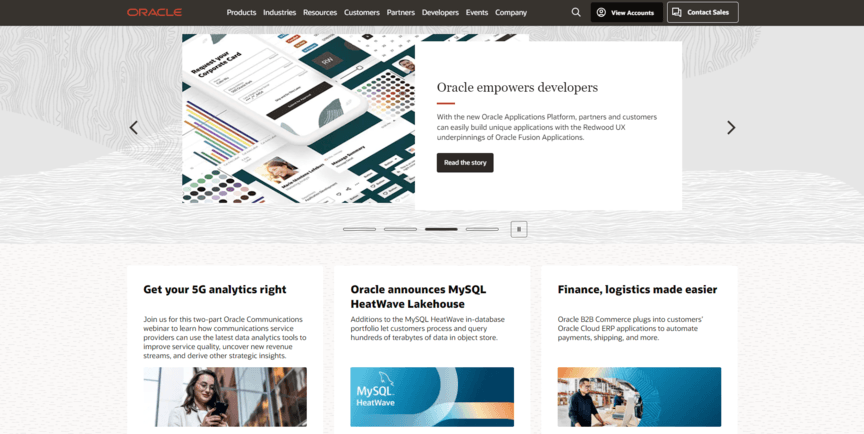 Oracle is the best choice if you want lots of customizability in your CRM. Why? Because Oracle, unlike the other CRMs on this list, isn't a single tool. Rather, it consists of many different tools offered by Oracle. You can select as many or as few of those tools as you like to build out your ideal CRM.
So, for example, you might want your CRM to feature sales optimization functionalities, in which case you could get the Oracle CX Sales tool. But maybe you don't really care about having any sales automation features, so you choose not to get Eloqua, Oracle's automation tool.
It's up to you to build out the CRM with whatever tools you want, making it highly flexible.
Best for: Tool customizability
6. Zoho
Price: Free, or $49+ per month for more features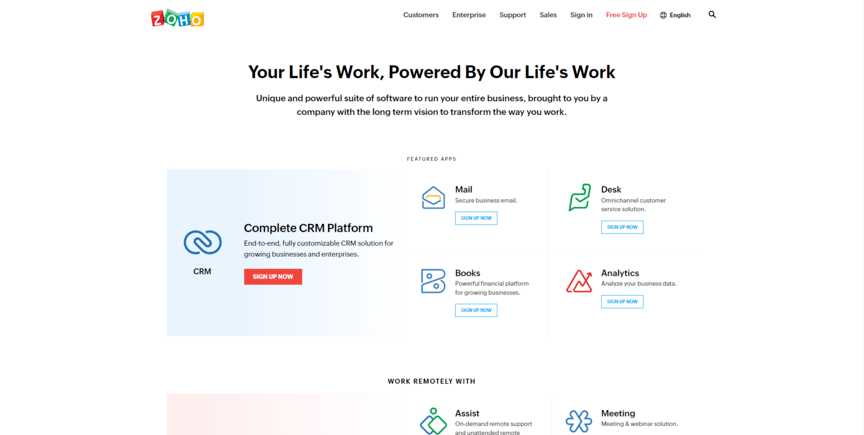 Zoho is a company that offers quite a lot of tools, and one of those tools is a CRM. Like Insightly, Zoho is particularly helpful if integrations are a priority for you — especially if you already use other Zoho tools, which the Zoho CRM integrates with seamlessly.
Zoho is also great when it comes to data analytics. You can use Zoho to generate and view a variety of reports about the status of your leads over time, including sales predictions so you can plan more easily for the future.
Best for: Integrations and data reports
7. Keap
Price: $129+ per month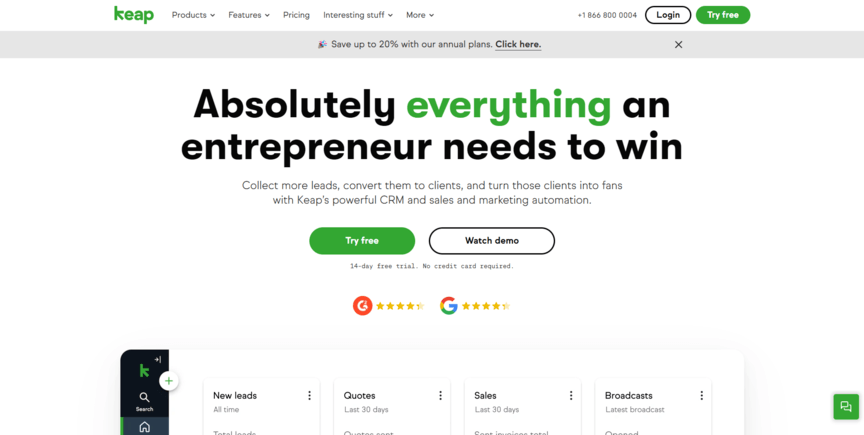 Is your company a medium- or large-sized business? Are you interested in using your customer data to improve your marketing efforts in the short term? If so, Keap might be the best alternative CRM for you.
Keap puts a strong emphasis on marketing management. It helps you apply all your data insights to your marketing efforts, which you can do right there in the platform. Keap lets you run email and SMS campaigns right from the CRM, including automating them to a certain extent.
Keap also allows you to easily use lead scoring to prioritize and categorize your leads. That lets you more easily segment those leads and assign them to the right sales reps.
Best for: Applying data insights to current marketing campaigns
We foster and form long-term partnerships so that your business has long-term results.
Over 90% of WebFX clients continue partnering with us into year 2 of their campaign.
Hear from Our Happy Customers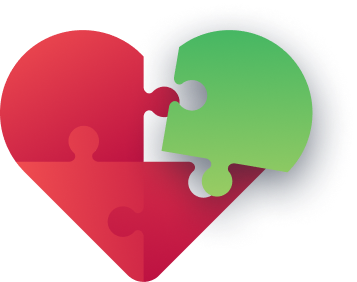 Use Nutshell and WebFX to enhance your online marketing efforts
There are plenty of good Pipedrive alternatives on this list, but at the end of the day, you only need to choose one. Given that fact, we can recommend the best option — Nutshell. Nutshell brings all the best features of the other tools together in one place, and then adds stellar customer service on top of them.
But whichever Pipedrive CRM alternative you choose, you can benefit from having an agency helping you get the best results from it — and in this case, that agency is WebFX. With over 25 years of experience with digital marketing, we know just how to use your customer data to drive more revenue for your company.
To get started with us, just call 888-601-5359 or contact us online today!