There are lots of ways to generate leads. You can earn leads through search results, paid ads, social media, and email campaigns. Each of those methods is a great choice for lead generation, and there are all kinds of pages online that talk about how to get more leads through those strategies.
But one strategy that doesn't get talked about as much is SMS marketing. If your company is trying to earn leads through text campaigns, you could be struggling with it. If that's the case, you probably want some insight into how to generate more SMS leads.
Fortunately, you've come to the right place. In this blog post, we're going to go through some text lead generation tips you can apply to your campaigns right away. Keep reading to learn more, and then subscribe to Revenue Weekly — our email newsletter — for more digital marketing tips from the experts!
Don't miss our Marketing Manager Insider emails!
Join 200,000 smart marketers and get the month's hottest marketing news and insights delivered straight to your inbox!
Enter your email below:
Inline Subscription Form – CTA 72
"*" indicates required fields
(Don't worry, we'll never share your information!)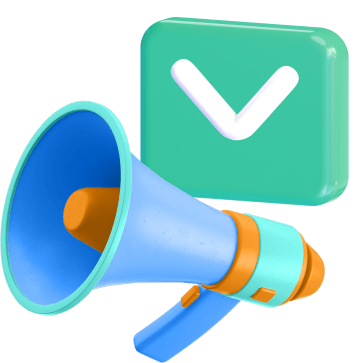 How to enhance your SMS lead generation
Generating SMS leads isn't as complicated as you might think. It really comes down to a few simple tactics you can implement with relatively little effort. We're going to cover those tactics below, so just keep reading for an overview of each one.
1. Only text people who sign up for it
The first thing to consider when trying to generate more text leads is which people you're texting. Sometimes, it can be tempting to just start sending marketing texts to random numbers in the hopes that some of them will be in your target audience. But in case it's not already obvious… don't do that.
Sending unsolicited texts is spamming. Not only is it obnoxious, but it's also in violation of SMS compliance laws, which we'll come back to later. And if those two things weren't enough, it also just isn't effective. No one will respond positively to getting an unwanted and unasked-for text from a business they don't even know.
Instead, only text people who specifically sign up for your texts, be it on your website, through an email form, or something else altogether. Those people have already indicated an interest in hearing from you, so they're the ones most likely to become leads and convert down the road.
2. Don't overdo it on frequency
When it comes to SMS lead generation, one of the most important things to get right is timing. Firstly, you don't want to text people too often. Even if they asked to get text updates from you, sending them texts every five minutes still counts as spam, and it's likely to get you blocked on countless devices.
In addition to not texting all the time, make sure you're texting people at the right times. Don't shoot off a text at 3 AM — people won't be particularly thrilled with you waking them up to promote your latest slotted spoons. Instead, stick to business hours for your SMS campaigns.
Obviously, this can get tricky if you're sending texts to people across multiple time zones, but do the best you can to send out texts at times that are convenient for the majority of your audience.
3. Keep your text content SMS-compliant
A moment ago, we mentioned the concept of SMS compliance. That term refers to a set of laws that govern SMS marketing, and it's important to adhere to them so you don't end up getting penalized.
A big part of SMS compliance involves the content of your texts. Firstly, you should always start off with a confirmation text to ensure that users do, in fact, want to keep getting your texts. In case they don't want to, or change their minds later, you should also include an opt-out code that users can send to unsubscribe.

Furthermore, every text you send should include your business name so that users can easily identify the entity that's sending them texts from what is probably an unknown number. By doing all these things, not only will you avoid legal repercussions, you'll also make your users happier and have a better shot at generating SMS leads.
4. Provide a discount or special offer
So far, we've mostly talked about what not to do wrong when sending out marketing texts. But now let's talk about what you can do right — starting with special offers.
When you send out a text to someone, you'll need to give them a good incentive to engage with you rather than ignoring or deleting the text. To do that, it's a good idea to provide a discount or special offer that will pique users' interest.
For example, you could send out a text that includes a link to a coupon on your professional cleaning services. When they see the discount, users will be far likelier to become leads or customers in response to your SMS campaigns, and they'll probably pay closer attention to texts from you in the future.
5. Use drip campaigns
There are many things that are better in small doses, and marketing can sometimes be one of those things. That's why drip campaigns can really help with your SMS lead generation.
A drip campaign is where you space out your texts by several days, with each one building a bit on the previous one. For example, you could start out by sending a basic introductory text, and then the second one comes a few days later with a link to a helpful blog post. Eventually, you build your way up to sending more salesy content.
This process eases your audience into a closer relationship with your company, making them much more likely to become leads or customers when you finally do start pushing conversion actions.
6. Automate your text campaigns
If you're not already doing this, something else to consider is automating your SMS lead generation efforts. Right now, you could be trying to send out all your texts individually. If so, that's undoubtedly a huge pain, particularly if you have a lot of subscribers.
To save you time and effort, you can use an automation tool to help you manage your SMS campaigns. You can type out the texts you want to send, and then you can have the tool do the work of sending out the texts to everyone on your list.
You can also set up the tool to send out particular texts in response to particular user actions. So, if a new user signs up for your texts, you don't have to manually go in and send them a welcome text to confirm their subscription — you can simply set your tool to do it automatically.
As for which tool to use, there are plenty of options to choose from. For example, if you already use a customer relationship management (CRM) platform like Nutshell, it likely has built-in SMS automation capabilities.
The reason this will drive more leads is that it allows you to more easily reach a wider audience. You can generate more leads because you can simply reach more people. Plus, automating your SMS campaigns frees you up to spend more time optimizing other parts of your marketing, making them more effective at driving leads as well.
37% of marketers say that generating high-quality leads was one of their biggest challenges.
We want to decrease that percentage.
WebFX can help you generate high-quality leads with a customized marketing strategy.
Learn More About Lead Generation Services
WebFX can help you earn more SMS leads
If you want help boosting your text lead generation strategy, you need look no further than WebFX. With over 25 years of digital marketing experience, we're the experts when it comes to generating leads. In fact, within just the last few years, we've generated over 7.8 million leads for our clients.
By becoming one of those clients, you can receive the same top-quality service from our team of SMS marketing experts. Plus, you can use MarketingCloudFX and Nutshell CRM to help you automate the process, freeing you up to spend time on other facets of your business.
To get started with us, just call 888-601-5359 or contact us online today!
WebFX Careers
Join our mission to provide industry-leading digital marketing services to businesses around the globe - all while building your personal knowledge and growing as an individual.