Did you know that 83% of people expect your site to load in three seconds or less? If your WordPress site loads too slow, you'll miss out on valuable leads and sales for your business. So, how can you speed up your WordPress site?
On this page, we'll share seven WordPress speed optimization tips, including:
Keep reading to learn more about how to speed up your WordPress site!
1. Choose the right theme
First on our list of tips to optimize your WordPress site is to choose the right theme. Some themes come jam-packed with all kinds of features to help you create an intricate site, including:
Dynamic elements
Widgets
Social icons
Sliders
The only problem is that all these features can slow down your site. When you choose the theme for your WordPress site, make sure you're not choosing one with more features than you need. Stick to themes that are "lightweight" and only offer a few of these elements that you need.
It will ensure your site loads quicker, but still provides everything you need.
2. Select the right web hosting provider
When you build a website on WordPress, you have to host your site somewhere. Where you choose to host your site can dramatically impact your site's load time. That's why this WordPress speed optimization tip is next on our list.
The most significant detriment to your site's load time is a shared web host.
While shared hosting costs less than having a managed host, using a shared host can cost you money. When you have shared hosting, you're sharing with numerous other businesses, which can impact your site's performance. For example, if two companies on a shared host have peak visiting hours of 9-11 A.M., each site will have an overload of traffic.
As a result, if you're on this shared host, your site will load slower because the other sites experience an influx of traffic at the same time. And slow sites can cost you sales — over $2.6 billion in revenue is lost to slow-loading sites annually. The solution?
Opt for a managed website host for your site. While it may cost you more per month to manage, it will ultimately benefit your business because you won't miss out on sales due to a slow-loading site.
View the Best Managed WordPress Hosting Services
3. Reduce image file sizes
If you want to know how to speed up your WordPress site, try reducing your image file sizes. Photos are a crucial component to creating an engaging website for your audience, but they can also be what slows down your site. You want to use high-resolution photos, which means large image file sizes.
The downside? They can slow down your site. If you want to speed up WordPress, try compressing your images before adding them to your site.
You can use a tool like Kraken.io to compress your image files. Using an image compression tool enables you to reduce an image's file size without losing the quality.

4. Enable caching
If you want to optimize your WordPress site, you need to enable caching. Caching is a simple way to speed up your site's load time by preloading your site. When someone visits your site for the first time, the browser requests content straight from the web server.
This content includes photos, design elements, videos, and more. Since it's the user's first time visiting the site, the browser must rely on the server to load everything. This process can take time, mainly if your site contains a lot of elements.
If you don't enable caching, your audience will have this experience every time they visit your site and get discouraged from buying your products or using your services because of the long load time. With caching, though, you can deliver a faster experience when prospects come back to your site. Caching stores local web page resources so that when prospects revisit your site, the browser can access this cache and load your site faster.
To enable browser caching, you can install a plugin like W3 Total Cache or WP Super Cache.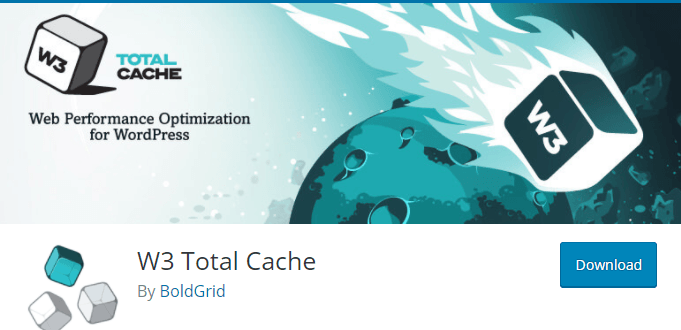 5. Use a content distribution network (CDN)
Next on our list of WordPress speed optimization tips is to use a content distribution network (CDN). CDNs can help your audience access your site faster. When someone visits your website, they access the information from the server you use.
If someone accesses your site in the same area of your business, they likely won't notice a problem — the problem arises for people who visit your site and don't live near your business. For example, if you're located in New York, and someone from California tries to access your site, it will load extremely slow because they're further away from your business's server. If you used a CDN, though, the person from California could use the server closest to them and load your site faster.
To implement a CDN, you must:
Register with a CDN provider
Install a plugin to prepare your site to be on the CDN (You can use W3 Total Cache for this)
Connect your CDN to your WordPress site
6. Clean up your WordPress database
If you want to speed up your WordPress site, consider cleaning up your WordPress database. This database contains everything to do with your site. From comments to posts, your database stores the information and backs it up.
When you have an overloaded database, it can bog down your site. To reduce the size of your database, remove unwanted information like:
Spam comments
Fake users
Old drafts of content
Removing this unwanted information will reduce your database's size and make it easier for your site to load.
7. Remove unwanted plugins
If you want to know how to speed up your WordPress site, try removing unwanted plugins. When you build your site, you're likely to add many plugins to optimize your site to deliver the best experience. Realistically, you're adding plugins you may never use or don't need.
These plugins can slow down your site and deliver a negative user experience. Comb through your plugins and make sure you're still using them on your site and that they're benefitting your business. Remove any plugins that no longer serve a purpose.
You can also consider looking for new plugins that may do two jobs in one.
Our digital marketing campaigns impact the metrics that improve your bottom line.
See More Results

WebFX has driven the following results for clients:

$3 billion
In client revenue

7.8 million
Leads for our clients

5.2 million
Client phone calls
Let WebFX help with your WordPress speed optimization
Delivering a fast experience on your website is key to earning more sales. You must optimize your WordPress site to ensure it loads quickly and users get information fast. After reading our list of WordPress speed optimization tips, you may feel overwhelmed, and that's okay!
Our team at WebFX can help you improve your site's load time. We have over 25 years of experience working on our clients' websites to improve user experience. Our award-winning team knows how to optimize sites to load faster, keep leads engaged longer, and increase revenue.
Ready to speed up your site and deliver a better user experience? Contact us online or call us today at 888-601-5359 to speak with a strategist about our WordPress page speed optimization services!
WebFX Careers
Join our mission to provide industry-leading digital marketing services to businesses around the globe - all while building your personal knowledge and growing as an individual.