As a business owner, your goal is for customers to buy your products or services so you can make a profit and sustain your operations.
One of the best ways to boost sales is through advertisements, which notify potential customers about your offerings and influence them to purchase.
Using Google Ads can effectively attract customers to your business. However, individuals may use customization options for advertising — Google Ad Settings — that block your posts.
This guide covers what Google Ads is, the settings your audience members can use to personalize their ads, and how to utilize these settings to meet your business objectives.
Bonus: Want to learn more tips that can enhance your business's advertising success? Subscribe to our Revenue Weekly newsletter for helpful tricks we have learned after over 25 years of experience.
What is Google Ads?
Google Ads — formally known as Google AdWords — is the popular search engine's online advertising platform. Businesses can use this system to attract potential customers through ads in search engine results, videos, mobile apps, and websites.
Knowing how to use Google Ad Settings to your advantage starts with understanding Google Ads.
Google Ads uses a pay-per-click (PPC) advertising method, meaning you pay a certain amount each time a potential customer clicks on the ad for your business. There are several benefits to this option, including:
Staying within your budget: You can save money by using PPC for advertising. Instead of paying a fixed fee for a billboard, you only have to pay when a customer clicks on your ad.
Tracking engagement: You can see how effective your advertisements are based on the amount you pay. If certain ads do better than others, you can use this information to make adjustments and increase your advertising campaign's effectiveness.
Increasing return on investment (ROI): You may have a higher ROI with PPC ads because you only pay for customers who are interested in your product or service. These individuals click on your ad because it is relevant to their needs, so there's a higher chance they will purchase products from your business.
What are Google Ad Settings?
Now that we have explored how Google Ads works, we can look into what Google Ad Settings are and how they affect your company's advertising success.
These settings allow individuals to customize their advertisement experience.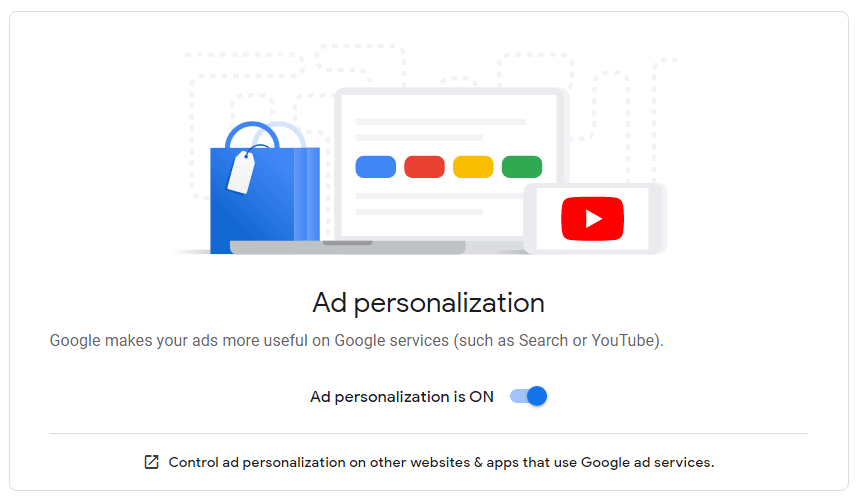 Some setting features include:
Turning off or customizing personalized ads: Individuals can turn off ad personalization at any point or adjust their preferences.
Blocking ads that come up: Google ads has a button viewers can click to stop seeing the ad, which prompts an option asking why they don't want to see it anymore.
Installing an ad-blocking extension: Several available Chrome extensions, such as IBA Opt-out by Google, allow individuals to stop seeing interest-based ads.
If you notice customers aren't interacting with your ads, they might be using one or several of these setting features. You may need to make some changes to increase engagement.
How to use Google Ad Settings: 4 tips to boost sales
Now that you know the answer to the question, "what are Google Ad settings", let's dive into how you use them to drive more revenue for your business.
Google Ads can help your business increase exponentially in sales if you use it correctly. The best way to achieve this result is to ensure customers see your ads. Google Ad Settings can make this task challenging, but there are several ways you can still reach your goals.
Check out our list of tips to help you use Google Ad Settings to improve your ad campaign's success below:
1. Diversify your ads
Google uses cookies to prevent customers from seeing the same ad repeatedly. Customers may also block a particular ad if they bought the product already. Creating multiple ads for various products on your website enables customers to see more of your ads, leading to additional sales.
2. Target your ideal customers
Google Ad Settings condenses your audience to individuals interested in your product. Use this opportunity to appeal to potential customers by identifying your target audience and sharpening your strategy to make them want your product.
There are several ways to encourage users to purchase your products and services, such as:
Offering a solution to a problem they have.
Appealing to their interests.
Meeting their demographic needs and priorities.
Making them feel like they're missing out by not having your product.
3. Design compelling ads
Google Ad Settings may boost competition with other businesses, so you want your ads to be as impactful as possible.
For example, suppose you are designing a display ad. In that case, you should include a strong call to action (CTA), a recognizable logo, and a unique selling proposition (USP) that captures your target audience's attention.
4. Follow Google's policies
Google has specific policies businesses need to follow when advertising. Otherwise, the search engine might remove the account of the publisher or advertiser.
There are four advertising policy areas you should familiarize yourself with, including:
Prohibited content
Prohibited practices
Restricted content and features
Editorial and technical content
You can successfully advertise on Google's platform and reach your audience by following Google's ad policies.
Use Google Ads settings to drive more revenue with WebFX
WebFX is a certified Google Ads agency with the necessary skills and experience to help your business excel with Google Ads. We've already helped companies drive over $3 billion in revenue, and we can help your business achieve incredible results too.
Our team of over 500 subject matter experts delivers high-quality advertising content that uses Google Ad Settings to your benefit. We focus on your company's revenue, monitoring changes, and updating our solutions to ensure you benefit from our services.
For more information about our PPC services, reach out to us today by using our online contact form or calling us at 888-601-5359.
How is your website's SEO?
Use our free tool to get your score calculated in under 60 seconds.
WebFX Careers
Join our mission to provide industry-leading digital marketing services to businesses around the globe - all while building your personal knowledge and growing as an individual.