Dear College Graduate/New Internet Marketer, Congratulations!
You worked your tail off, followed the tips for studying SEO in school and landed your dream job in SEO! You may be experiencing a lot of different emotions right now… excitement, relief, eagerness, nervousness, sadness in leaving your classmates, etc. Well, brace yourself!
The days of waking up at 11am and going to the all-you-can-eat dining hall may be over, but trust me, your life is about to change for the better 😉
Have you ever seen the movie The Pursuit of Happyness? If you haven't, here is a synopsis. It is a classic rags-to-riches movie where Christopher Gardner, played by Will Smith, overcomes unfathomable odds to become a stockbroker for Dean Witter.
How did he do it you may be asking? Well, as Trevin stated in his previous letter, he "hustled." Gardner developed a mindset where failure was not an option, and he strove to reach his goals – regardless of the price. "You got a dream…
You gotta protect it. People can't do somethin' themselves, they wanna tell you you can't do it. If you want somethin', go get it.
Period."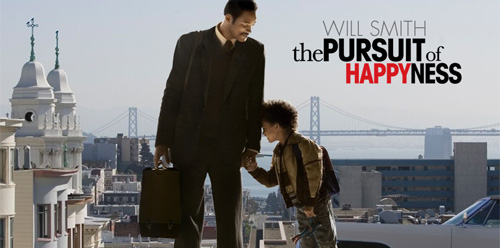 I would like to challenge you to develop a similar mentality as you enter your career in Internet marketing. Initially, leaving the classroom where you were probably at the top of the totem pole (you wouldn't have gotten the job if you weren't!) and entering an environment where coworkers have more knowledge and experience can be a difficult pill to swallow.
One of the greatest benefits of SEM is that if you develop the mindset mentioned before, the rate of change in the industry is so great that you can bridge the gap sooner than you think. But how?? First off, classes may be over but you HAVE to become a student once again.
Before you start the job, invest $20 to $40 in a book that will provide you with a foundation of mostly basic knowledge, but some advanced information as well (SEO: An Hour a Day is a good place to start). Here is the kicker… you actually have to READ IT!
In college, you may have been able to get away with skimming chapters and playing Angry Birds in class, but this is an entirely different ball game. Read it once, twice, even three times… take notes, create flashcards; do whatever you have to do to get that information engrained in your mind.
Secondly, take this knowledge and apply some of it to your personal website or blog! SEO and SEM are great to read about it, but I would argue that it won't really click in your mind until you try it out. Take chances!
If you break your personal site once and a while, it's okay (hopefully you backed it up)! Test what you are learning to see the direct impact your efforts can have.
If you remember one tip from this letter, remember this next point: Some of the most impactful knowledge I learned in Internet marketing came when I was listening to others on the phone. Open a Word document and start a daily notes journal.
Did your coworker use a phrase that you are not familiar with? Jot it down and look it up! Did they state a statistic that would be beneficial to learn?
Memorize it! Did they have a direct and informational response to the client? Remember it to use later!
My point is there is a wealth of knowledge that you have at your disposal aside from the normal training sessions. Take advantage of it!
Next up, find a concentrated area of Internet marketing that you are interested in and become the office expert in it! After work, go home and study Schema.org markup.
Learn so much about it that you become the go-to person in the office for any and all questions on that subject. After accomplishing this, move to another topic.
Make your foundation so strong that not even Google can bring you down. Another beneficial tip is to call your friends and family.
Wait… what?! Exactly. Call them to explain what your job actually entails, what you are learning and what results your hard work has helped to achieve.
More than likely, your parents don't know the specifics behind SEO.
By practicing and explaining the work you do to your parents, you will be a lot better equipped to explain and answer questions your future clients have down the road.
Lastly, set 30 minutes to 1 hour aside every day, outside of work, to research and find the day's latest Internet marketing articles. Ask colleagues what their favorite sources are, set up a Google Reader, visit inbound.org and comment/interact on different blogs to improve your SEM credibility on the web.
This letter could go on forever but I am going to stop it here. In summary, if you want to become one of the top Internet marketers in the industry, it will be difficult but it is not impossible.
Become a student once again and go get it. Period.