If you want to bring more local traffic to your business, Google Business Profile is the answer. Your Google listing will help you appear in more local search results and drive traffic to your business.
If you want to see success with Google Business Profile, start by claiming and optimizing your Google listing.
On this page, we'll show you how to create a Google Business Profile (previously Google My Business) listing for your business.
Keep reading to learn more about making and optimizing a Google listing for your business and contact us today at 888-601-5359 to speak with a strategist about optimizing your online local presence.
1. Claim your Google listing
The first step to creating an irresistible Google listing is claiming your listing. You have to go through Google to claim your business's listing. You can do that by signing into your Google account and searching for your company.
If Google's database doesn't list your company, you can add it to get a local listing.
2. Fill out your Google Business Profile
Once you've claimed your Google Business Profile account, fill out all the information.
This is the best way to create a Google Business Profile listing that users can find. Plus, an up-to-date Google listing gets your audience to engage.
People turn to these local listings to get valuable information quickly. You want to ensure that you're including all the information your audience needs and wants.
Here is some of the information you'll fill out on your Google listing:
Name: Verify that your company's name is spelled correctly. If it isn't spelled or spaced correctly, update it.
Category: In the category section, you'll want to classify your business. If you're a burger joint, you can select, "hamburger restaurant," to categorize your business, for example.
Location: Verify that your address is correct in the location section.
Hours of operation: This is one of the most critical components of your Google listing because many businesses neglect to update their hours of operation. Fill out your company's current operating hours and update them if your hours change.
Contact information: Enter any contact information that your audience can use to contact your business, like your phone number and email.
Website: When you fill out your Google listing, add a link to your website to help you drive traffic from your local listing to your site.
This is the most essential, basic information you should include on your listing. Depending on your business, you may be able to add additional information. For example, if you own a food service business, Google gives you the option to add a link to order food.
You can link to services like Door Dash or GrubHub if you support them.
3. Jazz up your Google listing's description
When you create a Google Business Profile listing, it's vital that you jazz up your business description. You want to create an informative description that gets your audience interested in your company.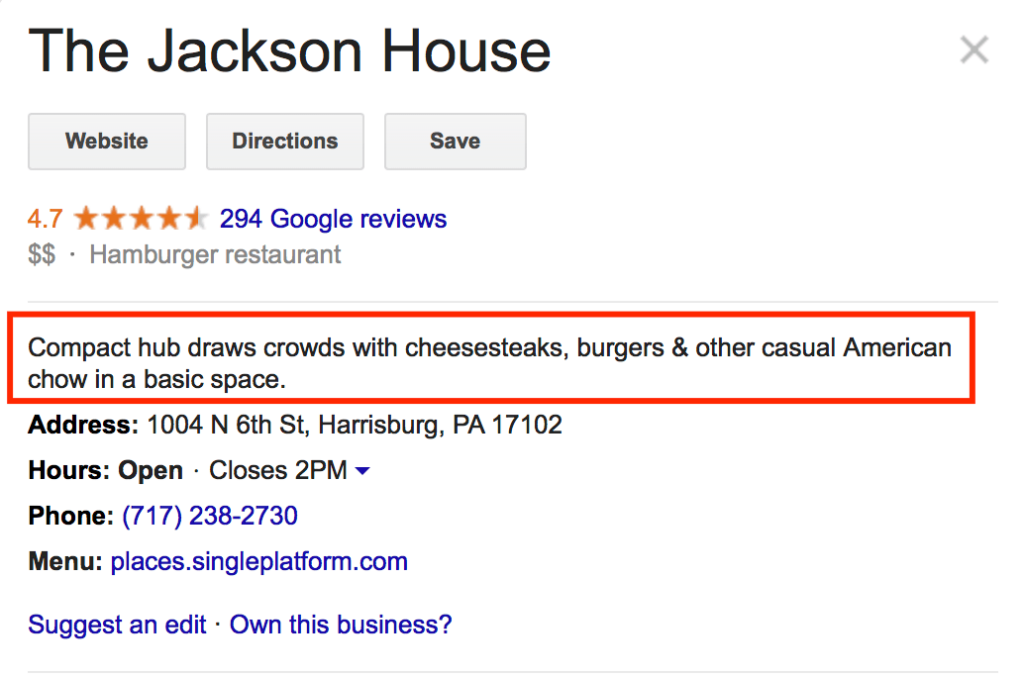 You have 750 characters for your business description, which amounts to around 120 words.
Only 250 of them will show up in the knowledge panel before getting cut off, which is about 40 words.
Keep this in mind when writing the first part of your description because it's the part your audience is most likely to see.
In this case, you'll want to craft the words in your description carefully. Ensure that you put your most important keywords, as well as your city, towards the front of the description to help you create a better Google listing.
4. Add photos and videos for a visual pop
If you want to make your listing stand out from the crowd, add pictures and videos.
These visuals make your listing pop and garner interest in your business. You want to add pictures of your products or results from someone using your services.
It's a great way to give your audience insight into the excellent work you produce for people. Whether it's great food or great repairs, you can showcase your business.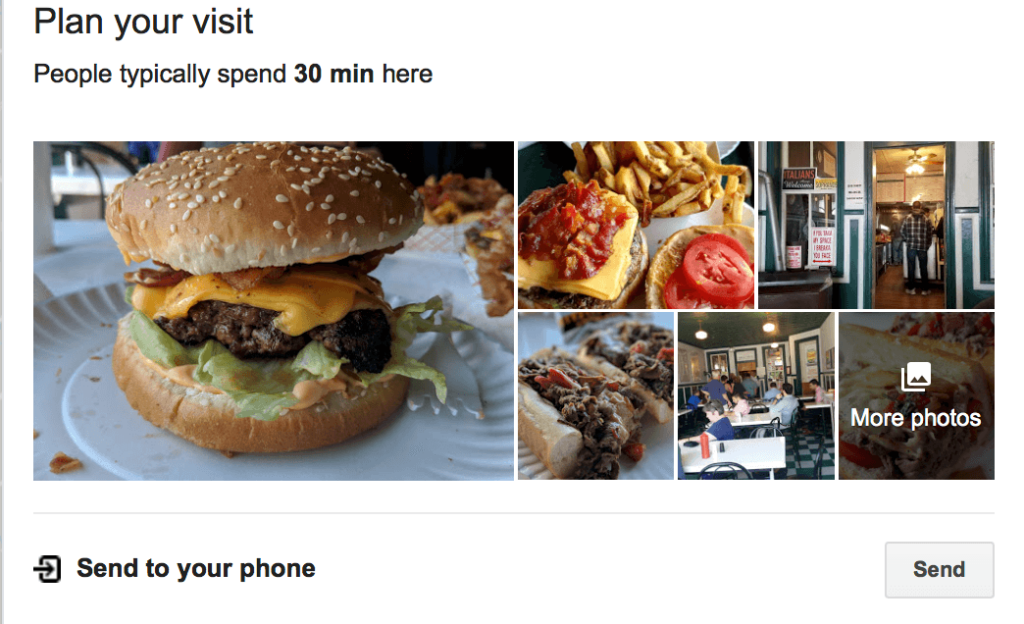 People are visual learners.
If you own a burger place and upload a picture of your beautiful, juicy burgers, you're going to make people want to visit your business.
Visuals impact how people perceive your company. In addition to photos, you can also add videos. While they can be longer, limit your videos to 30 seconds for the best results.
Videos can be an excellent opportunity to share information quickly and visually.
Visuals are a great way to humanize your brand. You can give people better insight into your business and help them get a feel for your company before even setting foot in the door.
While you're optimizing your Google listing, add visuals to make it an irresistible Google listing for your audience.
5. Create posts on your Google listing to build interest
In addition to photos, you can also add posts to your Google Business Profile account. Think of these posts like mini ads or social media posts that appear on your listing.
Google Posts are a valuable way for you to provide your audience with important information that you can't put in your listing. As an example, let's say your burger place is holding an event for the Fourth of July.
It's a week-long event where you have specials on drinks, appetizers, and unique burgers specifically for the week.
If you wanted to advertise this event on your Google listing, you could create a post.
You would create an ad that details the week-long event and all it includes. The posting should include a call to action and link to a page on your website with more information. So, if people search for a local burger place and find your listing, they can see your event and become even more enticed to visit your business!
Google enables you to post events, exclusive sales (think Memorial Day or Labor Day sales), your latest blog posts, and announce a new product.
It's an excellent opportunity for you to market better to local leads.
By adding posts to your Google listing, you'll create a more enticing business listing for your audience. They will engage with your profile more, which will increase the chances of them visiting your store.
6. Encourage and manage reviews
Reviews are a crucial component to your Google listing. People use your listing to share their experience with your business and others.
It's vital that you encourage people to leave Google Business Profile reviews, as well as manage reviews posted by your customers. First and foremost, don't coerce people to leave reviews.
You can encourage people to share their opinion if they feel like it, but don't pressure them to leave a positive review on your listing.
You should only encourage them to share their feedback so you can improve where needed.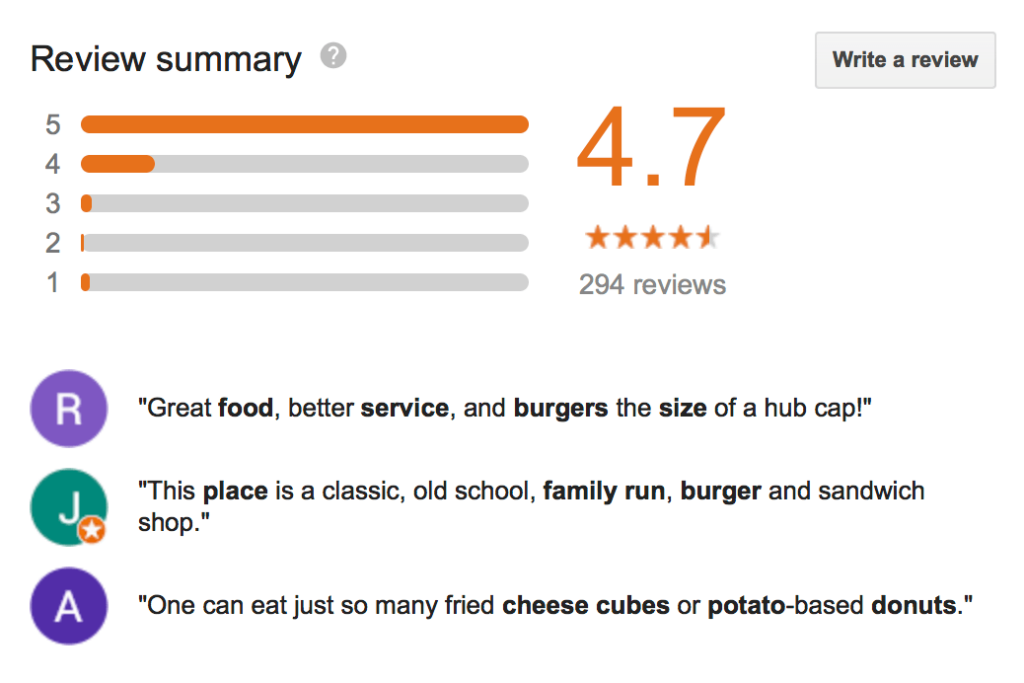 When people leave reviews on your Google listing, manage them. Not everyone will have a positive experience with your business. If people share complaints in their feedback, it's an opportunity for you to address the issues and try to resolve them.
You don't need to have perfect reviews to get customers in the door.
People expect to see a few negative reviews. They care about why people had a bad experience, but they also care about how you handle the issues.
By encouraging and managing reviews, you'll create a more enticing listing for your audience. They will be able to vet your business better and see if you're a good fit for their needs.
7. Enable people to text message your business for easy communication
With the growing use of mobile phones, more people are looking for alternative ways to contact a company. Millennials prefer to text or email people over placing phone calls, for example.
This generational shift leads your business to change how you communicate with your audience. When you're optimizing your Google listing, you can allow users to message your business with any questions.
Google gives you the option to use your personal phone number so audiences can reach you faster.
You'll want to create a line specifically for your business to ensure you don't clog up your personal messages with messages from potential customers.
If you want to make your listing irresistible, enable people to text your business. It will give you a leg up on your competition and make your company stand out from competitors.
Bonus: Two extra features for spicing up your Google listing
So, we call these bonus features because your business may or may not be able to use them. They are specific features that only fit certain types of companies.
If you can use these features, they are a great way to spice up your Google listing!
1. Utilize emojis in your Google listing
Emojis are a popular form of communication among smartphone users.
People send emojis to convey emotions, visualize an object (like a rabbit or a bowl of soup), and create fun messages. You can use emojis to attract people who use them to conduct searches.
If you've ever researched email marketing campaigns, you might know how useful emojis are in increasing engagement. Researchers have found that companies receive higher response rates by using emojis in their subject line.
This thought process can carry over into your Google listing, too.
You can utilize emojis in your Google Posts on your listing.
Let's circle back to the Independence Day event for the burger place. If they created a Google Post advertising the event, they could use a burger emoji in the heading to make it creative and fun for viewers. This tactic is a great way to attract people who search using emojis, too.
People can search "(emoji) + near me (or city)."
If someone used the burger emoji to search burger joints near them, Google is smart enough to know what the emojis mean and generate results based on the search.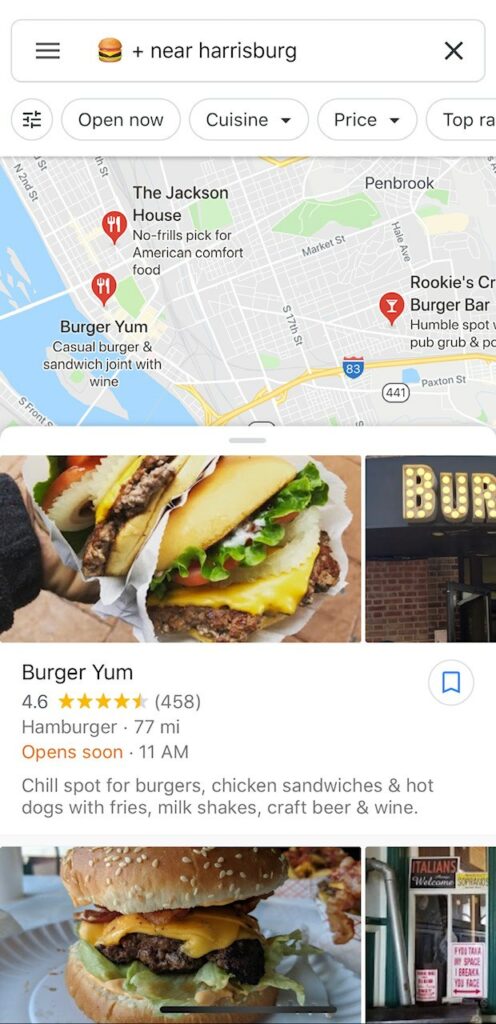 When you use the burger emoji in your post, it reinforces the usage of the burger in the search. It makes you appear connected to your audience and in-tune with how people use emojis.
You should only use emojis if there is one available for your business.
A pizza shop or burger place both have prominent emojis that represent their companies. On the other hand, your business may not have a clear-cut emoji that represents your products or services.
For example, a physical therapy office doesn't have an emoji that represents their field. They wouldn't be able to use emojis to help people find their practice.
If you can use emojis, test them first.
Don't use an abundance of emojis right off the bat because it may deter your audience. Start small by using one emoji and see how your audience interacts with it.
2. Add the booking button feature to your Google listing
When you're optimizing your Google listing, you can add features that enhance your audience's experience.
The booking button is one of those enhancements. This feature allows your audience to set appointments with your business.
The booking button feature is only relevant to companies that rely on appointments, like barbers or real estate agents. For businesses like these, you can easily allow your audience to book appointments without ever leaving the Google listing!
Bookings are an excellent feature to add to your Google Business Profile listing because it encourages more people to choose your company.
When your audience can easily book appointments, it makes your business more appealing because of the convenience.
Start creating your Google listing today
A robust Google listing will go a long way for your business.
By having an optimized Google listing, you'll encourage more people to check out your listing and company. It's an excellent way for you to earn local leads.
If you need help creating an impactful Google listing, our team at WebFX can help. We have a team of 500+ experts that can help you create a Google listing that drives more local traffic.
Contact us online to find out how we can help you grow your local business.
WebFX Careers
Join our mission to provide industry-leading digital marketing services to businesses around the globe - all while building your personal knowledge and growing as an individual.