Are you looking for ways to improve your site's rankings in search engines? Use our SEO analyzer to find actionable improvements you can make on your site today!
Our free SEO Checker will provide a complete SEO score and data on critical SEO areas like your site's content, speed, and more. With the findings from your SEO report, you'll be equipped with the information you need to improve your site's SEO and rank higher in the search results that matter most to your business.
Want to learn more about what SEO analyzers are and what our free SEO Checker will do for you? Keep reading to discover:
Let's dive in!
What is an SEO analyzer?
An SEO analyzer (also known as an SEO Checker, website analyzer, or automated SEO audit) is an automated tool that performs a basic SEO audit of the various elements on your website. They may look slightly different but all of these checkers function in the same way. They run through and check things like the header structure of your content, the keyword frequency of your copy, and the page speed score of your pages.
Most SEO analyzers will then return a report and summary of their findings, sometimes with an overall SEO grade attached along with more specific actionable items you can work on to remedy any apparently SEO issues.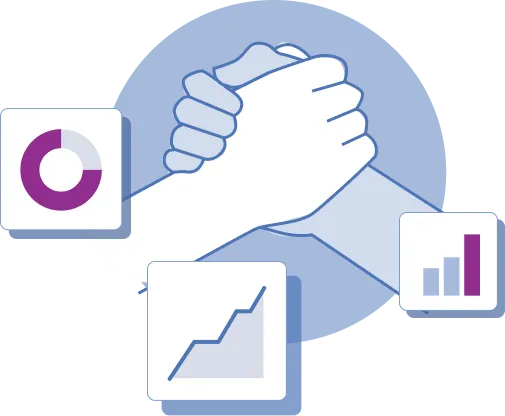 Is an SEO analyzer safe to use?
An SEO analyzer from a reputable brand or marketing agency is as safe to use as any other automated piece of software that's mean to highlight easily-identifiable SEO issues.
A true SEO analyzer does not affect, change, or otherwise modify the content of your site – it simply "reads" your page and analyzes both the content and the underlying structure. You should typically steer clear of any SEO analyzer that promises to make changes for you, as a software program will not be able to handle the nuance and caveats that come with implementing actual SEO changes as well as a true professional.
How to use an SEO analyzer
Using an SEO analyzer is straightforward. You typically put in the URL of the page you want an SEO audit done on, and some analyzers will also allow you to specify a certain keyword you want to optimize for or a competitor URL it will compare your page to.
The WebFX SEO analyzer
We provide a free SEO analyzer for all of our users. You simply enter the URL you want to analyze and after a minute or two you'll have a complete report of the following:
SEO Score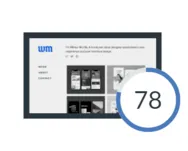 Our free checker will first and foremost show you an overall SEO score that give you an at-a-glance look at how your page stacks up against the competition. Your page is scored out of one hundred with 0-40 being "poor," 41 – 69 being "okay," and 70-100 being "great."
Site Speed Analysis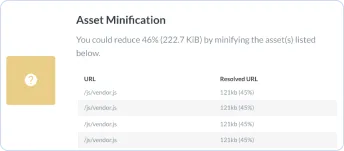 The WebFX checker will also carry out a site speed analysis on your URL. It highlights a number of possible issues contributing to slow load times, from asset organization and minification to image compression suggestions to a measurement of how long your server itself takes to respond to your users.
URL Optimization Check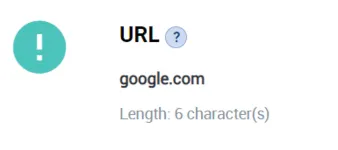 Your page URL is a key component of your overall SEO scoring. Our analyzer gives you feedback on the length, format, and keyword optimization of your URL.
Meta Tag Assessment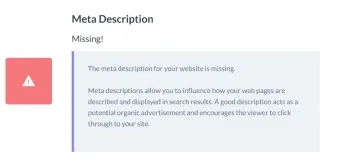 The meta tags of your page are another foundation of good SEO. While these tags may not directly influence your ranking, writing a good meta description and meta title can result in more users clicking on your site, which Google always sees as a good sign.
Content Grade

Our calculated content grading takes the length, format, and keyword optimization of your content into account and provides you with solutions to common SEO problems with your content.
Image Optimization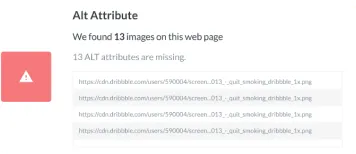 Our checker looks at your images and highlights any missing meta descriptions, poor file names, images that need to be compressed, and broken images.
Code Analysis

The WebFX SEO Checker takes a look at the underlying technologies of your site and provides a clear snapshot of the various server technologies, code libraries, and tracking snippets that are active and functional on your site.
In-Page Link Audit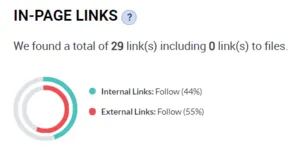 Internal links are one of the most important aspects of checking your SEO. We run through and give you an overview on how many internal and external links you have in your content, along with recommendations as far as number of internal links and anchor text for these links.
Site Security Score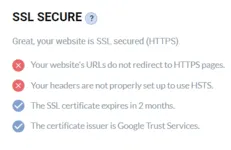 Security is paramount in 2022 and our SEO checker leaves no room for error. We'll make sure your SSL cert is active and properly set up, and we also check for improper redirects as well as any issues you may have with your site's headers.
Mobile-Friendly Check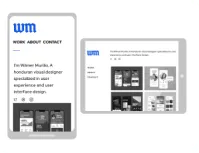 Google has long since moved to mobile-first indexing, which means that you need your site to be user friendly, blazing fast, and properly optimized for mobile devices and connections. We go through and check several key mobile SEO factors to make sure you're not leaving anything on the table when it comes to a mobile SEO audit.
Crawl & Indexation Analysis

All of the content in the world doesn't matter if search engines can't find it! Our SEO audit will flag any issues you may have with your robots.txt setup, your XML sitemap setup, and anything else that might be preventing search engines from reading your content and rankings your site.
Is an SEO analyzer a replacement for professional SEO services?
The short answer is "no." While an SEO analyzer is capable of highlighting a number of foundational SEO issues, it might not show you the full picture. That's when something like an ongoing SEO package can fill in the gaps and ensure your site is operating at its SEO potential moving forward.
If an SEO analyzer flags a number of problems on your site, the question then becomes "how do I fix these?" While there are plenty of issues that you can likely fix yourself, there are just as many issues you'll want a professional digital marketer to take a look at and get patched up as efficiently and correctly as possible.
Even if an SEO analyzer gives you a perfect score, odds are that you still have deeper areas you could improve in order to rank higher and get more traffic. In order to diagnose these more hidden issues, you'll want to enlist the help of a professional SEO or professional digital marketer.
Is one SEO analyzer better than another?
All SEO analyzers fulfill the same purpose at their core – to highlight easily-identifiable and often-foundational SEO issues that exist at the surface level of your website.
Some may perform slightly better or worse than others, and some may cover certain areas that others don't. It's always a good idea to run your site through a handful of SEO checkers in order to compare the results. Any issues that pop up across multiple SEO audits are real issues that should likely be fixed, while one-off issues that might get flagged by one SEO analyzer but no by another require a closer look.
Get your free SEO audit today
If you think your site's SEO could be better, then you have nothing to lose by running a few URLs through any of the free SEO analyzers available online today. At the very least, they give you a solid starting point to address any glaring issues your site may have – we have a comprehensive free SEO Checker here at WebFX!
Like I said above, though, an SEO analyzer is not a replacement for professional SEO services from a qualified digital marketing agency. They work best in conjunction with each other – you can use an automated website checker to establish a baseline for what you want to fix, and then find a reputable SEO agency to work with in order to implement the changes that will help you drive more traffic to your site.