If you want to increase your company's following on Instagram, you're not alone. In fact, you're among 25 million other business profiles on Instagram that want the same for their business. That's a lot of profiles to compete with, but in theory, you're not competing with all of them — you're only competing with the ones in your own industry.
That being said, it's still difficult to gain traction on Instagram with so much competition — both for followers and for straight-up business. In this post, we'll talk about some of the best ways to get more followers on your company's Instagram page, which can, in turn, bring more business to your company.
Instagram basics
So before we talk too much about increasing followers, let's first do a brief Insta-lesson. Instagram is a photo-based social media platform that allows you to write text captions for your posts.
You can also tag people in your photos, share your post to other social media platforms that your account is linked to, and use hashtags to better categorize your images. In terms of businesses on Instagram, 80% of users overall, follow a business.
That's over three-quarters of Instagram users! That statistic alone makes it super important for your business to have an Instagram presence, and to gain as many followers as possible to spread the word of your brand.
The important stuff — how do I get more followers?
You're not alone in the quest for more Instagram followers for your business.
After all, the more followers you have, the more opportunities you'll have to expand your reach, sell more of your products, and create increased brand awareness. Here are 6 ways to increase the number of followers you have for your business profile.
1. Post regularly
First things first, if you want to have a healthy Instagram presence, you have to start by posting regularly. Top brands post about 5 times per week on Instagram. Why so often?
It's crucial that you stay top-of-mind for your customers — both current and potential. Posting regularly helps users to feel more connected with you, see more of your products, and learn more about your business.
2. Promote, promote, promote!
Regardless of what kind of business you are and what kind of things you post on Instagram, you should always promote your Instagram account whenever you have the chance. That means putting your username on business cards, in your email signature, on your website, and even sharing it on other social media sites. If you're going to cross-promote your Instagram account on other social media platforms, you can simply add your user name to your bio, or you could even make a post dedicated to Instagram promotion.
For example, you could create a post on Facebook that encourages users to follow you on Instagram for a chance to win a gift card. It's important to remember that no matter how you share your profile information, it's crucial that you do. If users don't know you have an account, how can they follow it?
3. Use hashtags
Hashtags are small textual elements that you can add throughout the text portion of your Instagram post, or at the very end. They are crafted with the hashtag symbol (#) and then a word or phrase, with no spaces, that describe the image.
You can use hashtags to ensure that you show up in categories that you're most interested in gaining followers in. That may sound a little confusing, so here's a crash course in hashtags.
Use a website like Webstagram to find popular hashtags about your industry or products. This will help you decide which hashtags to use.
Add hashtags to the end of your post.
When someone is searching for hashtags matching the ones you've used in your post, they'll see your post and hopefully visit your page. Which could result in a follow.
Hashtags are simply classification tags that allow users to find your page based on the content in your hashtags. For example, if you own a bakery, you could use hashtags like #chocolatecake, #chocolatechipcookies, #weddingcake, or #fondantflowers.
Then, when anyone searches for these hashtags, your posts could show up in the results. Posts that have at least one hashtag on average see 12.6% more engagement over posts without a hashtag.
Instagram allows you to use up to 30 hashtags, but that doesn't mean you have to use them all. You should look at your competitions' Instagram accounts to see how many hashtags they're using to get a feel for how many is appropriate in your industry.
4. Have a style and an "aesthetic"
When you open up a company's Instagram profile, do all the photos look cohesive? Do they create an aesthetic for the brand?
When your photos look purposefully cohesive in terms of style and filters, your profile will look more professional, and it will help you gain more followers. For example, Junes Blooms, a flower harvester in Washington State, gives a great example of a cohesive aesthetic.
All the images work well together and create a flow of color and composition.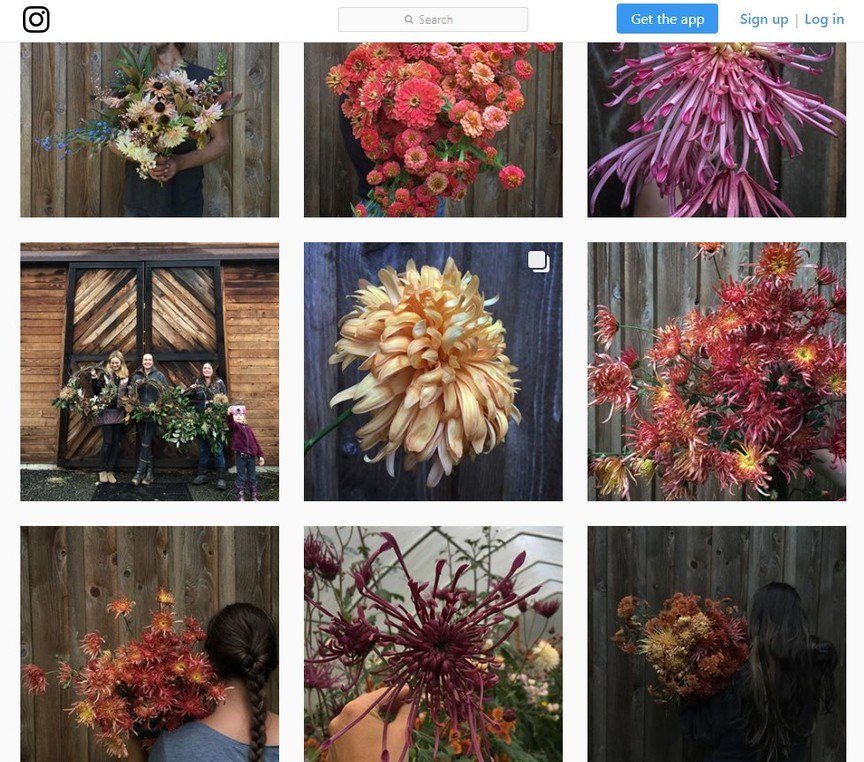 5. Engage with users
Engaging with other users is another great way to gain followers, and there are a few ways to do so. You can find a specific audience to engage with by finding hashtags that are similar to the products you offer. For example, if you make art in Philadelphia, you may want to look at people who are following the hashtag #artinphiladelphia, #phillyart, #phillyartist, etc.
When you find people who are following this hashtag, you'll be able to check their bio to see if they match the criteria for someone you should follow.
If they do fit the criteria, follow them, and then comment on one of their most recent posts that coincide with your product or service. Don't mention your business, rather draw a commonality that you have with the person based on their post. The more you communicate with users, the farther your brand will reach.
Just imagine if ten people see your comment — and then they follow you.
You then leave a comment on their pages, and ten more people follow you because their interests match yours. It's a cycle that never ends.
6. Advertise with Instagram
Another fantastic ways to increase your followers on Instagram is to promote your business with ads. How many times have you been scrolling through your feed when you see a bracelet that you love, from a brand that you don't follow? Chances are, you hop over to their page to see what else they offer, and you probably end up following them, too.
When you advertise with Instagram, you can choose from photo ads, video ads, carousel ads, and stories ads.
Photo ads are a simple way to show off a specific product your business offers, while video ads offer a way to show a little more of your business. Carousel ads allow you to choose a few photos or videos that users can scroll through. And stories ads are great little videos that you can add to your Instagram story.
They're all beneficial, and they can all help you get more followers — it just depends on your budget, and what kind of ads you're most interested in for your unique business!
Need more Instagram followers?
WebFX can help you gain Instagram followers with our Instagram marketing services and Instagram advertising services.
Contact us today to learn more!
WebFX Careers
Join our mission to provide industry-leading digital marketing services to businesses around the globe - all while building your personal knowledge and growing as an individual.