Welcome to the second interview in the WebFX series. These interviews offer business owners and marketers important insight, advice, and ideas that will help grow their online presence and become more successful at what they do. If you missed our first interview with Google's Jim Armstrong, you can read it here.
Today, we ask social media expert, consultant, and The Facebook Marketing Book co-author Alison Zarrella five questions about the wide and wonderful world of social. Read on to learn how she feels brands can stand out on Facebook, where she sees the future of social going, and get the one tip she gives to new businesses starting out on Facebook, Twitter, and other channels.
1. What do you think presents the biggest challenges for brands new to social media?
Just getting started can be really intimidating. There are so many sites out there, and joining all at once can be overwhelming. My advice is to find a few that fir your brand really well and start small, then grow.
You want to do really well on a few sites, not go halfway on everything out there. Instagram isn't for everyone, at least not right away. Additionally, some companies get really nervous about the public opinion aspect of social media.
But you have to remember that people are already voicing their opinions on Twitter. You just might not be there to listen or respond for damage control.
2. With Facebook changing its algorithm to reduce the reach of Pages, what can businesses do to stand out and get back into users' feeds? Is advertising the only way to reach fans on Facebook now?
Facebook would tell you that advertising is the way to go. And it can be very effective (their targeting capabilities are amazing) but you don't need to pay for every action on Facebook.
Experiment with ads for posts that can be tied to revenue, but for general branding and engagement, work on improving your content strategy. The new look for Newsfeed is great for showcasing photos, and high quality or inspirational images always drive likes. Facebook has also cracked down on spammy posts that say "like for yes, share for no" but you can still ask questions and drive engagement organically—just make sure it feels natural for your brand.
3. Do you have any thoughts on the future of social media?
Social media is always evolving, so it's hard to guess where it's going! But every site is getting smarter and smarter, so I think we are moving to more extreme personalization. I'm waiting for the day that Facebook can learn what types of posts I like, agnostic of friend or brand.
Then it will know to show me shoe sales from any store I like, but not hats.
4. Do you have a favorite social media "fail"?
I hate pointing fingers at fails. The great thing about social media, but what a lot of people forget, is that it's driven by real people. There is a human behind that brand's Twitter handle!
So there may be typos or incorrect links from time to time. If you want real-time access to a brand on social media, you need to accept their faults too.
5. What's one tip you would like to (or regularly do) give to people starting out on Facebook, Twitter, etc.?
Become a better writer. Brevity is key for social media and it's tough to write well in 140 characters. Practice, practice, practice!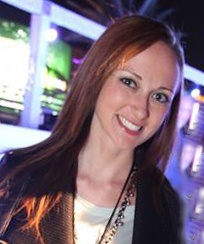 Alison Zarrella is a Boston girl and shopaholic social media chick living in Las Vegas, and co-author of The Facebook Marketing Book from O'Reilly. The proud owner of @Alison on Twitter, she writes about social media marketing on her blog AlisonZarrella.com.
WebFX Careers
Join our mission to provide industry-leading digital marketing services to businesses around the globe - all while building your personal knowledge and growing as an individual.