Case Study: Big Brands that Alienated their Community
Since the millennium, the web got a taste of social networks and has devoured them whole. But where big brands like Facebook and Twitter have flourished in developing an online community, others have struggled, often at the hands of poor acquisitions.  Read on for a case study on how these two big brands alienated their community.
Digg Loses a Nation: Years of Content and Community down the Drain
If social media news was real estate, Digg was the Donald Trump.  Digg was once a hugely popular social media news site that claimed the prime real estate in the hearts of social media news readers everywhere.  But just as easily as Donald Trump lost his hair, Digg managed to alienate their community.
Shortly after being acquired by their new owners Betaworks last month for $500,000, the new team from ReThink Digg managed to toss aside any remnants of the old social news site, losing all the value they paid for and started from scratch. In fact, the new Digg has eliminated almost all of the social aspects of its former self. It was a glorified domain name purchase.
But the slow death of Digg started long before its acquisition.  In 2006, the internet darling's founder made the cover of Business Week as Digg was reportedly valued at $60 million dollars, with its value reaching $160 million by 2008.  Since then, Digg's traffic has been steadily declining, losing 50% in the past year alone.
Digging a Hole for itself
As a social media news site, a highly engaged community is essential for success.  But with constant changes to the site's design and the new Betaworks remodel, the Digg community began to go elsewhere, fueling the growth of Digg's greatest competitor Reddit.  These redesigns alienated the Digg community as users found it harder to communicate and share information with each other.  Without the social engagement, the community loses its motivation.  What benefit do people have in simply submitting news stories; there needs to be an incentive to participate, and users are highly motivated by social rewards.
Here are a few things Digg did wrong:
Community Factors Eliminated:
One of the biggest flaws of Digg's earliest system was the ease of which users could manipulate the voting system.  Users could simply gather a large sum of diggers to promote their own content without earning it.  As a result, Betaworks eliminated the community factors and replaced them with news editors, killing the social engagement of the entire site. Now users can hardly participate beyond sharing posts on Facebook or Twitter.
Do you see any place for the community?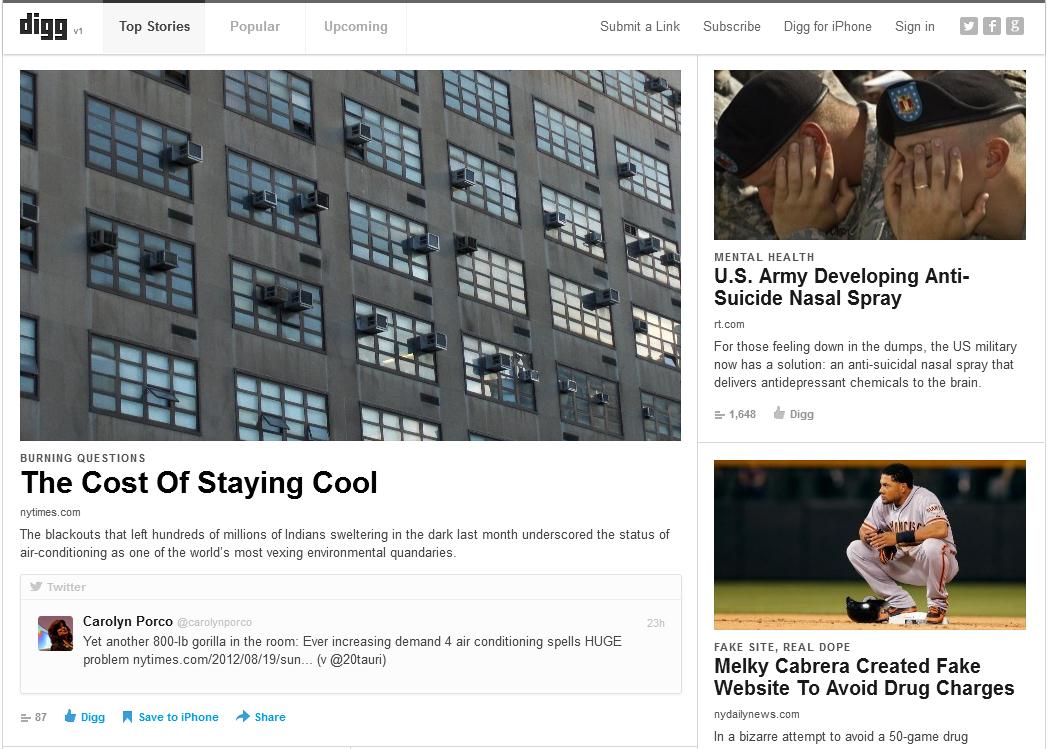 Rewarding the Loyalists
To make matters worse, Digg abandoned the users that had stuck with the social news site through all of its trials and tribulations.  After seven years in the making, some Diggers had spent countless hours contributing to the success of the site and had been rewarded with powerful user accounts, as well as a myriad of social connections.  But under Betaworks' Digg V1, all user profiles were put back to square one.  Essentially, all the profiles and related data from Digg were deleted and no longer accessible.

Redirecting Users to the Wrong Place
While Digg got extremely good at redirecting users to other news sites like Reddit, they completely ignored utilizing their own redirects.  All of the old content, likely responsible for a majority of their 1.3 million monthly traffic, now leads to a 404.  Anyone with an ounce of SEO knowledge would recognize that this is a huge problem for both your traffic, usability and ranking.  My suggestion for the new Digg is to address this immediately before the traffic drops even more drastically.
Digg's Grown Stale
Finally, Digg illustrated for a second time their SEO ignorance when they disregarded building a new site structure that cultivates new content.  Freshness has become an influential factor in Google's ranking algorithm, and with Digg failing to generate new content on their website, they miss out on a huge opportunity to gain further rankings from new pages.  This is because the stories now posted on Digg carry no permanent links via its own site.  All of the site links direct users to the outside content sources.
(See how this article leads directly to "Thewrap.com")
Flickr Becomes a Snapshot of the Past
In 2003, Stewart Buttefield and Caterina Fake quite possibly innovated one of the earliest Web 2.0 properties; an internet concept that will completely alter the face of the web.  This innovation went by the name of Flickr.  Three years ago, you wouldn't have been surprised that Flickr may have been responsible for inventing a social network revolution, as it received all the success expected from a world changing innovator.  But since then, the photo sharing company only leaves traces of abandonment. The reason? A Yahoo Acquisition.
Flickr began as a thought leader in social communities and collaboration on the World Wide Web.  They were one of the firsts companies to fully devote their services to developing an online community.  It started long before Facebook and Twitter became the juggernauts of the social network game.  Flickr was the first to make photos available to others online, allowing people to share them with their friends and the rest of the Flickr community.  It was among the first to identify relationships with other photographers and Flickr users, with filters to identify connections as family, friends, or professional relationship.  It opened privacy controls to share with all of the public, with specific friends, or to remain private.  The interface focused on encouraging uploaders to share photos with friends and family, to comment and interact.
But this community slowly began to leave a few years after Yahoo acquired this social startup in 2005.  And since then, Flickr has become an ignored network for the public majority, housing only a small niche of almost exclusively more "professional" photographers.  Today photo sharing is still at the forefront of social networking, as Facebook, Instagram, and Pinterest have stepped in to fill Flickr's shoes.
Integration not Innovation:
There's no question that the largest reason the community left this because it abandoned its focus on the users and instead put its resources towards corporate strategy, a concept the public cares very little about.  After the acquisition, Yahoo required all users, including those existing ones, to log in via a Yahoo account.  The community became outraged and vocal about their desires for a way to log in without being connected to Yahoo.  And the company reacted by delivering them with a very clear message.  A flat out no, you're part of Yahoo now. Three years later, users still need a Yahoo account to participate on Flickr.

Invasion of Privacy:
Shortly after the acquisition, Yahoo violated one of the earliest and most appreciated values of Flickr.  The ability to host images privately.  The Search Engine behemoth immediately began prescreening all the content members posted before it went live online, completely shattering all promises of online privacy.
A Lack of Interest in Innovation:
Simply put, Yahoo was completely uninterested in any aspects of the community at Flickr.  Ironically though, without the community, Flickr would cease to exist.
But still, a Yahoo! executive was interviewed saying "Because Flickr photos were tagged and labeled and categorized so efficiently by users, they were highly searchable.  That is the reason we bought Flickr—not the community. We didn't give a shit about that. The theory behind buying Flickr was not to increase social connections; it was to monetize the image index. It was totally not about social communities or social networking. It was certainly nothing to do with the users."
As a result, Yahoo's lack of interest in innovation and community slowly brought the demise of what could have been today's greatest social networking site, and not just a niche for photographers to post their work.  Flickr became just another passenger of Yahoo's slowly sinking ship.
Tags: branding, community, social networks, web 2.0