Congress Tweets its Way into the 21st Century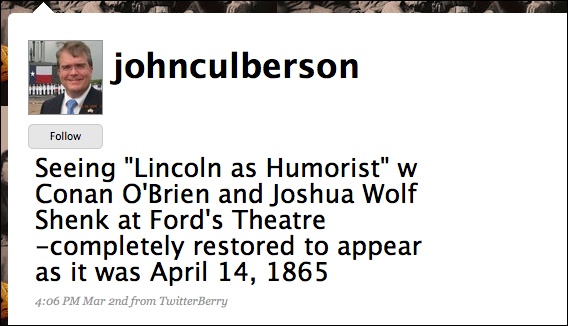 There's a lot of buzz going around concerning the sudden use of social networking sites such as Twitter, Youtube, and Facebook to reach their constituents.
The House itself has rules about what platforms it's members are permitted to discuss and post information on. One of the biggest players behind this cause is Texas Republican Representative, John Colberson.
So how beneficial to the cause of Congress are web utilities such as Twitter? In a time where a majority of the news is gathered on the Internet, this could be a powerful tool for members of Congress.
Not only can they provide their audience with information in record time, but the 140 character limit on "tweets" forces them to be short and to the point, putting the information in a language everyone can understand.
I'd imagine it would be pretty difficult to hold up a filibuster within 140 characters.

Twitter doesn't just make the information quickly and easily accessible to the public, but it also gives people a chance to provide feedback.
If a member of Congress is active on Twitter, they now have a easy and effective way of not just reaching their audience, but interacting with them as well.
We've always been told that if we have a problem with something then just "Write your Representative"… but who really wants to take the time to do all of that?
Plus we never even know if the Congressman ever even reads it, judging by the Xeroxed letter you receive from their secretary. On Twitter you can quickly reply to a tweet and voice your opinion.
Despite the potential of tweets in Congress, could there be a downside?
Of course.
In high school I remember getting a text in the middle of class and having to scope out my options and try and write back a response while concealing my phone under the desk.
Why? Because we've been taught that school is an inappropriate place to use cell phones.
The same thought can be applied to Congress.
During President Obama's recent Address to Congress, the news has caught wind of a few members Tweeting during his speech.
Should the desire to provide information overrule politeness and etiquette?
It is also argued that social networks like Twitter and Facebook could change the face of Congress.
Instead of being viewed as important decision makers in strict environments, casual tweets could make it look laid-back and unprofessional.
So should Congress have the right to tweet?
Drop a comment and tell us what you think!
Also if you're interested in what Congressmen are saying on Twitter, check out this Capitol Tweets Widget.
Tags: Social Media, twitter, web-20
Get posts by email
Be the first to know when we publish a new blog post!