With over 60% of users checking Instagram daily, this platform is a great place to engage current and potential customers. But how can you make your content stand out on Instagram? In this post, we'll share nine types of creative Instagram posts, including:
Just keep reading, and subscribe to our email newsletter for more social media marketing tips!
74% of people use social media when making a purchasing decision.
Make their decision easy with a stellar social media presence. See how your brand can level up by requesting a no-obligation proposal today.

One of our experts will be in touch within 24 hours!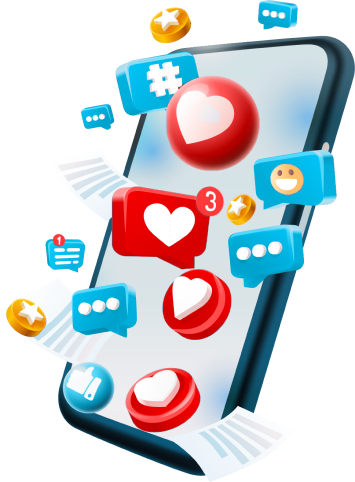 1. Memes
If you want to share creative Instagram posts, consider using memes. Memes are a great way to make your brand relevant and connect with people through relatable content. You can take popular memes and alter them to fit your brand and industry.
Take this example from Dollar Shave Club. The well-known brand used a meme to talk about moisturizers, a popular product they offer.

It's a simple post, but it catches people's attention because they recognize the meme.
Not to mention, it's a fun approach to talk about a product and the impact it has on consumers.
2. Product teasers
If you want to know what to post on Instagram, try sharing product teasers. Product teasers are a great way to get people interested in what's coming next for your brand. You can increase engagement with your social posts by getting people excited and wondering what's coming next.
Take this example from Lego. They shared a product teaser photo for their followers that got everyone excited about the new Lego set they were revealing.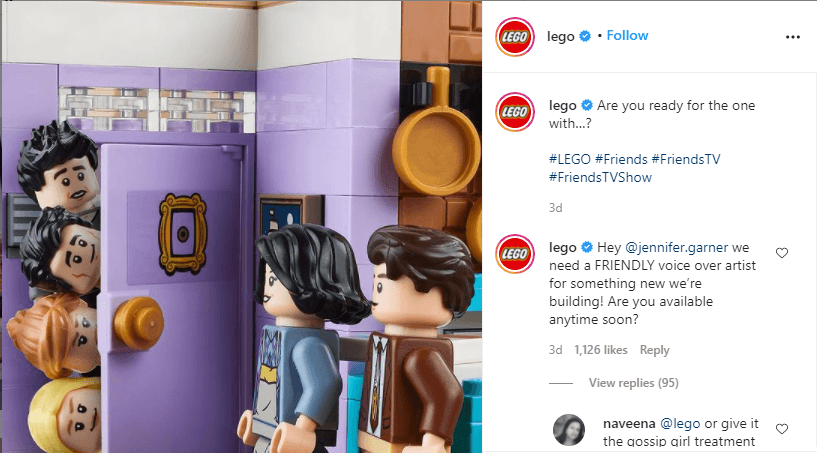 They didn't show the entire product but instead gave a small teaser to get people buzzing and talking about the new product release.
Then, a few days later, they posted the entire product to show their followers the new set.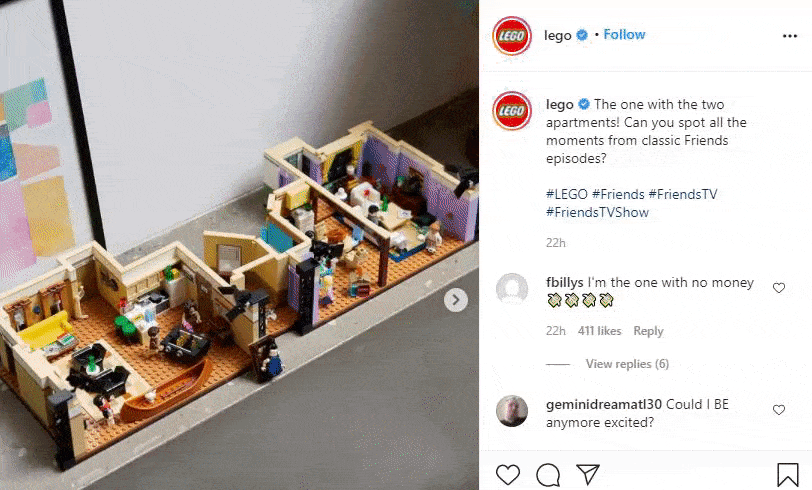 Product reveals are one of the best things to post on Instagram because they help you get your audience hyped up about new products you're releasing and build anticipation until you release the product.
3. User-generated content
Another option for creative Instagram posts is to repost user content. User-generated content is a great way to showcase real people using your products. It helps people see how others use your products — it can also help serve as a testimonial or endorsement of your products that entice people to buy.
Target is a prime example of using user-generated content to promote the products they offer in their store.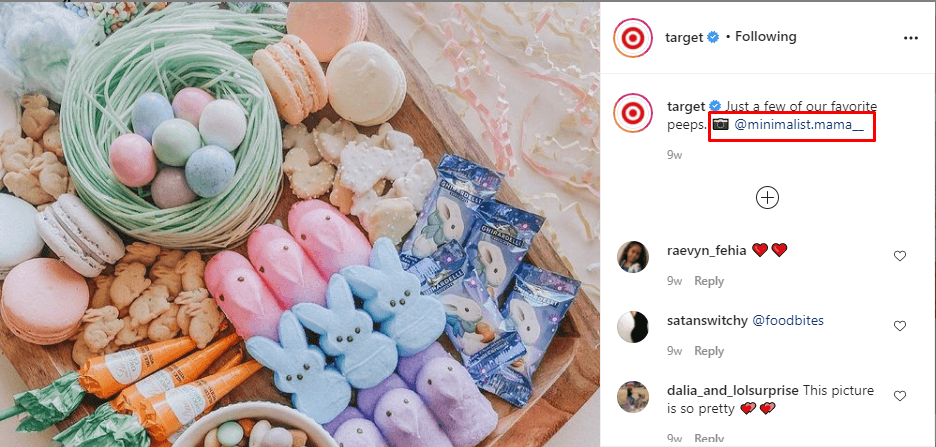 They repost photos their brand lovers shared and use them as content to promote their brand. Sharing user-generated content is a great way to boost engagement and get people interested in your products.
4. Reviews and testimonials
Posting reviews and testimonials is a great way to show your audience what people say about your business. A great way to source feedback is to pull comments and posts from other platforms, like email, Facebook, or Twitter. You can then place this feedback on a colorful, brand-tailored background and post it on your Instagram.
Here's a prime example from Billie on how you can take this approach: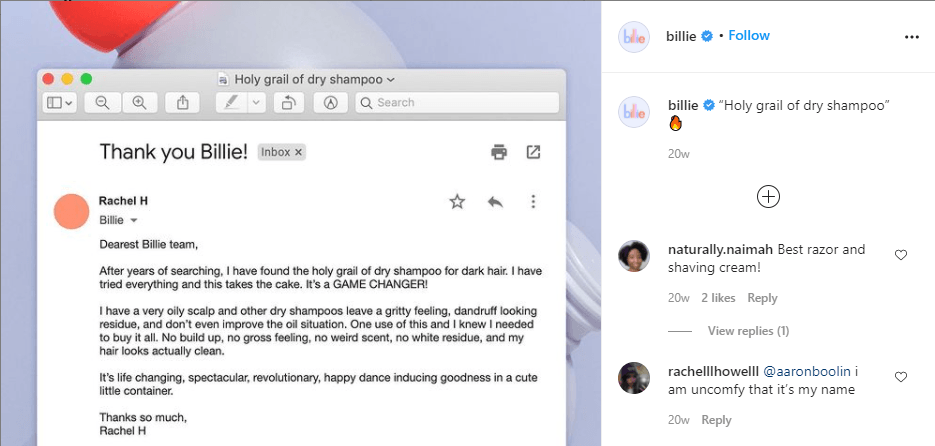 Billie shared a testimonial of their dry shampoo from a customer who called it the "holy grail of dry shampoo." They screenshotted the email and placed a background filled with Billie's products. Not only does this content serve as a testimonial, but it also helps bring some lightheartedness and fun to Billie's content. If you're looking for new Instagram post ideas, highlighting feedback is a great place to start to help you promote your products in a fun way.
Bonus tip: If you opt to post feedback, try focusing on feedback that's funny or uses interesting phrases (like "holy grail of dry shampoo").

This feedback will stand out more to your audience than the typical "I love this product" type of feedback.
5. Shoppable posts
Next on our list of what to post on Instagram is Shoppable posts. Shoppable posts are an excellent way for you to showcase your products and earn more sales at the same time.
With Shoppable posts, you can add links to the products featured in your post to entice people to shop. Then, if someone sees a product they like, they can follow the link to purchase the product from your site.
You can see an example of this type of post from Lush: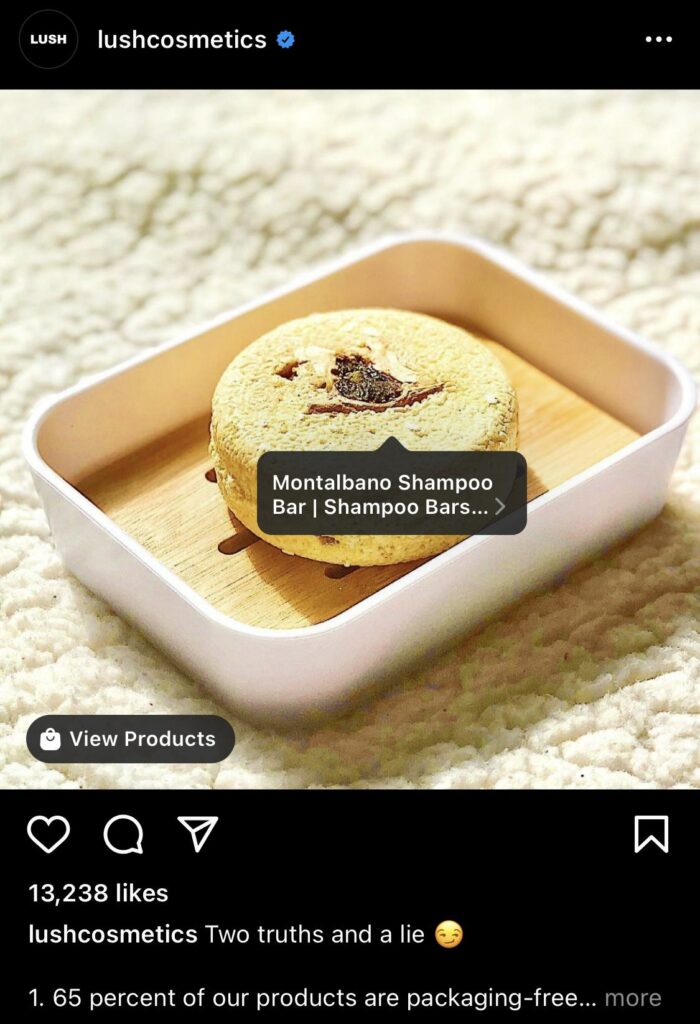 When you click on their photo, you can see a link pop up for the product featured in the image. Upon clicking on the link, it takes you to a page that provides you with more details about the product, like the price.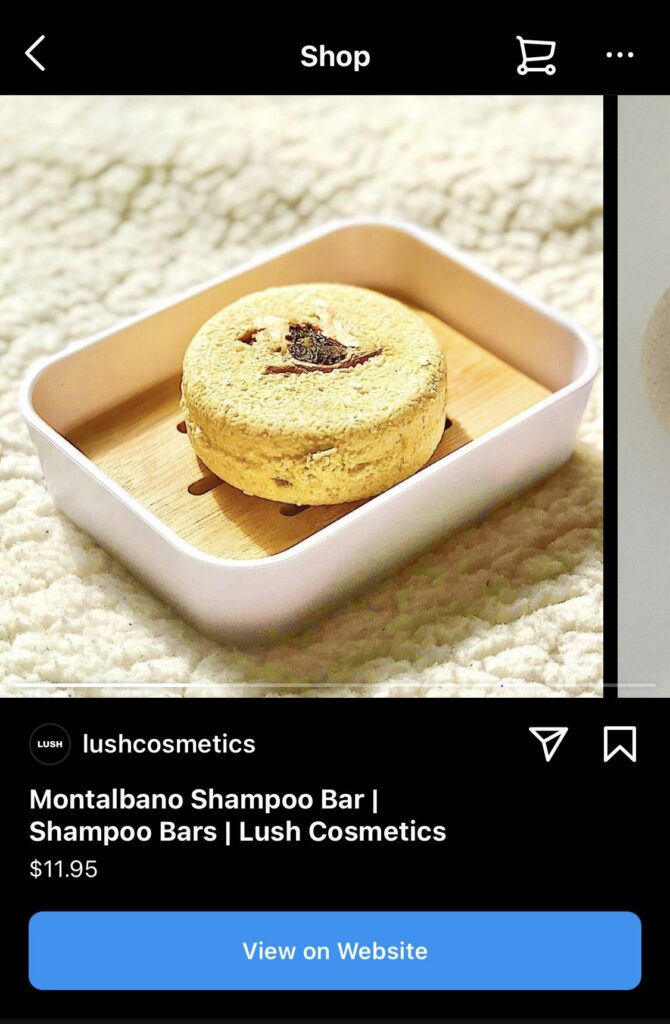 You can then click the link to go to Lush's website and buy the product.
These Shoppable posts are an excellent way for you to increase product consideration and sales for your business, so you can ultimately drive more revenue.
6. Behind-the-scenes photos and videos
If you're looking for more creative Instagram posts to create, try doing behind-the-scenes posts. Behind-the-scenes posts are a great way to provide your audience with insight into your business and team. You can give them a sneak peek that helps them feel more connected to your brand.
Here's a great example from one of Chick-fil-A's franchises. In this example, they highlighted a team member winning one of their scholarships.

In another example, they highlighted a member of their team and shared some interesting facts about that team member.

These posts help you get to know who's working at this local Chick-fil-A and get to know them. It's a great way to give your audience a little glimpse into your business and staff.
7. Puzzles, polls, and quizzes
One of the last things to post on Instagram that we'll cover is a puzzle or a challenge. When you're posting on Instagram, it doesn't have to be all promotional and serious all the time. You can add some fun posts that focus more on boosting engagement and get people thinking about your brand.
Puzzles and challenges are a great way to get people to interact with your content. Again, we turn to Chick-fil-A for an example of this engagement.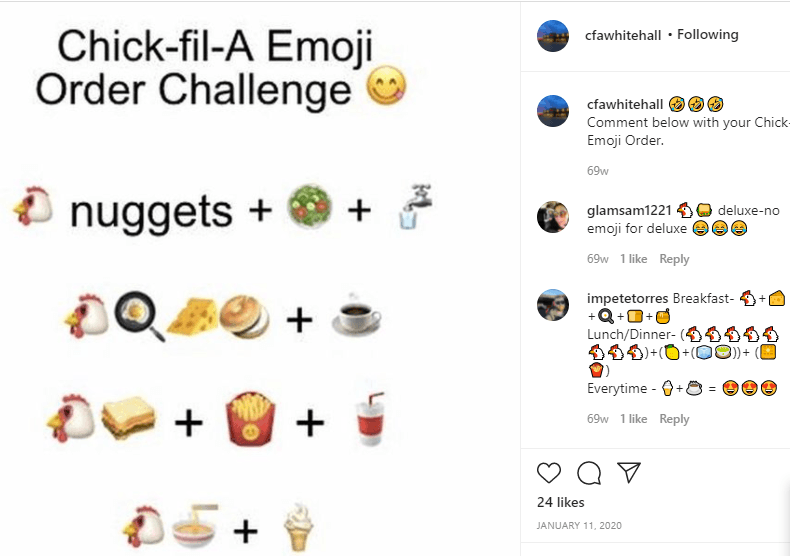 In this post, Chick-fil-A invites their followers to try and describe their order in emojis only.
It's a fun and interactive post that gets people to think about the brand while also thinking about which emojis can help them show their order. Having fun puzzles and challenges gets prospects to interact with your brand, boosting engagement with your Instagram content.
8. Funny videos
Funny videos are next on our list of creative Instagram posts. Posting funny videos about your brand is a great way to show people the lighthearted side of your brand and give your followers a good laugh. Take this example from Wendy's.
Wendy's often uses humor in their posts to appeal to their audience — this example is no different.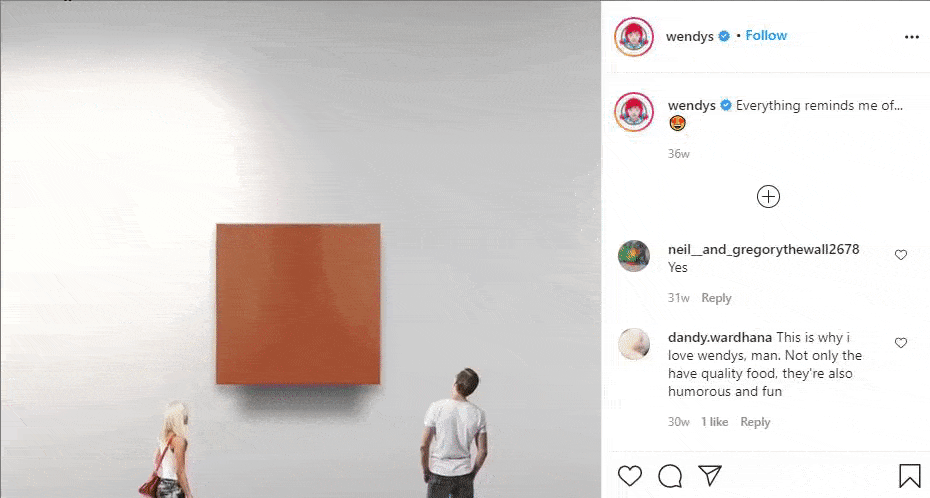 Wendy's featured a video on their Instagram where they joked about how everything reminds them of their famous square-shaped patty. This video was an excellent way for them to joke around with their followers while still highlighting their brand and products.
You can take a similar approach with your content — posting funny videos can help you show a new side of your brand while also engaging prospects. Note: When you take a humorous approach, be mindful of your audience. You want to ensure you're using a type of humor that will engage your audience and make them laugh rather than upset or offend them.
Instagram post idea #9: Posts featuring pets
Next on our list of ideas for creative Instagram posts is to use pets in your posts.
Over 48 million households in the U.S. have dogs, and nearly 32 million households have cats, which makes pets an excellent opportunity for you to make connections with your audience. When you use pets in your photos, you can have them wear your product, sitting next to it, or engaging with it.
You don't have to be a pet-focused shop to use animals in your Instagram content! Take this example from Target — they used a cat to make a humorous post about ordering too much stuff from their website.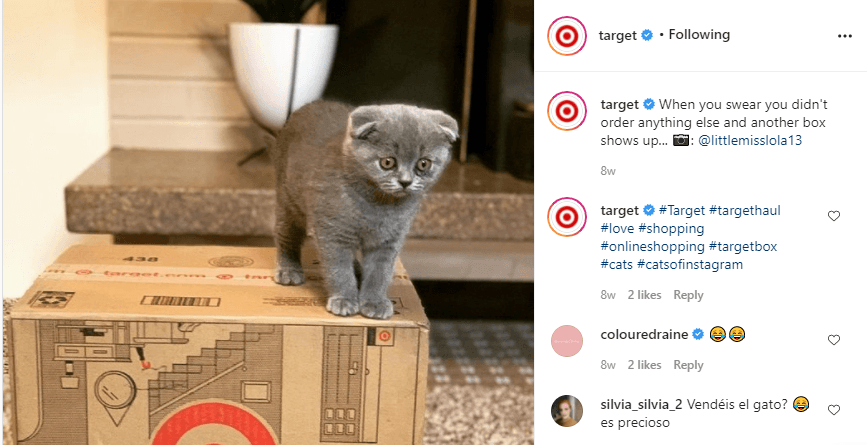 In another post, they highlight a dog and one of their Christmas decoration products.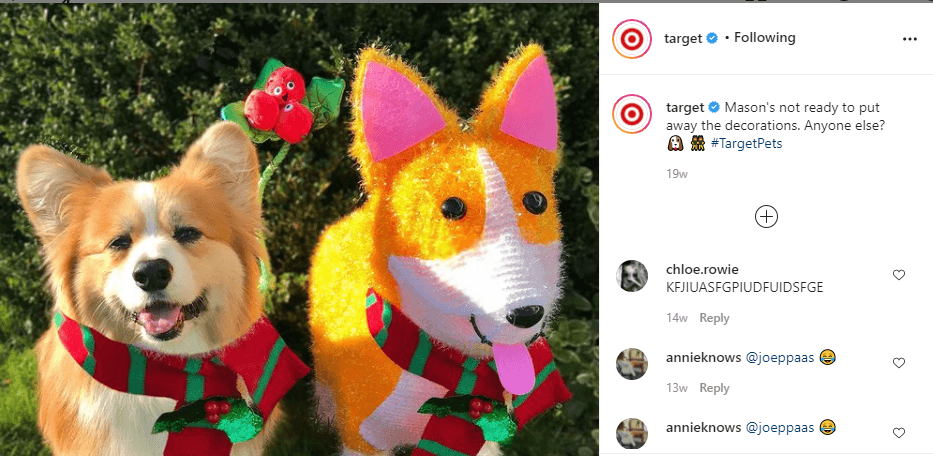 In this video from Billie, they showed a cat playing with their products.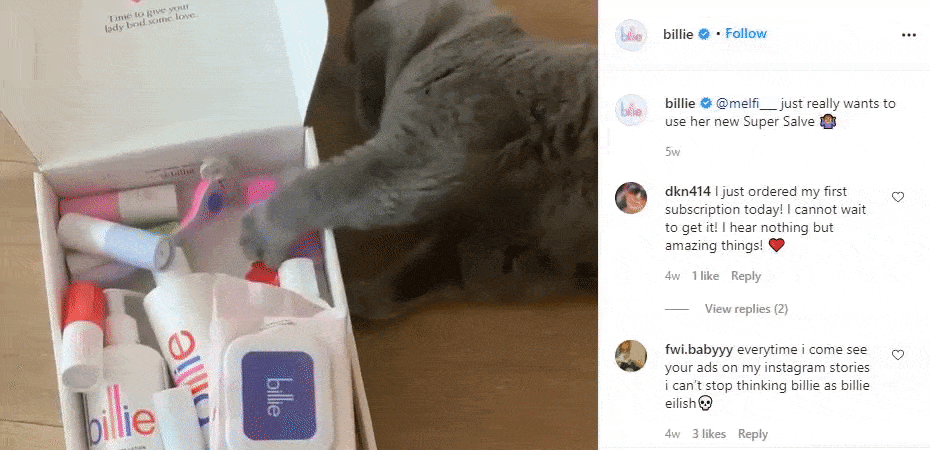 As you can see, there are multiple ways to use pets in your posts to create more exciting and engaging content for your business.
Need help coming up with more creative Instagram posts?
Coming up with creative Instagram posts is challenging — especially when you want to keep your content fresh and engaging for your audience. If you're unsure of what things to post on Instagram, turn to the experts at WebFX to help you.
We have over a decade of experience in posting on social media. We know how to craft campaigns that drive results — we've driven over $3 billion in revenue and over 7.8 million leads for our clients in the past five years alone. If you're ready to get more from posting on Instagram, contact us online or call us today at 888-601-5359 to speak with a strategist about our social media marketing services!
How is your website's SEO?
Use our free tool to get your score calculated in under 60 seconds.
Get posts by email
Join 200,000 marketing managers and subscribe to Revenue Weekly!
"*" indicates required fields
WebFX Careers
Join our mission to provide industry-leading digital marketing services to businesses around the globe - all while building your personal knowledge and growing as an individual.