During the Covid-19 outbreak, Facebook surveyed small businesses and found that 31% of small-to-midsize businesses (SMBs) were not operational. As a result, Facebook decided to create a way for small businesses to reach customers and sell products — and this led to the creation of Facebook Shops. On this page, we'll provide you with relevant information like:
What is Facebook Shops?
How does Facebook Shops work?
Keep reading to learn more about this new medium for SMBs to sell their products to relevant customers!
P.S. Subscribe to Revenue Weekly to get the latest marketing tips and tricks that can help you build a better Facebook presence, and ultimately, a better Facebook shop!
What is Facebook Shops?
Facebook Shops is a platform that enables SMBs to set up an online retail shop for their business and sell their products — just like they would at their storefront. Users can find a shop by visiting a company's Facebook or Instagram page, as well as through stories or ads. Facebook Shops allows you to upload a catalog of products and create a custom storefront to create an engaging shopping experience for your audience.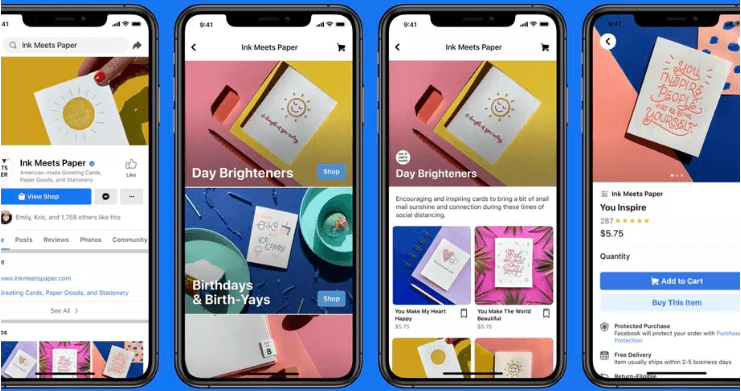 How does Facebook Shops work?
If you decide to use Facebook Shops for small business, it's critical to understand how this new platform works. To get started with creating a Facebook storefront, you need to enable shopping on your profile. Follow these steps to set up your store:
Go to your Facebook page and visit the "Shop" page
Set up your shop details
Set up payment options
Upload a catalog of products to your store
Start selling!
It's that simple to set up your store. Once your store is in place, users can discover your shop by visiting your Facebook or Instagram profile. They can browse, share, and save products they see in your shop, as well as place an order.
If shoppers decide to purchase from you, you can direct them to complete their purchase on your website or have them complete it through Facebook's checkout process.
FAQ about Facebook Shops for small businesses
Since Shops by Facebook is new to the ecommerce scene, many people have questions about this platform. Here are small business Facebook Shops FAQs.
Are there fees for setting up a shop?
If you want to set up a storefront with Facebook, it's completely free. It's also free to add your products to your storefront and allow users to browse them.
No matter your business's budget or the size of your organization, you can upload as many products as you choose. The only place you can incur fees is at checkout. If you have a functional ecommerce website, you can direct people to check out there to avoid incurring any processing fees from Facebook.
On the other hand, if you don't have a functional ecommerce website, you can use Facebook's checkout feature, however, you will incur a 5% processing fee.
Can you customize your shop?
Yes! When Facebook created Shops, they wanted small businesses to be able to tell their story. Part of that is creating a shop that reflects your brand's unique style.
When you use Facebook Shops for small businesses, you can create a custom cover image for your shop. Additionally, Facebook enables you to choose accent colors, so you can show off your brand's unique style.
Can people contact you if they have questions about a product?
Yes! If your prospects have questions about a product, they can contact your business through Messenger or Instagram Direct Messages.
It's an easy way for them to ask questions, get help, or track deliveries. Additionally, Facebook is working on creating functionality that allows shop owners to sell products through chats. This upgrade will enable you to create a seamless shopping experience where you can answer shoppers' questions and get them to convert right away.
If I have a loyalty program, can I integrate that into my Facebook Shop?
Yes!
If you already have an online loyalty program in place, you can integrate that loyalty program into your shop. Facebook enables shoppers to keep track of points and rewards as they shop through your products on Facebook. If you don't have a loyalty program, or if your loyalty program was physical (think punch cards), Facebook is working on a way for you to create a loyalty program within your shop.
It may take some time for them to develop a way to do it, but it's something to look out for as Facebook improves the shopping experience.
What ecommerce platforms work with Facebook Shops?
One of the notable features of Facebook Shops for small businesses is that some companies can use their existing ecommerce program to upload their products to their Facebook shop. As of now, the following ecommerce platforms allow you to upload products straight to your Facebook shop:
Shopify
BigCommerce
Woo
Channel Advisor
CedCommerce
Cafe24
Tienda Nube
Feedonomics
If you don't see your ecommerce platform on the list, you'll need to upload your products to your store manually. Keep your eyes open, though, for the addition of more ecommerce partners for easy product integration!
Can I customize my audience's experience?
One of the best features of Facebook shops for small businesses is that you can customize your audience's experience. The customization depends on your business type.
For example, if you sell men and women's clothing, you can personalize your storefront for both genders. So, if a male visits your shop, they'll see a male-focused storefront, while a female will see women's' clothing.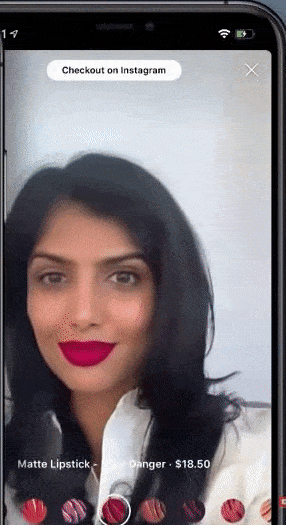 This feature is beneficial to people who sell products for both genders.
Additionally, Facebook is using its augmented reality (AR) technology to help shoppers investigate products better. So, for example, if you sell makeup, a user can use their camera phones to see how the color of makeup would look on their face. On the other hand, if you sell a product like furniture or décor, users can position the product in their home to see how it works.
Both features allow you to provide your audience with a better shopping experience so that you can earn more conversions for your SMB.
Set up your small business Facebook Shop today
Facebook Shops for small businesses is an excellent opportunity for your organization to reach a pool of customers where they're shopping and browsing. Speaking of Facebook marketing, WebFX offers a variety of strategies to help you make the most of your Facebook presence. From posting organic content about your shop to running ads to advertise your shop to the most interested leads, we'll help you boost your brand's visibility on Facebook's platform.
When you partner with us, we'll create a custom strategy that involves creating original posts, compelling ad copy, and optimizing your profile to showcase your brand's unique style. Want to learn more about how to create a successful Facebook shop? Contact us online or call us today at 888-601-5359 to speak with a strategist about how we can help you start selling on Facebook!
WebFX Careers
Join our mission to provide industry-leading digital marketing services to businesses around the globe - all while building your personal knowledge and growing as an individual.