In this video, Brooke from the WebFX Social Media team explains the basics of how Pinterest advertising works.
Transcript:
When you advertise on Pinterest, you tap into its audience of over 430 million monthly active users. Of its weekly users, 80% have found a new brand or product on the platform.
Learning how Pinterest advertising works can help you grab more of those ready-to-shop customers and, in turn, generate more leads and revenue for your business. It's safe to say that Pinterest is a social media platform you shouldn't overlook and should definitely consider adding to your paid social media strategy.
Now that you understand why Pinterest is so valuable, let's dive into how to get started with Pinterest advertising. First, I'll cover the different types of ads you can use on Pinterest. Feel free to skip to different sections of the video using the timestamps in the video description.
5 Pinterest ad types you need to know
Pinterest offers a variety of different ad types that you can choose from to advertise your business. It is important to understand each type before you pick the one (or ones) you'll use for your campaigns.
1. Standard Pins
The first type of Pinterest ad is the Standard Pin. This ad looks like a regular pin that features a vertical or square graphic or photo.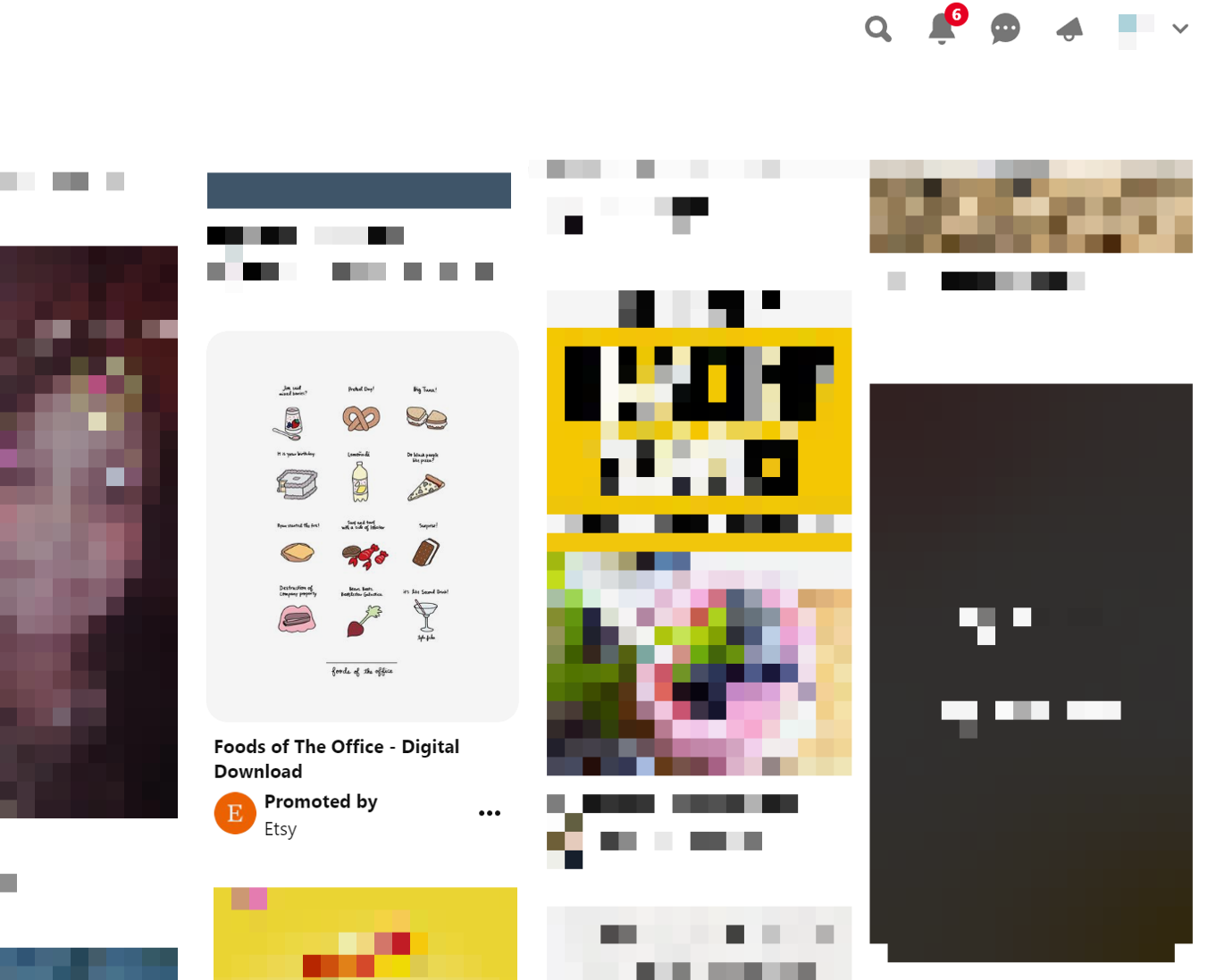 You'll see these ads in the Pinterest feed, again as if they are a regular pin. The big difference is that it will have a "Promoted" label at the bottom of the pin.
2. Video Pins
Next, we have the promoted video pins. These are similar to a standard pin, except the image is replaced with a video.
Keep in mind that users often browse with their sound off, so your video content should make sense without audio.
3. Carousel ads
The next type of Pinterest ad is the carousel ad. What's unique about the carousel ad is that you can choose several images to be displayed within one ad, and each image allows you to choose a new link, title and description.

This is great if you have multiple different services or products you are promoting.
4. Shopping Pins
Next is the shopping pin, which let you connect a catalog of items or web page to promote your products.

You can add plenty of product details to maximize your conversion potential.
5. Collections ads
Collections ads let you mix images and videos to show off your products. They consist of one primary asset and multiple secondary assets, in addition to the many additional elements that load when someone taps on the ad.
You can learn more about the image specs of each ad type in our Pinterest Ad Specs article.
Pinterest ad targeting options
As with any type of marketing, it is important to make sure you target the right audience. When you create your Pinterest advertising campaigns, you can choose to either connect with people who are familiar with your business or reach people who may not have interacted with you before.
Your audience targeting options include:
People who previously visited your website or engaged with your pins
Users that behave similarly to your existing audience
People who engage with Pins covering certain topics
Users who search using specific keywords
You can narrow down your targeting with demographic information like gender, device, location, and language. Just keep in mind who would benefit most from and be interested in your company if they saw an ad for it. You don't want to target too many people and waste your investment on people who will never become customers.
How to set up a Pinterest ad
First things first, you need to have a business account to launch your Pinterest ads.
Once that's done, you can create a campaign.
Your campaign objective should align with the overall business goals you want to achieve.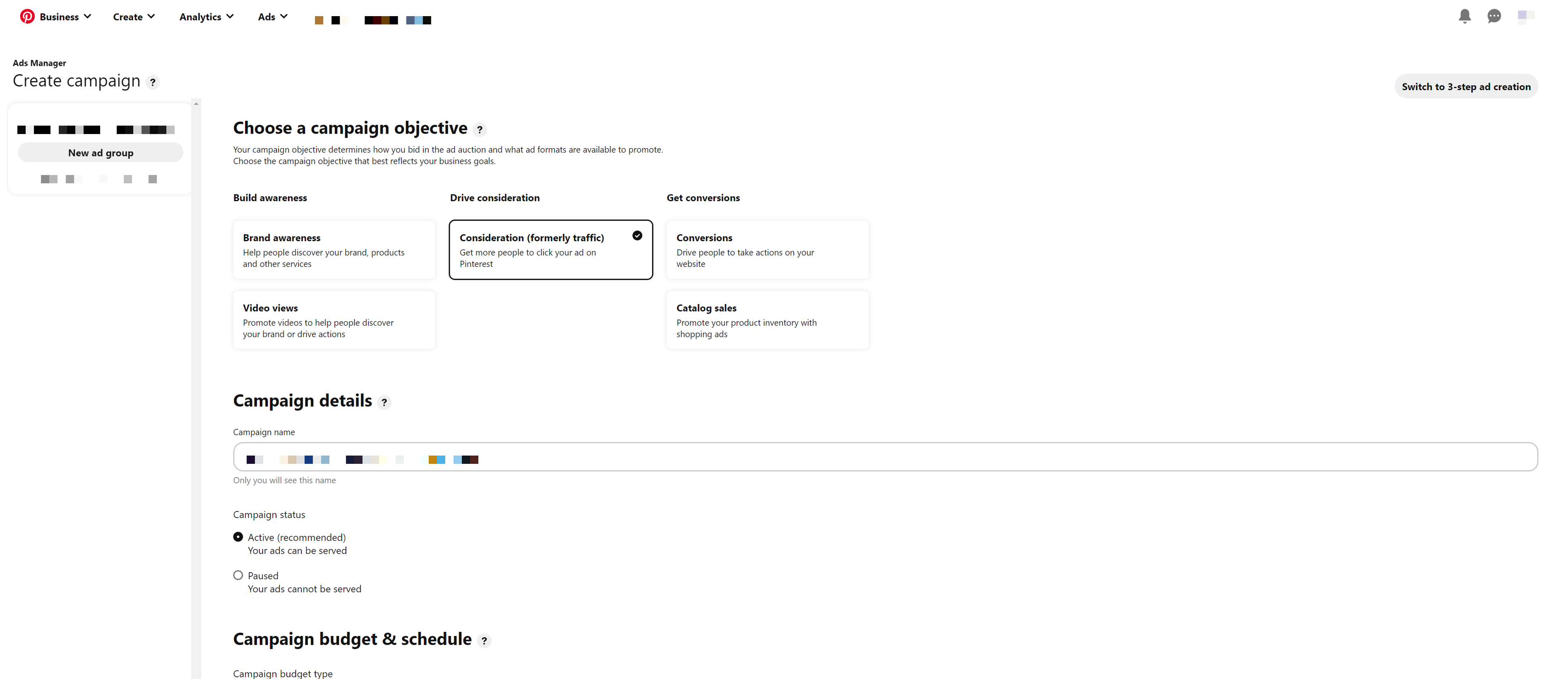 Once you establish an objective, you'll be prompted to set your campaign budget, schedule, targeting options, and more.
After all of that has been set up and you've either created or selected a Pin and landing page to use in your ad, you'll launch your ad and track its results.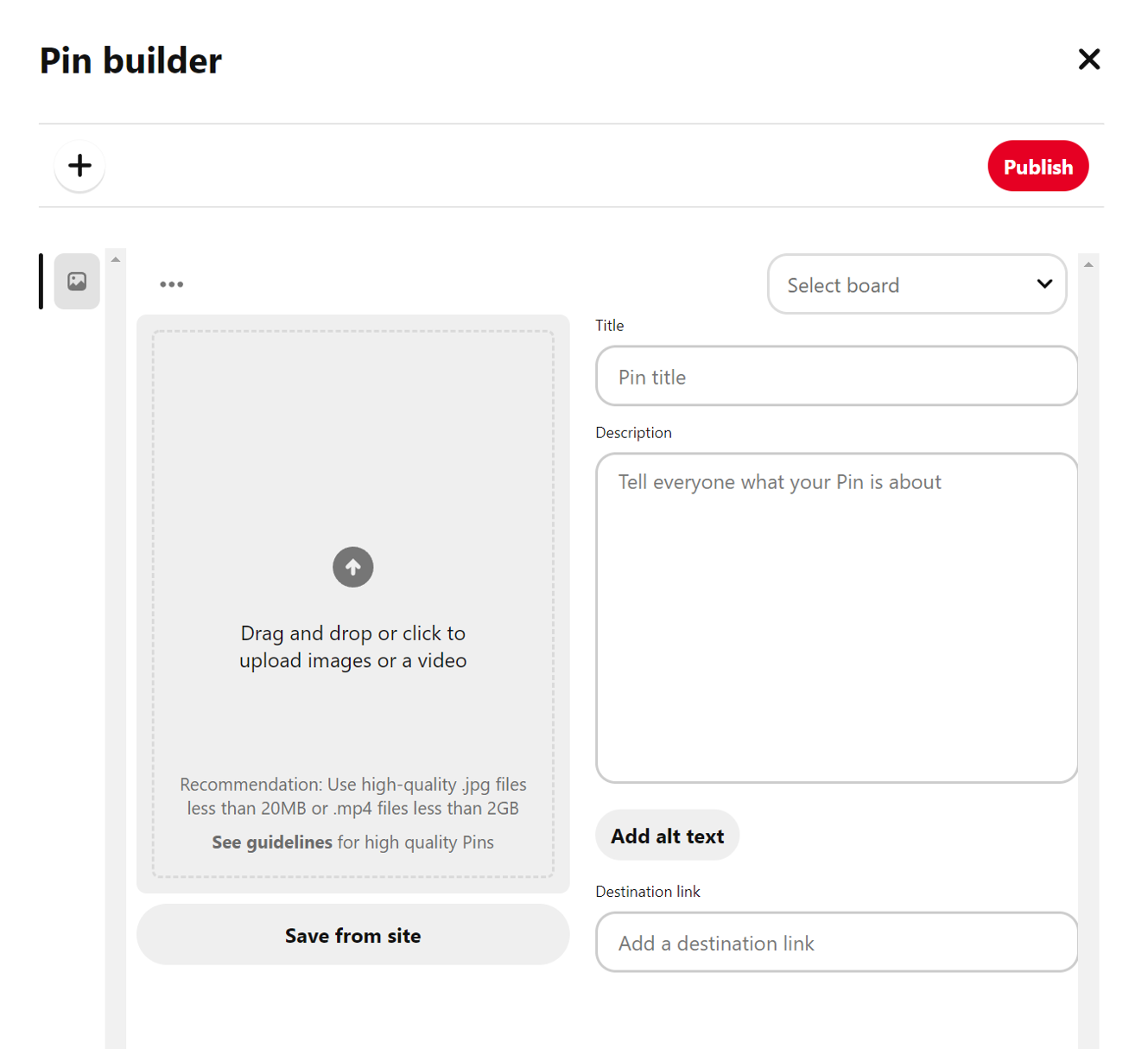 Don't be afraid to make adjustments if your ad isn't performing as well as you'd like it to.
So, how do you ensure you get a positive return on your ad spend? Start by following the next few tips in this video.
3 tips to drive conversions with Pinterest advertising
While creating an ad on Pinterest is fairly easy, having ads will not automatically lead to conversions. You need to use best practices in order to drive your results!
Tip #1. Test your ads (and make adjustments)
You won't know for sure which ad types bring in the most conversions until you test them out. Especially in the beginning, run different types of ads and analyze the results.
Decrease or discontinue ad types that aren't converting, and increase spending to the ones that are. You may find that a mix of types is the most effective.
Tip #2. Make your ad content valuable
Your ad will be competing with the regular pins in a user's feed. Give users a reason to check out your ad and your business over everyone else. This extends beyond visuals. The content of your ad should be relevant and helpful to users to see the best results.
Tip #3: Focus on branding
No matter which ad type you run, you should focus on creating a strong brand presence on Pinterest. Make sure that images are clearly branded and that any videos show your brand within the first couple of seconds. This includes adding brand-specific colors or designs to your ads, as well as anything else your business is known for. This will ensure that even if someone only views your ad for a second, they still recognize that it's yours.
Get started with Pinterest advertising
Pinterest is a platform that can bring a lot of value to you and your company. With its widely customizable advertising options and targeting capabilities, it's a no-brainer to add Pinterest to your digital marketing toolbox.
Want to learn more about the exciting world of digital marketing? Sign up for Revenue Weekly, our email newsletter, and subscribe to our YouTube channel!
Now go launch your Pinterest ad campaign, or contact us to launch it for you!
How is your website's SEO?
Use our free tool to get your score calculated in under 60 seconds.
Get posts by email
Join 200,000 marketing managers and subscribe to Revenue Weekly!
"*" indicates required fields
WebFX Careers
Join our mission to provide industry-leading digital marketing services to businesses around the globe - all while building your personal knowledge and growing as an individual.