Did you know that 70% of Pinterest users say they discover new products through Pinterest? This social media platform helps people find your products, learn about them, and make a purchase.
But if you aren't familiar with how to sell on Pinterest, you may feel overwhelmed at the thought of trying to promote your products through the platform.
With this guide to selling on Pinterest, you can learn how to sell more products and increase your revenue year-over-year with the social media giant.
Keep reading to learn more about using Pinterest to sell your products and get five tips for using Pinterest to sell products more effectively!
74% of people use social media when making a purchasing decision.
Make their decision easy with a stellar social media presence. See how your brand can level up by requesting a no-obligation proposal today.

One of our experts will be in touch within 24 hours!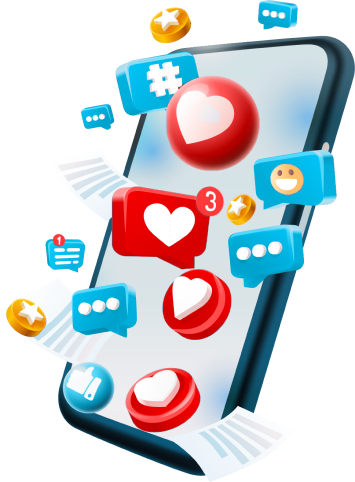 How to sell on Pinterest: 4 steps for selling items on Pinterest
If you want to start using Pinterest to sell products, follow these four steps to launch your strategy:
1. Create your Pinterest Business account
To start selling on Pinterest, you need to create your account. You'll want to create a Pinterest Business account so that you can gain access to all the great business features Pinterest offers, like analytics and top pins report.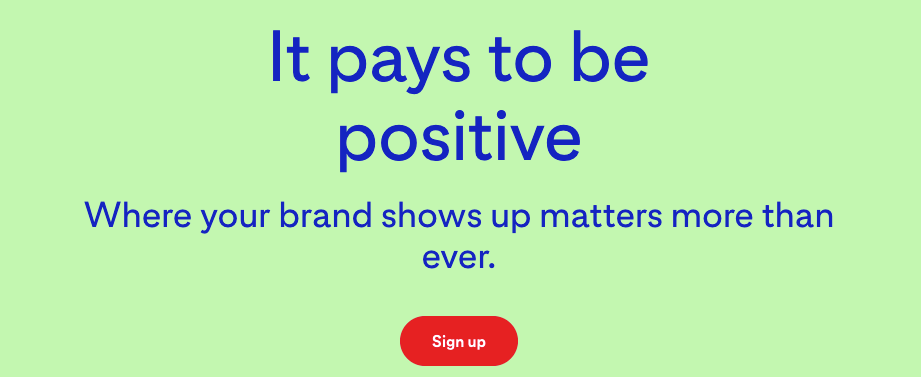 You can create your account by using your personal profile to create a business page or create a standalone business account.
2. Upload products to Pinterest
Once you create your Pinterest Business account, the next step for using Pinterest to sell products is to upload your products.
If you host your site through platforms like Squarespace and Shopify, you'll find this step extremely easy, as both site builders offer Pinterest integration. These platforms enable you to sync your website and Pinterest account so that you can transfer critical product data to Pinterest.
If you're using a website host that doesn't have a Pinterest integration, you can add your products by using a product catalog in the form of a spreadsheet. This spreadsheet should contain valuable data about your products, including:
Product ID
Title
Description
Link
Image link
Price
Availability
3. Create product pins
Once you have the data source for your products, it's time to create your product pins. Product pins are what people see when your products appear in their feed.
These pins showcase valuable data about your products, including:
Pricing information
Availability
Product title
Product description
Link to your product page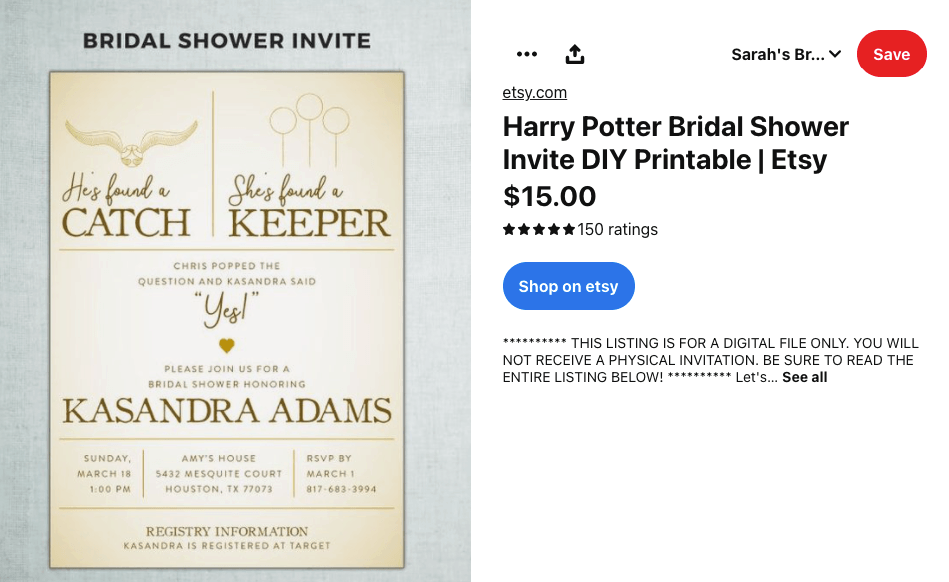 You'll want to create pins for each product you want to sell on Pinterest. Keep in mind that some products may not sell as easily on Pinterest as other products.
Take-Home Depot as a prime example — on their Pinterest page, they promote products like vanities, tiles, and light pendants.
These are all great pins, as people can pin them to their board if they're doing a home renovation or looking to redesign a space in their home.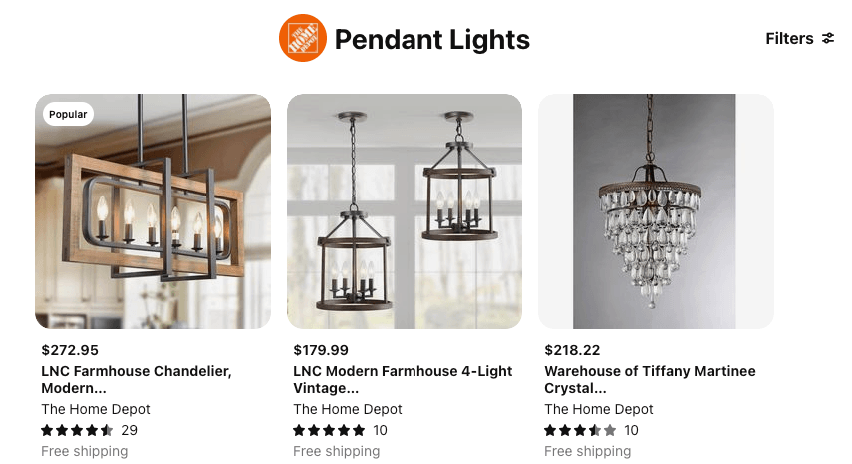 What you won't see on their Pinterest board is products like electrical tape or PVC piping. Even though they sell those products, they aren't relevant to Pinterest users. So, as you add product pins to your site, keep in mind whether they'd perform well on the social platform.
4. Create boards
The last step on how to sell on Pinterest involves creating boards.
When you upload all your product pins, you'll have dozens of pins scattered about your profile. If you want people to shop through your Pinterest profile seamlessly, you need to create boards.
Creating boards will make it easy for you to organize your products, making it easy for visitors to shop your products. You'll want to create multiple relevant product categories that can encompass all the pins on your site.
You can include pins on more than one board if they fall into various categories.
For example, a piece of art may fit into your "Wall Décor" and "Bedroom Décor" boards.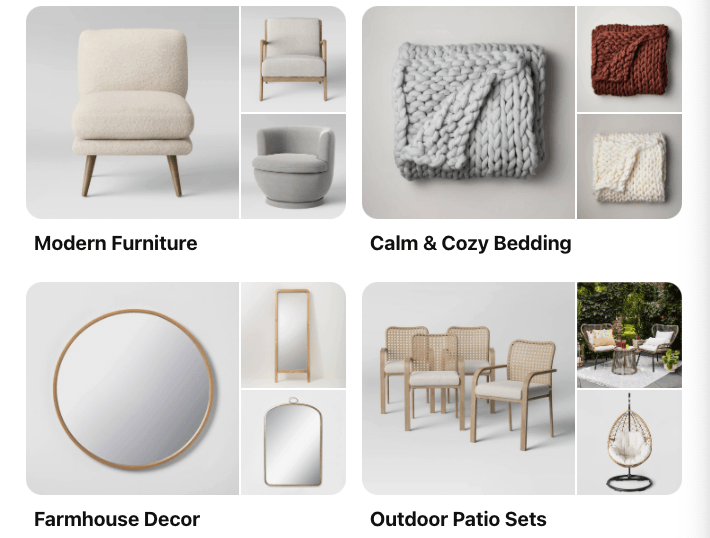 You'll want to create boards with broad category headings so that you can include multiple products on each board. Generally, when you create boards, you only want to post your own content to keep your audience focused.
There will be opportunities where you can pin others' content to your page, like if someone buys your product and uploads a picture of it to Pinterest.
You could add that pin to your board to showcase your product in action — encouraging more people to check out the product pin and visit your site.
5 tips for selling products on Pinterest
Now that you know how to set up your account and start using Pinterest to sell products, let's look at how you can make more sales through Pinterest:
1. Target keywords in your pins
If you want to know how to sell on Pinterest effectively, start by targeting keywords in your product pins. When people look for content on Pinterest, they're searching using relevant keywords.
If you want people to find your products, you must optimize your pins for keywords. To find relevant keywords for your pins, use a keyword research tool like KeywordsFX.
You can plug in your product keyword and find dozens of relevant keywords for your listings.
For example, let's say you sell crafting materials. If you type in the keyword "purple knitting yarn," you'll see many great keyword suggestions for your product pins.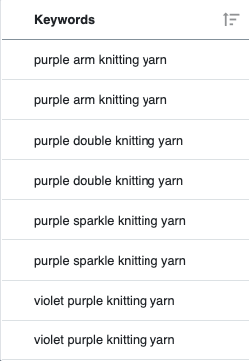 Like search engine optimization (SEO), you'll want to focus on long-tail keywords containing three or more words. While it would be great to rank for a keyword like "purple yarn," you're going to have a lot of competition.
Instead, ranking for a keyword like "purple sparkle knitting yarn" is more specific, which can increase your chances of ranking higher in search and reaching more qualified traffic with your pins.
2. Optimize pins for search
When you're using Pinterest to sell products, you want to ensure people can find your products when they search. Aside from optimizing for keywords, you'll also want to follow other SEO best practices to help your pins appear in relevant search results.
Here are two SEO best practices you'll want to follow:
Use alt text on your images: Alt text provides your audience with information about the image if it doesn't load. Your alt text should describe the image and can include your core keyword to indicate relevancy.
Create descriptive product titles: With your product titles, you want to provide an accurate description of your product.

You'll want to include your core keyword and any important descriptive details, like color or size.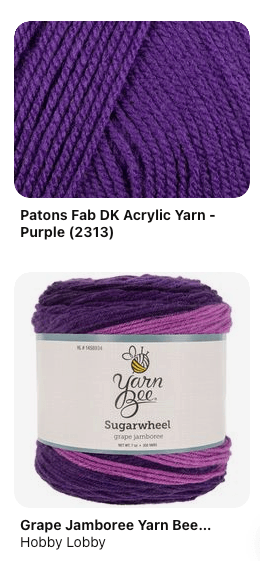 Provide an informative description: In addition to a descriptive product title, you'll also want to include an informative description. It provides context to your product listing and offers an opportunity for you to integrate more relevant keywords.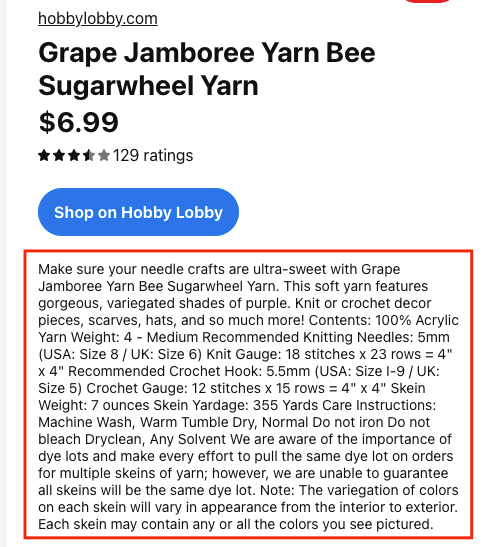 3. Create pins that stand out
When you're using Pinterest to sell products, you compete with dozens of companies to showcase what you offer. Every company uses photos to showcase its offerings — creating the challenge of standing out from the crowd.
So, if you want people to notice your pins when you're selling items on Pinterest, you must create pins that stand out from the rest.
But how do you get your pins to stand out in your audience's feed? One of the best ways to create eye-catching pins is to use high-quality photos.
Photos with high resolution stand out in a user's feed because of the photo quality. You can also use bright colors to help your photos stand out.
The example below shows how the high-quality photo and bright colors make the balloon arch pin stand out from the other pins.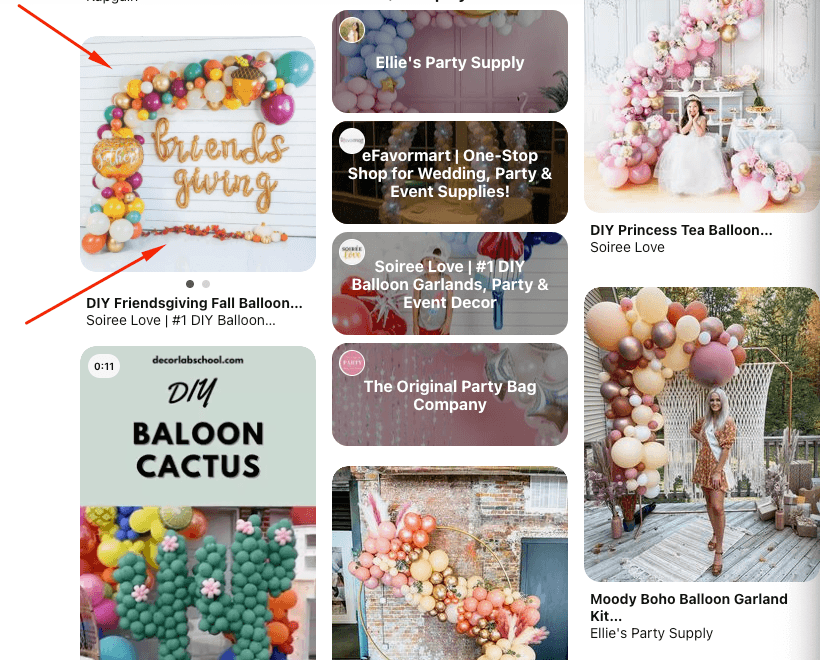 You can also make your products stand out by making your product the focal point of the image. Let's take the example from above.
Two other pins in the feed have many distracting elements like people and objects that take away from the balloon arch.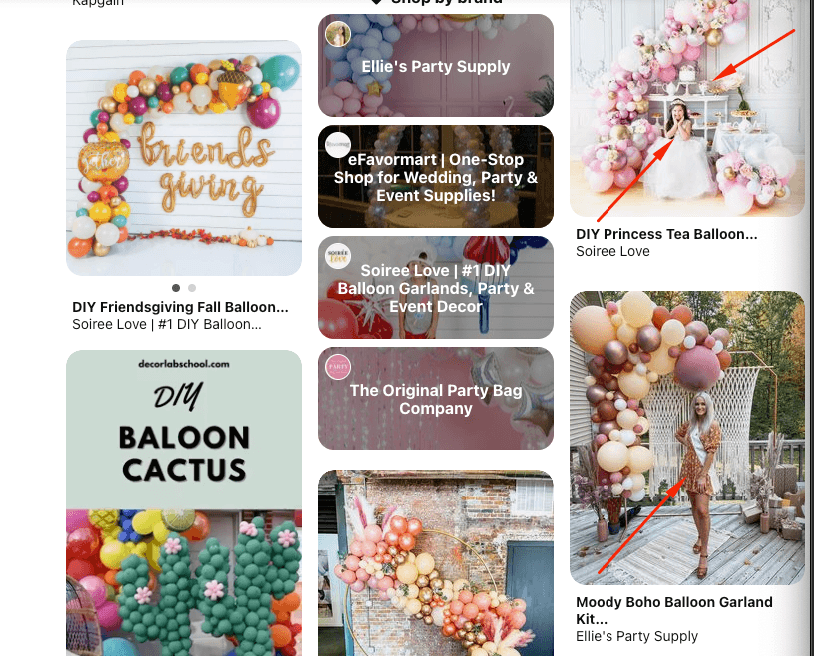 With the brightly colored arch, the focus is on the product and has minimal distractions.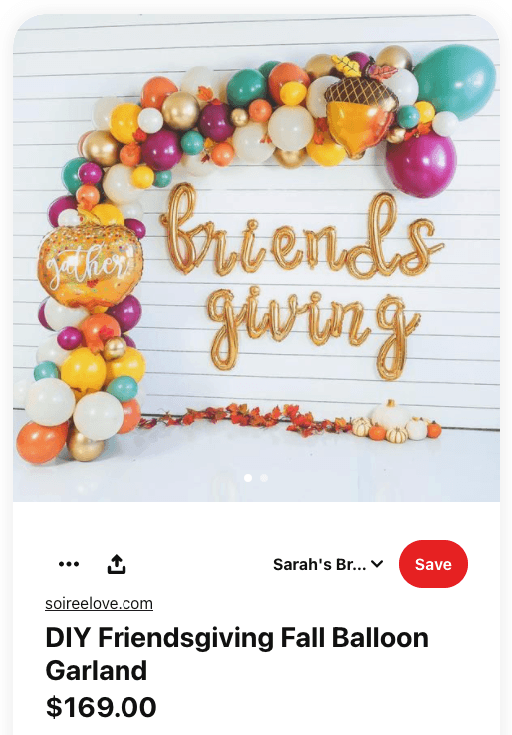 4. Try promoting pins
If you want to start selling on Pinterest, try promoting pins.
Promoting pins is a paid advertising option that enables you to get your pins in front of more relevant leads.
Get more details about how Pinterest advertising works in the video below.
When you use Pinterest to sell products, promoted pins are one of the best types of Pinterest ads that help you earn more sales by allowing your products to appear higher in search feeds.
Your pins can also appear in the feeds of people who fit your target audience. You can promote your pins by following these steps:
Log into your Pinterest account
Click Ads at the top of the screen
Click Create ad
Select the pin you want to promote
Review your selected pins
Add or edit details about your pin, like the name or destination URL (optional)
Launch your ads
That's it! Once you launch your ads, you can monitor their performance to see if your selected pins effectively reach people interested in your products.
5. Analyze pin performance
If you want to know how to sell products on Pinterest effectively, make sure you analyze your pin performance. Failing to monitor the performance of your pins makes your efforts useless — since you'll never know what works and what does.
It's essential that you learn from your current pins on your page, so you can see what content resonates with your audience. You can monitor critical metrics like:
Top pins
Top boards
Engagement
Impressions
Visits to your store
With this data, you'll get a glimpse into what parts of your Pinterest strategy work.
You may find that a particular board garners a lot of engagement, which indicates high interest.
On the other hand, you may find that the picture style or quality of another pin garners high interest. From this information, you can make actionable decisions that move your Pinterest strategy in the right direction to drive success.
Learn How to Use Pinterest Shopping for SMBs
How to sell on Pinterest: Partner with a social media marketing company
Selling on Pinterest is an excellent way for your business to promote your products and reach people looking to buy them. If you aren't sure where to start with your Pinterest strategy, WebFX can help.
We have a team of over 500+ social media marketing experts ready to help you launch your strategy.
We know how to craft strategies that drive results for our clients. In the past five years, we've driven over $3 billion in revenue and over 7.8 million leads for our clients.
With our Pinterest advertising services, we can help you promote your pins to reach more people and drive more sales. Ready to start selling more?
Contact us online or call us today at 888-601-5359 to speak with a strategist!
WebFX Careers
Join our mission to provide industry-leading digital marketing services to businesses around the globe - all while building your personal knowledge and growing as an individual.