Posting, managing, and monitoring your social media content takes time. Don't you wish there were some hacks to help you create more compelling content that's easier to manage? If you're looking for hacks for Instagram, you're in luck!
On this page, we've got a list of 23 Instagram hacks that will help you do everything from increase efficiency to create more engaging posts. Keep reading to learn more!
P.S. Looking for more tips and tricks for doing marketing online? Join 200,000 in-the-know marketers by subscribing to Revenue Weekly!
23 Instagram hacks you need to try
Ready to learn some life-changing Instagram hacks? We've broken down the IG hacks into six categories:
Here are 23 IG hacks you'll wish you knew about sooner!
Instagram hacks for your profile and bio
Let's start with some hacks to help you do more with your profile!
1. Switch your profile to a business profile
When you start with your Instagram, you may just use it as a tool to connect with your audience and share insights about your company. As you continue to grow, you may want to gain more insight into your audience.
By switching your profile to a business profile, you can do things like run Instagram ads and track insights.
Here's how to turn your profile into a Professional Profile:
Tap the hamburger menu on your profile
Click Settings
Click Account
Scroll to the bottom and select Switch to Professional Account
2. Use unique fonts in your profile
When you want your business to stand out, you'll look for all the Instagram tips and tricks to make your profile unique. So, here's a great one: Use a unique font in your bio.
Your bio appears with Instagram's default font, but you can use a third-party font generator to help make your bio more eye-catching.
You can use Metatags.io to create lines with different fonts in your profile. You must type your bio lines into the generator, select the font you like, and click copy. Then you'll paste that into your Instagram bio (adding line breaks where you need them) and save.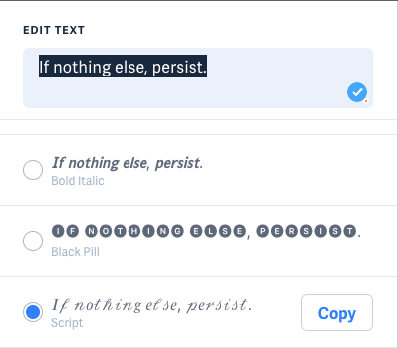 Then when you view your profile, you'll see your unique font in your bio.

3. Hide your tagged photos
Has someone ever tagged you in a photo you wish no one could see? Similarly, maybe someone mistakenly tagged your business in a picture, and you don't want people to see it. Luckily, there's an Insta hack to fix that problem.
Here's how you can fix it:
While on your profile, tap the person in a box icon
Select the photo you want to remove
Click the three dots in the right corner
Select Tag Options
Select Hide From My Profile or Remove Me From Post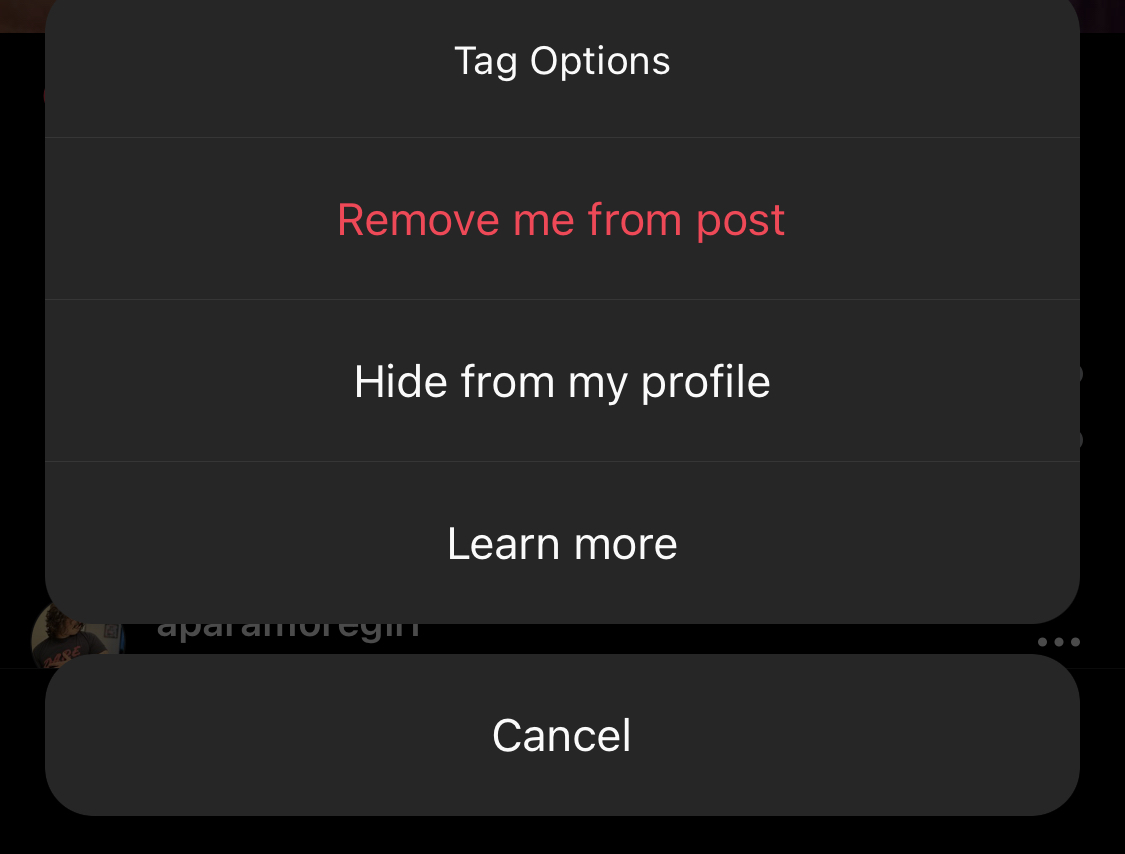 This feature gives you control over what tagged photos appear on your profile, so you can curate the content that appears in your tagged posts.
You also have the option to prevent unwanted tags by setting your profile up to approve tags. You can do that by:
Going to the Photos of You tab
Select any photo
Click Edit
Toggle Manually Approve Tags on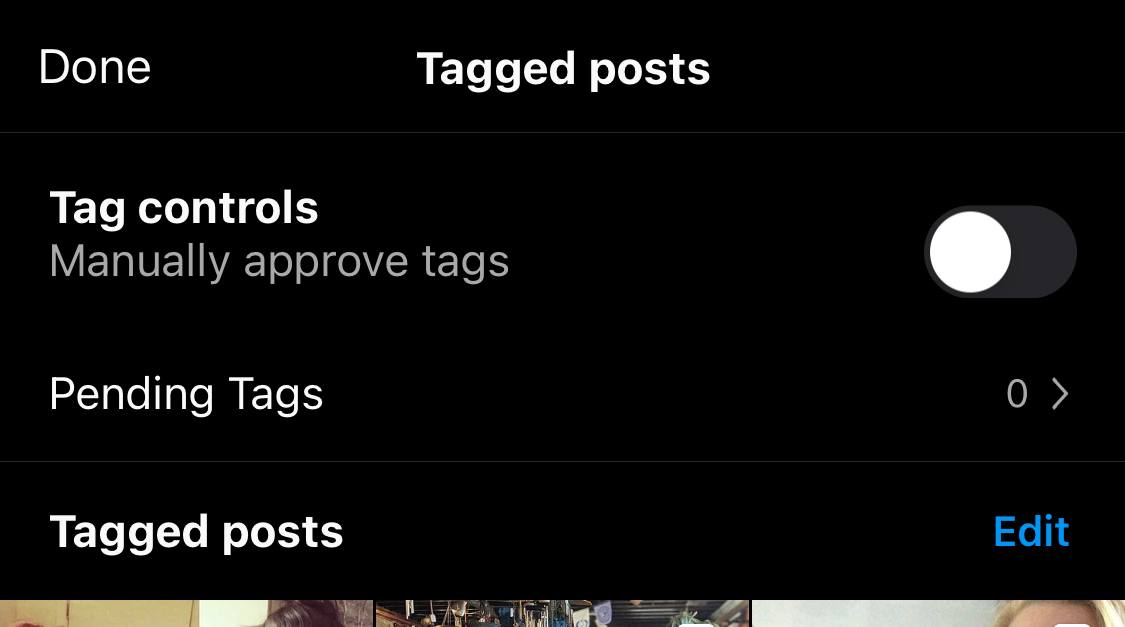 4. Get your profile in more relevant results
When people search for businesses like yours on Instagram, you want them to find you. That's why the next item on this list of Instagram hacks for 2023 involves a small optimization to help you appear in those results.
With this Insta hack, you can add a keyword into the name field of your biography to help you appear in searches for that term.
Here are the steps to do that:
Click Edit Profile
Go to the Name section
Integrate your target keyword into your name (Instead of "Bert's," you may put "Bert's Pool Supplies")
Save the changes
This IG hack is a simple and easy way for you to help your business appear in more search results for your business.
5. Link to all your profiles
One of the most frustrating features of Instagram is that linking is challenging. You can't have links in the captions of your photos, and you can only have one link in your biography.

This limitation is frustrating for your business, especially when you have multiple places you want to direct your audience. You must choose one link to share on your profile, which can be difficult.
But luckily for you, our bag of Instagram tricks includes a way for you to direct people to all your links!
You can use LinkTree to create a hub for all your important links. You can include links to your other social profiles, your website, new product releases, and more. LinkTree enables you to create a custom link name to direct users to your hub of links.
Now you can direct users to all your essential links with ease!
6. Rearrange your Instagram Stories on your profile
Next on our list of Instagram hacks for 2023 is to rearrange your Instagram Stories on your profile. When people look at your profile, they can see your Stories at the top of your profile. As you save more Stories to your profile, those get bumped to the front of the line.
Sometimes, though, mixing up the order of your Stories isn't the best for your business. You may want specific Stories featured first on your profile, like if you have a Story dedicated to shopping your products.

With this Instagram hack, you can control the order of your Stories. Here's how to do it:
Open one of your story highlights
Select Edit Highlight
Tap Archive
Tap Add Instagram Story to your highlight
Click Done
By following these steps, you can move Stories to the front that you want your audience to see first on your profile.
Instagram hacks for posting content
Now that you know some hacks for optimizing your profile, it's time to learn hacks you can use when you post content. Here are some hacks for posting top-tier content:
7. Create line breaks in your caption
When you post content, you must create an engaging caption. If you have a longer caption, you may want to add line breaks. With this Insta hack, you can easily add line breaks to your captions.
Here are the steps to do it:
Get to the caption step when posting a new photo
Start writing your caption
When you want to access the Return key, click on the 123 key on your keyboard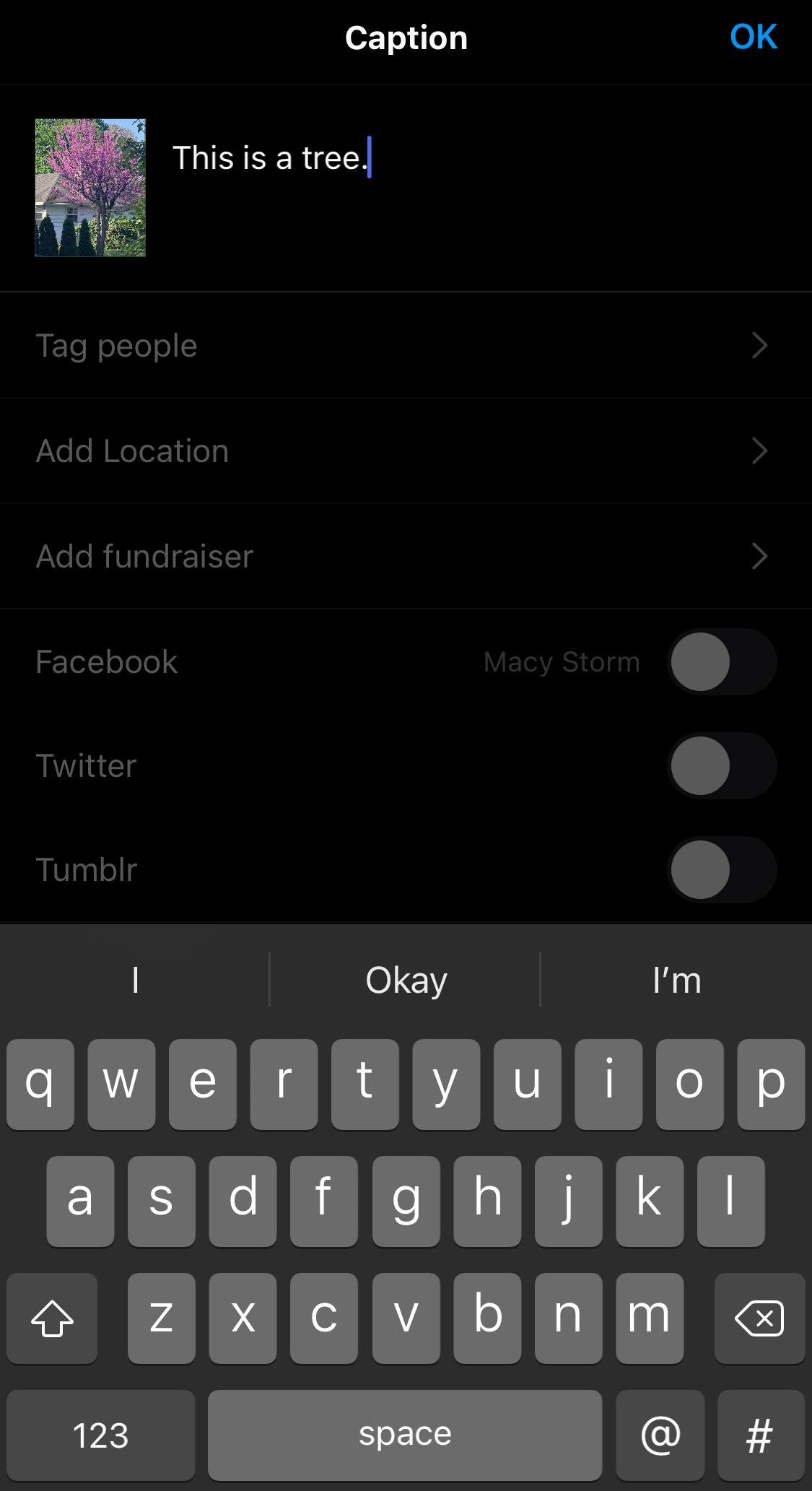 Look for the Return key in the bottom corner
Click it to insert a line break
This Instagram trick is an excellent way to create captions that are easy to read for your audience.
8. Handpick your video cover photo
If you post content on YouTube, you may create custom thumbnails to attract video watchers. It's a great tactic to increase clicks and engagement. With Instagram, you may want to take a similar approach with your video content.
You can select your video cover photo to ensure it looks how you want it to when it appears in users' newsfeeds.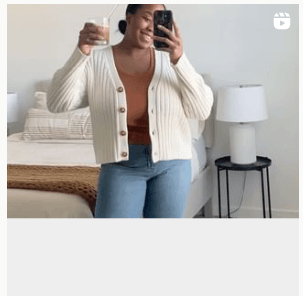 There are two options for choosing your cover photo.
The first option is to choose a still moment from your video. If there's a shot in the film that you like, you can make that your cover photo. You can do so by:
Selecting the video you want to post
Tapping Cover
Choosing the image from the stills
If you want a custom video cover, you'll have to use a program like Adobe Spark or Canva to create the image you want. You'll then use video editing software to add that still image to your video, either in the beginning or at the end.
Once you follow the above steps, you'll select the still image you designed and use that as your cover.
This hack is one of the best Instagram tips and tricks for businesses that want more control over the appearance of their content.
9. Schedule your posts in advance
Keeping up with social media is a time-consuming task. You need to figure out what to post and when to post it, plus you need to monitor your content performance. Wouldn't it be nice to save time in your day?
Well, that's why one of our top Instagram hacks for 2023 is to schedule your posts in advance with one of the many marketing tools for Instagram. You can use Hootsuite, a social media scheduling tool, to help you create posts in advance.

Hootsuite also allows you to schedule Instagram Stories if you want to take it a step further.
That means you can create a month's worth of content all in one sitting and launch it throughout the month. You don't have to carve out time each day to post for your followers.
10. Create image style consistency
This next tip on our list of Instagram hacks for 2023 doesn't happen on the Instagram app, but impacts what you post on Instagram. When you share content with your audience, you want to have a consistent look and feel with your content.
But if you must set up the same edits and filters each time, it quickly gets time-consuming.
To avoid that, you can use a third-party app, like Adobe Lightroom. This program enables you to create presets to apply the necessary filters long before you post content on Instagram.
This Insta hack makes it easy for you to keep the content you post consistent.
11. Maintain your comments
When you post content, people will comment. You want to control what people say on your content to ensure they're not being spammy or hateful. Following this Instagram hack will enable you to maintain comments on your content.
Here's how you can filter comments on your Instagram posts:
Go to your Settings
Click Privacy
Select Comments
Choose Manual Filters
Set filters for specific words or phrases, or choose Hide Offensive Comments to auto-filter nasty comments
Save your changes
Choosing this setting helps you filter out bad or spammy comments to maintain control over your comment section.
12. Hide posts without deleting
Sometimes when you look back at the content you've posted, you may not want to keep some old posts on your page. At the same time, you may not want to delete those posts either. So, what can you do?
With this Insta hack, you can hide your posts without deleting them in two easy steps:
Tap the three-dot icon at the top of the post
Click Archive
You can easily tuck away posts that you don't want people to see anymore. You can always go back to your Archive and unhide posts if you change your mind.
13. Create Shoppable posts
Next on our list of Instagram hacks for 2023 is to create shoppable posts. If you haven't discovered shoppable posts yet, you're missing out on an excellent opportunity to increase sales.
Shoppable posts enable you to tag your photo with links to your products so that people can buy them right from your Instagram photos.
To launch shoppable posts, you need to comply with Instagram's commerce eligibility requirements. You also must have your Instagram account connected to your Facebook catalog.
Once you do that, follow these steps:
Go to Settings
Tap the Shopping section
Select Products
Choose the catalog from Facebook
Tap Done
Once your catalog is connected, you can tag photos with links to your products so people can shop them.
Instagram tricks for your Instagram Stories
If you're posting on your Instagram story, you can check out these Instagram tips and tricks for creating impactful Instagram stories:
14. Record hands-free
When you post stories on your Instagram, you may share videos with your audience. If you choose to record videos through the app, you can use hands-free mode to do it.
Here's how you can do it:
Open your Instagram Stories to post
Swipe through recording options until you get to Hands-Free
Start recording
Using this feature, you can easily record videos to post to your story.
15. Change your story highlight cover
Like with your videos, you may want to control what picture appears as the cover of your story. Here are the steps on how you can do that:
Tap your highlight
Click Edit Highlight
Select Edit Cover
Choose the photo you want to use
This process is a simple and easy way to control what people see when they look at your story so you can entice them to click.
16. Add more than one image to your story
When you post to your story, you want to make it exciting and engaging for your audience. You can do that by adding more than one image to your post.
To do that, follow these steps:
Go post on your story
Click the Stickers option
Select the image circle
Choose a photo from your camera roll
You can repeat this process to add multiple photos to your story.
17. Make your background color match
When you repost content to your profile, it doesn't fill the entire window. With this IG hack, you can choose a colored background that matches the photo you're sharing.
Here's how you can do it:
Reshare the photo to your story
Select a color from the color tray
Hold your finger on the screen for a few seconds
Fill the background
This process is a great way to make your posts more aesthetically pleasing to your audience.
18. Add closed captions
When you post videos on your story, you want to ensure they are accessible to everyone in your audience. You can make your videos more accessible to all by adding closed captions.
Here's how you can take advantage of this Insta hack:
Upload a video on to your Instagram story
Tap the sticker icon
Select the Captions sticker
Choose your font style
It's that easy to make your Story videos more accessible to your audience!
19. Link to videos in your story
If you want to increase views on your Instagram story, you can link to videos in your story. It's a great way to drive more people to check out your content.
Here's how to set it up:
Take a screenshot of your video
Go to your story
Post the screenshot in your story
Tap the Link button
Choose the video you want to link to
Post to your story
Instagram hacks for hashtags
Hashtags are a critical component of posting on Instagram. Learn some Instagram hacks for 2023 that will help you take advantage of hashtags:
20. "Hide" your hashtags
Did you know that posts with at least one hashtag get 13% more engagement? Hashtags are an integral part of Instagram because they help people find valuable content. Many companies will use dozens of hashtags on their posts.
But you may worry that including so many hashtags can make your posts look sloppy or take away from the beauty of your caption.
One of the best Instagram tricks you can learn is to hide your hashtags. One way to do this is to use a single dot, do a line break to the following line, and repeat. You help separate your caption and hashtags for a cleaner presentation by doing this process.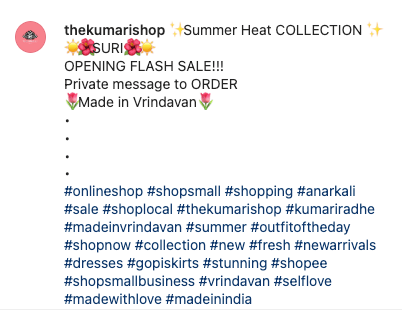 21. Follow relevant hashtags
Since hashtags are a critical component of Instagram, you must follow hashtags relevant to your industry. It's an excellent way for you to see what people post using those hashtags.
To follow a hashtag, follow these steps:
Click on the magnifying glass icon to go to the Explore tab
Search the hashtag you want to follow
Go to the hashtag's page
Click Follow
It's that simple! By doing this process, you can keep tabs on hashtags that matter most to your business.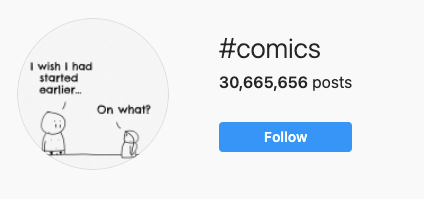 Customer service IG hacks
Many people will turn to Instagram for customer service. Here are two quick Instagram hacks for doing customer service right:
22. Turn off your activity status
Instagram makes it easy for other people to know when you're online. While it can be beneficial for people to know you're online, it can also come with a downside — if someone sends you a message and you don't respond quickly, they may think you're ignoring them.
To avoid this, change your activity status. You can do this by following these steps:
Go to your Settings
Click Privacy
Select Activity Status
Turn off Activity Status
23. Create shortcuts for easy response
Last on our list of Instagram hacks is to create shortcuts for responses. If people continually message you with the same questions, it can be exhausting to type up a reply every time.
To help you manage customers better, you can create shortcut responses. Here's how you can do it:
Click the hamburger menu
Select Creator
Click Quick Replies
Select New Quick Reply
Set the phrase title (ex. 'thankyou' for your "thank you" reply)
Type in the message
Press Save
Now anytime you reply to people, you can type out the shortcut and see the reply auto-populate. It makes it easy for you to manage customer service through Instagram.
Need help putting these Instagram hacks to work?
We've gone over many Instagram tips and tricks in this post. If you're feeling overwhelmed with figuring out how to use them in your strategy, WebFX can help.
We offer social media services that help you build better connections with your prospects to nurture them into sales for your business. Our team of over 500 social media experts is ready to help.
Contact us online or call us today at 888-601-5359 to learn about our Instagram services!
WebFX Careers
Join our mission to provide industry-leading digital marketing services to businesses around the globe - all while building your personal knowledge and growing as an individual.