Social Media

The Best Social Media Templates to Save You Time & Resources
The Best Social Media Templates to Save You Time & Resources
May 25, 2022
7 minute read
The WebFX team is made up of more than 450 subject matter experts in digital marketing, SEO, web design and web development, social media, and more. Together, they've helped WebFX's clients earn more than $3 billion in revenue from the web — and that's just in the past five years. @webfx
Navigating the world of social media can seem tricky for many business owners. However, it's an essential part of your marketing strategy in 2023. Learning social media is easy with a few tips and tricks — one of the most advantageous being templates.
But what are social media templates, and why should you create them in the first place? Continue reading to discover how social media templates can improve your social media presence!
Bonus: Don't miss out on more social media marketing advice from our award-winning experts by signing up for our newsletter, Revenue Weekly, today! Our subscribers get the latest social media marketing tips and tricks sent straight to their inbox for free!
What are social media templates?
A social media template is an outline you can use to create social media content. There are various types of templates, from Facebook bios to Instagram post templates. The templates you'll choose to use for your brand will depend on which social media websites you use.
How to create social media templates
If you're wondering how to create social media templates, we've got you covered.
Making social media templates is simple. If you're creating a template for text, like your account's bio, captions, or replies, you can build them in any word processor you prefer. You'll use a design software or website to design templates for social media graphics.
Whatever content you're creating, anyone can build their own social media templates with a little bit of guidance.
As you conceptualize your social media templates, you'll want to keep in mind two main points — your audience and your brand.
The beauty of a template is that it's fully customizable, so you can tweak it to fit the exact specifics of your business. Consider what colors, images, and other elements your audience will respond to and recognize so you can incorporate them into your templates.
After you create your social media templates, be sure to store them in a shared drive to ensure you and your team always have access to them — the point of a template is for it to be shareable!
Why should you make social media templates?
There are two main reasons why social media templates are beneficial:
Convenience
A social media template can make sales and marketing processes much easier for you or the team that handles your social media presence. There's no longer any need to create all of your content entirely from scratch — you now have a template for that.
Consistency
With a centralized hub of templates, everyone will be able to maintain brand consistency as they update your company's social media accounts. This concept is essential for customer recognition. When all of your social media accounts look similar, your followers will be able to find you on other platforms.
You can streamline your social media efforts when you have a collection of templates in your arsenal.
5 examples of social media templates
Check out several examples of social media templates you can use to curate your social media content below:
1. Social media bio templates
Every reputable brand has a well-thought-out bio on its social media accounts. Your bio is essential because it tells users who you are and what types of products and services you offer. Your bio can also encourage your audience to head to your website or make a purchase.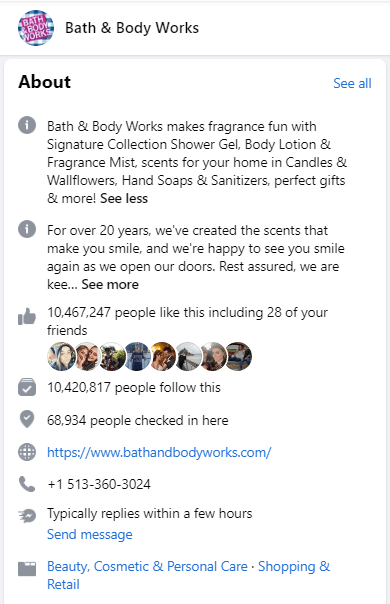 An effective social media bio has the following elements:
Company name
Mission (what you aim to do and who you do it for)
The products and services you offer
Call to action (CTA) that encourages users to take the next step, such as browsing your products
Link to your website
By crafting a social media biography template that includes these elements, you can ensure your bios across all your social media accounts contain vital information about your brand to encourage users to follow you and convert into customers.
2. Instagram Story templates
Instagram Stories are wildly popular — according to the latest data, over 500 million people use Instagram Stories daily.
Posting Instagram Stories allows your brand to keep up with current trends to stay relevant. They're also great for sharing links to new products, connecting with other brands, and more.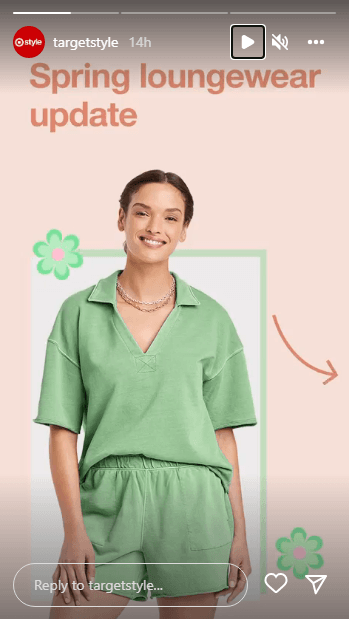 An Instagram Story template should be 1,080 pixels by 1,920 pixels — a 9:16 aspect ratio.
A few examples of Instagram Story templates you may want to keep handy include:
Event announcements
Q&As
Behind-the-scenes details
"About us" details
By creating Instagram Story templates, you'll have a collection of pre-loaded posts for your stories, saving you tons of time to get your stories out to your audience quickly and easily.
3. Tweet templates
A template for your brand's Twitter posts will help you create interesting, engaging content that aligns with your brand goals.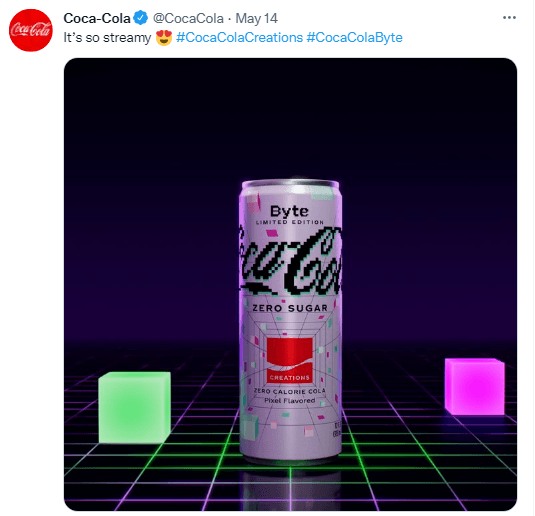 A tweet can include many types of content, from videos to polls to links. Crafting a template for different tweets will make tweeting a more streamlined process, saving you tons of time and making scheduling your tweets a breeze.
To take your templates a step further, you can build out a spreadsheet filled with tweets. After a few hours of brainstorming, you'll have several weeks of tweets ready to publish — just match them with the corresponding templates, and you have a well-oiled tweeting machine.
4. Social media cover image templates
Many social media platforms require accounts to have cover images. These images are wonderful opportunities for your business to convey its branding.
Additionally, you can periodically update your cover images to reflect current promotions, events, and more.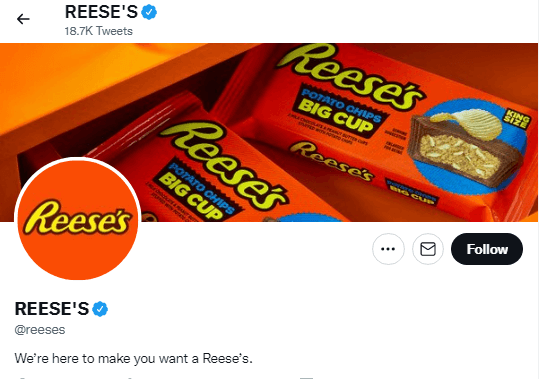 Check that your cover image templates are the correct size for the corresponding platforms:
Twitter: 1,500 pixels by 500 pixels.
YouTube: 2,560 pixels by 1,440 pixels.
Facebook: 820 pixels by 312 pixels.
LinkedIn: 1,584 pixels by 396 pixels.
By creating cover image templates for each of your social media pages, you can make uploading new cover photos a breeze for you and your team.
5. Social media guidelines template
A guidelines template will help everyone in your business maintain brand consistency when posting to social media.
Whether everyone posts to your brand's social media on occasion or you have a dedicated social media team, brand consistency is a must.
You most likely post on more than one platform, and each platform is different, so you should implement guidelines that ensure users still recognize your brand when they switch from your Twitter to Instagram profiles.
A social media guidelines template highlights everything your business should keep in mind when posting to social media. These details can include:
What hashtags to use
Which style guide your brand prefers
How team members should reply to customer questions
And more.
Over time, you can update the guidelines to better suit your brand. Social media guidelines templates are essential for keeping your team on the same page to ensure brand consistency, boosting your awareness and recognition as a result.
Conquer social media marketing with WebFX
A folder of effective social media templates will help you navigate the world of social media marketing.
With WebFX on your business's side, you can truly take your efforts to the next level. With our teams' 25 years of experience, we'll help you drive powerful social media results.
We've already helped businesses just like your drive more than $3 billion in revenue. And we can help your company achieve incredible results too with our social media marketing services.
Contact our team online or give us a call at 888-601-5359 to learn more today!
The WebFX team is made up of more than 450 subject matter experts in digital marketing, SEO, web design and web development, social media, and more. Together, they've helped WebFX's clients earn more than $3 billion in revenue from the web — and that's just in the past five years.

@webfx

WebFX is a full-service marketing agency with 1000+ client reviews and a 4.9-star rating on Clutch! Find out how our expert team and revenue-accelerating tech can drive results for you! Learn more
Twitter and Facebook Status Generator
Finding engaging social media content for your business can be difficult. Use our tool to quickly find ideas and post directly to your page.
Give Me an Idea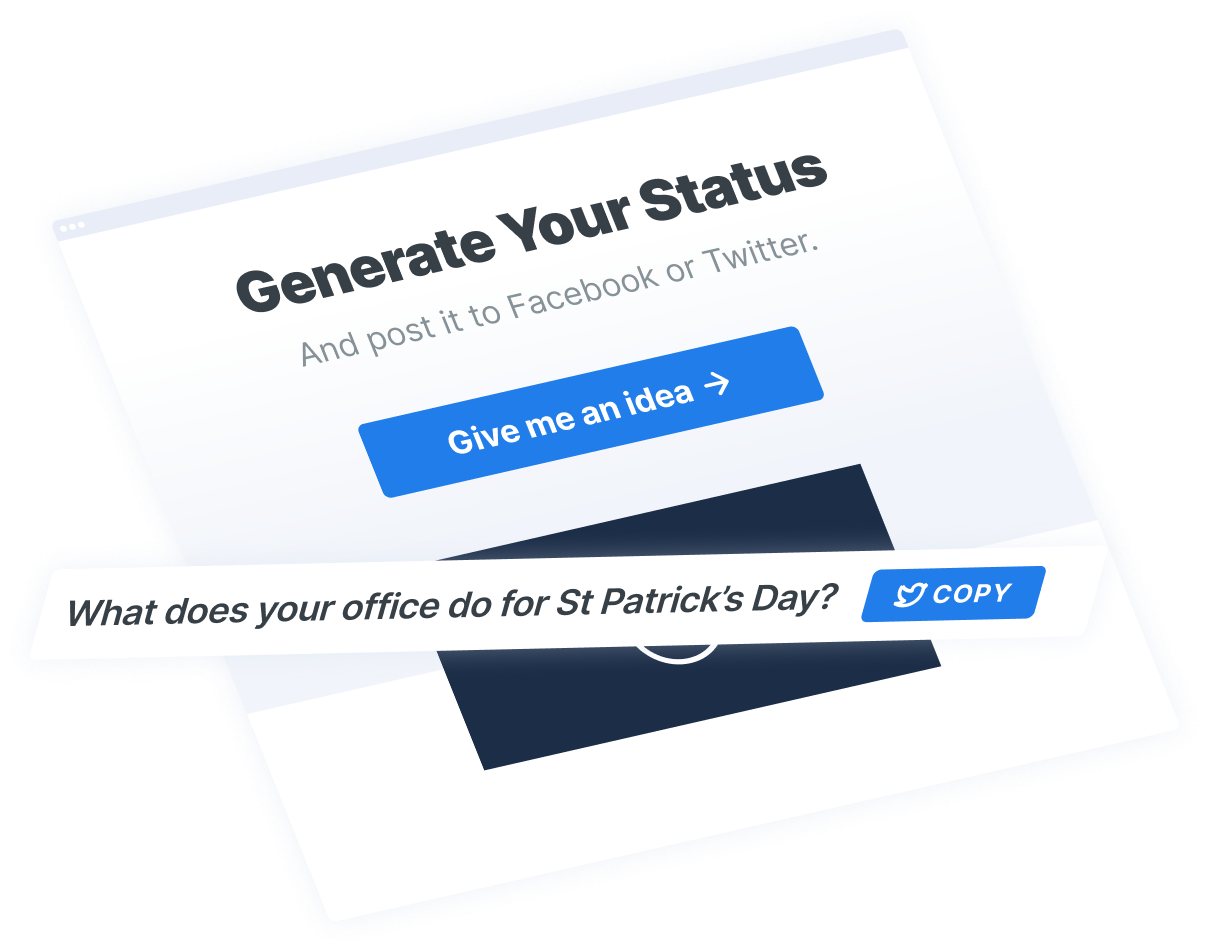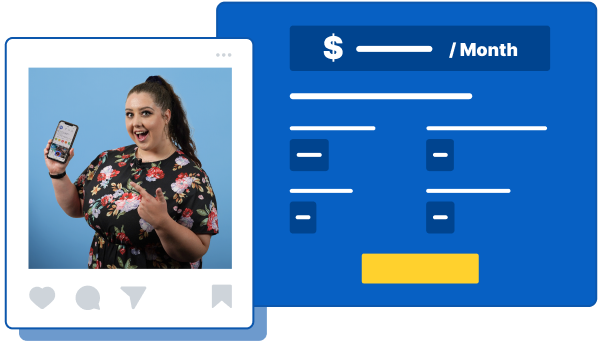 Twitter and Facebook Status Generator
Finding engaging social media content for your business can be difficult. Use our tool to quickly find ideas and post directly to your page.
Give Me an Idea