The Social Media Rumor Mill Featuring LeBron James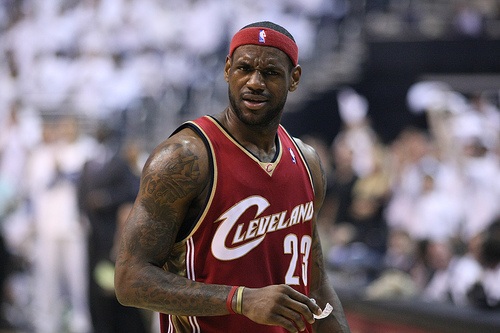 [Photo by Keith Allison]
June 14, 1998.
That was the last date that I really cared about the NBA. I was one of the thousands of converts to Michael Jordan's NBA and I watched game after game of pro basketball all throughout the 90s. I even cut all of my hair off so I could "Be like Mike!"
But all of that stopped after that day in 1998, Jordan's last game as a Chicago Bull. The NBA changed, I changed, and we grew apart from one another. I'm barely hanging on to casual fan status anymore.
Enter July 8, 2010. The Decision. LeBron James, arguably the best young star since MJ, was announcing what team he was planning to sign a contract with for the 2010-11 season and beyond — in prime-time nonetheless. This was big, even for a casual fan on life support like myself. Throw in the fact I had just bought a new TV and I was all in. 9 p.m. ESPN! NBA! Just like old times…
As I settled in to watch the drama unfold, I figured I'd read some tweets to pass the time until the big announcement. Twitter certainly has tons of uses — both business and commercial — but after July 8, 2010 I'm convinced the single thing the service is most effective at is the rapid spreading of rumors.
For me, it started innocently enough. I logged on to my account several hours before the 9 p.m. announcement and a few of my friends had retweeted that James was heading to the New York Knicks. NBA player Jared Dudley and NFL star Chad Ochocinco both broke the news! Interesting.
Fueled by thousands of tweets, MSG, the company who owns the Knicks, watched their stock rise 6.4 percent the day prior to "The Decision."
Just when I was convinced James was New York bound, ESPN started reporting that anonymous sources were saying James was definitely going to the Miami Heat. At this point I was hooked. So I went back to Twitter to do some more rumor mongering. Surely one of the millions of Twitter users had the inside scoop.
After dozens of searches, I was now convinced that Miami was his destination; certain of it, even.
That changed at 7:58 p.m. Somebody I follow retweeted this a mere hour before "The Decision" went live on ESPN: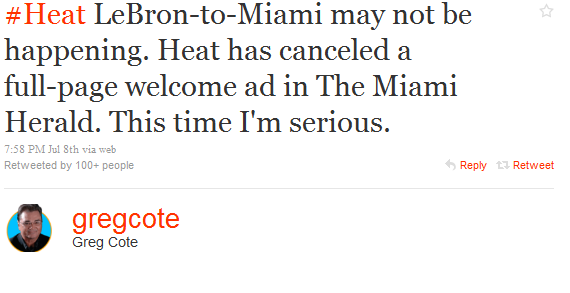 The source for this was legit too — a beat reporter for The Miami Herald. Twenty minutes later a writer from the Sun-Sentinel in Florida tweeted to confirm the same ad was canceled at his newspaper too.
We were now less then thirty minutes from the announcement and I was positive that LeBron was going to stay in Cleveland. Newspaper ads were being canceled! My sources were reliable! There was no reason to doubt it.
Long story short, James ended up signing with the Miami Heat — canceled ads and all — and I was left feeling like a total idiot for the third time in one night.
While July 8, 2010 didn't completely reignite my love for the NBA, it opened my eyes to something else — the jaw dropping, stock raising and heart pounding power of social media. I've been a student and user of social media for a long time and I've never experienced anything like "The Decison" before.
Prior to James' announcement, I was pulling in rumors from sources ranging from NBA players to James' friends to newspaper writers all over the country. After James to Miami was finally official, I found myself checking the pulse of Cleveland, reading celebratory tweets from Heat fans, and gauging the reactions from James' new teammates in Florida. My social network was all encompassing.

Twitter was far more captivating than live television during the announcement. I didn't need ESPN and I didn't need any other forms of media. I had (mostly) reliable sources, player interviews, and fan commentary coming through in real time on my 13-inch laptop.

Television has had almost a century to perfect the art of the live broadcast. Twitter is only four years old and it just kicked TV's butt during the biggest sports moment this summer.
The tip of this iceberg might be bigger than we all thought.

Get posts by email
Be the first to know when we publish a new blog post!