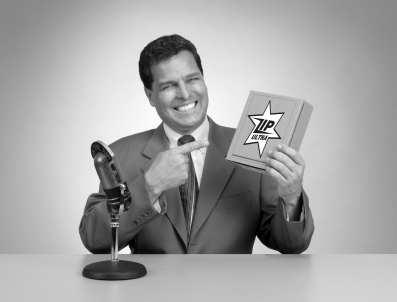 Thanks to Web 2.0, you can communicate your business's personality to the world. You can put a face to your logo, so even clients on the other side of the globe can feel a personal connection with you.
No one does this better than Social Media and PR Guru Peter Shankman. He founded a mailing list (called Help a Reporter Out, or HARO) that connects journalists looking for sources with PR pros, making life easier for everyone.
Perhaps the best part of the thrice-daily HARO emails, however, is Peter's personal tidbit before the "queries". He frequently posts links to his personal media profiles, letting the HARO crowd know about his adventures traveling around the country.
And if you want your business to be competitive in the next generation of the internet, you had better have a strong presence in these 3 crucial areas, just like Peter:

Your Blog
A blog (like this one!) lets you write about your industry and show off just how much you know. Peter uses his blog to answer questions about HARO and ruminate about the future of social media.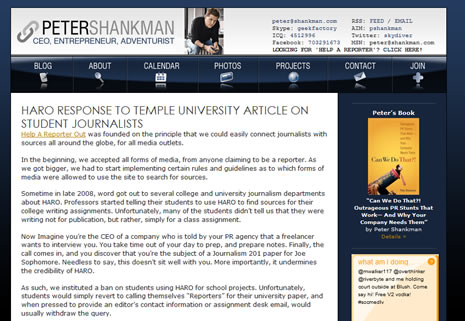 We use our blog to talk about how you can use the internet to better market your business. But you could write about whatever it is you do (promo banners, amish furniture, CADD design, etc.) to make it interesting for your potential customers.
A Twitter Account
Peter's Twitter account alerts HARO followers to urgent requests from journalists in real-time as well as updates us on stuff Peter's doing. These mini-messages are insanely useful at communicating little bits of info.
Twitter is the next big thing, in fact it's so big that Ellen DeGeneres and Jay Leno talked about it for a good 4 minutes on the Tonight Show this week (the Twitter discussion is from 1:13 to 5:03):
A Youtube Channel
A Youtube channel takes your visitors directly into your company's lifestyle. It's like giving them a look into your office without them actually being there.
Here's a video from Peter's Youtube channel, when he was at the NASA training camp in Houston:
Don't you feel like you know the Peter at least a little personally now?
Tags: haro, help a reporter out, peter shankman, Social Media, web-20