Short-form video content isn't a new topic here — we've spent ample time discussing the power of Instagram Reels and TikTok. But now there's a new player to add to the list of short-form video creation platforms, and its name is YouTube Shorts.
As YouTube's answer to Instagram Reels and TikTok, YouTube Shorts has the potential to help you establish a stronger presence on the video-sharing platform and reach new audiences. But how?
In this article, we're breaking down the ins and outs of YouTube Shorts, how they can benefit your brand's digital marketing strategy, and how to make YouTube Shorts.
Need help with your video marketing strategy or want to add video creation to your digital marketing strategy? Give WebFX a call at 888-601-5359 or contact us online to speak with a strategist to learn how we can help.
Growing your social presence with WebFX is a walk in the park.
"WebFX allows growing your social media platforms to be stress-free! They are knowledgeable and adapt to your company needs!"
Learn More About Our Social Media Services

What are YouTube Shorts?
YouTube has always been associated with long-form content, but YouTube Shorts have introduced a new era of videos on the platform.
YouTube Shorts are vertical videos that are shot and edited on mobile devices and uploaded directly to YouTube. They're anywhere from 15-60 seconds long in length (though, if we look at other video-sharing platforms, those video lengths could change in the future).
Just like Reels and TikTok, you can add text, music, and other special effects to create a unique video for your viewers.
The power of short-form videos
In the debate of short-form vs. long-form video content, there's no clear winner. Both content types of their own pros and cons. But one of the major pros that keep marketers coming back to short-form video content is the fact that it quickly grabs your audience's attention.
Users have a notoriously short attention span when it comes to video content on social media. Only the top 5% of videos retain 77% of viewers until the last second. What's more, videos less than 90 seconds long have a 50% retention rate.
To keep retention rates high for your video content, you should aim for videos roughly 20-90 seconds long. This means utilizing short-form videos for your video marketing strategy in addition to your long-form content.
How to make YouTube Shorts
Ready to learn how to upload YouTube Shorts of your own? Take a look at this step-by-step guide on how to make and how to upload YouTube Shorts to your brand's YouTube account.
1. Download the YouTube app and create an account
If you don't already have the YouTube app on your phone or mobile device, you'll want to download it from your device's app store. Once you've downloaded it, jump into the app and log in, or create an account if you don't yet have one.
Once you've got your account, you can utilize all the content creation tools the YouTube app has to offer and begin producing content for your audience.
2. Start filming your Short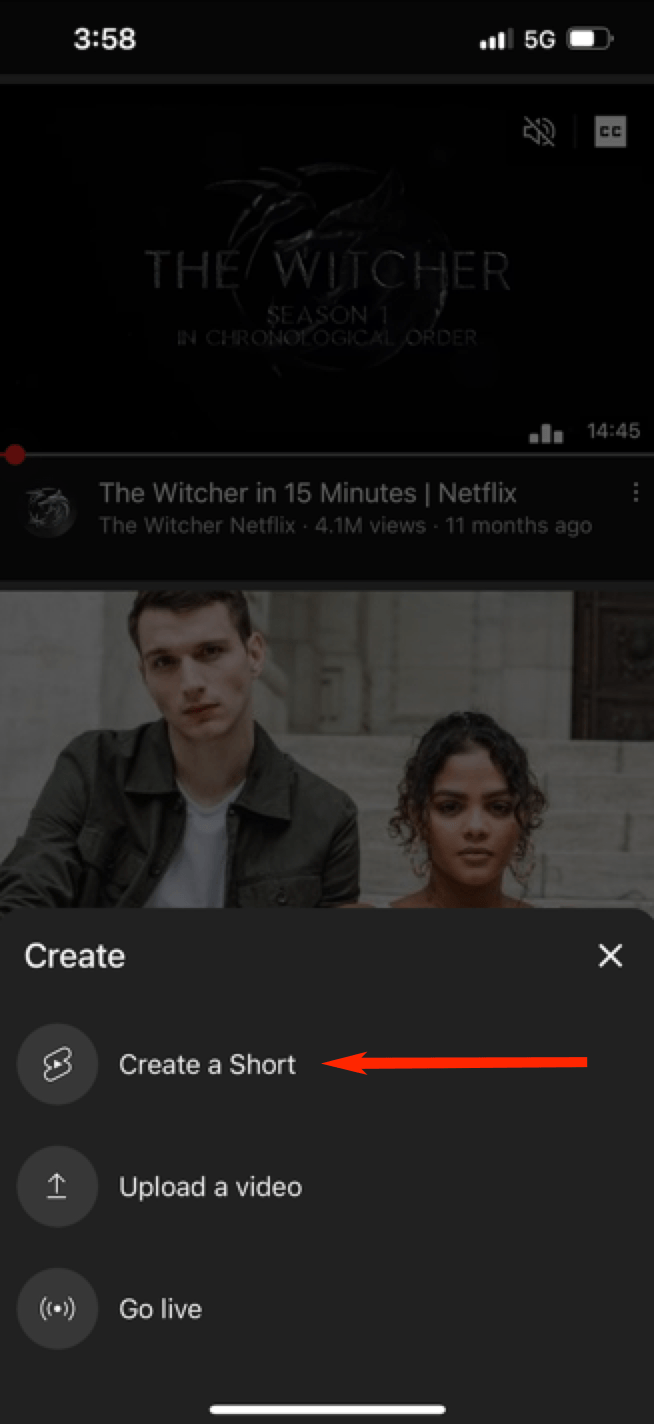 From the YouTube home screen, navigate to the Shorts creator page by tapping the "+" icon at the bottom of your screen. From there, hit "Create a Short."
YouTube Shorts' camera will open, and you'll have free reign to film. Simply press and hold the red button to begin recording and release it when you want to stop. You can create a Short that's one continuous video or break it up into different clips to add some variety — don't be afraid to get creative!
YouTube's Short creator layout is very similar to that of TikTok and Instagram Reels' in that there are plenty of options to customize your video while recording.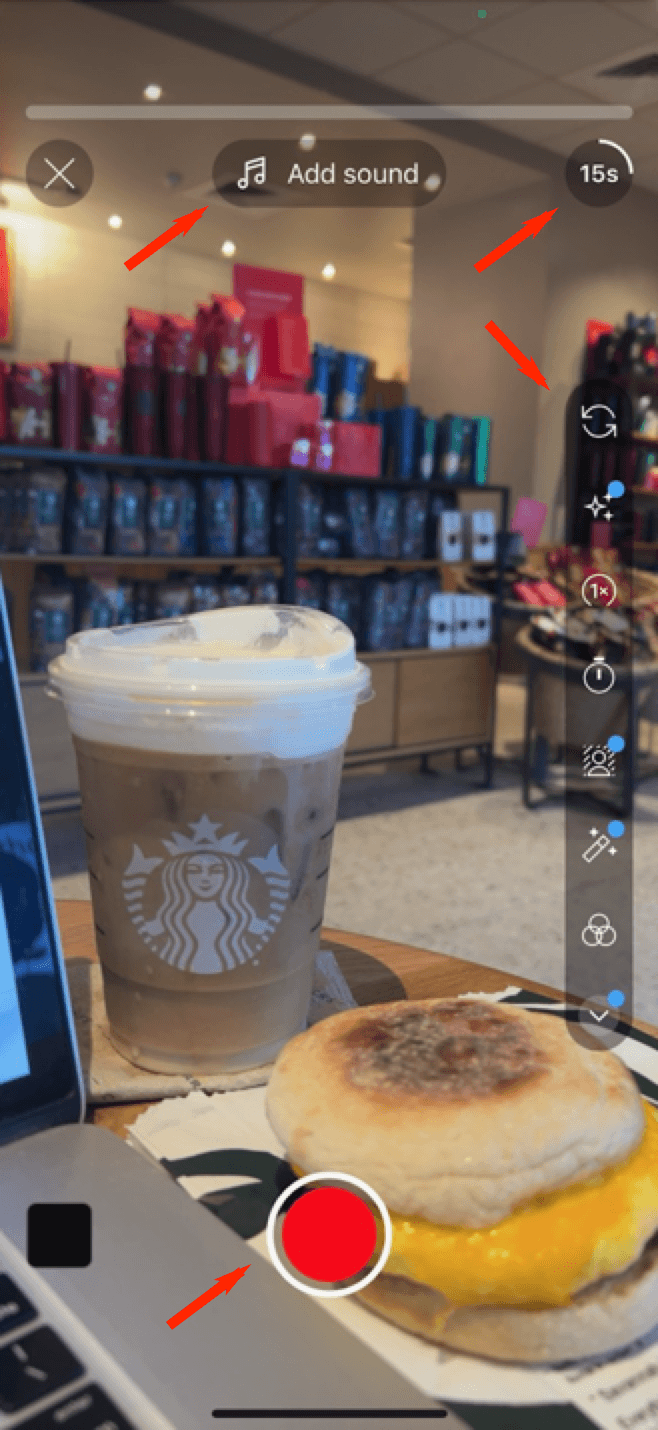 Located on the left-hand side of your screen, you'll see options to:
Add music: Browse YouTube's sound library by tapping the "Add sound" button at the top of your screen. You can choose from a variety of trending and featured songs.
Adjust the Short length: Tap the "15s" button to toggle between shooting a 15-second Short and 60-second Short.
Change your camera view: Tap the rotating arrows icon to switch your camera view from selfie mode to the front-facing camera.
Add effects: Tap the three stars button to add camera effects to your Short like a fisheye lens or exposed film effect.
Change the Short speed: Create a video that plays in slo-mo or fast-forward by hitting the "1x" icon to adjust the playback duration.
Set a countdown: Tap the clock button to set a countdown timer before you begin recording for hands-free filming.
Change your background: Tap the person icon to add a green screen effect to your Short or upload an image from your device's photo library to act as the background.
Retouch your Short: Tap the magic wand icon to allow the app to retouch your video as you film.
Add filters: Tap the three circles icon to add filters to your video.
Explore more tools: Tap the arrow button to explore even more customization options!
3. Edit your Short
Once you've filmed your 15- or 60-second Short, you'll have the opportunity to play it back and make any additional edits to your video, whether it's adding more effects, captioning, or voiceovers.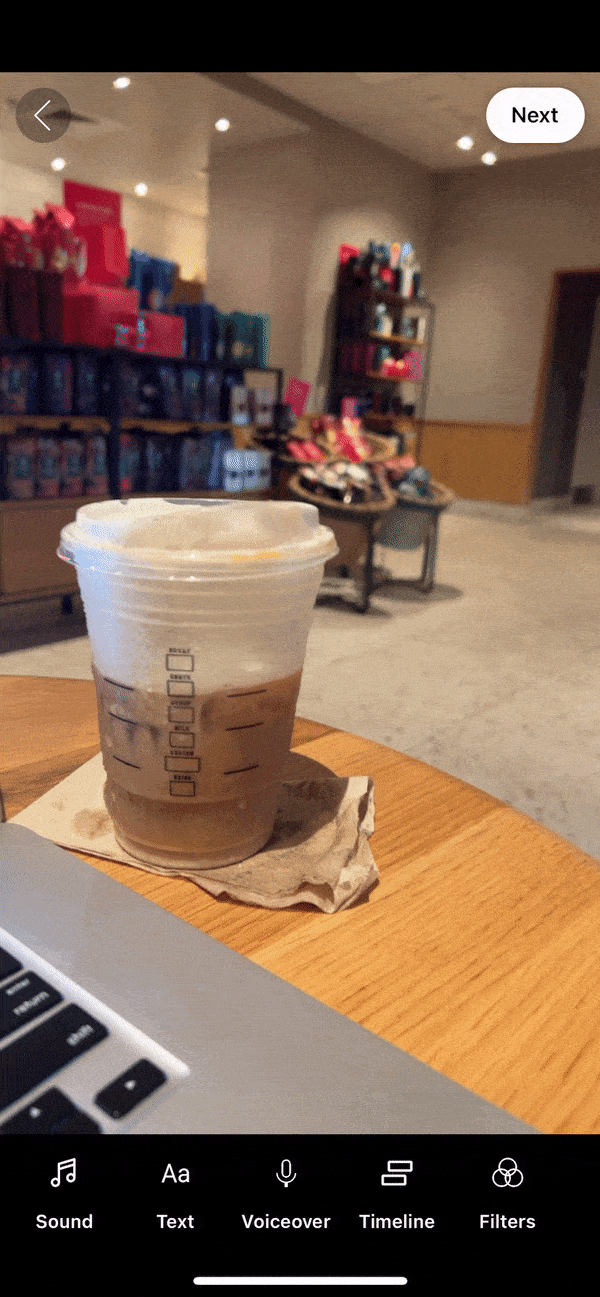 When you're satisfied with your masterpiece, tap "Next" on the top right corner of your screen.
4. Upload your Short
You're almost there! From here you can add a title and caption to your Short. Keep in mind, you only have 100 characters available for your caption, so keep what you want to say short and sweet. If you're looking to maximize your Short's visibility, consider publishing during the best times to post on YouTube.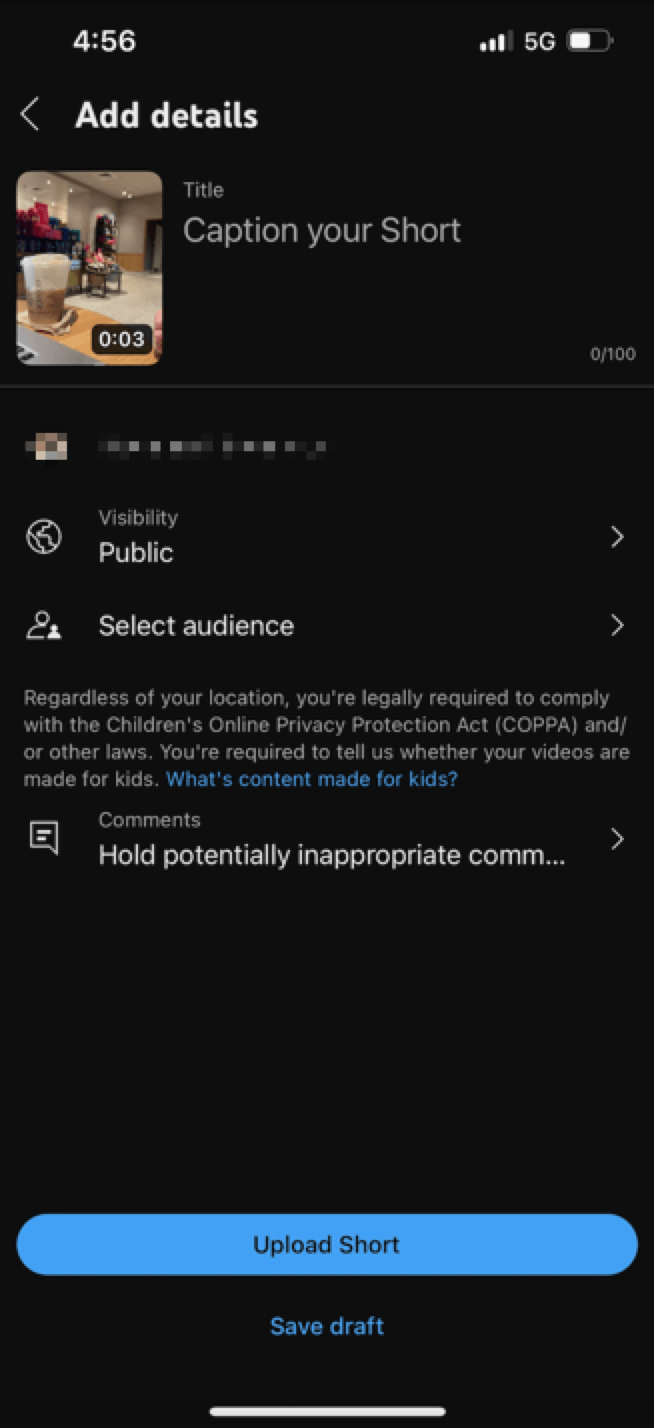 You can also adjust your Short's visibility settings, marking it as Public, Unlisted, or Private, and choose what audiences your Short is suitable for.
Once you're finished, either save it as a draft for later or upload your short by tapping "Upload Short." Congratulations, you've just created your first of many YouTube Shorts!
Not happy with your social media engagement?
We've got just the blog post for you.
Read the Blog Post & Watch the Video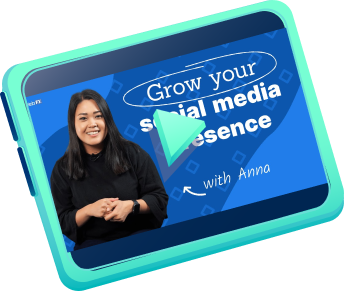 Step up your video and social media marketing game with WebFX
Whether you're looking to delve into video content creation or improve your social media presence, WebFX has a dedicated team of digital marketing strategists on deck to help you achieve your marketing goals.
Give us a ring at 888-601-5359 or contact us online today and take the first step towards a revenue-driving social media and video marketing strategy.
How is your website's SEO?
Use our free tool to get your score calculated in under 60 seconds.
Get posts by email
Join 200,000 marketing managers and subscribe to Revenue Weekly!
"*" indicates required fields
WebFX Careers
Join our mission to provide industry-leading digital marketing services to businesses around the globe - all while building your personal knowledge and growing as an individual.