Did you know that it costs 10x more to replace a customer than to keep them? Yet most companies spend 80-90% of their advertising budget on gaining new customers. That just seems counter-intuitive.
Customer Service is all about habits: determining the bad ones and practicing the good ones until they become second nature. In honor of National Customer Service Week, here are some Dos and Don'ts when it comes to your customers so you can keep them coming back, every time.
DO be present.
Your customers should be the focus of your day, not an interruption. We all have hectic work days, but if a client takes the time to call or e-mail you, it's because THEY perceive it to be of vital importance and the client is YOUR top priority. Remember, every e-mail and phone call is a way to either cultivate or corrode a client relationship. Which would you rather it be?
DON'T say I'm sorry
If you messed up, you should apologize, but use a different phrase. "I'm sorry" is what we were forced to say as kids when we were caught doing something we weren't supposed to do. Sorry is negative, problem-oriented, and is typically followed by excuses. Instead, try "Thanks for bringing that to my attention" or "I apologize." Other key phrases to avoid include: "I don't know," "That's not my job," and "I can't." Instead, try using these customer-focused phrases: "Let me find out for you," "I will personally take care of that," and "Here's what I CAN do."
DO focus on the individual, not the company.
You may be trying to land a deal with a big company, but you're doing it through a person. That person is the company's spokesperson, so sell to them and the company will likely follow.
DON'T bypass an annoying client.
If you go behind a client's back, you will create an enemy for life. Trust me, you don't want that. As hard as it may be, work with your client to resolve any issues and build a relationship moving forward, rather than working against them.
DO put connection first.
Clients want you to genuinely care about them. Take the time to build a personal connection and you'll see your business relationship grow as well. Did your client mention they are going on vacation? Ask them how it was when they get back. Does your client have a kid looking at colleges? Ask them how the process is going. Oftentimes they'll just be impressed that you took the time to remember something they mentioned. (Hint: Write it down if you're likely to forget.)
DON'T mistake apathy for loyalty.
Haven't heard from your client in a while? Don't assume they're so blissfully happy that they don't need to talk to you. You can't fix what you don't know, so check in and see how things are going. They're more likely to let you know something you need to fix if you are proactive about your relationship with them.
DO let your client talk.
Your goal is to ensure that you provide your client with what they need and the only way you can do that is to listen to what they have to say. Your client doesn't know what they need? Be prepared with questions to ask your client about their company and industry so you can better understand what they're looking for.
DON'T badmouth your competition.
You want your client to see you as a professional and only insecure people try to build themselves up by putting others down. Explain to your client why you are the best fit for them, but don't do it at the expense of your competitors.
DO be consistent.
It's more important to be consistently good than to be stellar on one or two occasions. Errors in your work will erode client trust in you and your company so be on top of your work. Always proofread your e-mails and reports so that you convey professionalism every time. No client likes to read a report full of typos and run-on sentences.
What do you think of these simple rules to build great client relationships? Have you found something that works well for you? Let me know in the comments!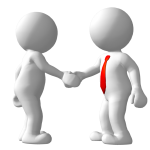 Knowing your client may be the most important aspect of being a successful Internet Marketer. Every client is different and you must be able to adapt your work to your client's preferences. Internet Marketers see all types of clients from clothing to online gaming and there is a big difference in how you are going to market each client. In order to market your clients effectively and retain their business, follow these 4 easy steps to know your client.
Gather Your Client's Specs
Once you've gained a new client it's time to start getting to know them more. To get the ball rolling send a questionnaire to your new client with some questions about their business. You'll want to gather basic information such as their contact information, and passwords and some more important information, including their goals and expectations of the campaign.
Get Ready for the Kick-Off
After receiving the completed questionnaire, it's time to schedule a kick-off call. A huge part of customer service is showing your client that you care. Scheduling a phone call instead of just emailing back and forth adds a personal touch to your client relationship. Remember: don't just talk business the whole time, it is important to connect on a personal level. Whether you both love basketball or you have traveled to where they live – make a connection! I suggest connecting with your client on LinkedIn to see where they went to school and their interests; this will give you some simple talking points, plus you can put a face to a name.
Be Nosy: Ask Questions
Now on to the business side of your phone call. Be sure to ask a lot of questions! It is extremely important to know the goals and expectations of your client. What is important to them? Is it sales, engaged visitors, or signing up for a free trial? You will also want to be on the same page for the time frame of the project. Issues can arise with unrealistic expectations on the delivery of a project, so set a realistic timeframe at the beginning of the project and stick to it. Next, ask your client about their presence on the internet. Did they sign up for SEO but run PPC on their own? Finally, it is important to be aware of who their ideal customer is. Who are you marketing to? That one detail can change everything in your campaign. After they have answered all of your questions, you must be prepared to answer any questions that they might have for you!
Do Research to Become an Expert
Don't stop there! You should have already completed some basic research on your new client, but now that you've discussed their goals and expectations it's time to complete some in depth research. Spend time on your client's website and determine what needs to be improved. This involves using your marketing as well as technical and design knowledge. Are their title tags non-descriptive? Do they have a form that is too long? Are there a ton of broken links? Are the pictures on the site stretched? Make a list of all the changes you would like to make and start tackling them! Also, find and follow them on social networks such as Facebook, Twitter, and Google+ to learn more about their target audience. Another great way to know what is going on in their company is by setting Google alerts for when their company name is mentioned on the internet.
Now that you've completed the 4 easy steps to know your client including a questionnaire, a phone call, asking questions, and research, you should know your client inside and out! Knowing your client should give you the confidence to market their site with ease. Continue communication with your client based on their expectations and give them some unsolicited "great news" updates to keep them engaged. It is easier to keep an existing customer than to get a new one so be sure to know your client! Leave us a comment and let us know what has worked well for you.