The good folks at Google like to keep us guessing don't they? 2012 alone saw dozens of changes and updates to the mysterious Google algorithm, causing quite a stir among expert internet marketers and everyday business owners alike. While Google claimed that most updates would affect only a small number of sites, lots of businesses felt the pinch and some were crushed altogether.
Even if you're a novice to internet marketing and search engine optimization, you can likely see a trend in the graph below that doesn't look too promising.

This traffic report is real data from a client of mine who had received a rather severe drop in traffic after a Google algorithm update in 2011. Their traffic has never recovered…until now.
So how does one recover from these arcane Google changes that have shaken up the internet? Let's quickly first diagnose the problem.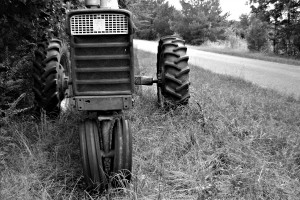 Search Engine Land notes that nearly 12% of queries have been impacted by the latest algorithm change. If your search engine traffic has dropped significantly from the latest Google update then it's time to take action!
Below are ten tips to increase your site's rankings if they've been hit by the Farmer / Panda update.
1. Build a Theme – That's right, having 5 thin pages on a topic and calling yourself an industry leader simply won't work. To be considered an industry leader, you need to talk about the main topics in your industry and get down to the nitty gritty! Start generating content (no stealing or borrowing content) that covers the depth and breadth of your industry.
2. Organize – Take your files and put them in folders organized by topic. If your desk is a mess, it's likely the files on your site are just thrown in the root folder too. Begin to group them just as you would a filing cabinet.
3. Silo Structures – Whether it's a true silo or a virtual silo, link your content by its relation. If you are unable to move files on your server and URL rewriting is beyond your capabilities, then use a virtual silo to internally link to related pages.
4. Make A Plan – Plan out topics you can write content about and stick to it. If you don't have the time, then hire a few copywriters and schedule in new copy to be added to your site regularly. Once the copy is in place, be sure to link to it from other related pages to help build a relationship between the related pages.
5. Watch – View your site's analytics regularly and determine if you see a pattern. Was a specific section of your site hit and now underperforming or was it your site as a whole? Did your site's overall traffic decline once Panda was released or is it just for broad search terms? Ask yourself these questions to help you determine the best course of action when it comes to creating the new content.
6. Housekeeping – While you're at it, make sure you have no reason to have any penalties on your site. Wouldn't it be horrible if you simply had something on your site that you needed to take care of and submit a simple re-inclusion request? Look at your site and see if you're using your headings accurately, if you have too many links on any given pages, log into Google Webmaster Console and take a look at the error messages and HTML suggestions. When you're done, simply detail what you did and request a re-inclusion just to be pro-active.
7. Be Pro-Active – Take advantage of all the universal results Google is offering and try to get your site to show up in as many of those results as possible. Be sure you have your Google Places listing and build it out to include images, categories, videos, specials coupons, etc. If you have products on your site, create a Google shopping feed and submit it to ensure your products are showing up in Google Shopping. Images throughout your site need to utilize names that resemble what they are, provide accurate image ALT attributes, create an image sitemap and submit this sitemap to help increase your exposure in Google images. Open up a channel on YouTube and upload or create videos about your products or services. Create great keyword-rich titles and Meta descriptions, apply the proper tags and get them uploaded to be included in Google video. Start a blog and blog about on-topic industry related information and submit your RSS feed to various RSS directories and get your site showing up for results in Google Blogs.
8. Research – Review Google's Webmaster Guidelines and ensure you are adhering to them for content, quality and design. It may not seem like a lot, but taking care of these things to ensure you have nothing being held against you can help significantly in the long run.
9. Sitemaps – Create sitemaps for each themed folder within your site and place that sitemap within the actual folder. For larger sites, create multiple sitemaps to help ensure deeper content gets indexed and properly ranked. Google determines if it will be indexing your site for depth or breadth, and with the Panda update, you need both to succeed.
10. Stay Indexed – Find out what pages within your site are indexed and which are not. Keep an eye out for any pages that are not indexed and resubmit them. Pages that aren't indexed or are omitted from Google's results can't rank, pages that can't rank can't help to build you as an industry leader. If you have omitted pages from Google's results find out why (duplicate titles, duplicate Meta descriptions, very little content, etc.) and make the necessary adjustments. Update your Google sitemap regularly and make sure those pages are indexed.
Making these adjustments as well as continually adding content to your site will help to ensure your site will not only bounce back from the Farmer/Panda update, but that you will be less affected from future index or algorithm updates; helping to build your site as an industry leader.