If you're a typical designer or web developer, you probably have a large font collection. Having a sizable number of fonts can make finding the ideal font for a project a grueling effort, akin to a needle in a haystack scenario. However, there are several free applications that can help you find, categorize, tag, preview, and install/uninstall your fonts.
In this article, you'll find 10 free applications that will help your better manage your font collection.
myFontbook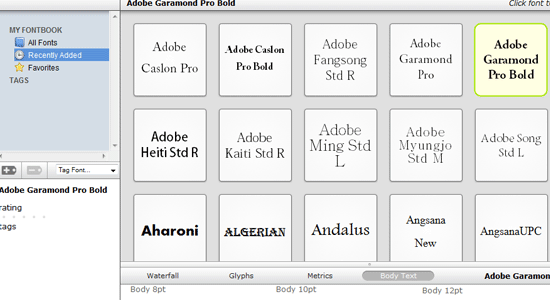 myFontbook is a free web application for organizing your installed fonts. It allows you to tag your fonts by keyword and gives you the ability to rate them so that you can quickly, making it easier to see your favorites.
It has a pane for previewing fonts to help you in your font choices. Notable features:
Tagging and favorites lets you organize your fonts
Metrics gives you insight about native letterspacing and line height of a font
Body text preview provides realistic previewing of a selected font
Proof sheet makes it easy to print font previews
Being a webapp means that you can use it on any operating system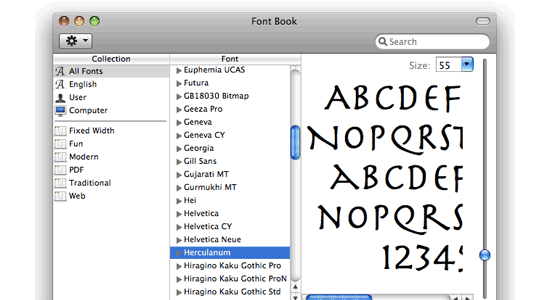 Font Book comes pre-installed in Apple computers and is a solid tool to use for font management if you're an owner of a Mac. It has an intuitive and user-friendly interface, a trademark of Mac apps, and it has amazing font/organization features. Notable features:
Organize, install, remove, search your font collection in one interface
Sorts fonts by categories (i.e. Modern, Traditional, Web)
Create custom categories to organize your font collection
Comes standard with Macs, no installation needed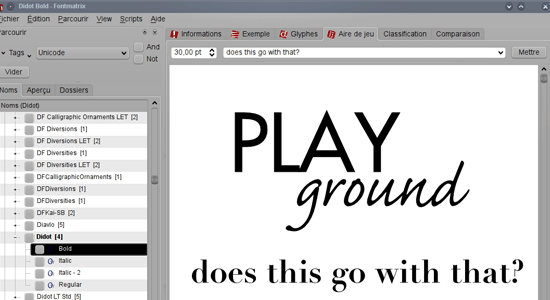 Fontmatrix is an open source font manager for Linux users; though it was recently made to work with the Windows OS as well. It is a great font management tool for power users, and is ideally suited for developers who can take advantage of the script console to extend and customize the application. Notable features:
Tagging feature makes organization easier
Script console lets you extend and customize the application
Interface is intuitive
Displays meta information about a font such as designer, copyright info, etc.
Font Picker (Windows/Mac/Linux/Web Browser)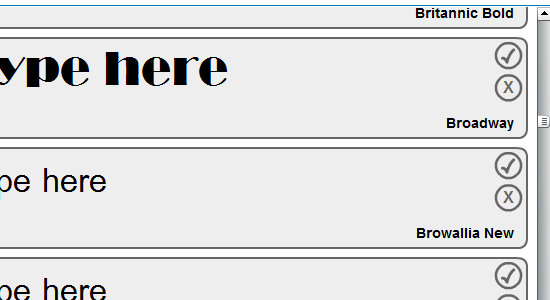 Font Picker is a free Adobe AIR desktop application that lets you manage and view your font collection. It's simple and straightforward and can run in any operating system that can run the Adobe AIR framework. It also has a web-based version so that will search your machine for installed fonts.
Notable features:
Ability to mark fonts as favorites
Remove fonts that you don't like
Simple and straightforward
sFont (Windows)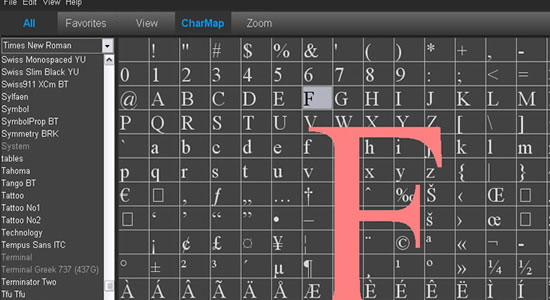 sFont is a free Windows font management tool that has a uncomplicated interface. Organize your font collection by tagging certain fonts as favorites. Quickly find TrueType or non-TrueType fonts using the Filter feature.
You can review your fonts in a variety of ways including the ability to change the background and foreground colors. Notable features:
Add fonts to a favorites list
Charmap view gives you a matrix preview of a font's characters
Customize colors to see fonts in different colors
Filter feature lets you pick out TrueType or non-TrueType fonts
FindThatFont! (Windows/Linux)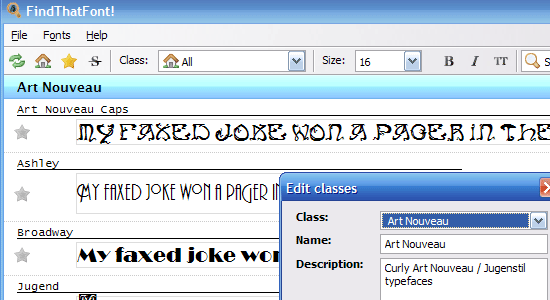 FindThatFont is a simple and free tool for preview and categorize all the fonts installed in your system.
You can organize fonts within the 30 categories that the application has. There's also an extensibility featured called Extension manager for developers who'd like to customize how FindThatFont! works.
Notable features:
Tag your fonts in one or more of the 30 categories
Created using XUL language just like Firefox and Thunderbird
Extension manager for developers to customize and extend the tool
Fonts++ (Windows)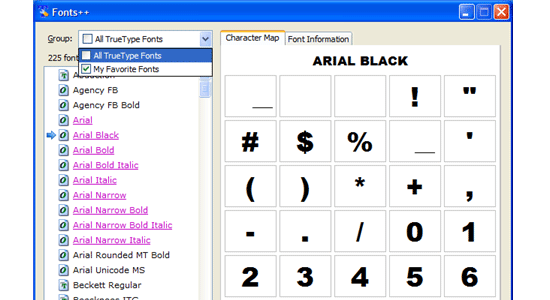 Fonts++ is for Windows PC users that have many fonts installed on their computer. You can deactivate your unused fonts so that you don't have to see your entire collection when looking at your fonts. You can also install/uninstall fonts with this app instead of the traditional Windows method Notable features:
Activate/deactivate fonts to help you navigate your collection
Install/uninstall TrueType fonts quickly
Small resource footprint
Cfont Pro (Windows)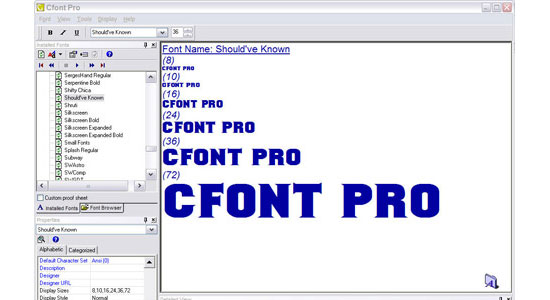 Cfont Pro allows you to preview fonts even before you install them, a helpful feature if you have a external hard drive or portable media device that has fonts. It has proof sheets in case you want to print out fonts for reviewing purposes. The property viewer displays a ton of information about your fonts.
Notable features:
Proof sheets allows you to print out font previews
Property viewer lets you display font meta data
Character Magnifier lets you zoom in and out to inspect font characters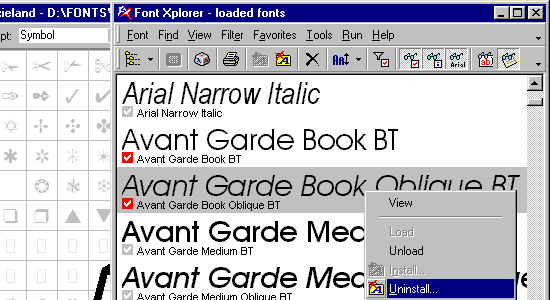 Font Xplorer is a popular freeware desktop application for managing your font collection. It has a filtering feature so that you can hone in on specific types of fonts. Unfortunately, it doesn't support Adobe Type 1, OpenType fonts with PostScript outlines, which may be a deal breaker for some designers.
Notable features:
Browse installed and uninstalled fonts
Print sheets allow you to print out fonts using one of the apps templates
Comprehensive font information is displayed
Font Repair Wizard helps you repair font files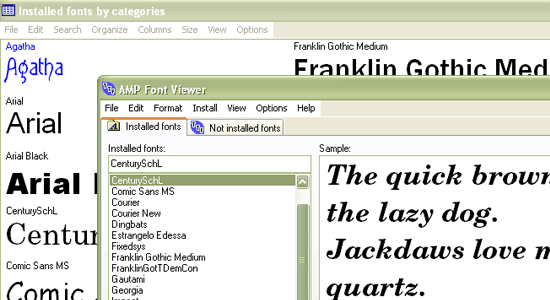 AMP Font Viewer is an easy to use but robust font manager for Windows. It has support for a wide variety of font formats such as TrueType, OpenType, and Type1 fonts. It allows you to easily install multiple fonts, as well as removing installed fonts.
There are several options for categorizing your font collection, which will help you tame your massive font collection. Notable features:
Several previewing options are available
Several management options
Supports most font formats
Search feature gives you advanced search options
Related Content
WebFX Careers
Join our mission to provide industry-leading digital marketing services to businesses around the globe - all while building your personal knowledge and growing as an individual.