10 Fundamental Conversion Rate Optimization Tips
If your website receives plenty of traffic, but those visitors don't do what you want them to do, then this post is for you!  Use these 10 fundamental conversion rate optimization tips to get more out of your website.
Every site as a goal – it's an action its users should take. The action can be as simple as viewing a certain page. Popular actions include downloading a document, submitting a contact form or purchasing a product. When a user completes a desired action, it's known as a conversion.
Most sites convert only 1-3% of its visitors. Why don't the other 97% convert too? Maybe they are not in the purchasing stage of the buying cycle or maybe they found the information they were seeking. But most likely, they do not trust the site enough to conduct the action.
Use these 10 tips to build more trust with your users, gain more conversions, and experience more business through your website.
1. Have credible content with a professional look.
What web user is going to trust a site with typos or broken links? Make sure that your web copy is grammatically correct. Double check that all links work and bring users to the right page. Take advantage of web site conventions and ensure that your site logo always links to the homepage. A fresh and professional design helps too.
2. Maintain scent.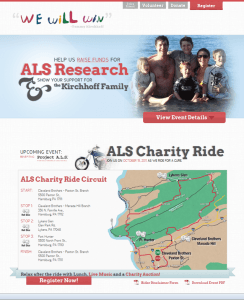 Scent refers to the site-wide consistency of page location, colors, graphics and words when it comes to special content. With visually consistent content, a user is more likely to see the content and trust it. Inconsistent content could confuse a user. For example, this fundraiser page uses a third party site for donations. We customized the donation site to maintain as much scent as possible from the homepage. If you were on this fundraising page and went to donate, would you be more likely to trust the original donations page or the customized one?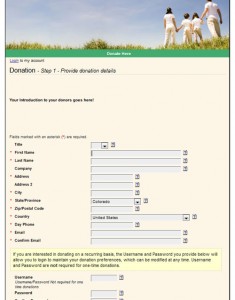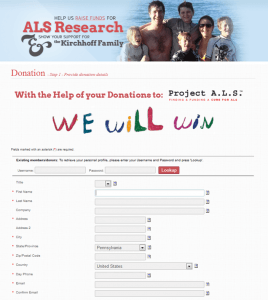 3. Reinforce offers site-wide.
Web-pages contain a lot of content, so many visitors just skim a page. They may miss the content you want them to see. If you think something is important (a free brochure to download or 25% off all products) include it on every page. Do this especially with e-commerce sites and do not forget to include the offer on the shopping cart page. If a user goes to checkout, but no longer sees anything about "free shipping" that cart will be abandoned in seconds.
4. Provide all contact information.
People need to know that there is a reputable person on the other side of their computer screen, not a scam. Show that you are legitimate. Provide a physical address, phone number and email address. This also tells your visitors that you're accessible to help with any issues.
5. Utilize point of action assurances.
Communicate guarantees, return policies and safe shopping credibility. Also, offer alternative methods of transactions such as phone orders or paypal for users who do not feel comfortable ordering online via credit card.
6. Communicate reciprocation.
When users convert they provide you with something: contact information, revenue, leads, etc. What will you provide users in return? Always convey what users will get if they convert. Ideas:
Action: Receive:
Sign up for email newsletter  =  Coupons, expert advice, latest news, etc
Submit contact form  =  A response within 24 hours
Sign up for account  =  A free trial
Buy a product  =  24/7 product assistance
7. Frame choices.
Choice paralysis occurs when a user is given too many options and they become overwhelmed and  confused. With more options, users spend a considerable amount of more time during the selection process and become "paralyzed." Prevent choice paralysis by framing choices. Here are some good examples:
8. Convey scarcity.
When something is limited, it appears to be more valuable. Make sure to include text that conveys scarcity, such as:
"Hurry! Only 4 more left."
"Hurry! Limited Downloads Available"
"Available for a limited time only!"
9. Demonstrate social proof.
Humans strive to meet social expectations. To fit in with the crowd, we judge what's normal by observing other people's behavior. Convince users that converting on your site is a normal behavior. Convey statistics, such as, "Downloaded by 1 million people!" Show what other customers bought who viewed similar products; this might spark interest in an additional item for users to add to their shopping carts. Most importantly, display reviews and testimonials so users can receive feedback from experiences of previous purchasers.
10. Show authority.
Testimonials can also be used to express authority. People are more likely to act on information that is conveyed by an expert. Show them that you're the expert in the industry by displaying client and customer testimonials and their logos.
By following these tips, you'll be sure to convert more users. But of course the basics must be in place: substantial traffic, an easy to use site and appropriate content. Want to learn how your site fairs? We offer a one-time conversion analysis.
Now it's your turn to share. What works best for you? How does your site convince users to convert?